Climate change is definitely effecting the seasons. We have gone from drought to crazy rain to snow. Records are being set in Northern California, highways are closed and tens of thousands of people are without power. The ski resorts up in Lake Tahoe have gotten about 200″ in the month of December which is great. However the highways leading to Tahoe have so much damage with downed trees and power lines and are closed so skiers cannot get there!
We haven't had this much snow since 2013. It seems like we used to get one good snowstorm each winter but for the last 8 years or so we have hardly seen a flake.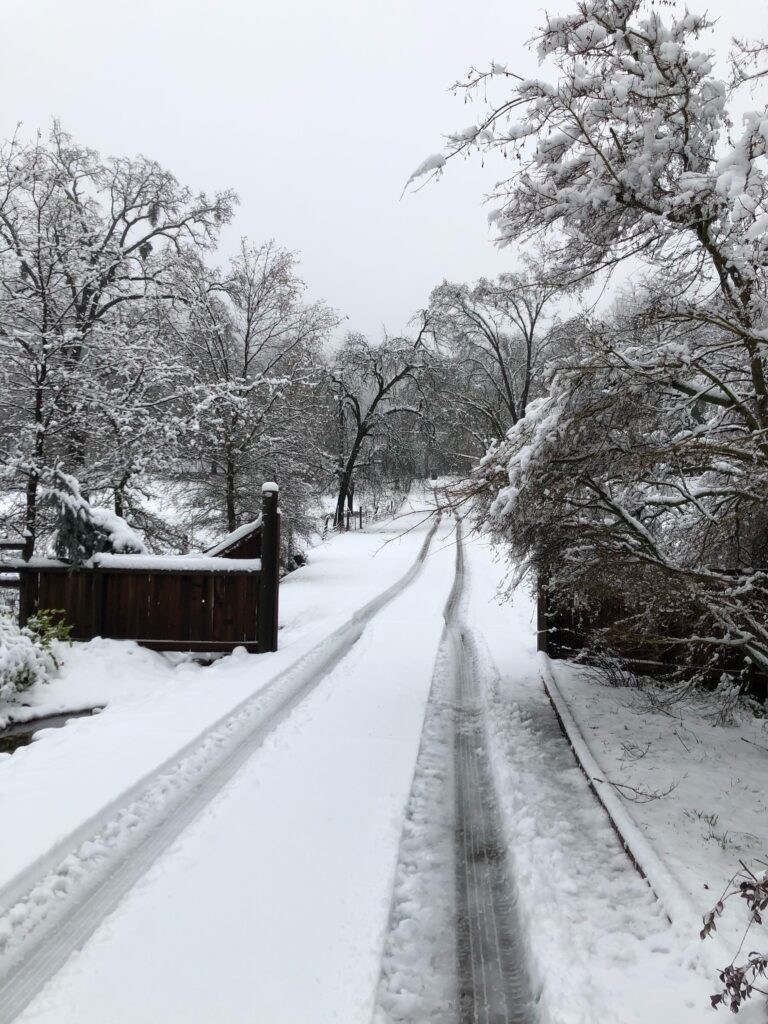 The first snowfall we had was a couple of days ago and we got about three or four inches. The neighbors just a bit farther out, got substantially more. The snow was very wet and heavy and was complicated by some winds. This caused a lot of damage in our town. Our area has a large number of oak trees which were already compromised by the drought and then saturated with recent rains. Oak trees do not like to be soggy! Many, many trees were uprooted and came down on Sunday night.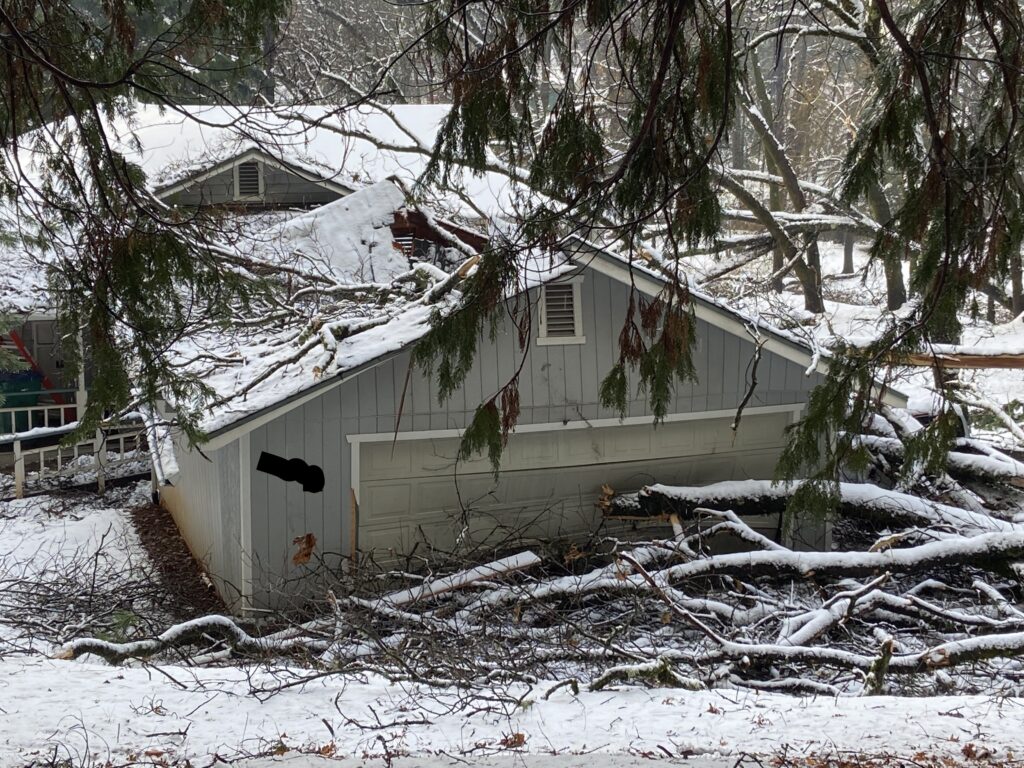 This is my neighbor's house – A huge tree fell on the garage, crushing the roof. It is hard to see but his truck is parked parallel to the garage and is under the tree. Their other car is in the garage but he can't get to it to see what sort of damaged happened to it. A number of other enormous trees fell on his property. It is a disaster. Our subdivision was hit very hard so there are quite a few homes with this sort of damage. So much so that a Sacramento news team came out and did a story on it.
The power went out Sunday night and the generators started up Monday morning. We are on wells in this area so we need to have electricity to have water. Those with all electric houses are really feeling it as are homes without generators. We have a gas stove so we can cook and the generator keeps the water going. My Mom and Dad are still without power – we got lucky and ours came back on last night. Actually it is more than luck, our power line is shared with the line that powers a stoplight on the highway a mile from our house. If the traffic light goes out, it is at the top of the list for repairing so usually we are not without power for too long.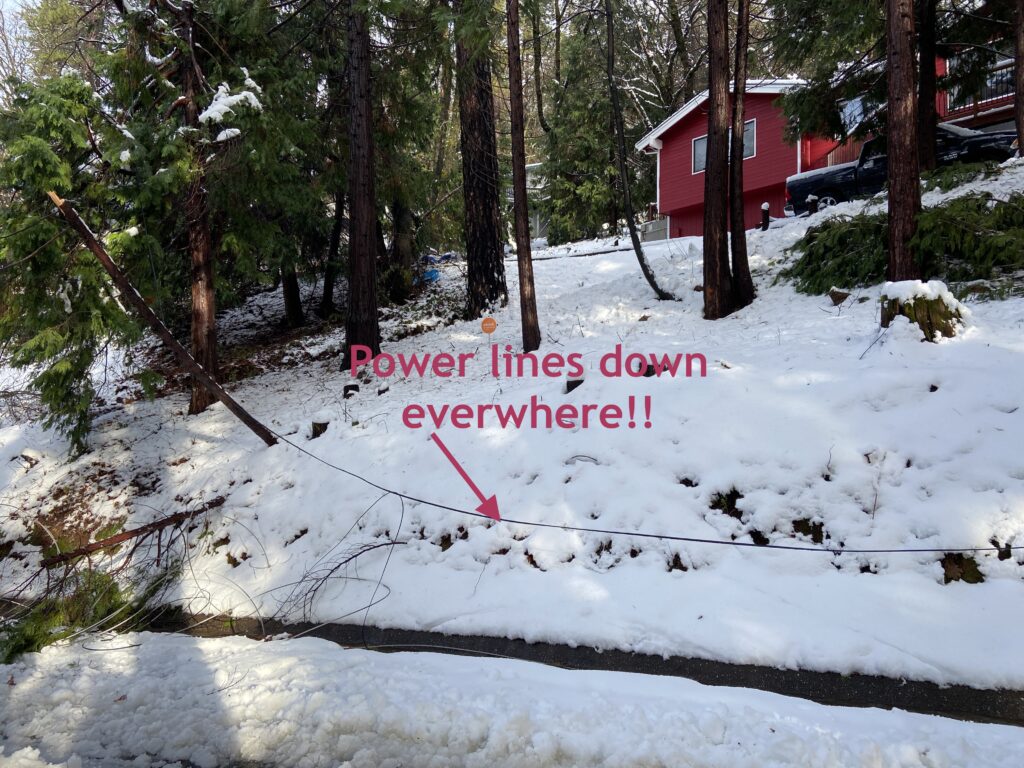 This is just down the road from us – several power lines in our neighborhood were knocked down. This happened on so many streets – it is going to be a long project to get all of the lines restored.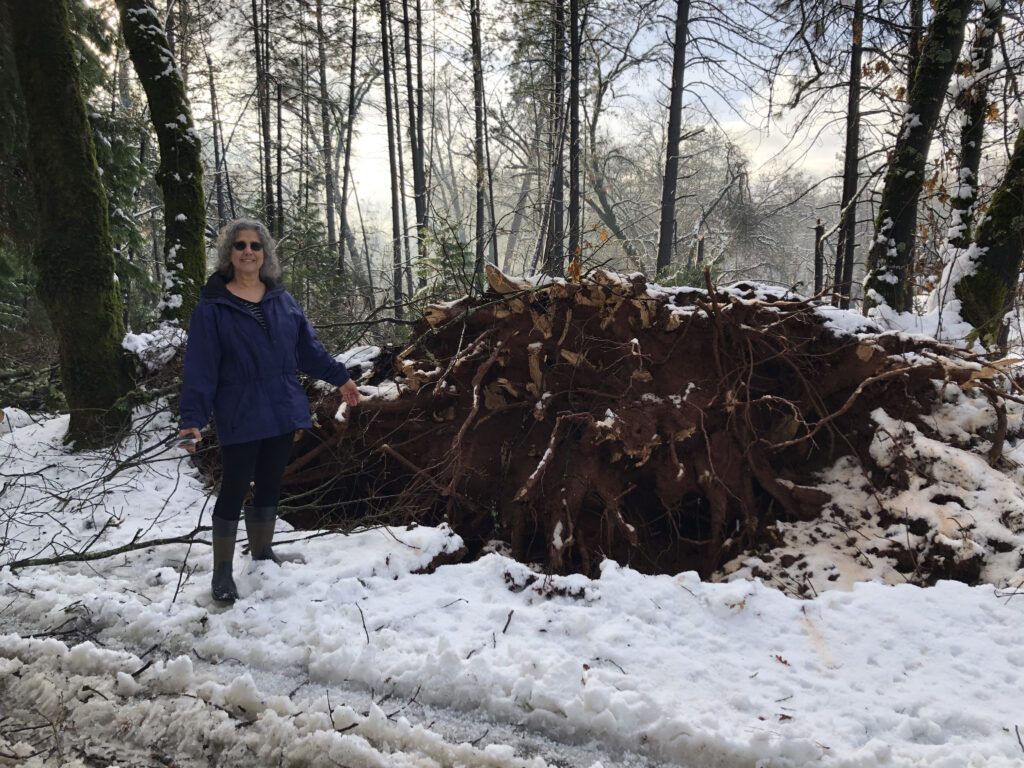 This is the rootball of a tree that fell on the corner of our road. It is enormous!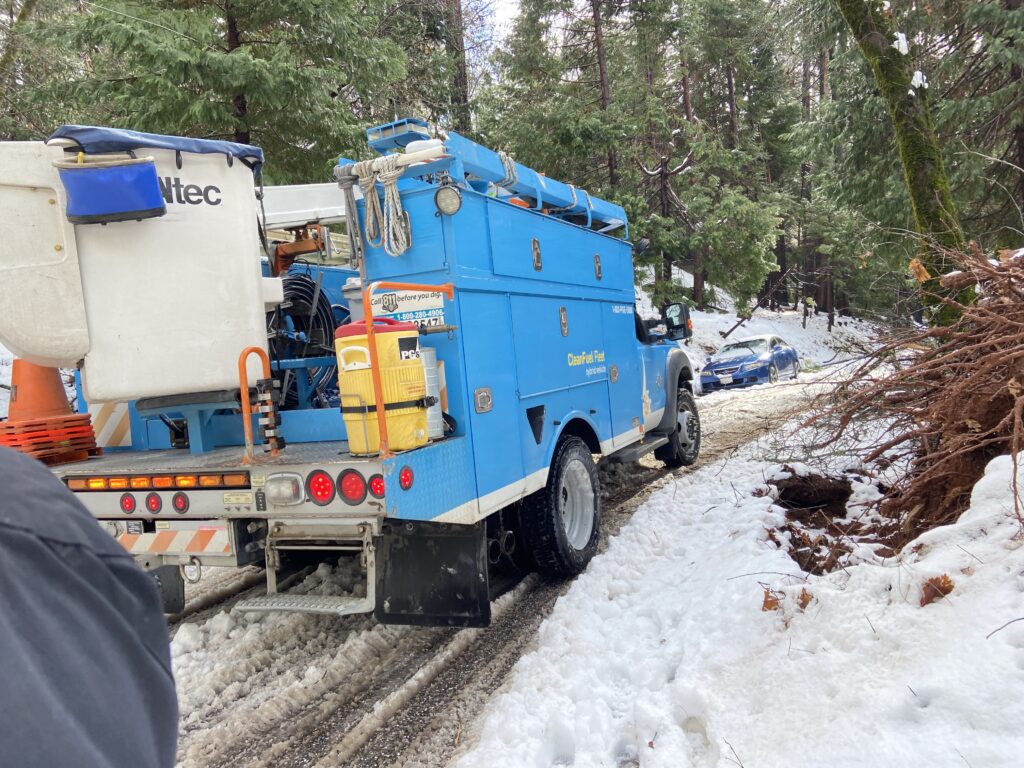 Yesterday, before our power was restored, we took a walk through our neighborhood and a PG& E truck (our power company) drove into our little street. Julia and I got so excited!! These poor guys are working long days and nights to get the town going again.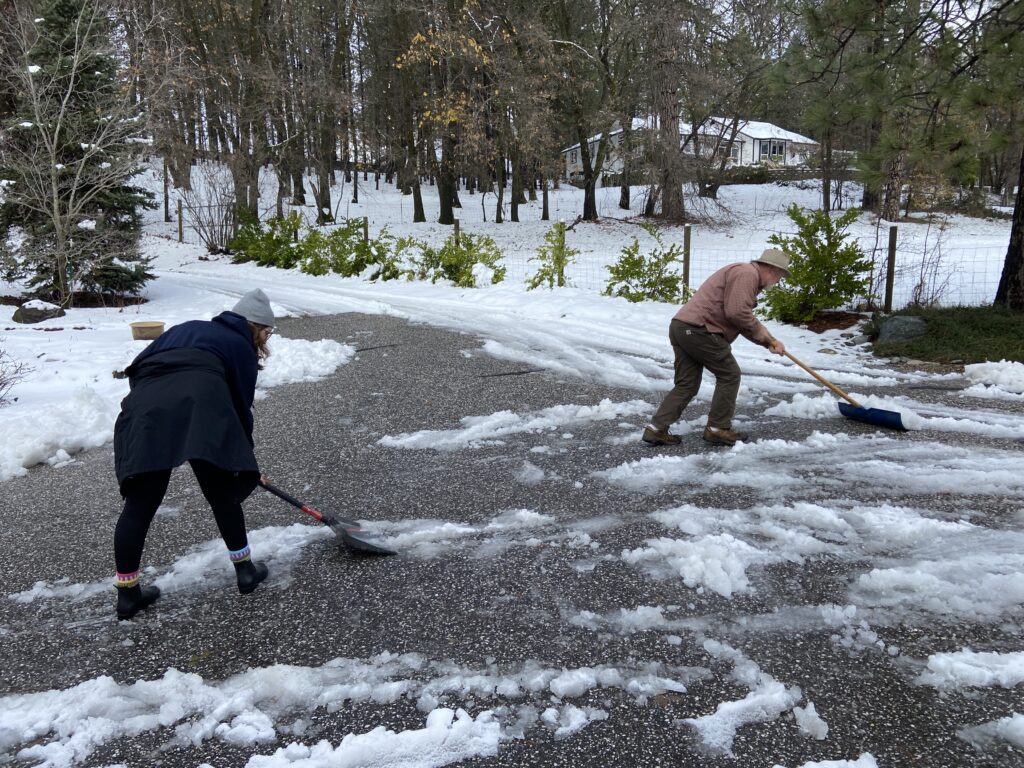 Yesterday the snow got slushy so Ray and Julia shoveled a bit. Of course this morning we woke up to a fresh three inches on the ground! Murphy's Law I suppose!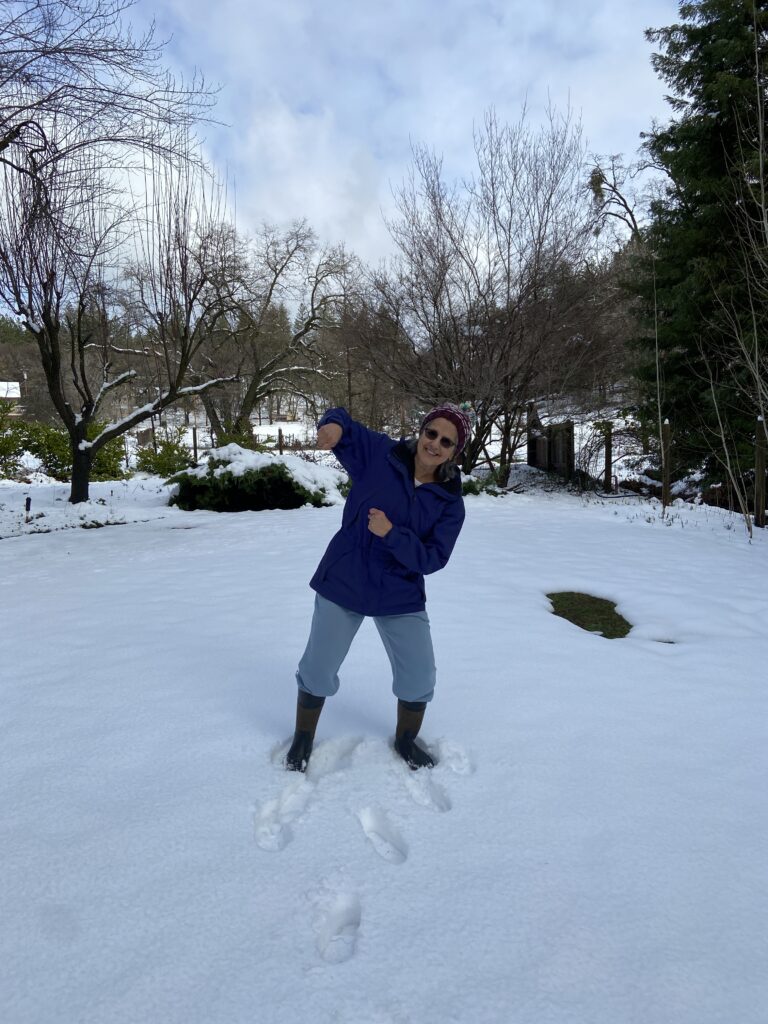 I was their cheerleader as they shoveled. So darn unfortunate that we only have two snow shovels……
Now that we have some power, I am going to work on quilting my Meadow quilt. Back soon with a progress update on it. Hope you are all safe and warm, enjoying the wonders of electricity!!