Hello all – I have not had much in the way of free time this week. So much so, I find it hard to believe it is Friday already! Here is a peek at the past week.
Last weekend was a special one because my youngest son, Ian, was here for a quick visit. He had signed up to participate in a run up in the Lake Tahoe area. That is approximately an hour drive from our home so he slept here and took off early in the morning for the run. I love all four of my kids and when I have time with one of them – one on one – it is a special thing. As such, it was a treat to have Ian here. We snacked, visited, watched his silly dog playing, and then ate some more! I made a yummy cinnamon swirl bundt cake and a nice pot of beef stew. Yay for family time!
Monday we had our deck refinished. A few weeks ago, Ray and I painted the railings (a tedious task for sure) and then a painter came and stained the deck. Check out the difference!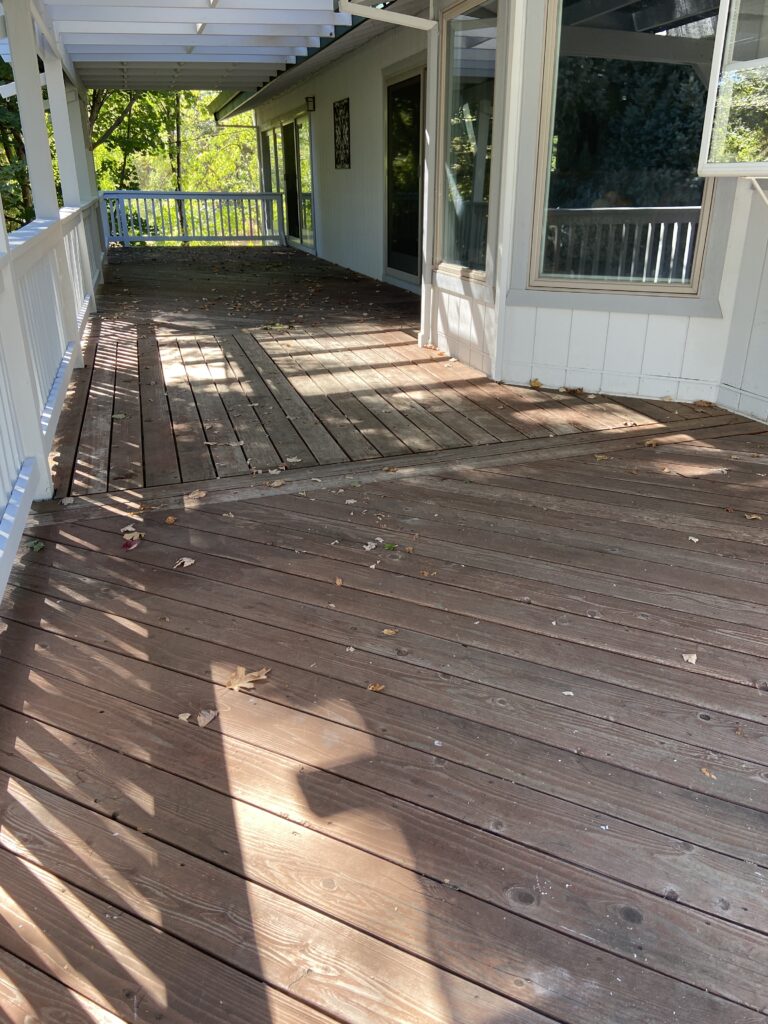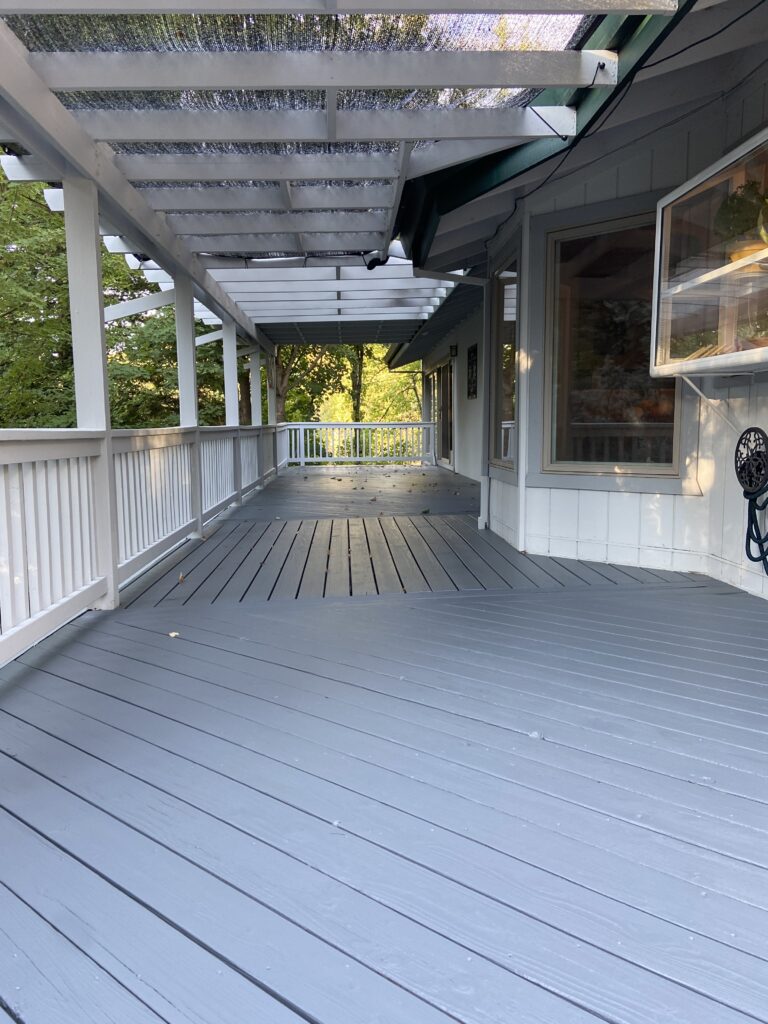 We are so happy with the look of the tinted stain. It took two coats which the painter meticulously applied with a small roller and a paintbrush. He is a great guy and has painted for us several times in the past. Ray and I just keep looking at the deck, admiring it. We haven't even put any furniture or plants back on it – It is so pretty!!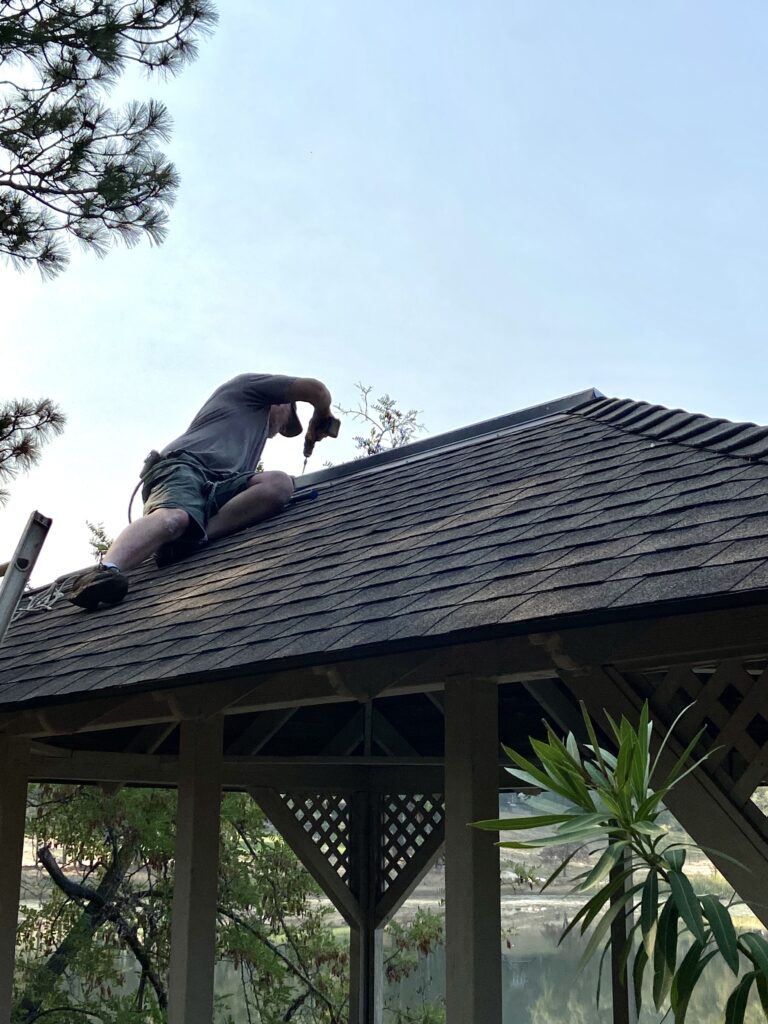 The roof on our gazebo has been falling apart for several years. Finally we hired a roofer to come replace the roofing. There is a sky light at the peak which they broke (purposefully) when taking apart the old roof. Ray replaced it when they finished.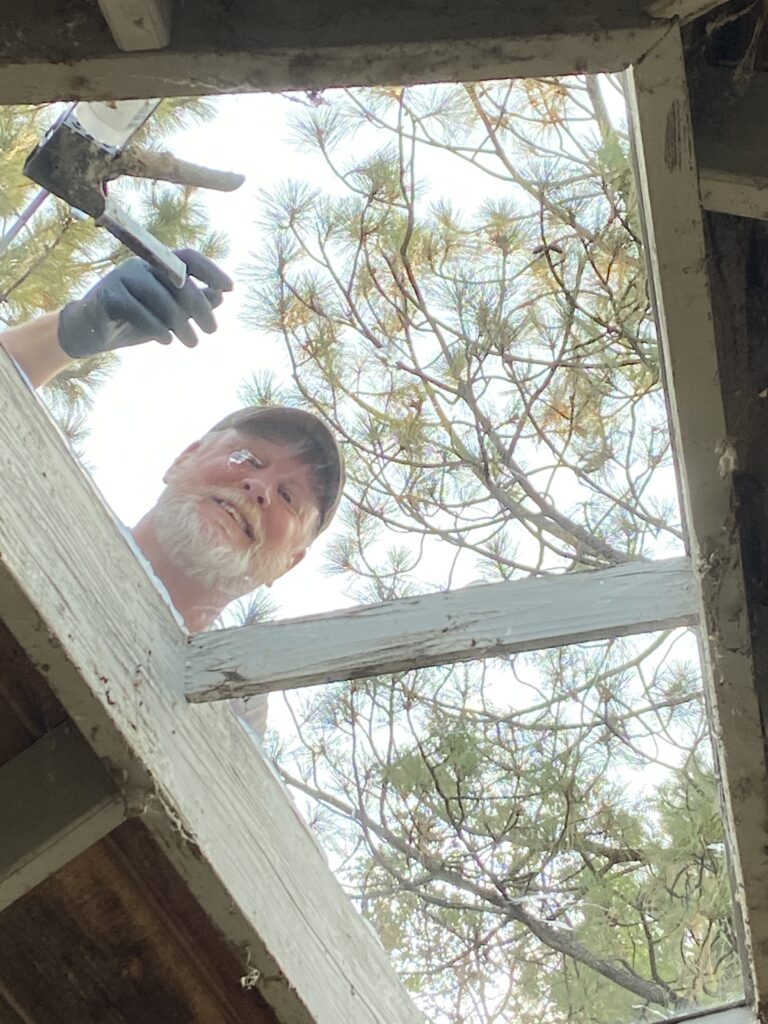 He got this all finished and, because he isn't a fan of heights, was happy to come down from the roof.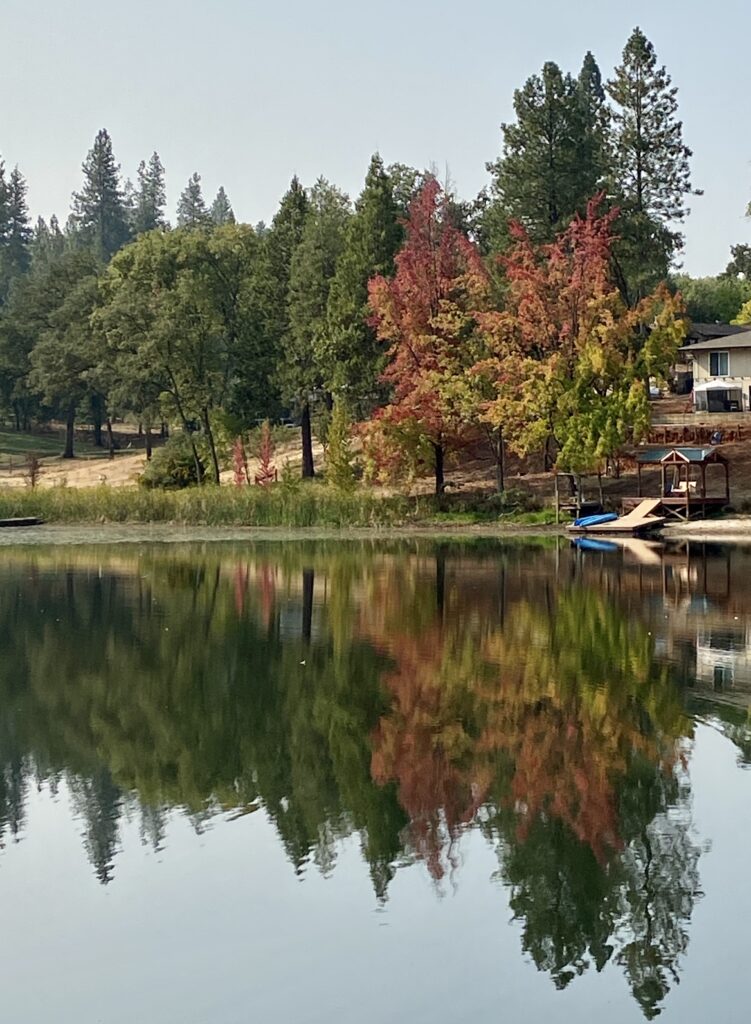 Colors are starting to change here and I love the reflection of these maple trees on the pond. With the drought here, this is really the lowest we have seen the pond in years. As always, we are crossing our fingers for any amount of rain.
When the sky light was finished, I helped Ray carry the tools back to the shop. When he went inside, he found water on the floor. We have a pump which pulls water from the pond above and it used to water plants and the lawn. It had a leak and was making a mess of things. Isn't it frustrating to find things like that! So the rest of that day and the following two days were spent cleaning up a mess in the shop. Thanks goodness for the wet/dry Shop Vac. It cleaned up the water quickly. This was one of those events that really just spurred a clean out that has been needing to happen for a long while. The shop is 1200 square feet and there was a lot of debris stacked up. So we have been working on it. I help where I can but it is akin to cleaning out my sewing room. Ray would have no idea which fabrics I want or don't want, right? Similarly, I don't know which stacks of wood are to be organized and saved and which are to be tossed out.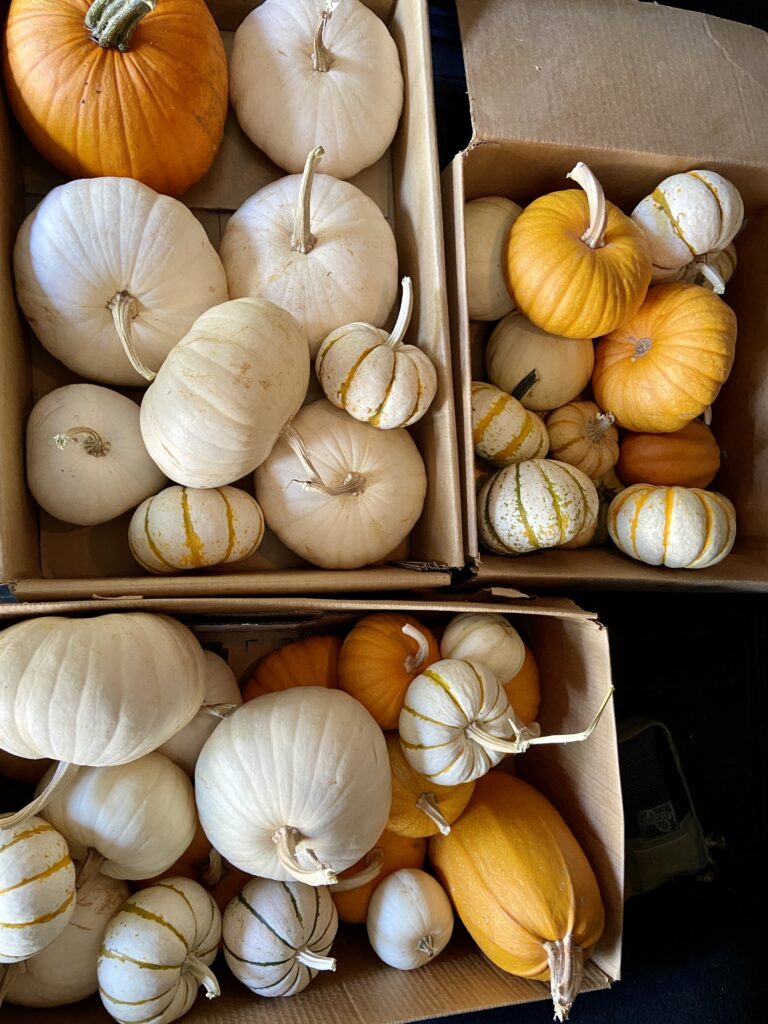 Moving on…. It was time to pick the pumpkins from a pumpkin patch Ray planted this year. We had our neighbor kids (two little girls) come and choose pumpkins and kept a few for ourself. The rest are ready to be delivered to a memory care unit in town. They seem excited to have them for the residents. We are more than happy to donate them.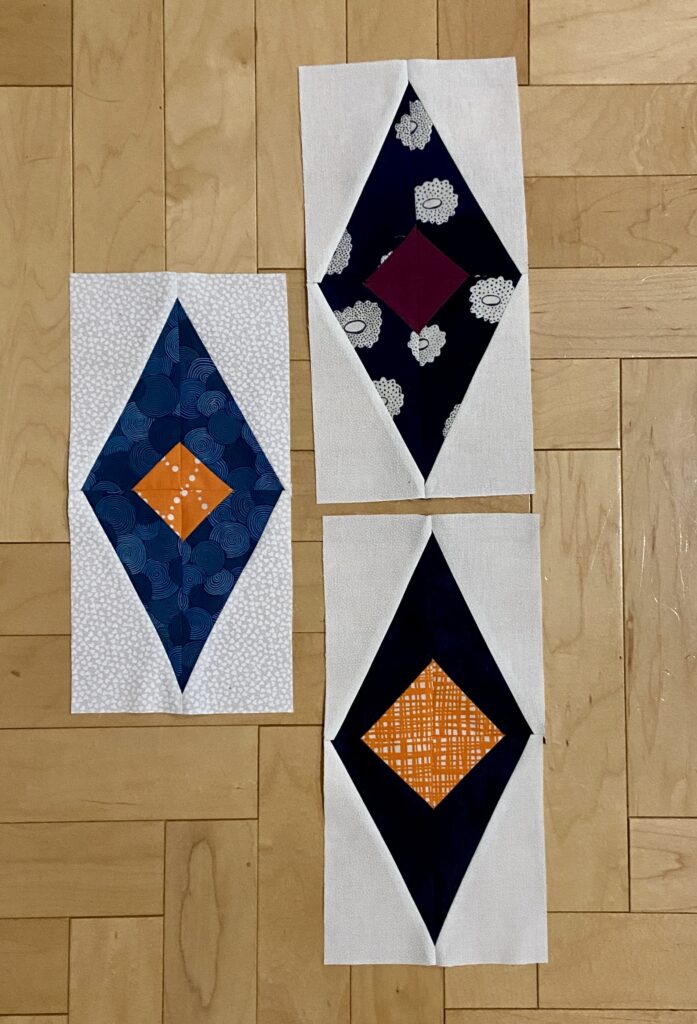 Three more blocks are completed for my RSC 2021 quilt. The colors look terrible but that is what happens when you try to take a photo inside the house when it is dark out. Just two colors, orange and bright/lime green remain for the year. Then I can start to assemble the blocks. Feels good to be catching up on this project!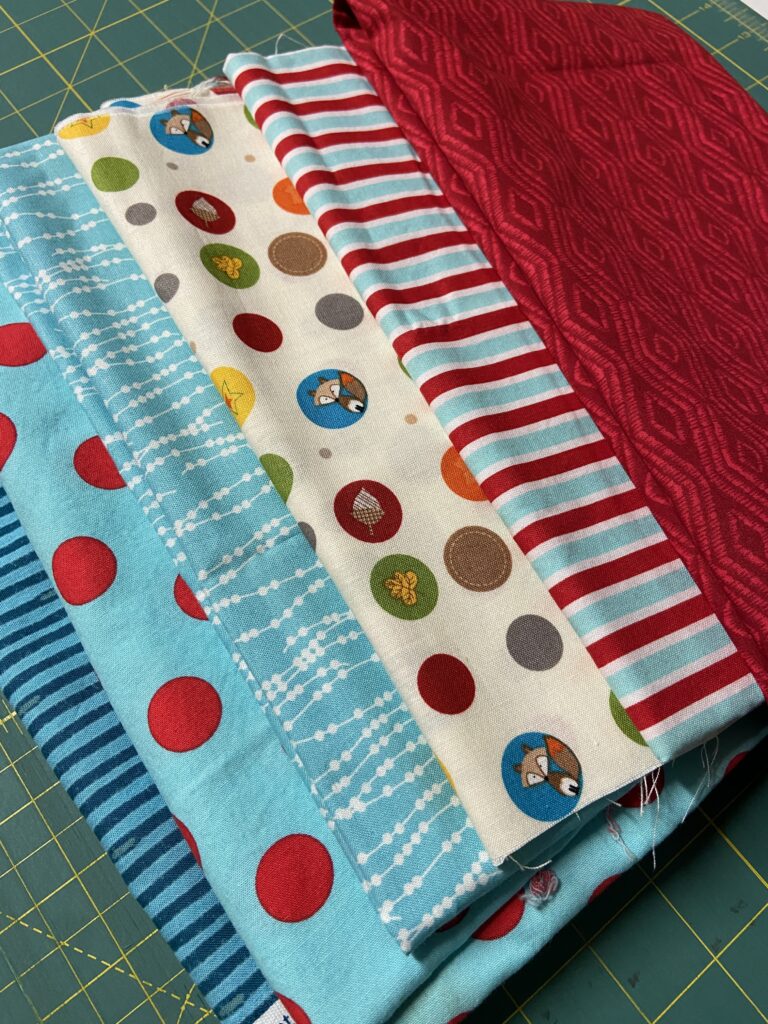 Even though I am supposedly working through my WIPs now, I pulled some fabric for a baby quilt. You know how it goes… I had the best intentions of not starting anything new but then Sew Preeti Quilts asked me to give a pattern of hers a try and I can't say no to Preeti, can I? It is a cute pattern and uses strip piecing for efficiency. I have my strips cut and sewn and then cut again. Next up is to sew the blocks together. This weekend is not very busy so I am hoping to get the blocks together over the next day or so. I should be able to share this one soon!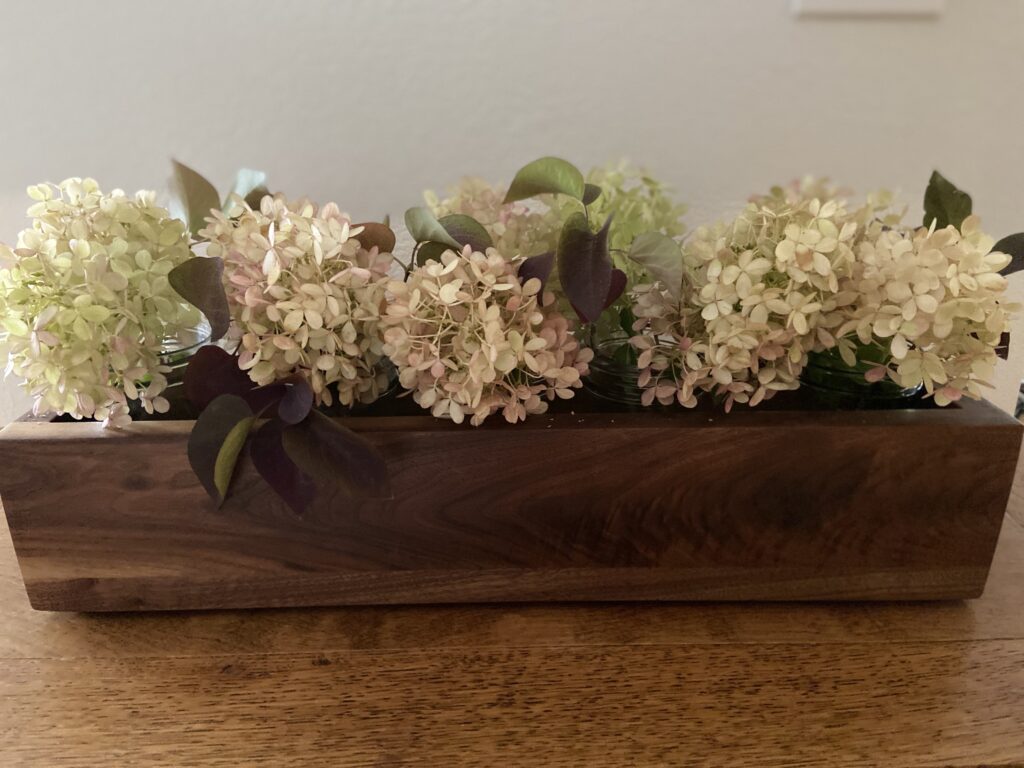 Finally, I want to show you these pretty hydrangeas. I love when they start to turn from white to a faint pink blush. I cut a handful and have them drying here. I also cut some of the lilac bits that were turning color to. It makes such a nice arrangement and should last quite a while. I do this each fall with these particular hydrangeas.
OK – that is it for now. Not a lot of sewing this week but such is life. The weather has cooled off considerably which makes me so happy. It gives me more energy to get things done outside which means less time in the sewing room. If you could all do a rain dance in the hopes the west coast can get some relief from this drought, it would be much appreciated. Enjoy your weekend – do something creative!