Oh my gosh, I have been going a million miles an hour lately. Sometimes life is like that. We have had a trip to San Diego (family wedding), tons and tons of gardening because my farmer husband planted so much this year, and fire season has begun in fall force. So, I am behind on blogging and blog post reading.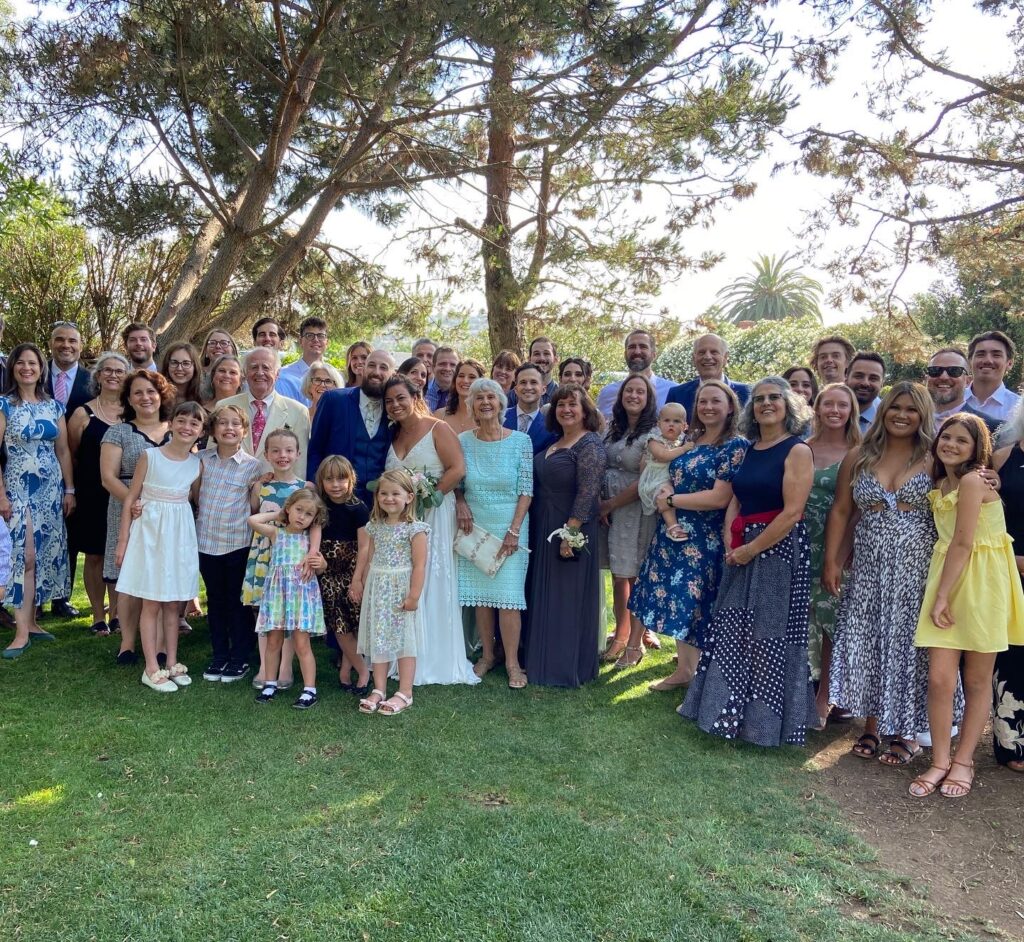 This picture was taken at the recent wedding. My parents are standing on either side of the bride and groom. Just to explain; my parents had six kids, who then provided 21 grand children to the group. Following that, those grand children produced (so far) 16 great grands. This picture shows our family less about 15 people who weren't able to get to the wedding. I love our huge, very noisy family.
When we got home from the wedding there were four quilts waiting for me! It was like Christmas morning!! Let me show them to you.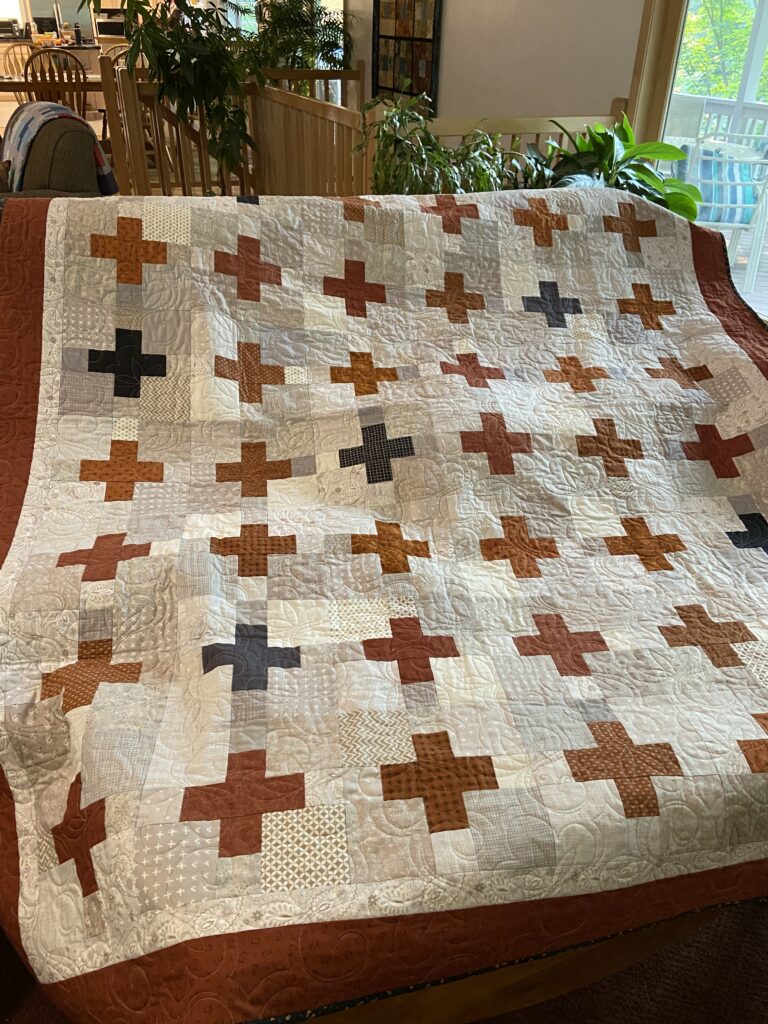 Just gorgeous and if these colors don't make you ache for autumn, than nothing will! Cheree blogs over at the Lively Latte and she actually made two quilts during the Positivity QAL one of which we were fortunate to receive!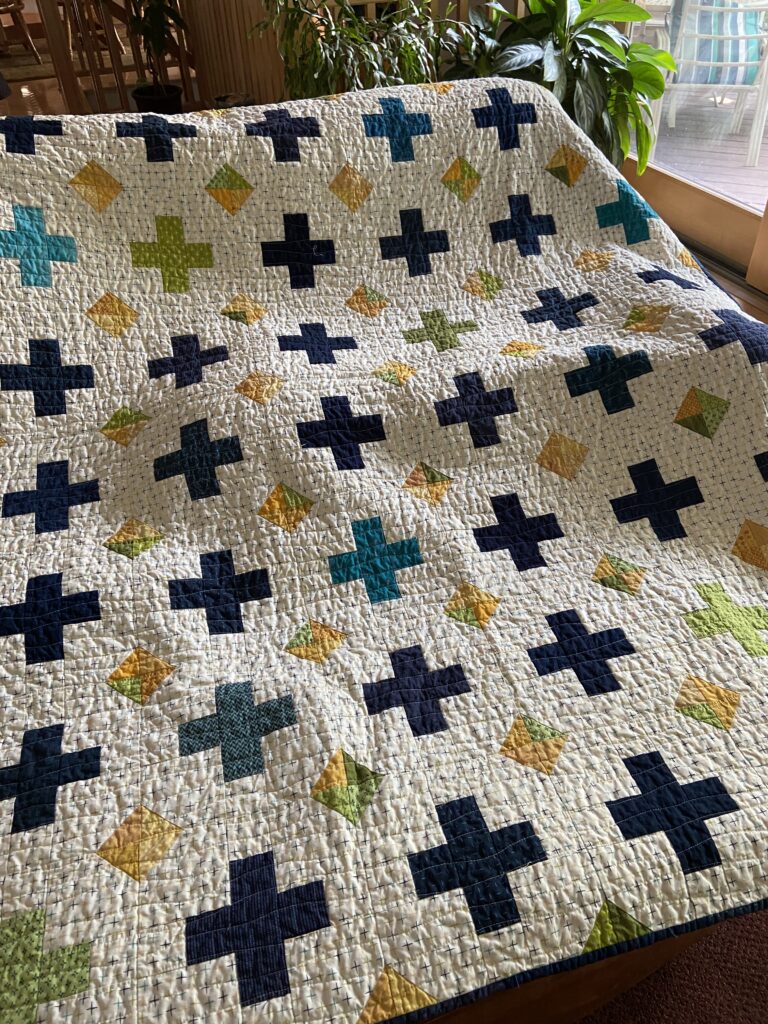 Here is Janine's version of the Positivity Quilt. Adding the triangles gives it such a different feel. She blogged the details for this quilt here. She also pieced the backing which I love!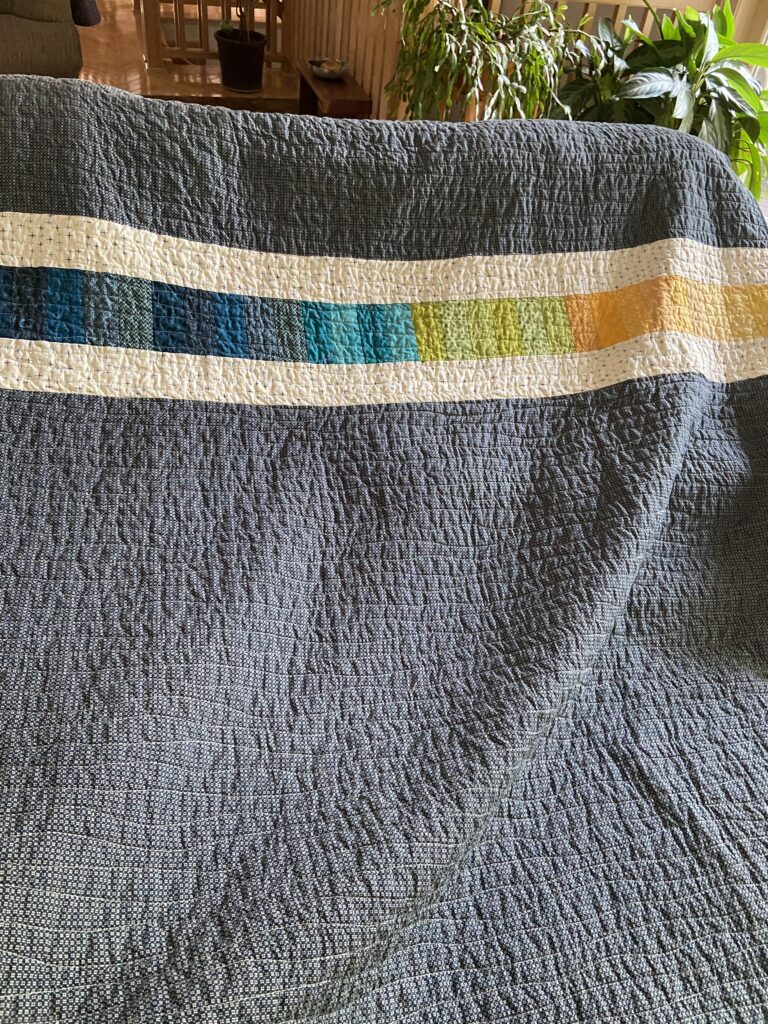 The color sequence she used is so pretty. This is a double sided quilt, if you ask me!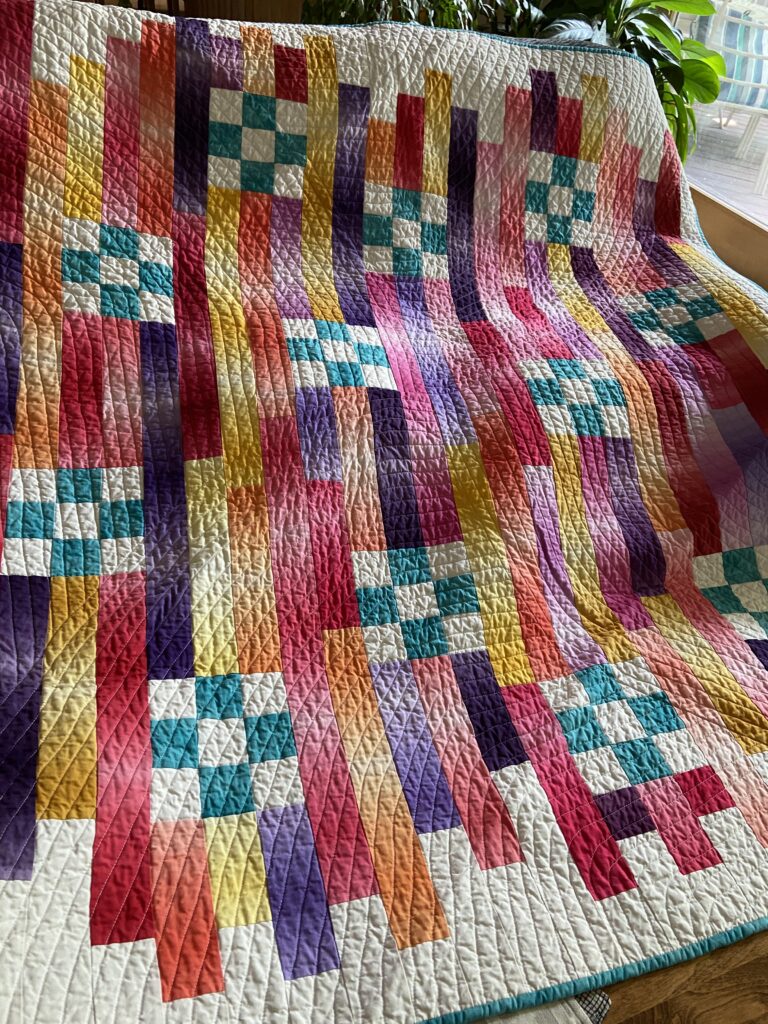 Janine included a second quilt in her box. I remember when she made this one and I just love it. Looking at the quilting design, I suspect it stayed hidden in my brain and was my inspiration when I quilted the Ninja baby quilt I just finished. 🙂 Janine based her design of this quilt on a pattern called Nines in the Middle by Doris Rice for Moda, The blog post with the back story is here. Also, she made sure to tell me that she received the fabric from Louise of My Quilt Odyssey . So actually, this pretty quilt comes from both Janine and Louise!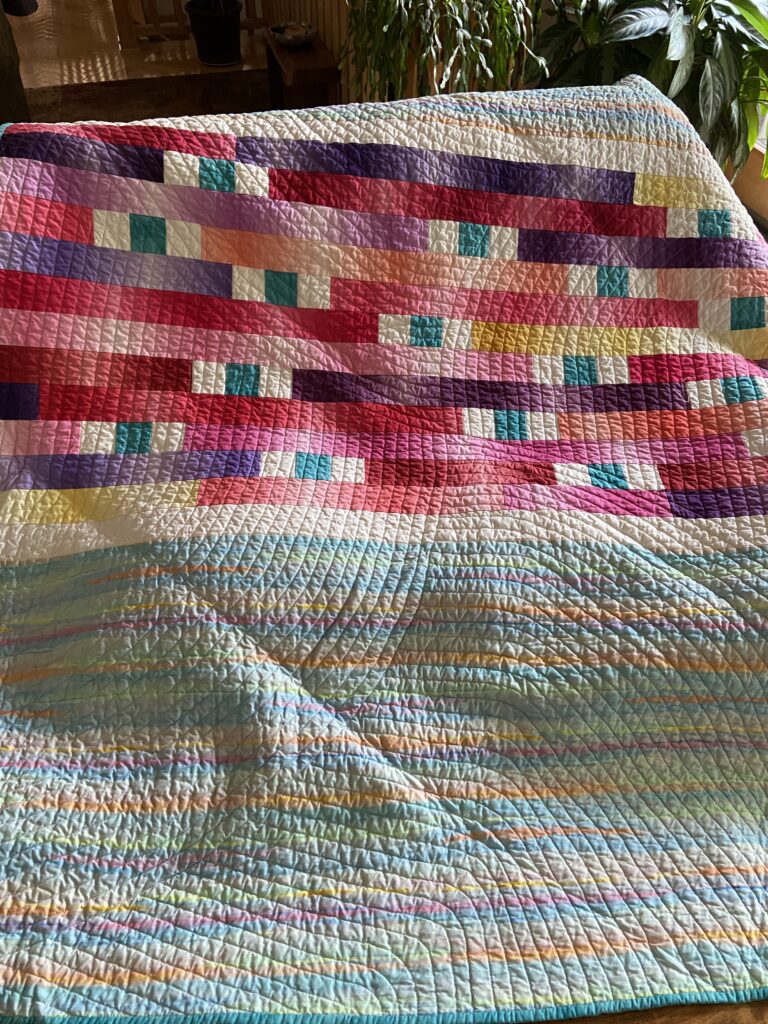 Looking at the back side, you will see that Janine made another pretty, pieced backing with her leftovers. This side also really shows the quilting pattern off.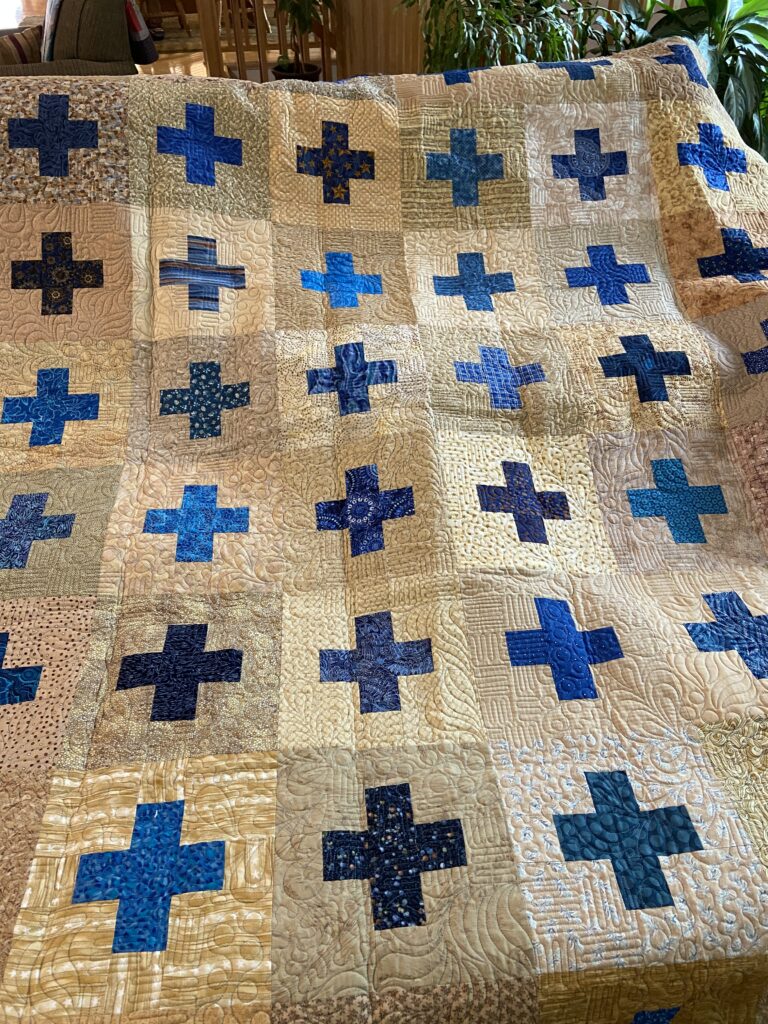 This beauty was also made by a participant in the Positivity QAL. Julie K pieced this pretty quilt. The blues on a scrappy neutral background are so soothing. She sent it over to the talented Rebecca Grace to be quilted. Rebecca did a custom quilt motif on it using several different patterns. The effect is really fantastic. I offered to bind this quilt so that Rebecca could send it directly to me as opposed to sending it back to Julie for binding and then sending it to me. Might as well save on some postage!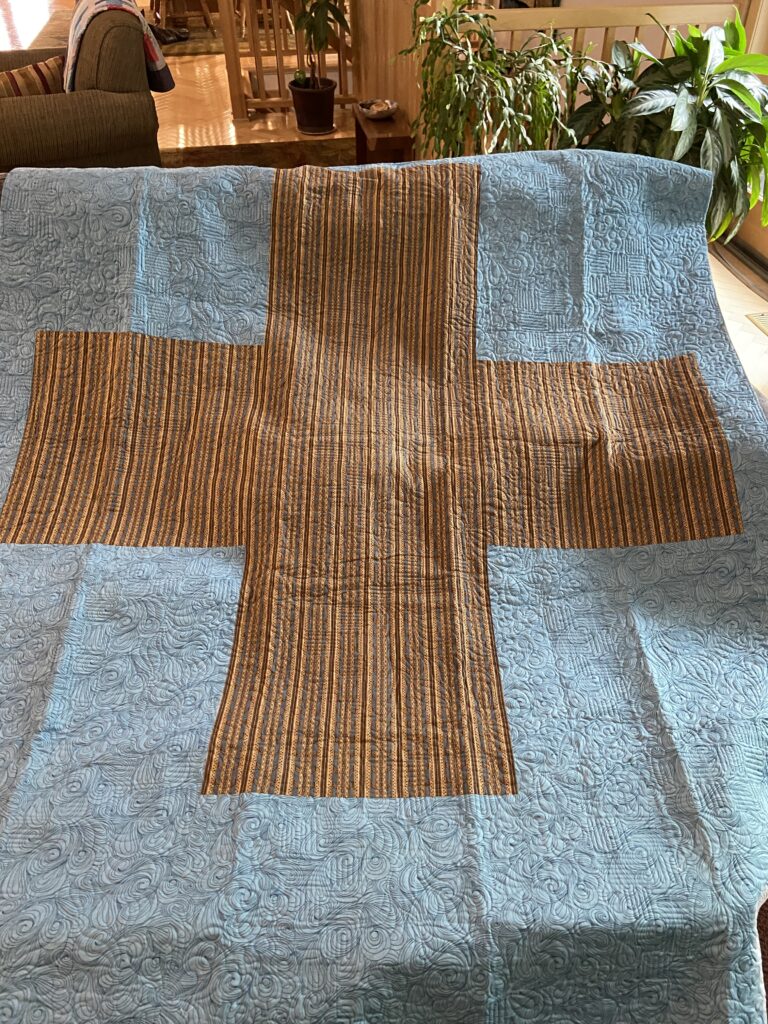 Isn't this a cool backing? I love the huge plus or cross, depending on what you want it to be, with the blue fabric. I have enough of the blue fabric to use as binding and hopefully this will be done soon.
Let's move on to summer gardening! Like I said earlier, Ray put in a lot of plants this year. With just the three of us here, there is no way we can eat all of it. We share it with neighbors, friends and family but there is still too much! I have taken extra fruits and veggies over to our local food ministry twice now.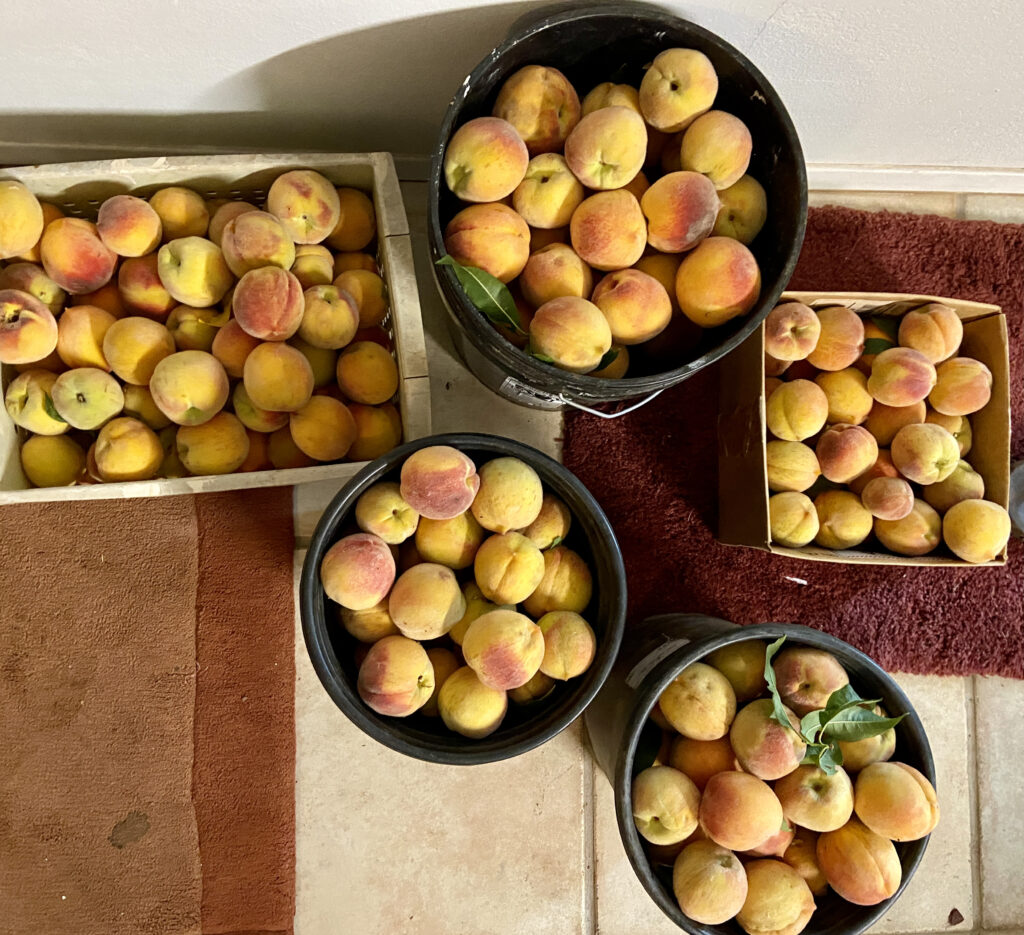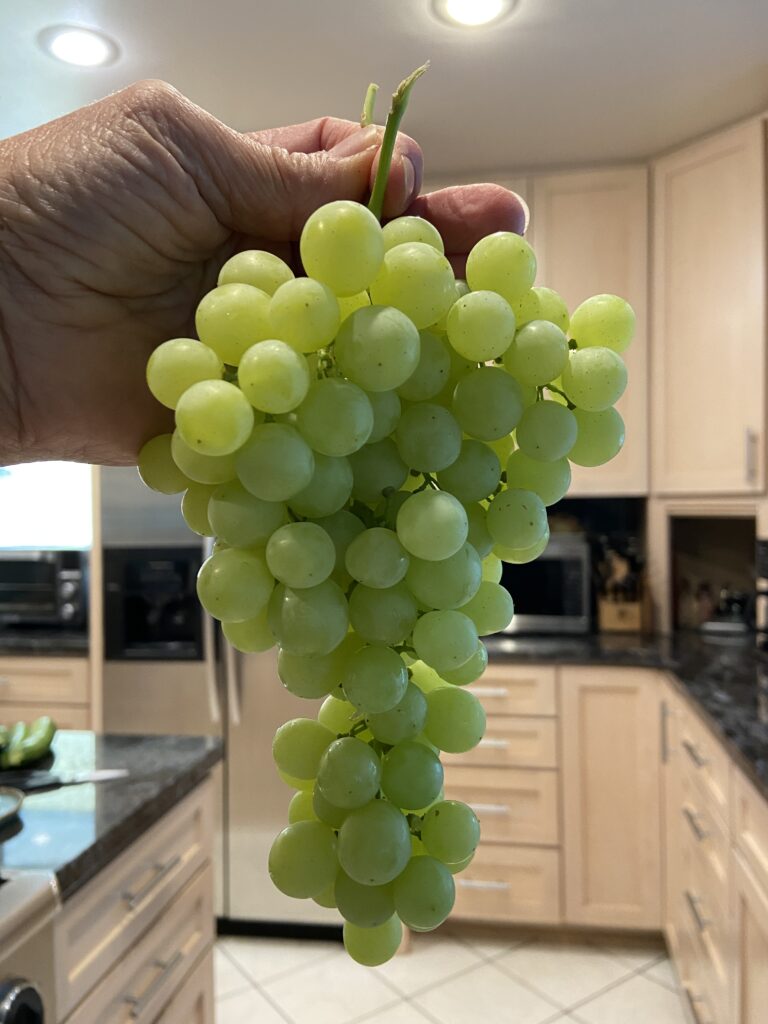 We have had grapes for at least five or six years now. Usually the raccoons and birds take most of them and the individual berries on the plant are quite small. Not so this year! We have beautiful clusters and, as you can imagine, more than we can possibly eat. So I have been taking those to the food ministry as well.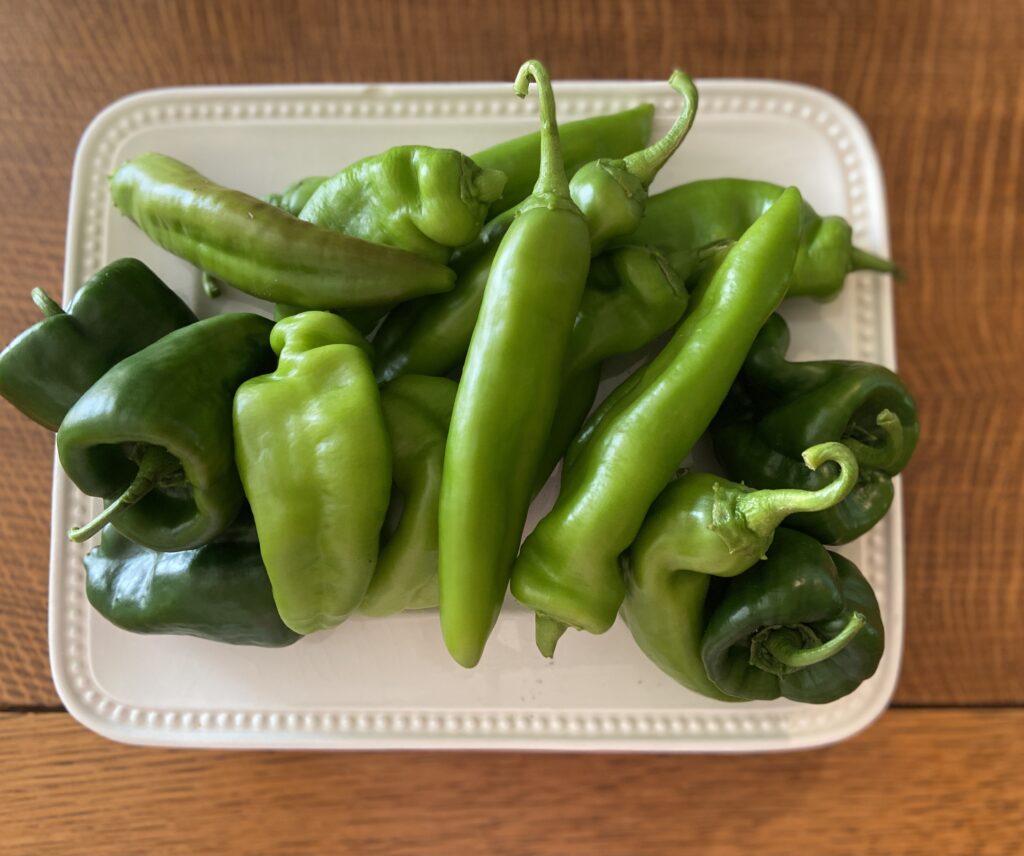 The peppers are very happy this year as well. I will be roasting these in the next day or too. We love roasted peppers on sandwiches, in omelets and in salsa.
As far as the shop goes, the sale continues and the number of bolts on hand has been steadily decreasing. I appreciate all of your support. Whether by shopping or sharing the word about the close out sale, you are such a help!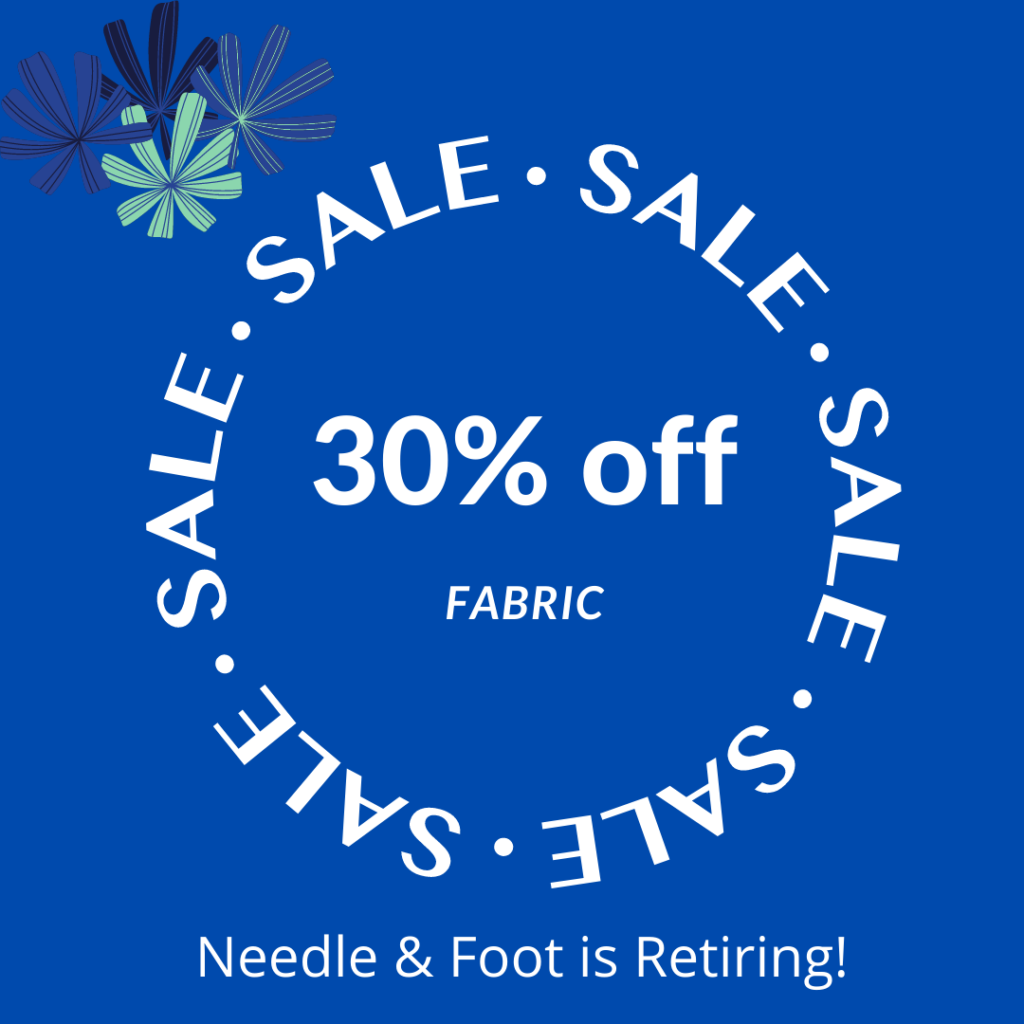 The regular price fabric is now 30% off! Patterns and notions are 20% off and ship free. The clearance and remnants are 10% off. Come by and browse the sale; see what might strike your fancy!
OK – this post is getting on the lengthy side. I will close now and hopefully get back into a better blogging schedule. I hope all of you are well and happy!