For the last week I have been in Seattle with my son and his family! Finally! My second grand daughter was born in March, 2020 but due to Covid, I didn't meet her until this week. This has been heavenly. Grand parenting is really the best thing ever.
The kids moved from Vermont to Washington because my DIL is (finally) done with her residency and has started working for a Seattle group of radiologists. With Covid, the move process has been really complicated. They have temporarily moved into a furnished rental while they house hunt. It has been crazy to see what house hunting in Seattle is like. The houses list and then sell within a day or two. So if one pops up that you might be interested in, you have to look at it and decide if you want it, make an offer within the day and cross your fingers and toes that you get it. Talk about a seller's market. The kids made an offer on one last night but who knows? The realtor says there will likely be at least a 1/2 dozen offers made and all will probably be well over asking price. It is such a crazy time.
While they look at houses and my DIL settles into her new work routine, Ray, Julia and I are here to help out a bit and play with the girls. Let's just say we have the easy end of the deal. So far we have been to the Rose Garden, the Arboretum and the Zoo. Seattle is really strict about face masks and social distancing. People respect the space of the other people they come across. At the zoo, we had to have an appointed time to enter so they could keep track of how many visitors are in the park. (I will say I thought it was a bit crowded at the zoo though.). The Arboretum was incredible though and there was plenty of room for everyone on the walking trails.
Want to see a bit of what we have been doing?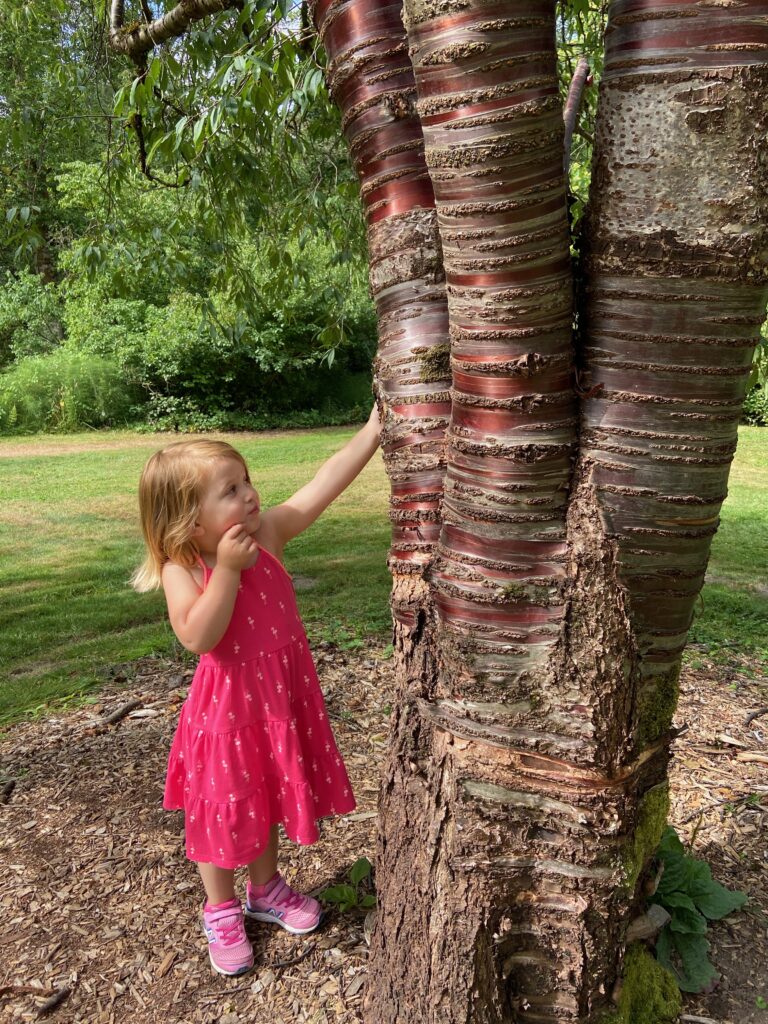 Does anyone know what kind of tree this is? The bark was really interesting. The shiny stripes were as smooth as a silky ribbon. I haven't seen anything like it but there were quite a few on a path through the Arboretum.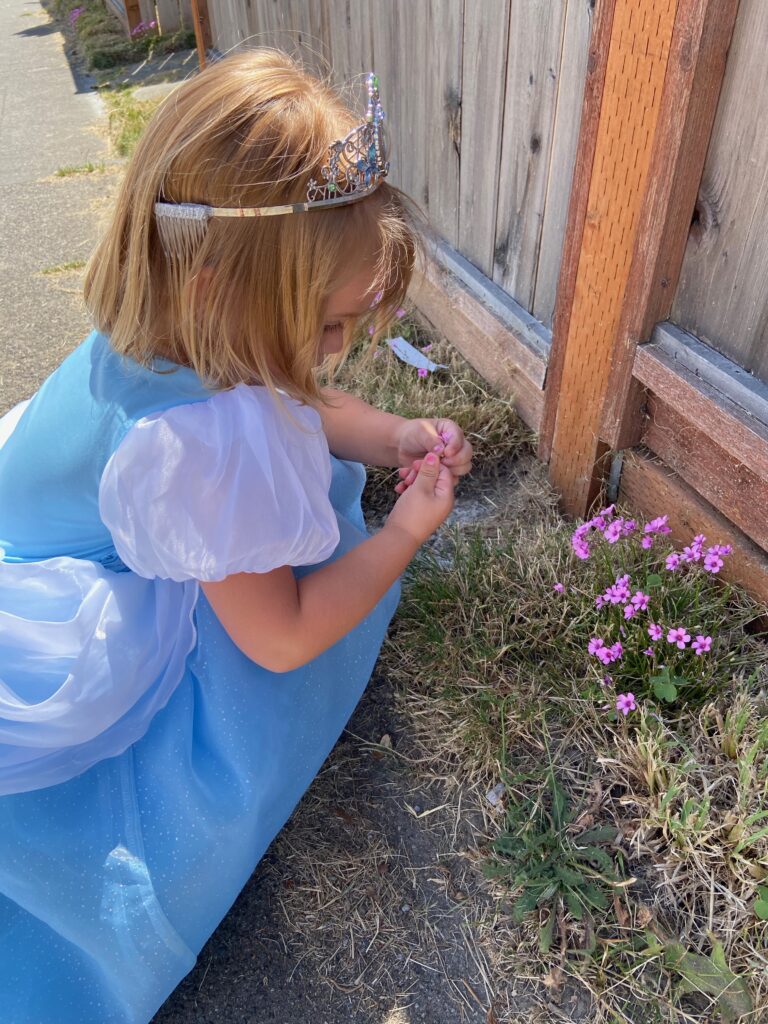 We brought a big surprise to H – A stunning Cinderella dress and a tiara. She is sure the tiara is a 'magical crown' and sometimes she closes her eyes with great drama, bows her head deeply, and imagines something magical happening.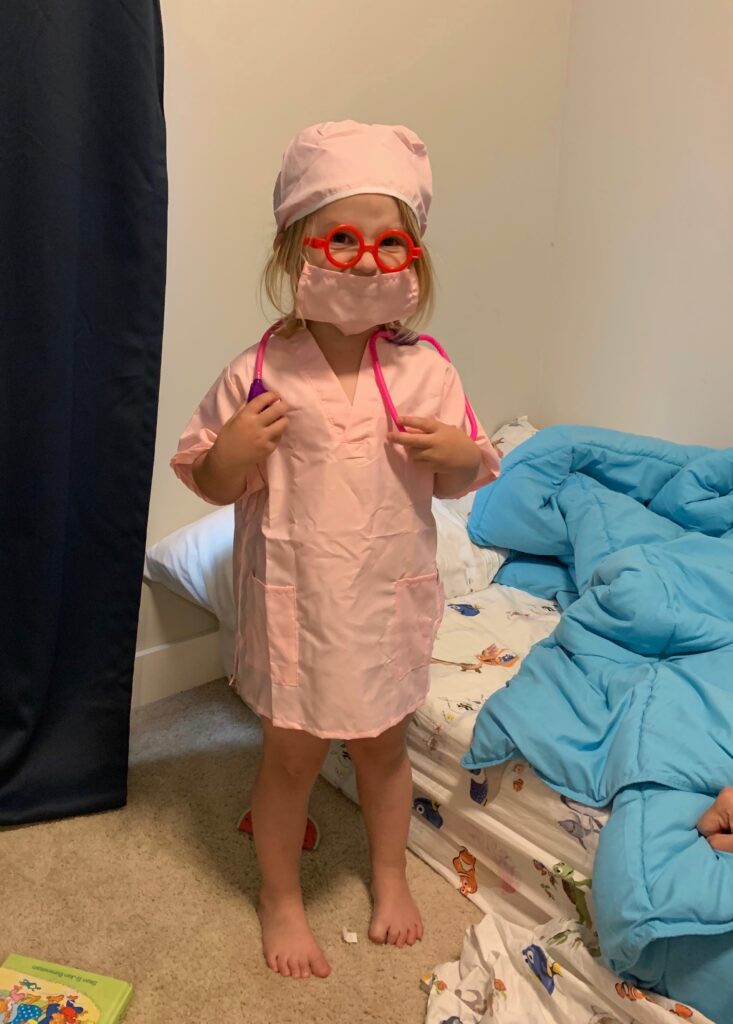 Having a mama who is a doctor means you are quite familiar with scrubs and stethoscopes. She likes to play with mama's real stethoscope which isn't often available. Luckily she now has her own garb. Isn't this picture hilarious? I just love it.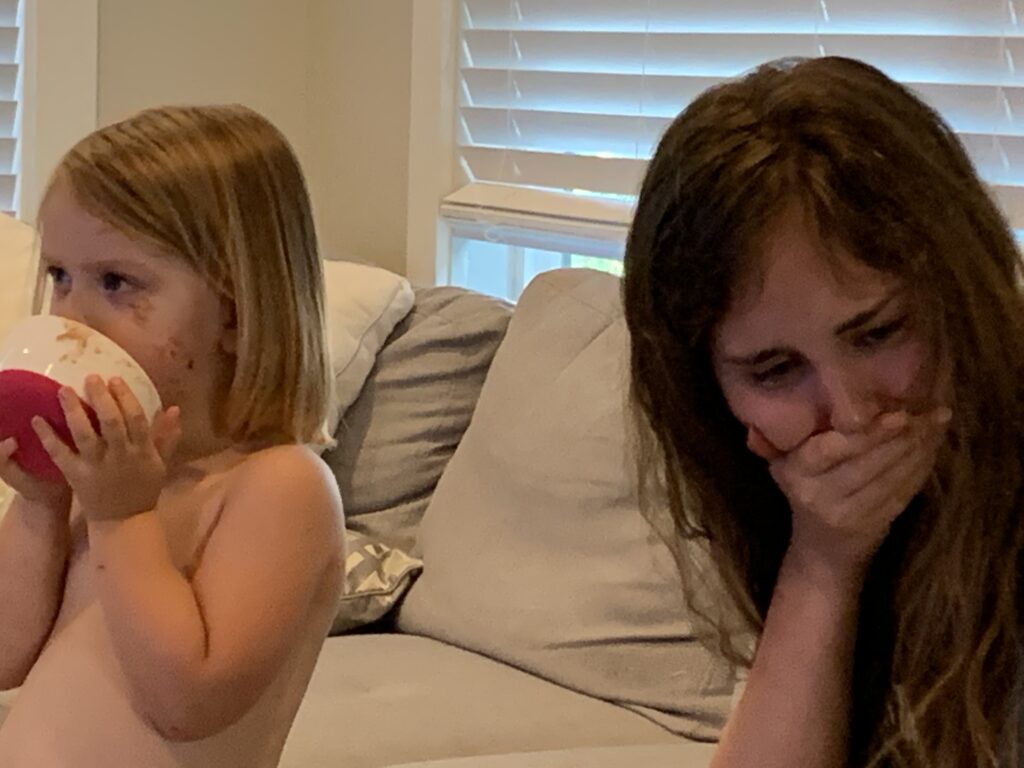 After mama's first day of work, we celebrated with ice cream. What a great treat. This girl does not let one bit go to waste. Julia is still getting used to the mess one three year old can make!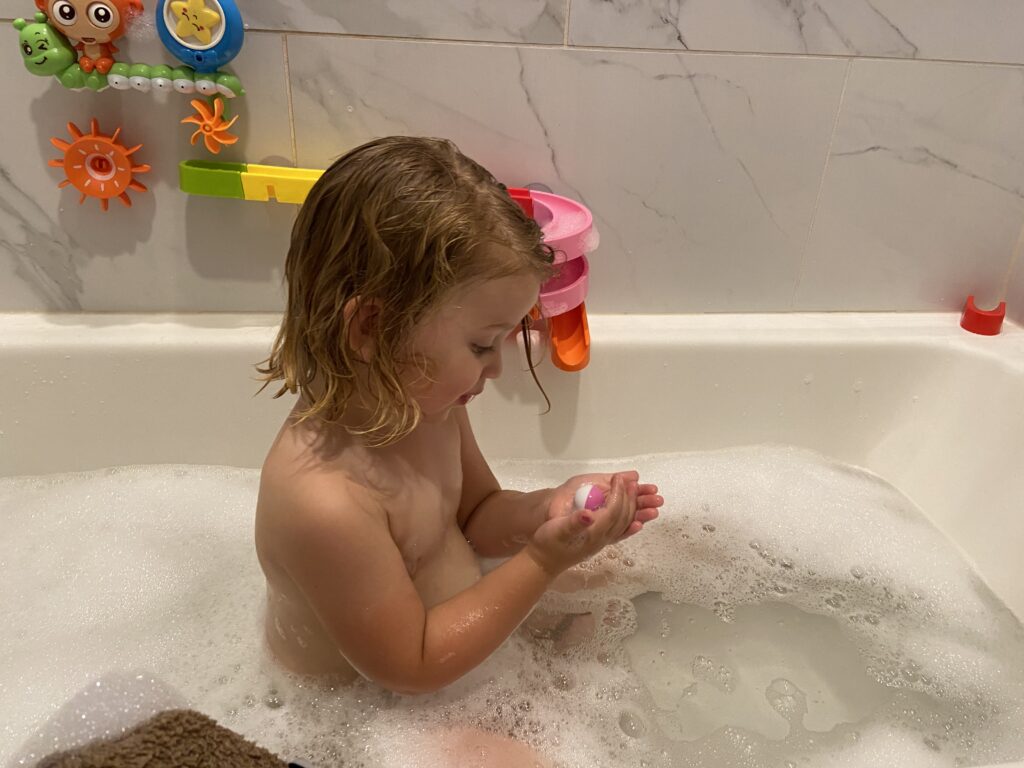 I love watching her play in the tub. She has such a great imagination. She talks constantly and makes up all these scenarios that happen during tubby time every night.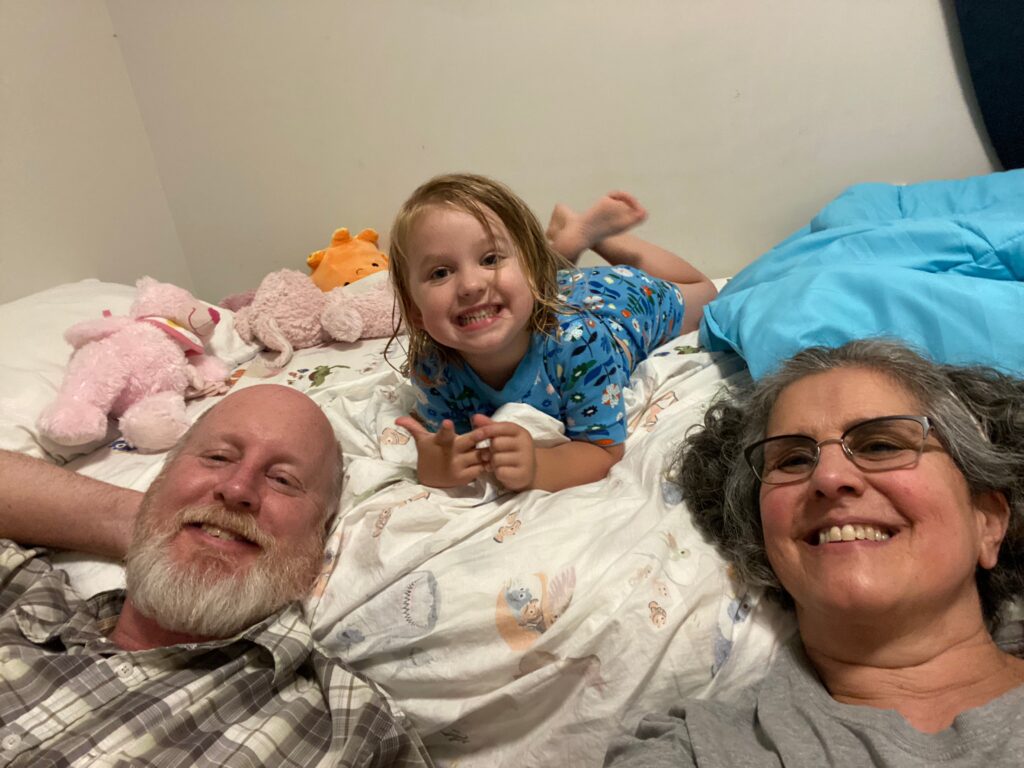 Grandpa and Grammy take turns reading books before bed.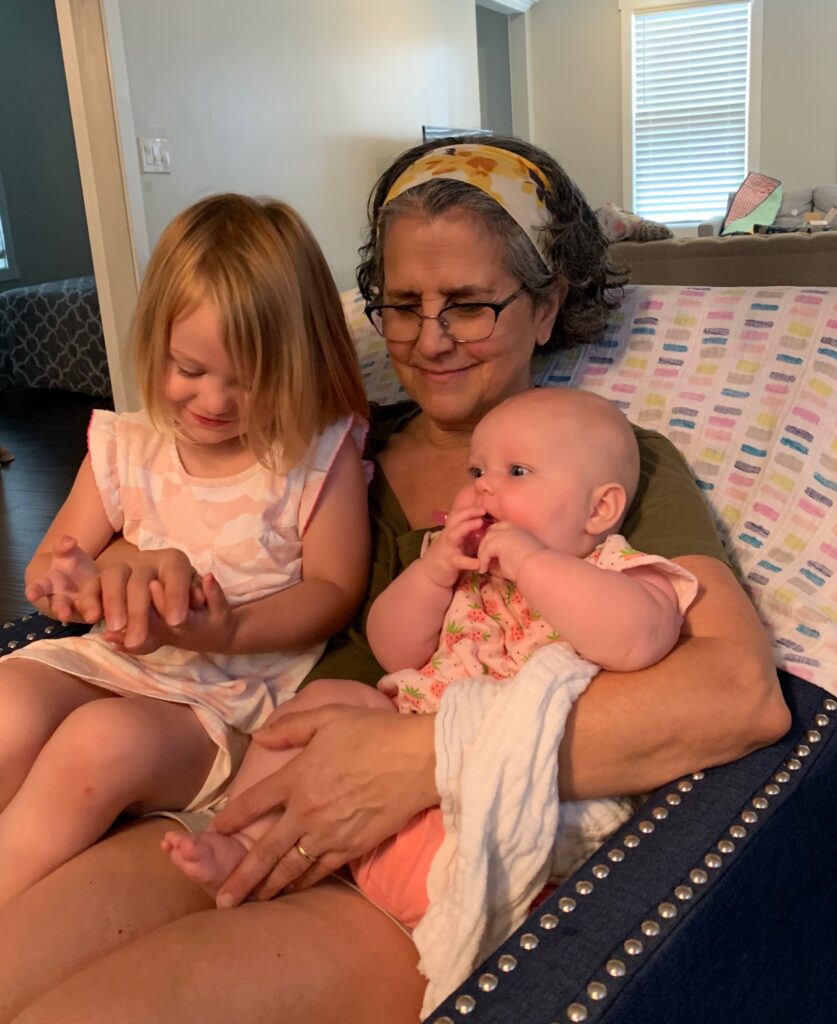 What is better than baby snuggles and good coffee first thing in the morning? Nothing, absolutely nothing.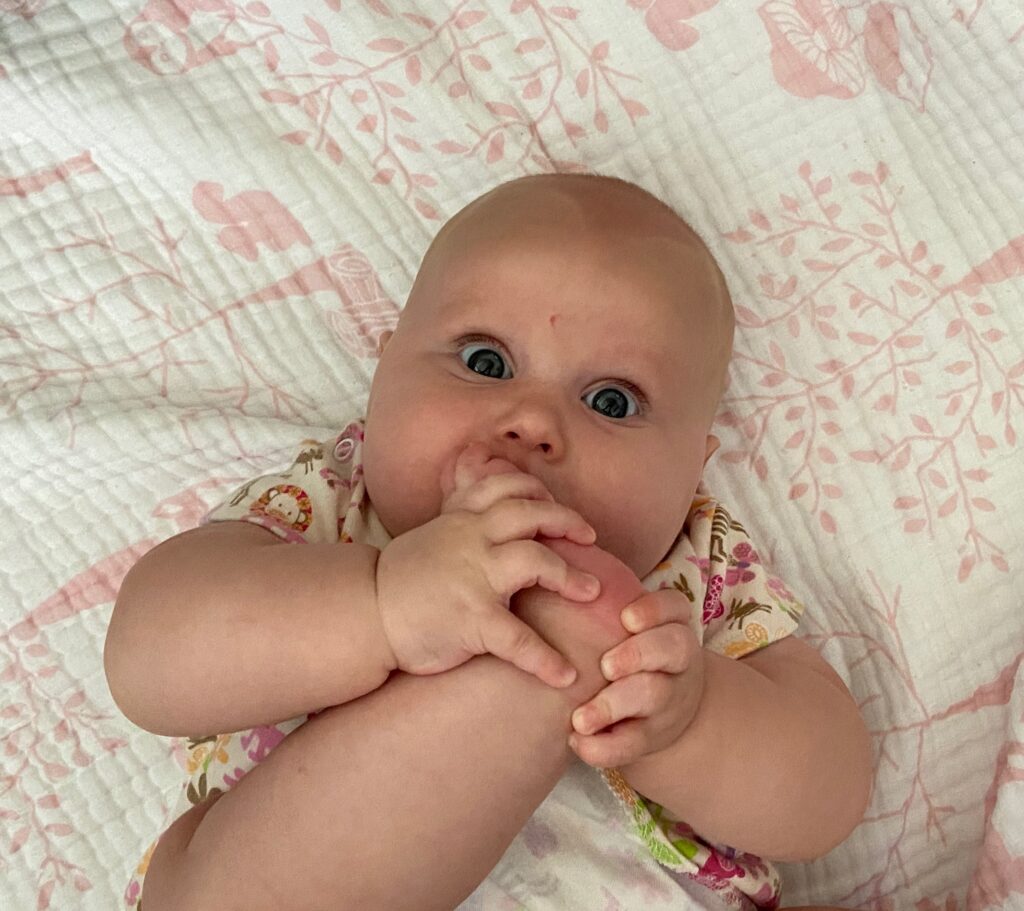 Babies are so flexible. This girl immediately goes for her toes during a diaper change. She loves this game. It is crazy how she can lay her leg against her chest like this. I am fairly certain I would not be successful trying this!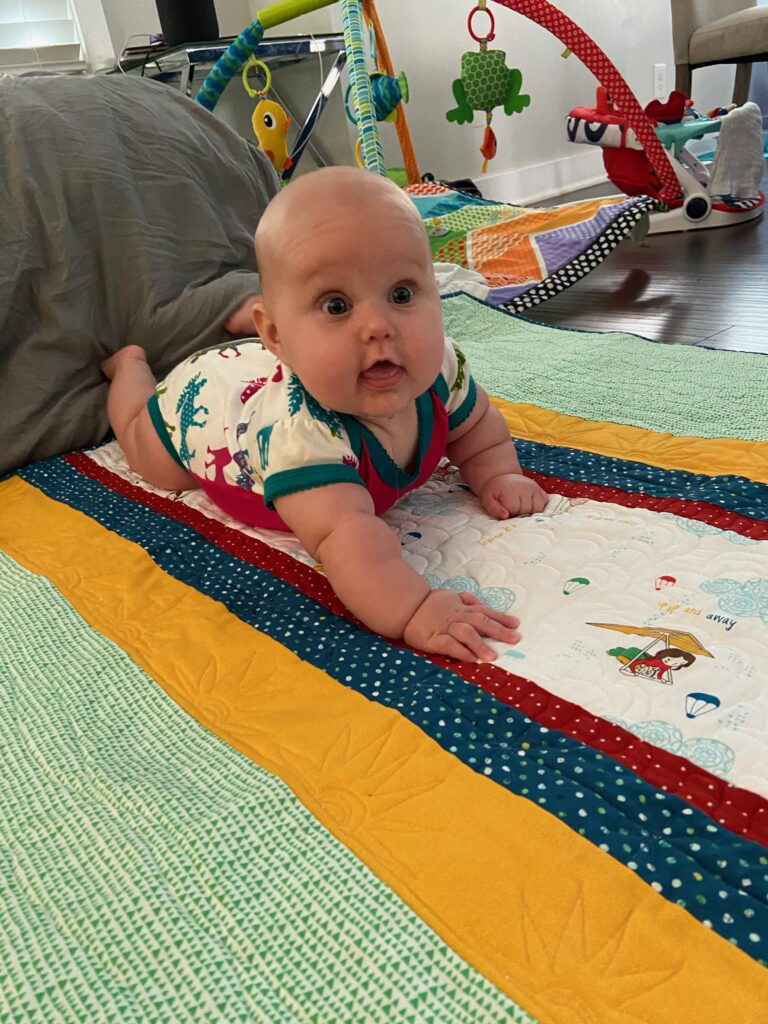 Somehow I never made this little one her own special quilt. But I did bring this bright strip quilt up for her. (I have carried kits for this one in the shop for a while – I think there is only one more left though.) She is enjoying a bit of tummy time here. Not her favorite activity but she will play like this for a short time.
We are planning to stay for a while yet so my son and his wife can continue house hunting. Hopefully they will enter into a contract soon. Then we will head home for a while until escrow closes. If they need us to come back up to watch the girls while they move into their house, we will be back in a flash. The joy of being (mostly) retired is the flexibility to go back and forth as needed. With Covid, we are planning to drive rather than deal with airports and flights. I am incredibly fortunate to have a good friend (she is also into sewing and quilting) who enjoys running the shop while I am gone. I don't think I could have both (the shop and trips to see the kids) without her. I am so very grateful to her for helping out.
Hoping you are all well – hang in there and stay healthy. I am enjoying a moment of quiet – everyone but me and the baby took off for a walk at the beach. I am waiting for a certain chunky monkey to wake up from a very long nap. This is the life!