I received something really special in the mail yesterday. The family of a patient who received a Mercyful Quilt wrote a note of thanks. We quilters have talked about this and agreed we do not need to hear the gratitude felt by recipients of the quilts we donate. As quilters, we donate because it might soothe someone during a really difficult time and it makes us feel we are helping in some small way when we make and give these quilts.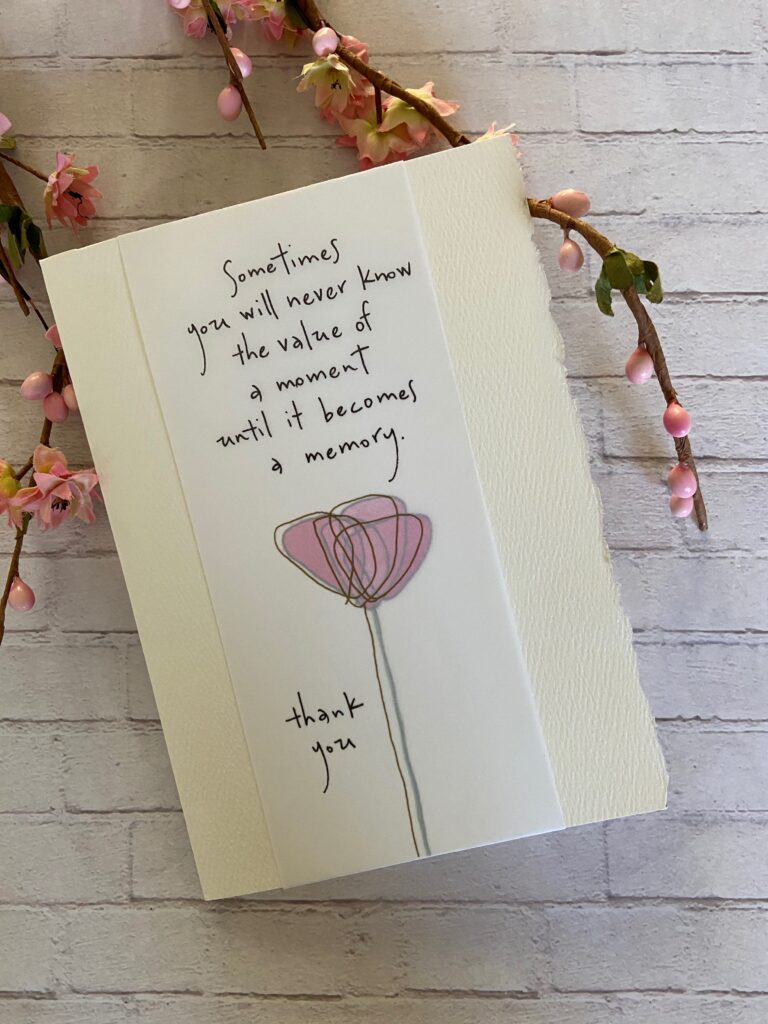 But this family was so taken by this handmade gift and they wanted to be sure we all knew how touched they were. Three sisters spent time with their father who recently passed away at Mercy Hospital in Sacramento. They were given the opportunity to select a quilt and wrap up their dad with it as they sat with him. Receiving this was such a sweet surprise for them. They wanted to extend a note of thanks and this is the best way for me to share it with all of you.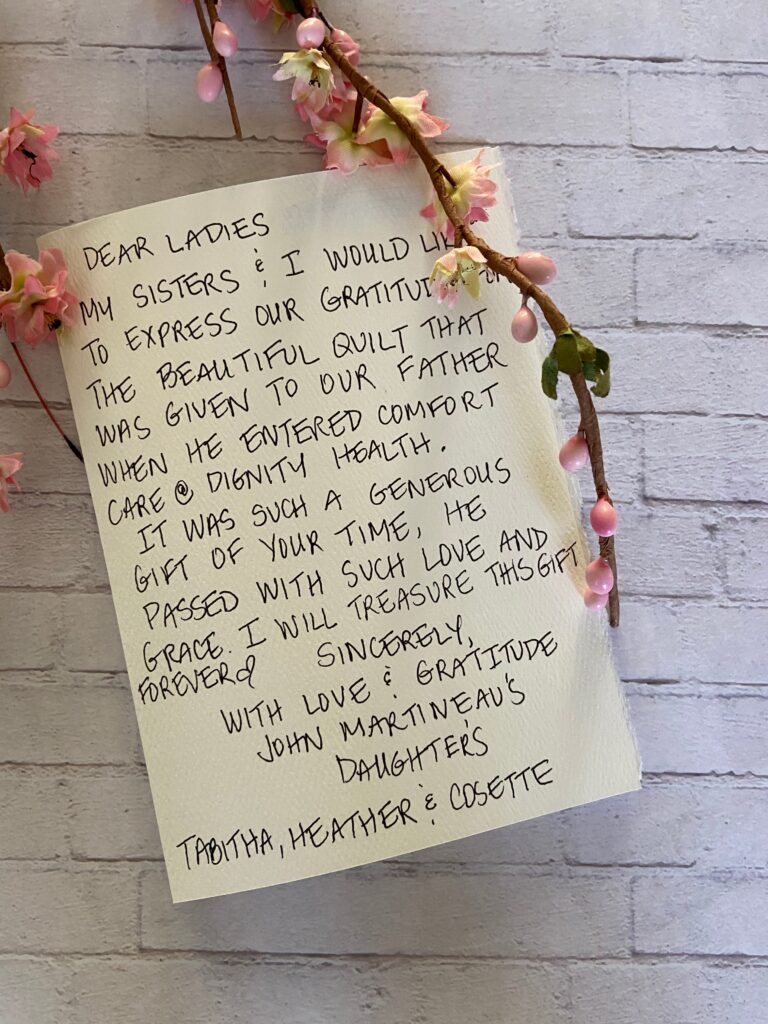 The best thing was the photo they enclosed with their thank you note. I am really hoping the person who made this quilt will see this post. Please let me know if it is one of you who donated it. If I can track down the quilter, I would be happy to send the picture to the maker – what a sweet way to see your quilt providing comfort.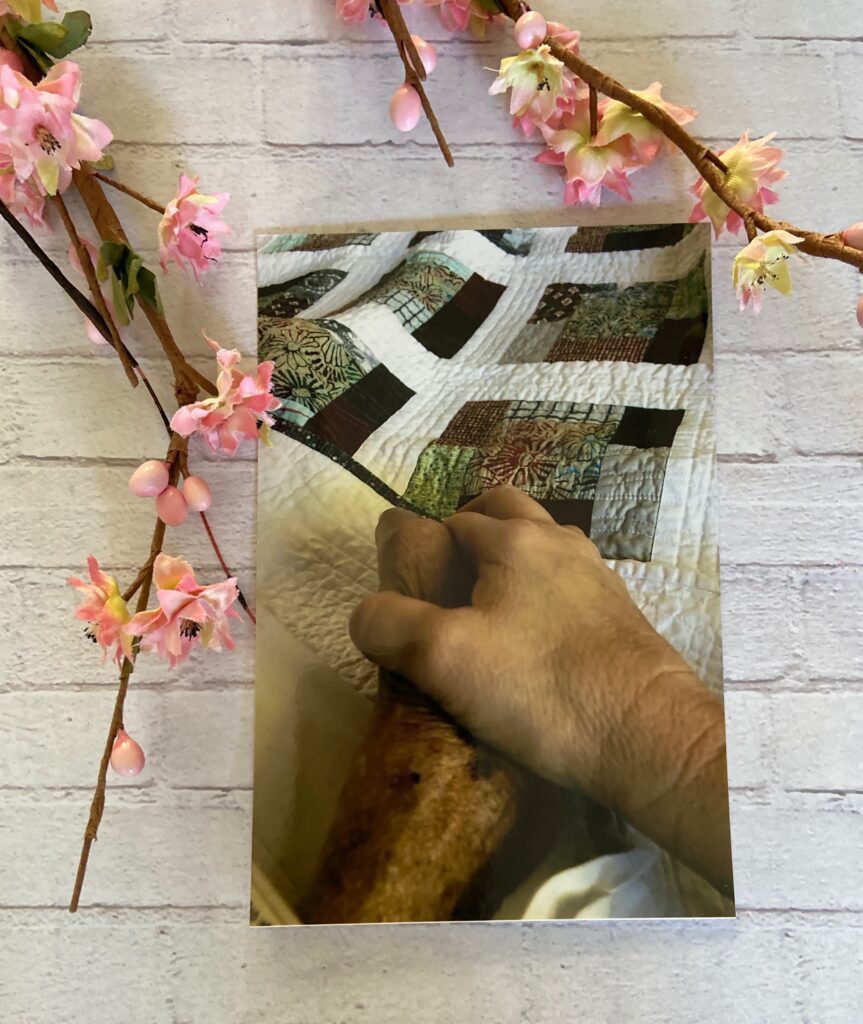 This picture says it all to me. The comfort it provided to three sisters and their father. The beauty of this quilt tucked around their dad rather than a plain, sterile hospital blanket is just lovely. It surely didn't make saying goodbye to their father easy but maybe it helped just a tiny bit.
Since I am writing on the topic of our gifts for Mercy Hospital I would like to share one more story. Last summer a young woman was dying of breast cancer at Mercy Hospital. Her husband and 11 year old daughter spent their time with her. As her death became imminent, a palliative care team member asked the girl to come and choose a quilt for her mom. She explained the girl would be able to keep the quilt after her mother's death. The girl looked through the quilts and carefully picked one out. When asked why she chose a particular quilt, she told the nurse it made her think of Paris. She and her mom had talked about how wonderful a trip to Paris would be. Since this wasn't going to happen, she wanted to wrap her mom up with this quilt. (I wish I knew which quilt this was but I don't have any idea). I think this is so amazing though. For this little girl to attach such an important memory to the quilt she chose must have been comforting to her.
These are the reasons we do it. This is why we spend hours cutting up pretty bits of fabric and sewing them into quilts to be given to people we will likely never meet or hear from. It is kind, thoughtful, helpful and so necessary in our world. Kindness matters. Thank you to each of you. Please know the need is on-going. Mercy Hospital is down to about ten quilts right now so if you are called to help, please donate a lap size quilt when you can. It means more than we know to so many people.