After a fantastic ten days of family time, my kids have gone back home to their lives and I am getting caught up here at home. We all enjoyed our time together and I am so happy they were here to celebrate Julia's graduation from high school. It was so much fun to have this long visit together.
My last post was celebrating my five year blogging anniversary! I want to let you know who the giveaway winners were.
For the charitable donation, Jinger S. was selected by the handy dandy Random Number Generator. Her charity of choice is the Alzheimer's Association. She has family members who were or still are suffering from this insidious disease. I am happy to donate $50 to this cause. I hope someday there will be some way to prevent the disease or at very least, stop its progression. Interestingly, June is Alzheimer's Awareness month so the timing of this giveaway couldn't be better. If you would like to see a few of the facts and figures about Alzheimer's, click here.
For the handmade wooden point turner, Random Number Generator chose Robbin G. Robbin is a reader who actively participates on the blog. I always enjoy her comments on my posts and I am happy to send this prize off to her!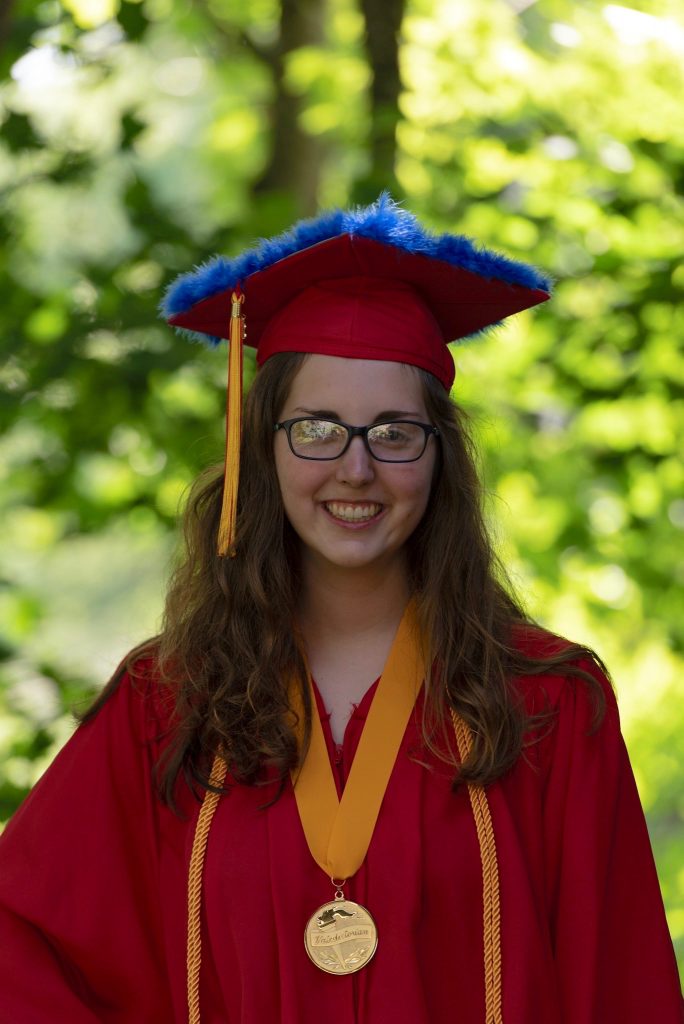 Last Wednesday, during an incredibly hot evening, Julia graduated from high school. I was so proud of her and her classmates as they all completed this phase of life. She had such a great experience at Ghidotti and I know she will grow even more when she goes off to college in September.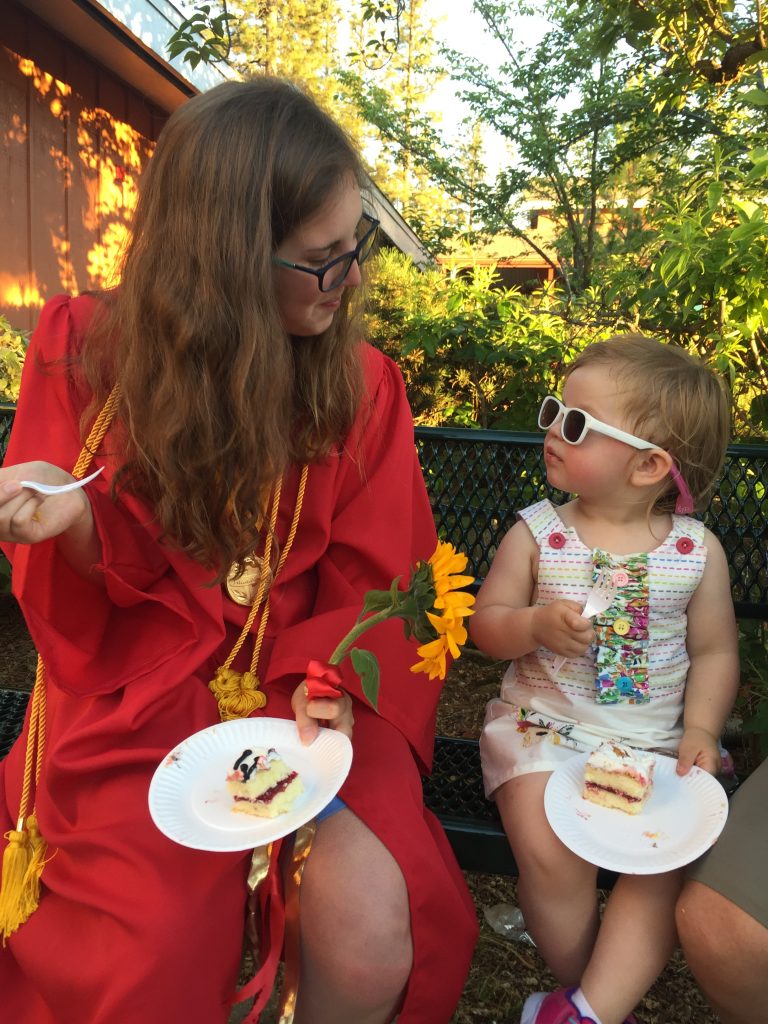 My grand daughter endured the hot, long (and for her quite boring) commencement like a champ. The high school is quite small, Julia's class had 43 students in it. The Parent Association provides cake and lemonade at a reception after commencement. I love this picture of H looking up to her Auntie Julia.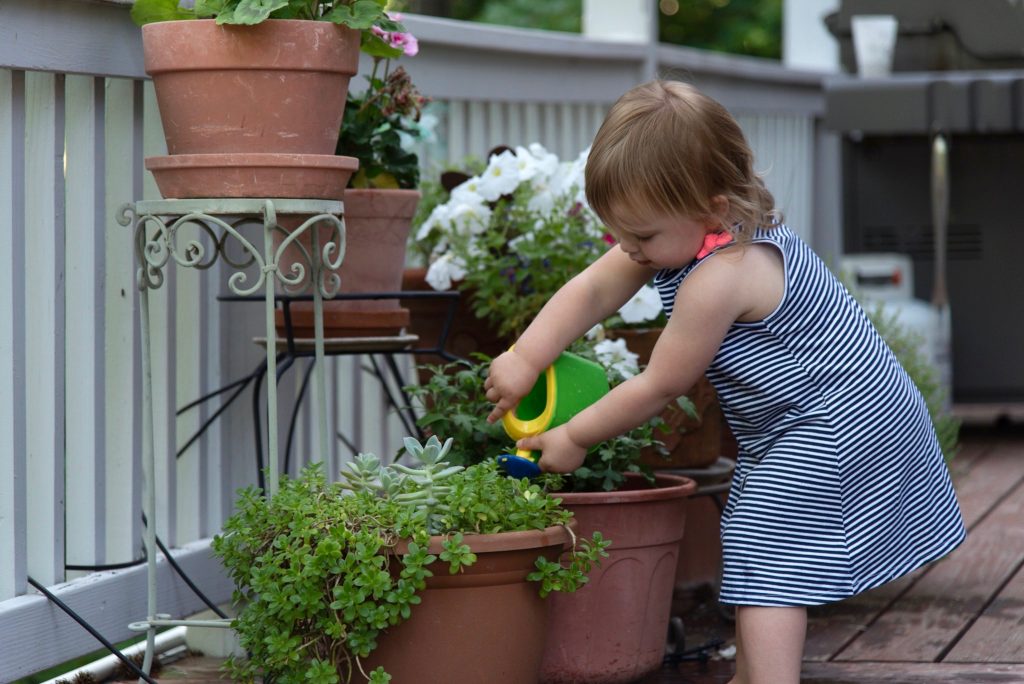 The rest of the week was spent celebrating graduation with a family party and just hanging out on a stay-cation of sorts. H loved watering with this little watering can I picked up for her at the Dollar Store. Luckily it was really warm so my plants didn't mind her zealous watering routine. Haha.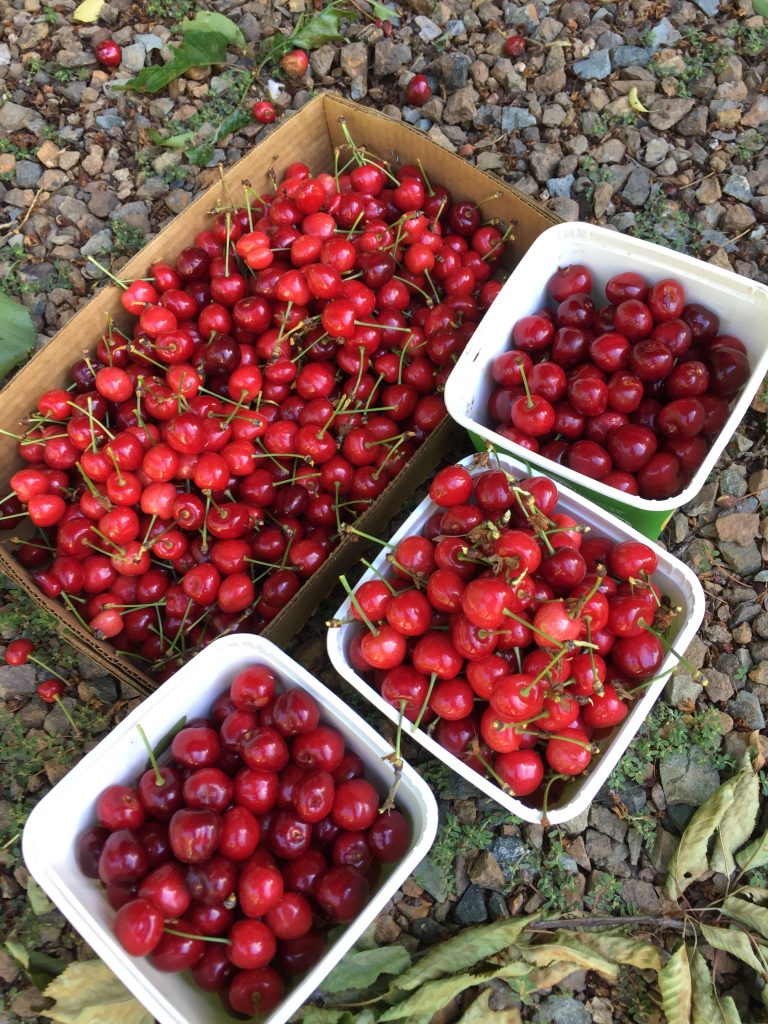 As usual, the cherry tree ripened all at once! We have so many cherries. Ray spent some time pitting fruit and freezing it. We were too busy to can or cook jam. Hopefully later on we can get to it. Cherries rot so quickly but we were able to take advantage of some of the fruit.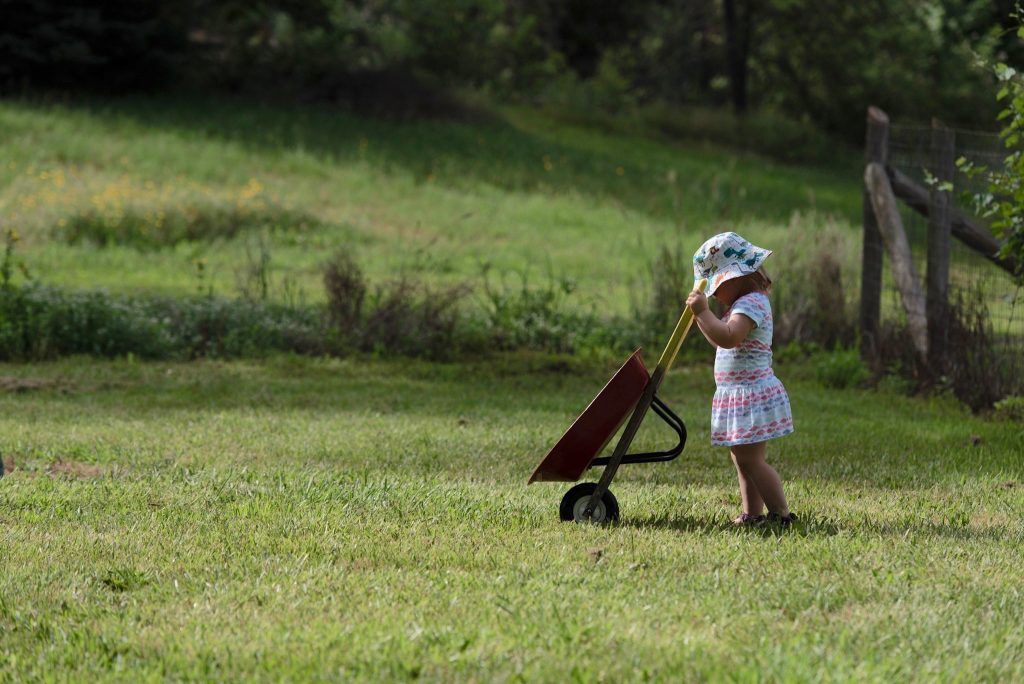 Aside from her watering chores, this girl enjoyed pushing a little red wheelbarrow around the property. Isn't she the cutest?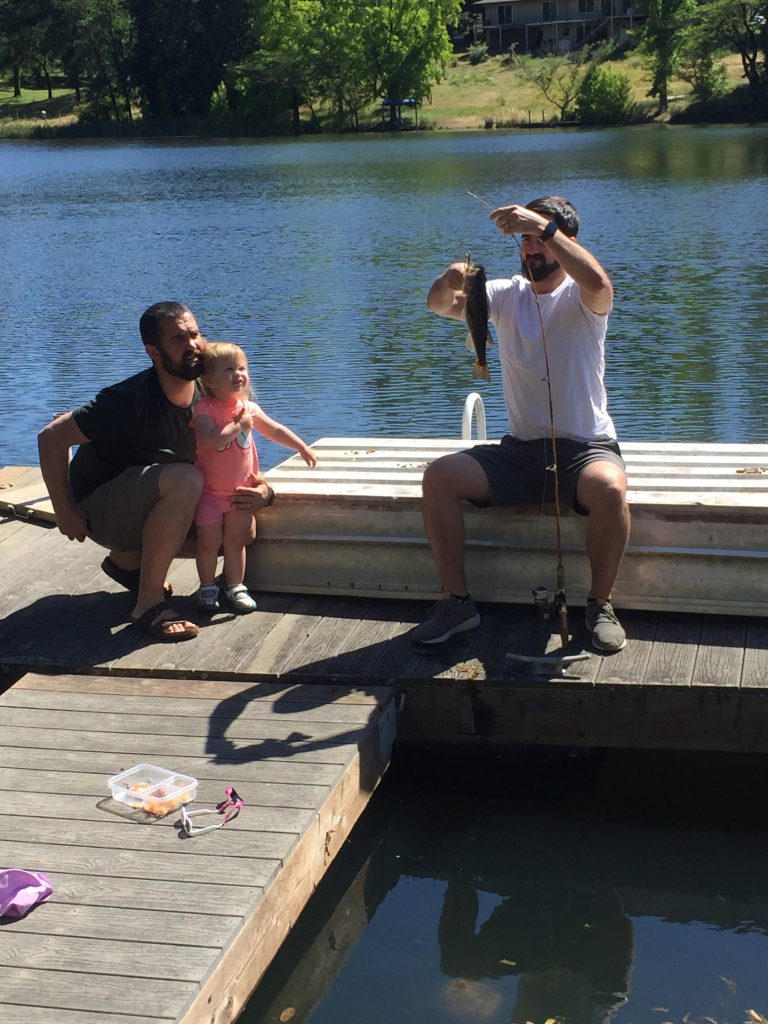 We also spent an afternoon on the pond at the edge of our property. My son, Ian, caught a bass and it was fun to see H's response. She was enthralled with the whole process and enjoyed watching the fish swim off when he was set free.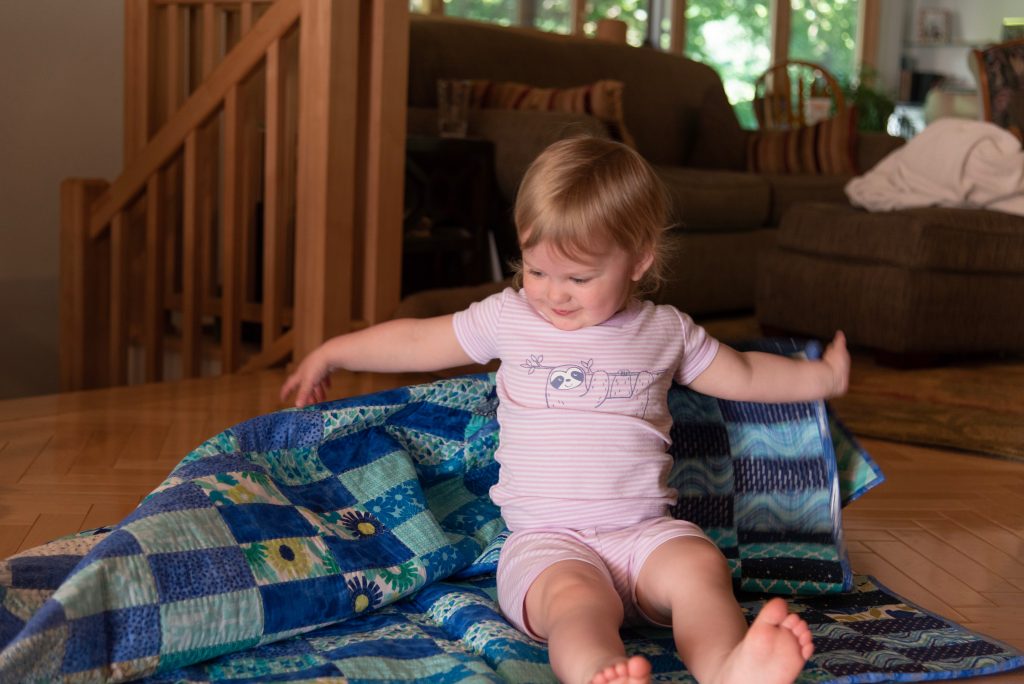 Today my plan is to clean up the house a bit. There are toys strewn everywhere. Then I need to open the many boxes of Mercyful Quilts that arrived last week. The only package I did open last week contained this gorgeous piece by Preeti of Sew Preeti Quilts. Preeti named it Oasis and you will surely enjoy her post telling more about the quilt. My grand daughter clearly approves of this donation. It is so pretty and has an hombre effect with the blues gradually changing shade. Thanks so much Preeti.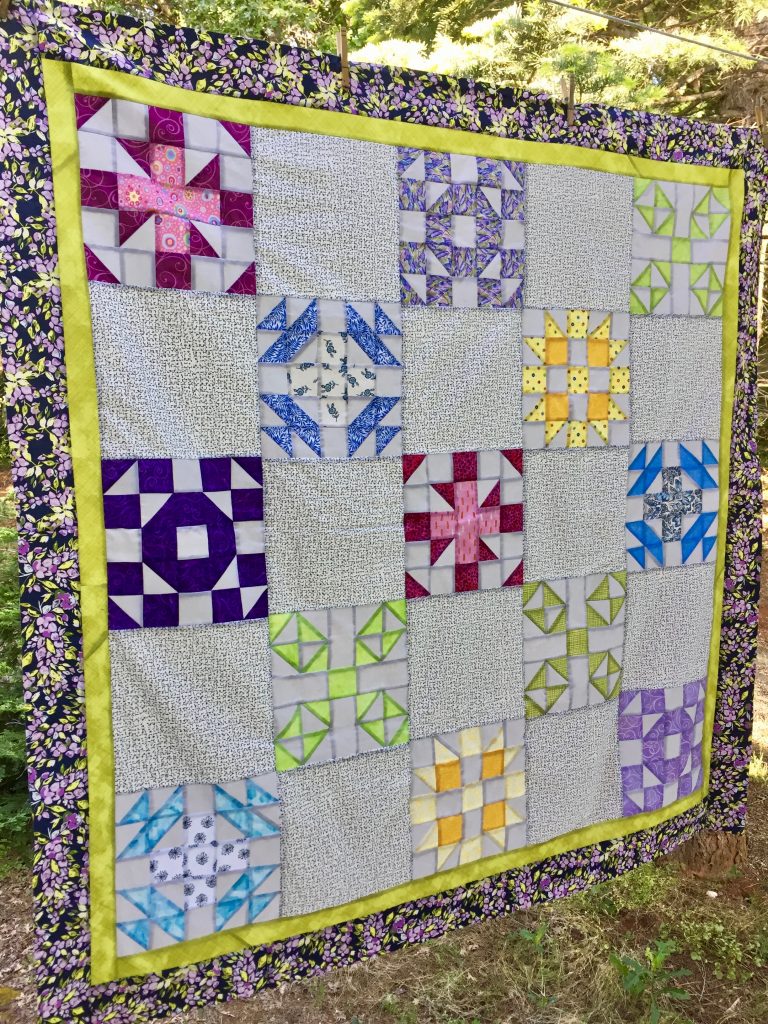 Once the house is (somewhat) under control, I need to baste my Squared Away quilt top. I am excited to quilt this one up. It is going to be a warm day so this will be a perfect way to spend the afternoon. How about you??