Happy Friday everyone!  It has been really busy here between the shop, the usual migraine nonsense and… wait for it…. getting ready to leave for Vermont!  I am going to be watching my grand daughter for three weeks.  Her mama has to go to Washington DC for a month long training session and asked if I would come and help out while my son is with H.  He commutes a fair bit to work and back which makes H's daycare time much longer if he is on his own with her.  Between that and snow days and the usual illnesses she is always coming down with, it will be good to have another person there.  I am looking forward to it as much as my DIL is NOT looking forward to it.  You know?  I feel terrible for her to have to leave for so long.  She is a medical resident in Radiology at the University of Burlington and has known this was coming for the last several years but now that it is actually time to go, ugh! She is such a trooper and is trying to make the best of a lousy situation.
I have been cooking meals and freezing them so Ray and Julia don't have to cook quite as much while I am gone.  They both have long days and it will be nice to have a few things they can just pull out of the freezer and heat up. Also, my friend Sophia has been coming over and learning to run my shop for me.  She is such a good friend and I am incredibly grateful she is able to do this for me.  She will cut orders and ship them for the next few weeks.  I have known her for a long while and we are both into quilting and sewing.  She will have everything under control while I am away!
I did play a bit in the sewing room this week, though not as much as I would have liked (is there ever enough hours in the day?). I had four custom orders, two are finished and the other two are prepped to be completed today.
Inspired by watching Marie Kondo on Netflix the other day, I thought I would clear out some old fabric that just wasn't 'sparking joy' for me any longer and give it away.  But as soon as I sat down and started going through things, I found this panel I had picked up at a garage sale last fall.  That was the end of the Konmari cleaning effort!
I just love this panel.  I did several reverse image searches to try and find it on-line and see what line it was from.  One person on Facebook or Instagram (?) commented that she made pillow cases with it in the 1980's for her children.  So it is an older fabric.  I wasn't sure what to do with it but finally decided to make a doll quilt with it for A Doll Like Me.  It is so pretty and, at 22″ x 26″, just the right size for this.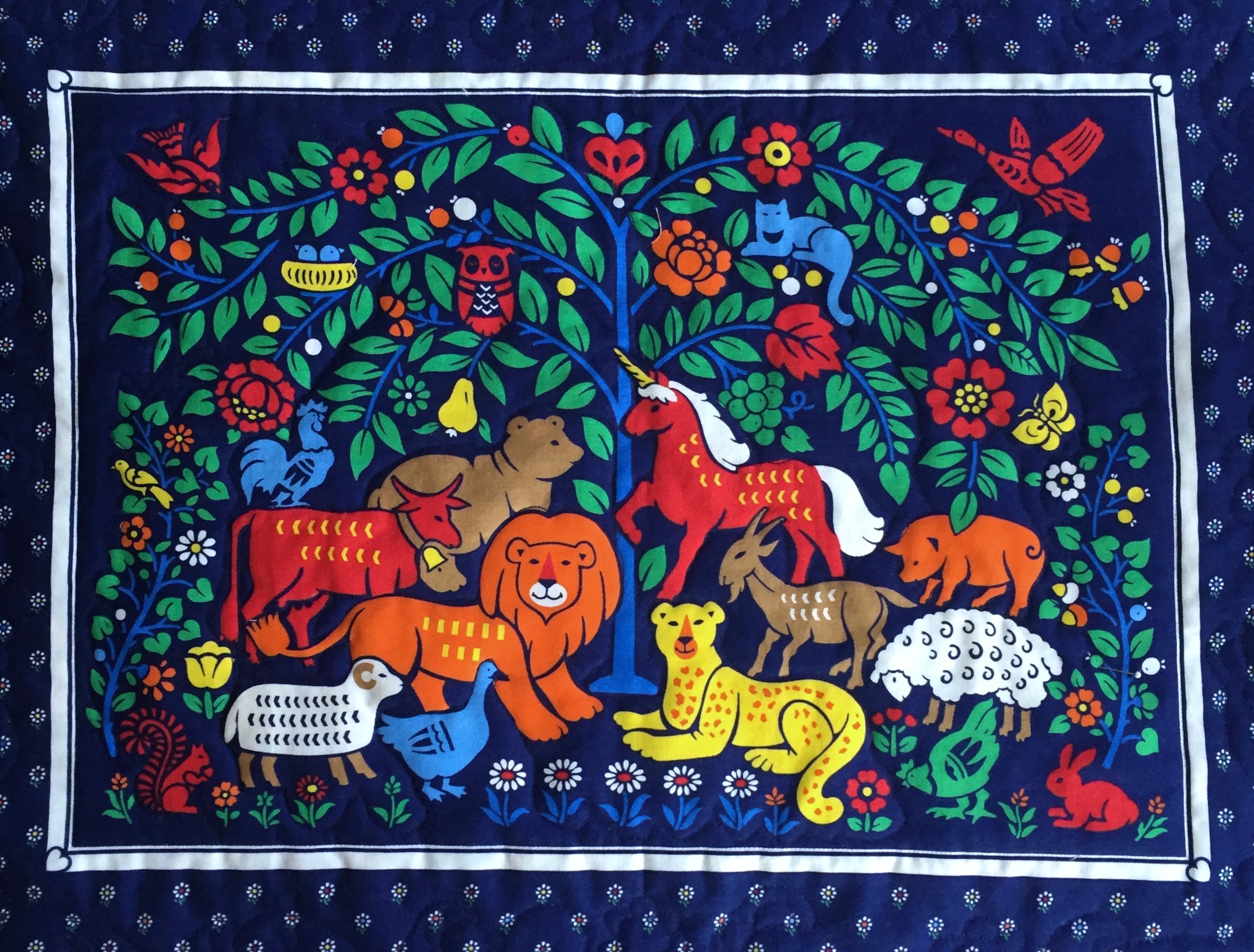 I found a batting scrap and some backing fabric and quickly put it all together.
The quilting is basic since it really doesn't show up and the animals are the star of the show here.
I free motioned around most of the animals and some of the vines to hold everything together. Around the outer border I FMQ'd flowers.  That was good practice as I am really rusty these days.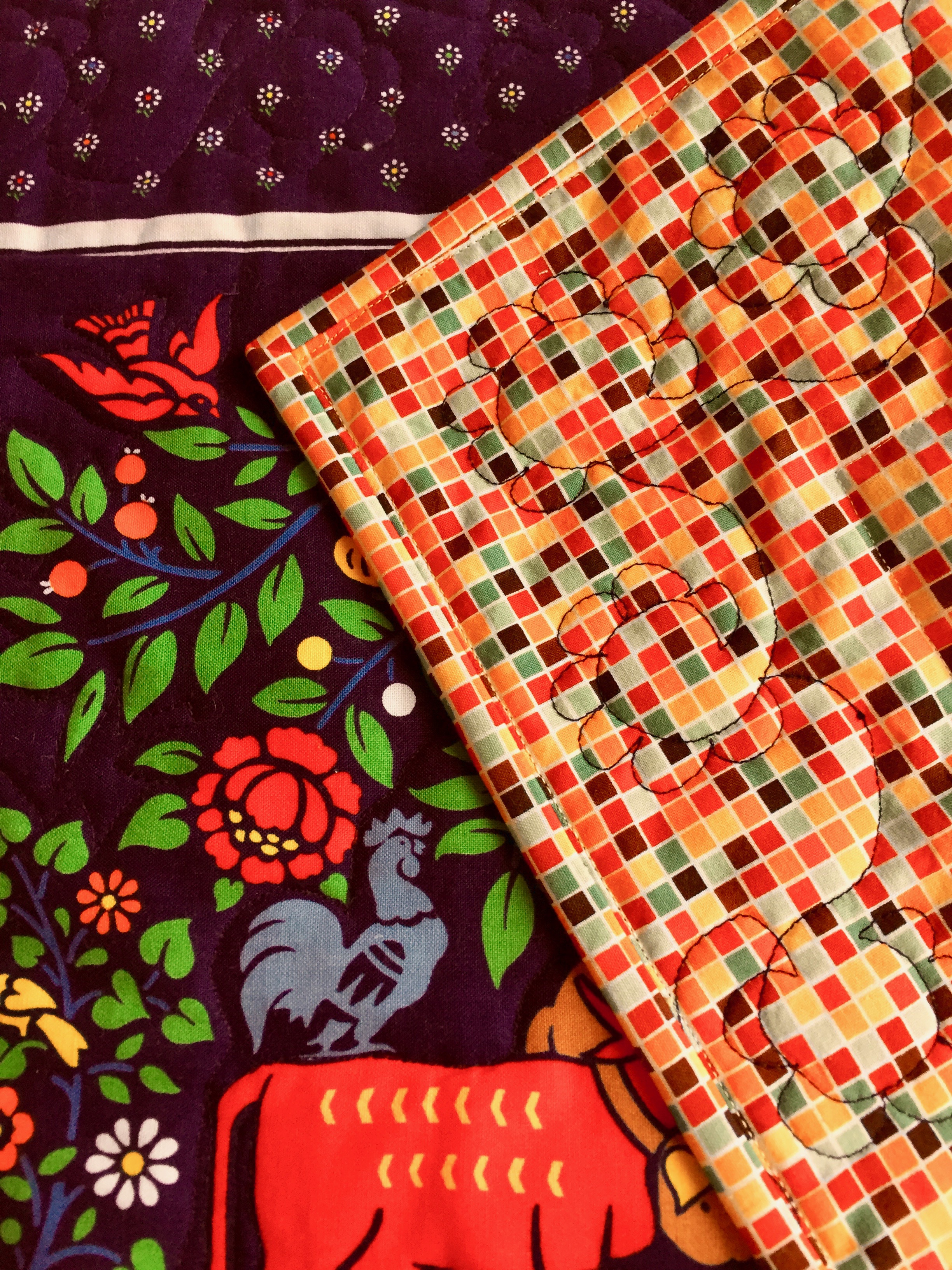 The backing and binding were also a thrift store find – I believe it was an older RJR print.  Great colors thought, right??
Don't you love making something start to finish with bits of fabric you already have. The stack of fabric in my closet holds so much potential. I will keep this little quilt and mail it to Amy when I have a few more things to add to it.
Time to go finish up those two orders.  Also need to make meatballs for the freezer. Yesterday I had a roast in the crockpot for shredded BBQ Beef sandwiches.  I am filling our freezer!!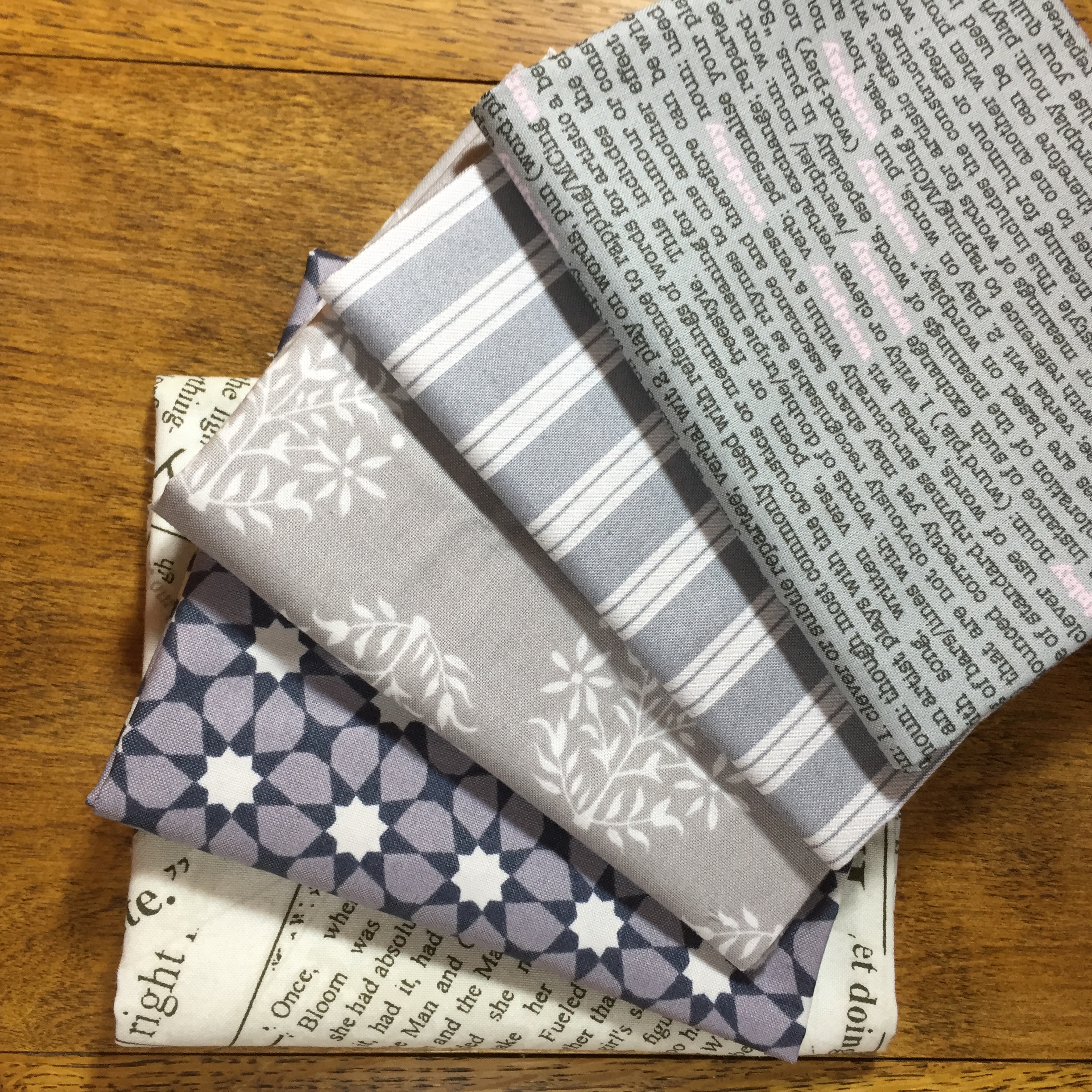 Hope everyone has a wonderful weekend.  Ours will be gray and rainy out, as it has been all week.  The wet weather inspired me to cut a few gray and white fat quarter bundles for the shop.  Aren't these pieces wonderful?  Included are flowers, stripes and text prints by Carrie Bloomston, Alison Glass and Sarah Fielke!  Click the link if you want to add them to your stash.  🙂
Linking to my usual sites.  Check them out at the top of the page under link ups!