It is the first of the month and my sister Tina was the first person to start the texting this morning. I don't remember when we started, but it was years and years ago.  As kids, on the first of the month, "Rabbit, Rabbit, Rabbit" had to be the first words each of us uttered in order to have good luck all month long. It was a disappointment to forget and then hear a sister utter the words.  I would think, dang it – it is the first of the month.  We are not a superstitious bunch but we did this regularly.  Now that we are grown and living far from each other, it has become tradition to text it first thing in the morning.  I love family traditions.  This morning I looked up the whole "Rabbit, Rabbit, Rabbit" superstition and while I didn't find a solid explanation, I did learn it dates back as far as a 1909 edition of the quarterly scholarly journal Notes and Queries and was also mentioned in A Dictionary of English Folklore.  Next I found an article on NPR stating Franklin Delano Roosevelt not only carried a rabbit's foot for good luck but also uttered "Rabbit, Rabbit, Rabbit" on the first of the month.  So, my family is in good company.  Do any of you keep this tradition at your house?  Or, did you when you were growing up?
We are home from our Vermont trip. It was such a wonderful week.  We enjoyed nice weather and did a few days of exploring in both Vermont and Montreal. It turns out my grand daughter is the cutest little girl.  Truly, the cutest.  I am sorry to disappoint you if you thought it was your grand child that was the cutest because, nope, mine is.  Haha.
I loved spending time with her and could easily pack my bags and move to Vermont tomorrow. Problem is my daughter in law is doing her residency as a radiologist there and who knows where she will land once she is done.  They hope to stay in Vermont but one never knows what the situation will be when she is ready to apply for positions.  For the time being we will have to keep flying out there to have our Grammy and Grandpa time.
Before we left, I made a doll quilt to bring to my grand baby.  I was still in doll quilt mode from the Spread the Love event in February. This time I thought I would do something with lots of color. It is an around the world type of block that I made with two inch squares (which finished at 1.5 inches.) I love the colorful look of it and I can imagine playing with her, asking her to show Grammy a blue square or a pink square, etc.  Sort of an I-Spy color game.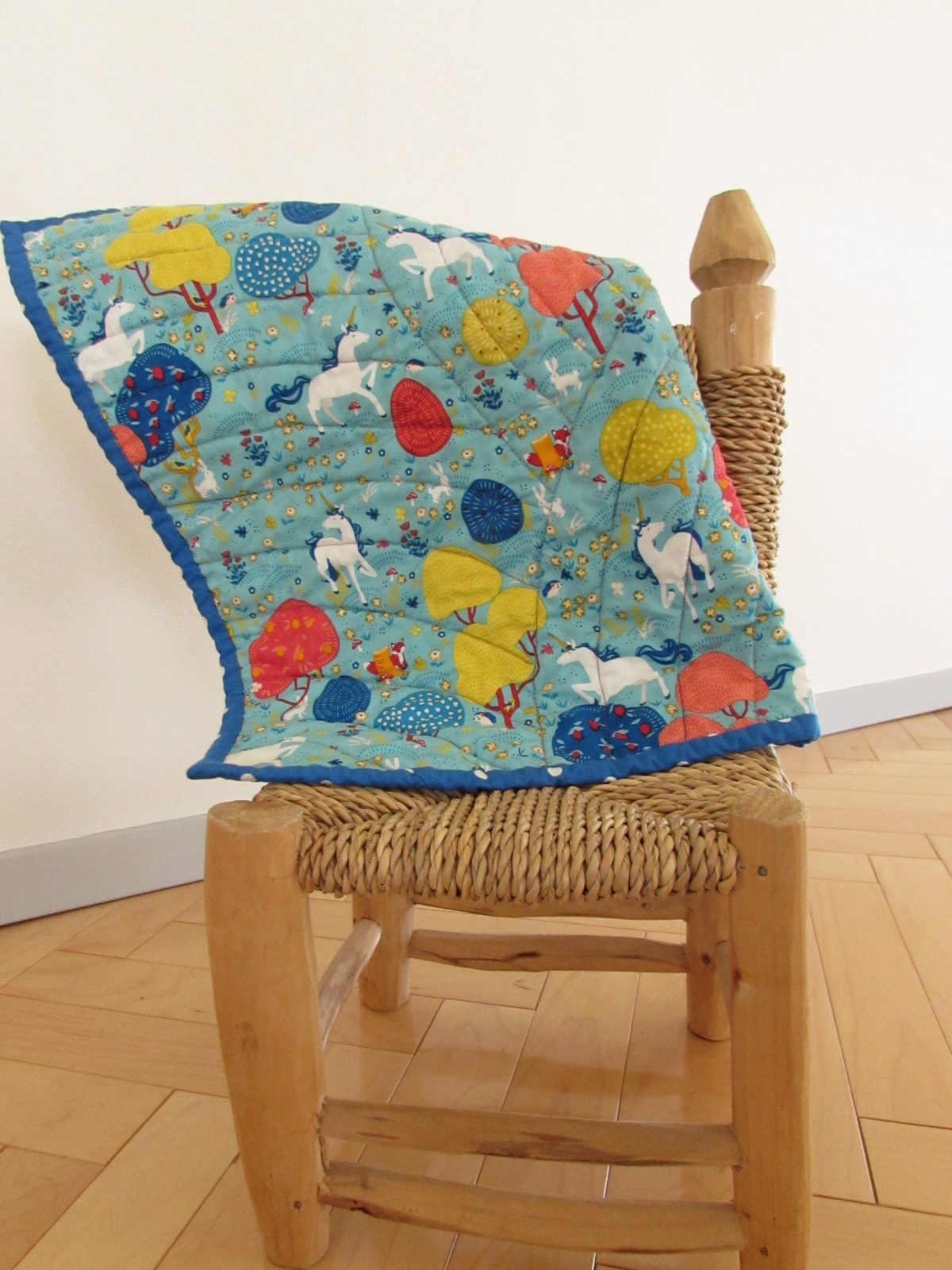 The backing is a cute unicorn print whose history is unknown to me.  I kind of think I got it in a box of one yard cuts I bought on sale at Craftsy a while back. The binding is a polka dot from my stash and the batting was scraps stitched together – a quilt made completely from stash and scraps!  Win for me.  🙂
The bigger win was watching her open it up.  She is hardly old enough to understand opening a gift and preferred sitting on the package instead.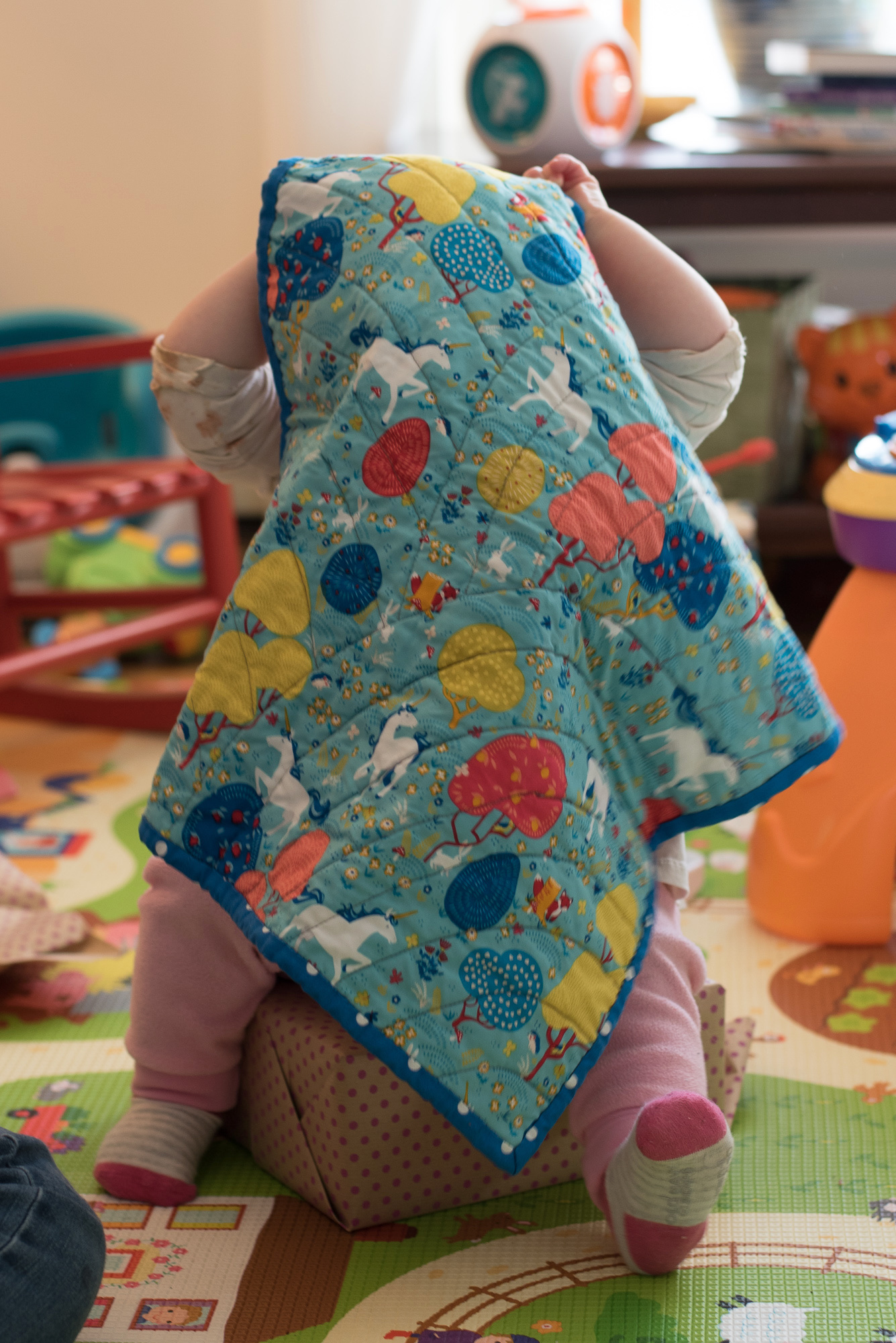 Once we got the paper off, she immediately went into her peek-a-boo mode.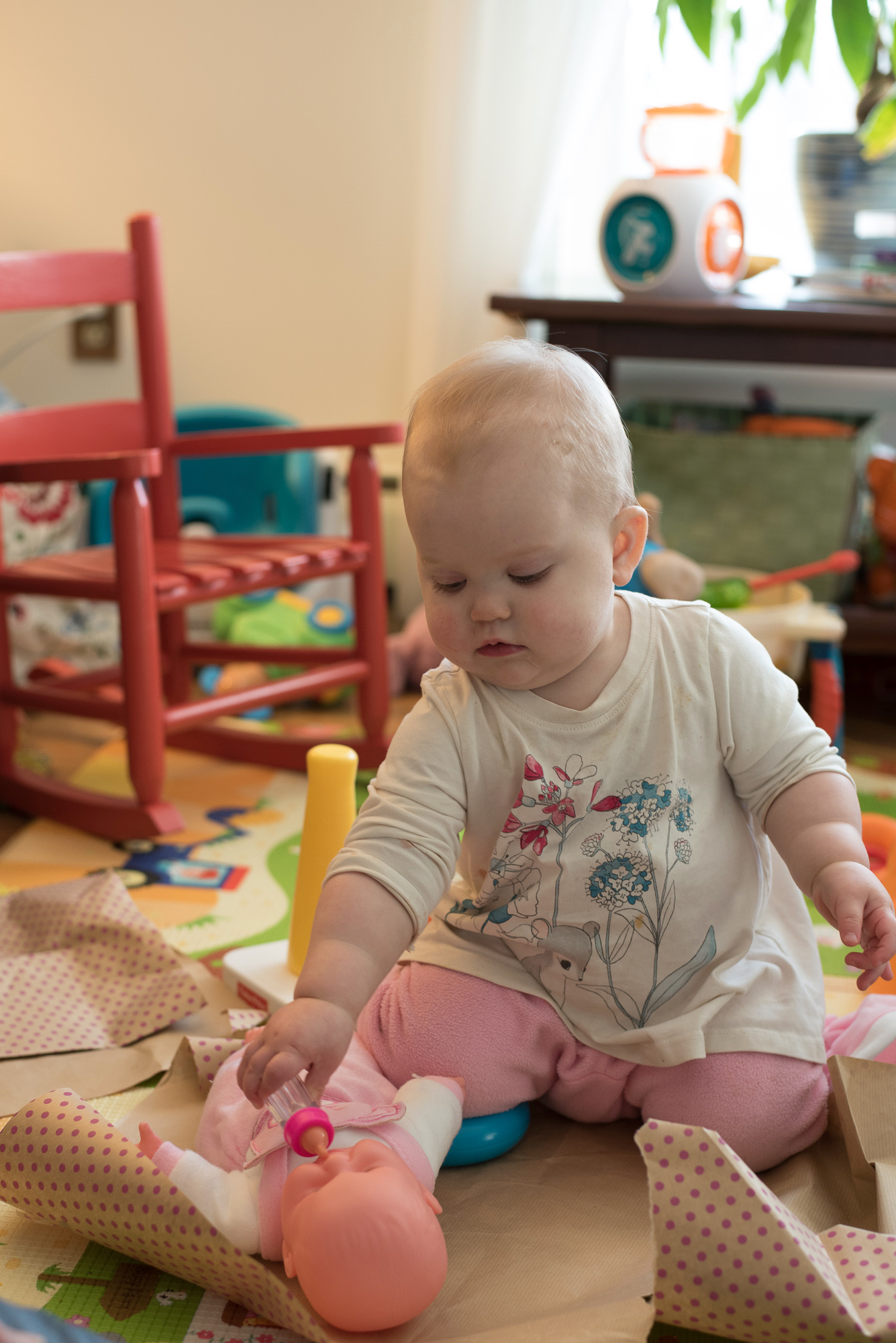 We also brought a baby doll to get her started on the inevitable collection of a billion dolls that most little girls acquire. The doll came with a tiny bottle and she clearly knew what to do with it. (I know! She is brilliant.)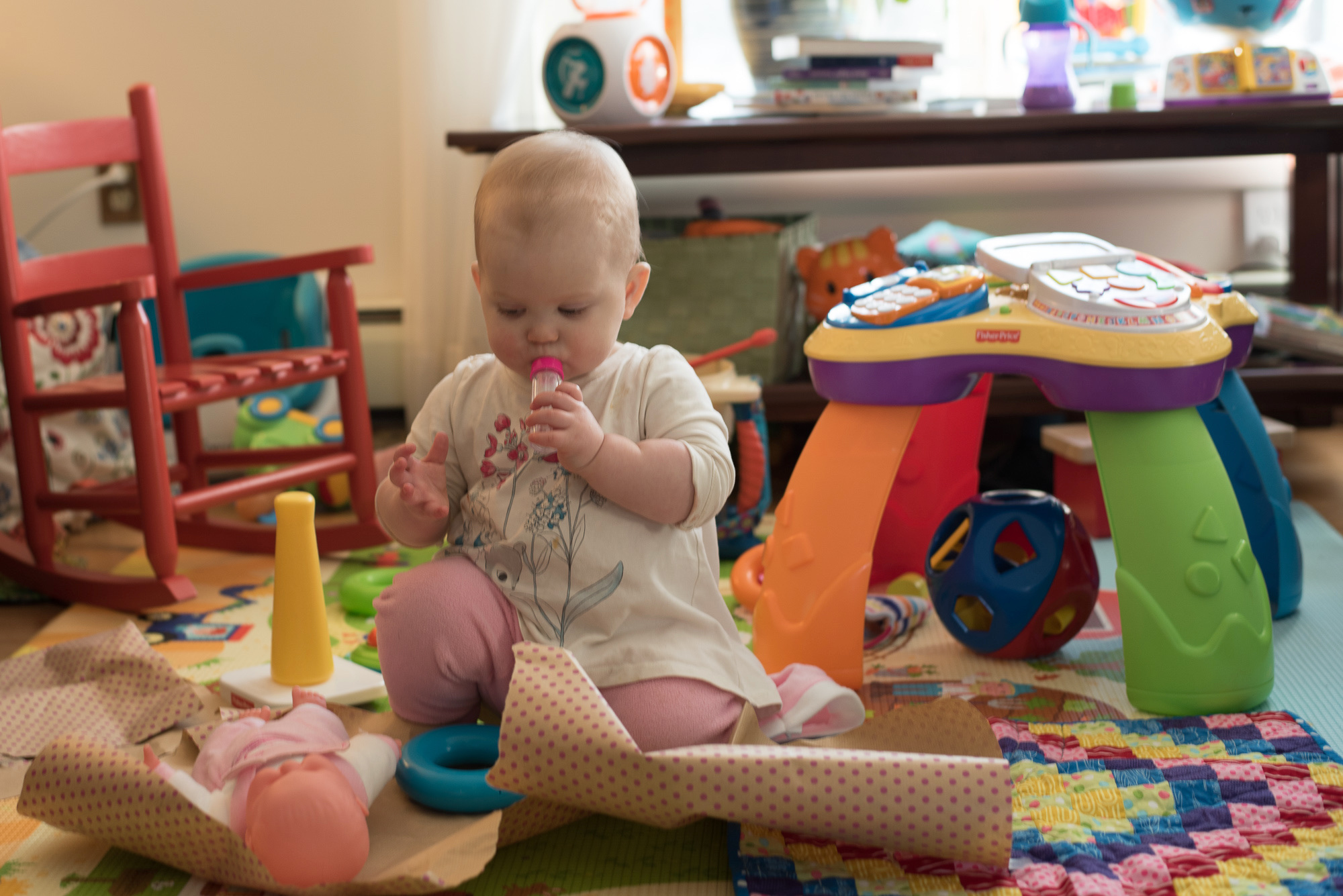 A little for you and some for me?
Yes, it was an awesome week.  We are going on vacation with the family in July so that took the sting out of leaving.  I am happy to know I will get to see her in a few months. But now I am back home and it was unseasonably warm last week which means the weeds are fierce.  I am off to pull enough weeds to earn me some time at the sewing machine this afternoon.  I know March is over but I haven't quite finished my green RSC18 projects.  I need to catch up!!   So, rabbit, rabbit, rabbit to all of you. I hope April brings you spring time, green leaves, much joy, and as much time at your sewing machine as possible.
Linking up all over the place.  Check out the tab at the top of the page, Link Ups.