Today I have something really fun to share with you. This week my sister Patti is celebrating the grand opening of her shop, Ferrari Handmade!!  She has been working incredibly hard on this for several months now and she is ready to invite you to come and browse her shop.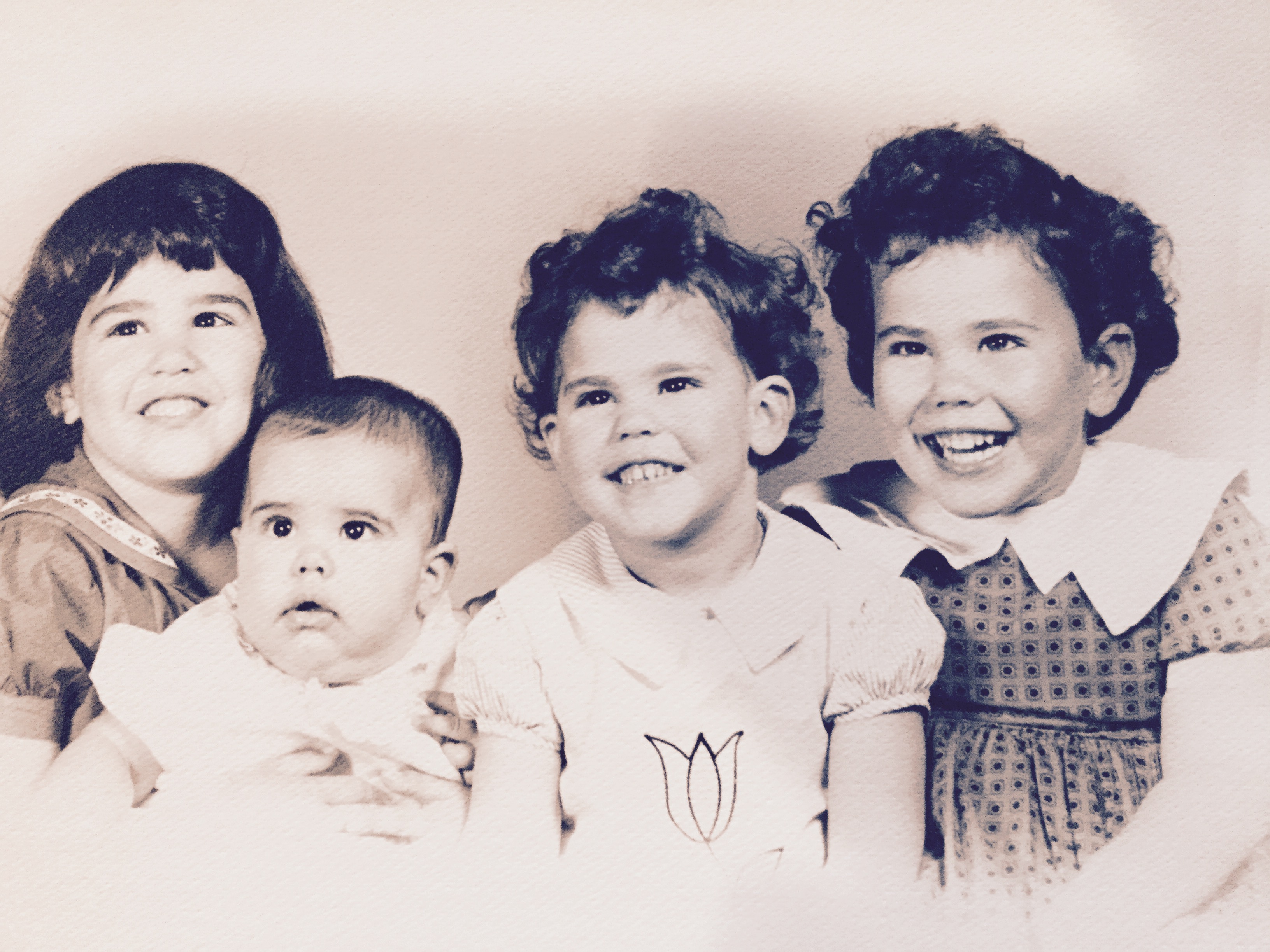 Let me take a few minutes to introduce you to Patti.  Of the six of us sisters, she is number three and I am number four which means…. yes, she is older than me. I will admit this gives me satisfaction in a sort of unhealthy way.  It is readily apparent in the photo above. I am the baby and she is to the right of me — even at this age, she is clearly older and wiser than I. (I love this picture – two more girls were born not long after this.)
Patti and I shared a bedroom growing up and we fought constantly.  Like, really and truly — all the time. Funny how once you live apart you miss the person that drove you nuts for so long. We would love to live near each other again.  We share a love of sewing and we both took sewing classes from Mrs. Handley back in high school.  She haunts us somewhat and if we have a sewing mistake or a major project fail, we will say "Mrs. Handley would be so disappointed."  (I wrote about Mrs. Handley a long while back if you want to hear more about our esteemed sewing teacher.)  Yes, Patti and I have been sewing a long while now.
We both made lots of our clothes during high school (remember,  my father owned a fabric store so we had 'easy access'.). Not long after high school, Patti moved to Southern California, married and started her family. (Click here for a post about the bridal gown she made for her wedding.)
Once Patti started having children, her sewing changed a bit and she began sewing for her kids.  She has a five children, three girls and two boys. One of the things Patti really enjoyed was making costumes for her children. Her girls were very involved in theater when they were in high school and she made costumes for them.
As Patti's kids grew up and began their own families, she shifted her sewing priorities yet again and began to focus on her grand children.  Hers are very lucky grand kids because she has made some really fun costumes for them.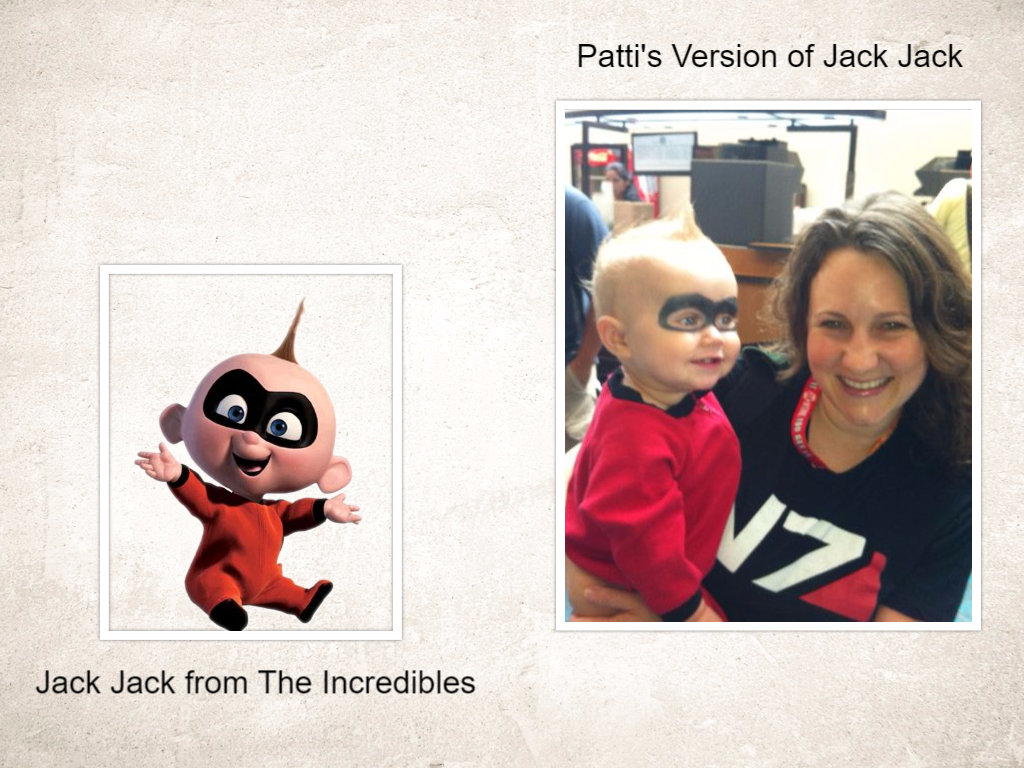 When her first grandson, Jack, was just a baby, his mother, Maria (same girl as the one that played Tina Denmark in the costume above)  had to speak at Comic Con in Southern California. She asked Patti to make a costume so she could dress him up as Jack-Jack, from the kids' movie, The Incredible's.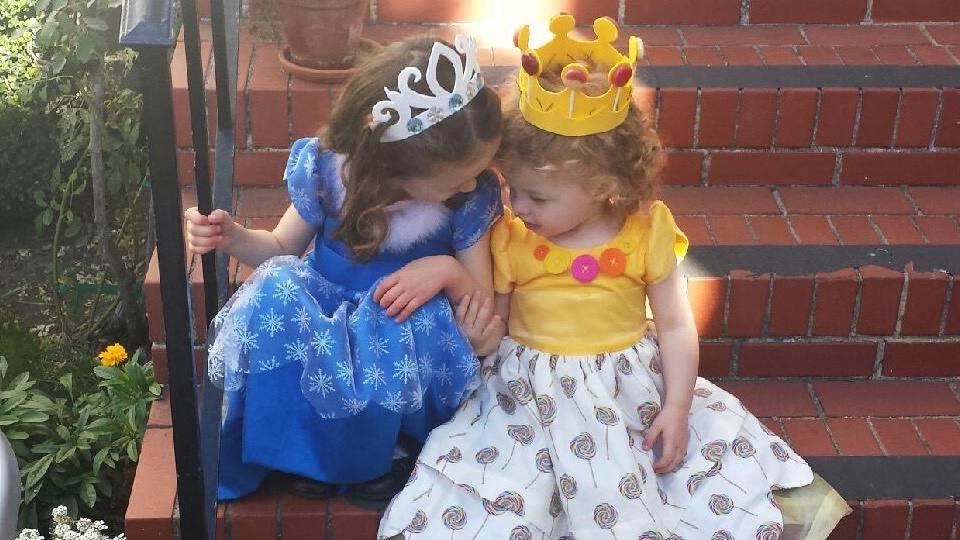 Last year, two of her grand daughters wanted to dress up as Princess Lolly and Queen Frostine from the kids' Candyland game.  Grandma came through and the girls were adorable.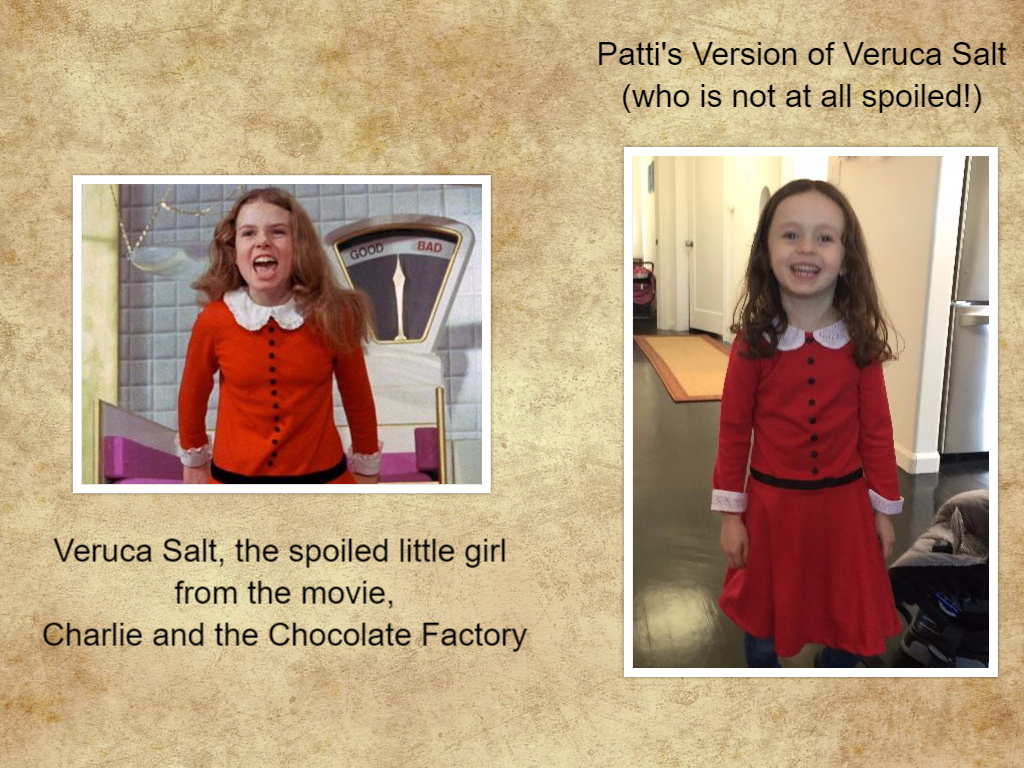 The older grand daughter (Queen Frostine) had a recent obsession of Veruca Salt, the character in Charlie and the Chocolate Factory movie.  She was thrilled with this costume from her Grandma.
Am I getting the idea across?  She loves to sew and she sews a lot! It came time to think of another way to put her sewing to work for her.  Now that her children are out of the house, she has a lot more time.  I have written before about how helpful she has been by working the quilt shows with me.  As we spent time together preparing for and working the shows,  the more she thought about having her own business.  She loves creating these wonderful outfits for her kids and wanted to expand on this hobby of hers.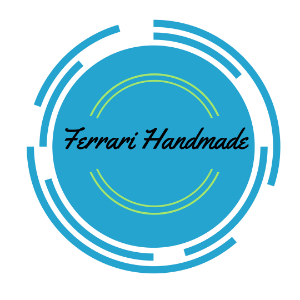 And so it began. Ferrari Handmade came to fruition just days after she decided to open a shop. Once Patti decides to do something, there is no going back.  She epitomizes the phrase, "Go big or go home".  She commits and dives in. Patti began researching fabrics and selecting designs and creating dresses. She had a soft opening at the last quilt show we worked and she was quite successful. She sold a number of dresses and little tote bags and took home orders for custom work.
She has been sewing fiend over the past weeks.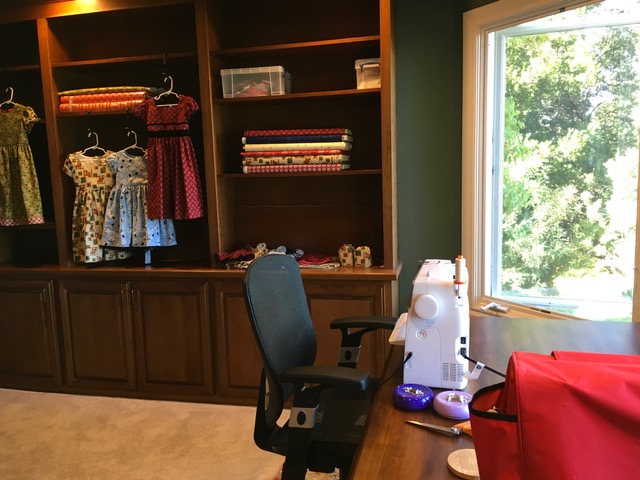 She is lucky to have a great studio to work in. I may be a wee bit envious. Ok, yes, I am envious – it is a lovely space. (Real life crafting comment though…. she made me promise to tell you it never looks this clean. She wasn't ready to go public with a picture of a messy space just yet.)  😉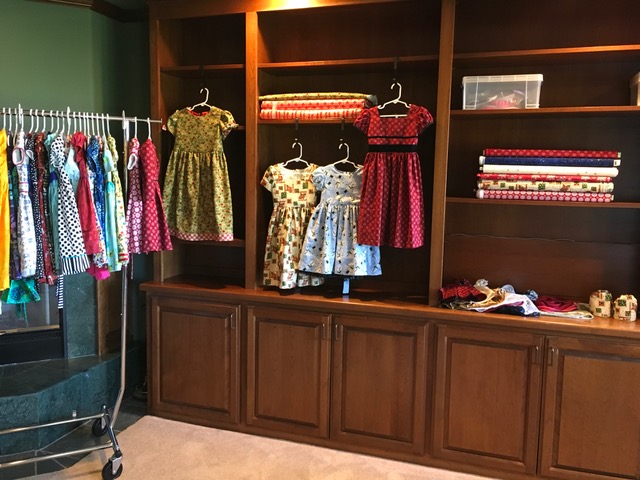 Her inventory grows daily as does her selection in her Etsy shop. Right now she is focused on creating a dress in each of the fabrics she has on the shelf. She is making sizes 2T through girl's size 8.  I really like the system she utilizes for stocking her shop. She lists at least one finished dress which the customer is welcome to order, or the customer can place an order for that dress in a size that works for her child. Patti will take the order and ship the dress within five business days (though she is usually faster than that– she does not seem to require very much sleep.)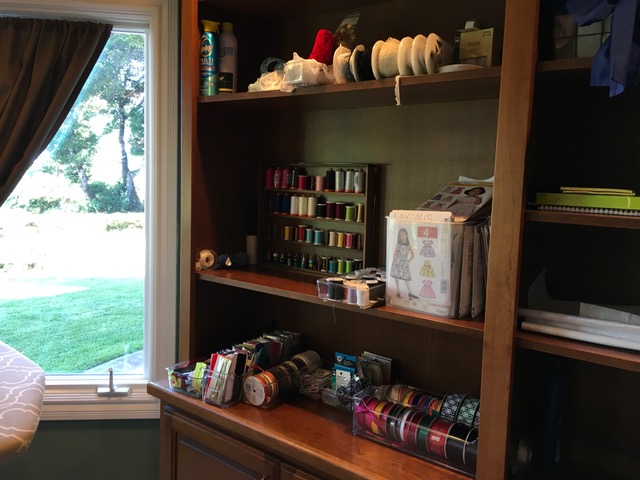 I think one factor  setting Patti's product apart from others, is her use of trim work and unique accents. Most of her dresses have piping accents at the sleeve, bodice or neckline and many have ruffles or under skirts in coordinating fabric.
Her fabric selections are the perfect combination of pretty and practical.  She uses quality cottons which are easily washed, so her dresses are beautiful but also practical for children; ready to be worn and played in.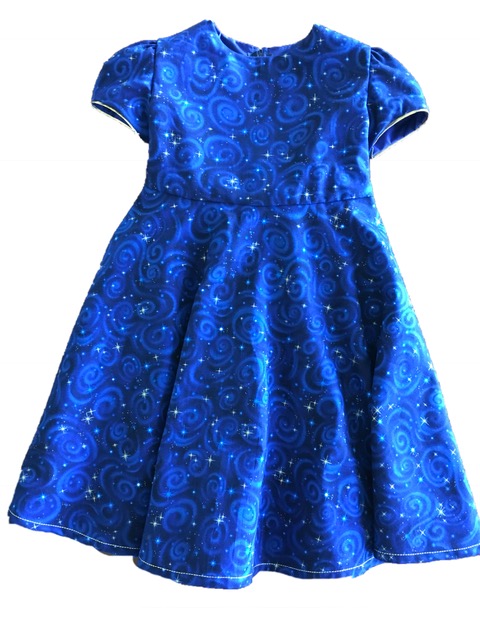 Of all she has made for this season, this is my favorite.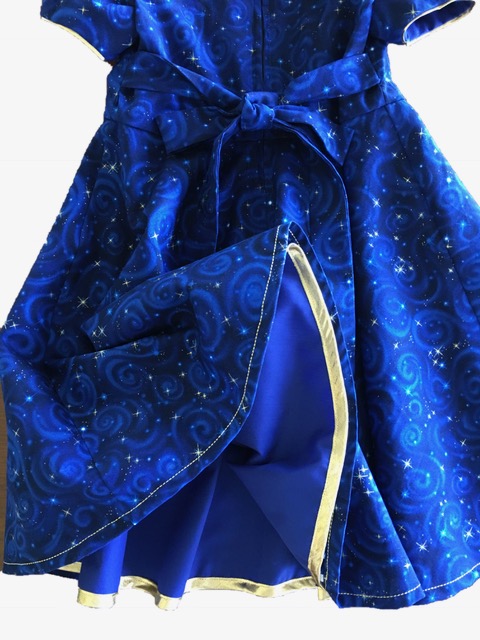 I love the dark blue celestial pattern with that bit of gold trim peeking out at the sleeve and from the hem of the lining.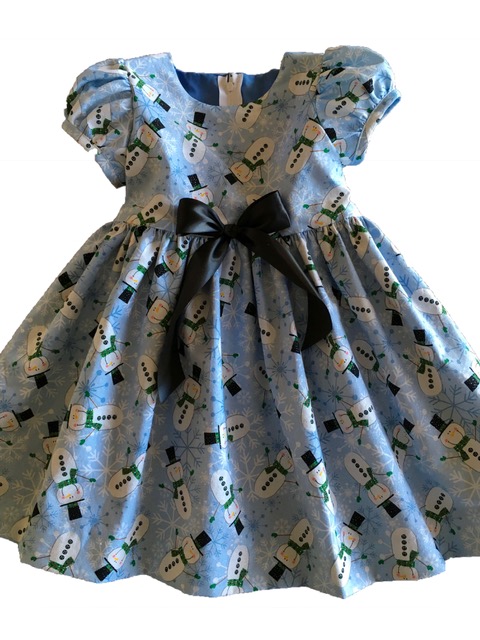 How about these snowmen on blue – it is great for the holidays but could easily be worn all through the winter months.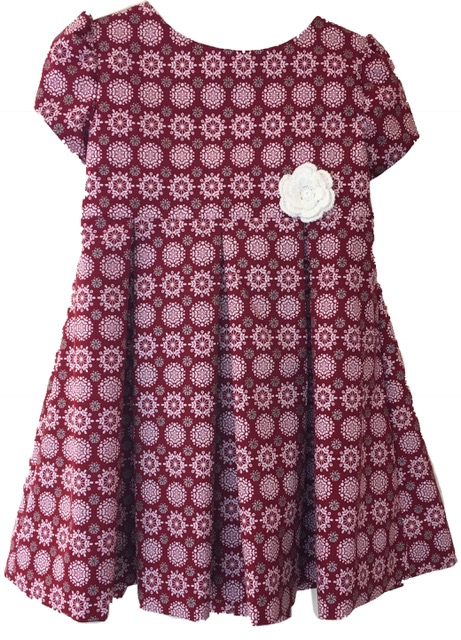 This dress features snowflakes on a deep red background. I should note that Patti uses a very generous hem so these can be worn for a long while before the child out grows the dress.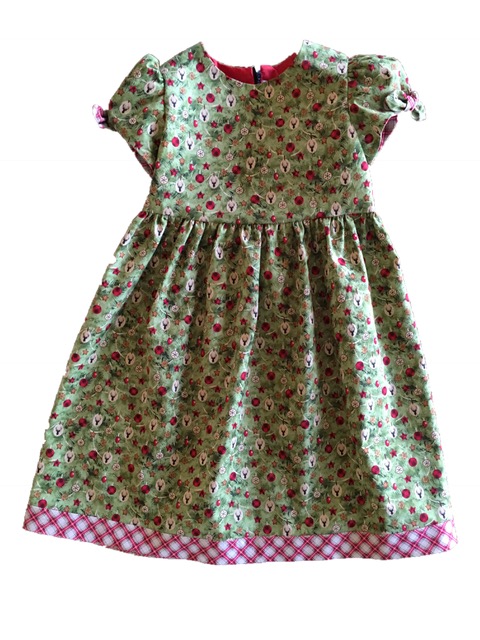 This sweet holiday dress has a rustic feel to it.  Patti chose a print featuring Christmas ornaments decorating a background of pine. I love the bias strip of plaid she used to accent the bottom of the dress.
One more thing I have to show you.  Patti also makes doll dresses that fit American Girl Dolls, or other dolls that are 18 inches tall.  I love this!! How fun to surprise your little one with a matching dress for her doll. If you are shopping and select a dress for your special girl, you can also order a matching dress.  She has some in stock but will happily take orders for others to match the dress you are purchasing.
Hopefully you now have an idea of the style and excellent quality of the items made by Ferrari Handmade. Because so many of you either have children or grandchildren, or a special child in your life, I know you will be happy to hear Patti is offering a custom dress to one lucky winner.  To enter the giveaway, you need to do two things.  First hop over to her shop and take a peek at the dresses she has listed so far.  Come back and comment here to tell us which dress is your favorite. (Hoping this will provide some input on the fabric choices she is using and then she can plan accordingly.)  The other requirement is to either like her Etsy shop so you can keep track of what she is offering, or to follow @ferrarihandmade on Instagram. Either way, you will then be able to hear about any promotions or new product that might be available in her shop. So, you have two simple tasks to complete and you may win a lovely handmade dress for your special girl.
Additionally, readers can use the coupon code GRANDOPENING20 to receive 20% off any orders at Ferrari Handmade.  This coupon is valid through the end of day on October 10th.  Definitely a great deal on a gorgeous gift for a little one.
Thank you for taking part in this celebration of Ferrari Handmade. I am so proud of my sister and the work she has done to get this up and running. If you feel so inclined, please share the  news of her shop with any of your friends who might appreciate Patti's work. It takes a village and I love the way our community supports each other!  Good luck with the giveaway!