I don't know if it is the same for you, but it is always with mixed feelings that I end a trip or vacation. Julia and I had such a wonderful time in Vermont. The week seemed to fly by and it was difficult to leave. Having my kids living so far from California isn't the ideal situation but it is what it is, right? While I was a bit sad to leave them, and especially my sweet grand baby, I was happy to come home. I love my home and was more than happy to see my husband after ten days apart.
As for my grand baby, since I know you are all dying to hear, she is just adorable. I loved having the opportunity to spend a long stretch of time with her. She is full of all that newborn wonder that just melts a person's heart. Her little cooing sounds when she is nursing, the happy smile she does when she is dreaming (what do newborn babies dream about anyway?) and the adorable cat-like stretches she does when she is waking up – the stuff newborn babies are made of. Ahh, I do love babies. She does have a touch of colick and can be quite fussy during the late afternoon and into the evening. Her parents handle these episodes with such patience. I am really proud of both of them.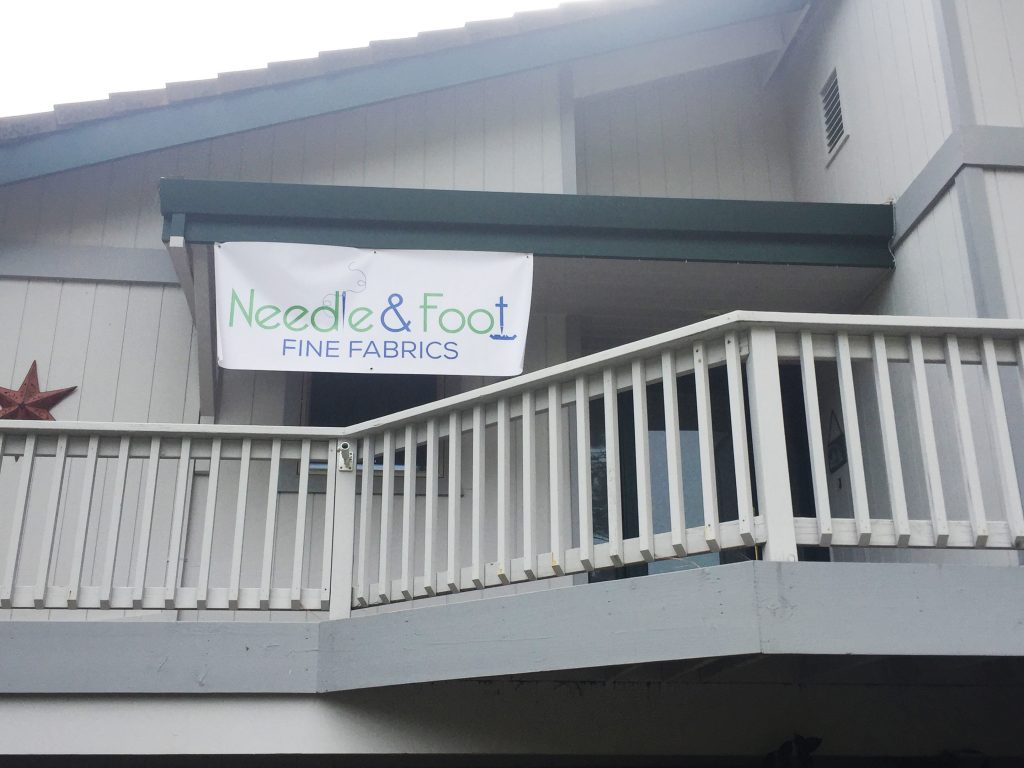 When I got home, this was the first thing I saw as I drove up to the house. Isn't it great? I ordered this banner a few weeks ago from Vistaprint. I will be a fabric vendor at our local quilt show in May and wanted to have something hanging at the back of the booth so shoppers would know the name of my shop. I am thrilled with how well it turned out. These pictures don't do it justice. Ray hung this for me as a surprise but it was very gray and cloudy out and we took it down right away so it wouldn't be rained on.
The size is 2 1/2 feet by 6 feet.  It seems big to me but I am a poor judge of these things. Ray thought it was perfect so I am going with his opinion. We will see when I get the booth set up.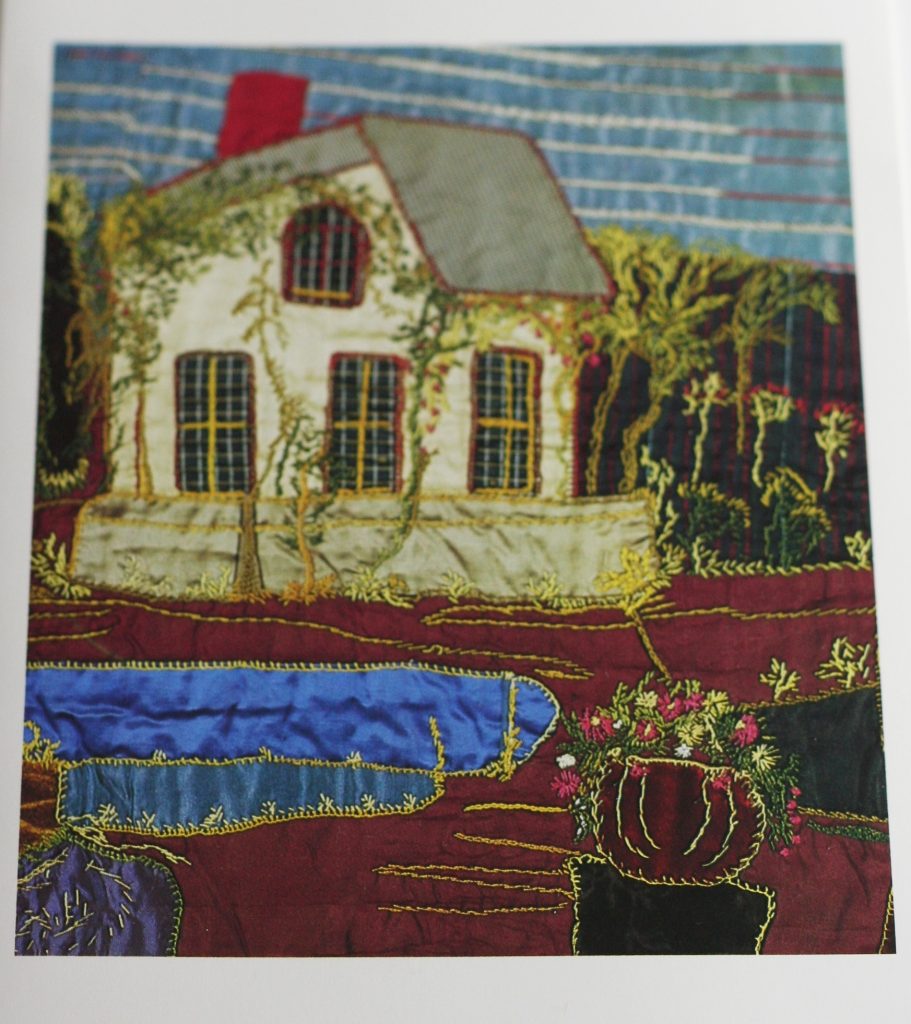 I also came home to a lot of happy mail. There was a lovely thank you note from a reader that won some fabric. How sweet of her to send a real note.  It is a treat to receive a real card when email is usually the way we communicate these days. The card featured a very pretty crazy quilt picture.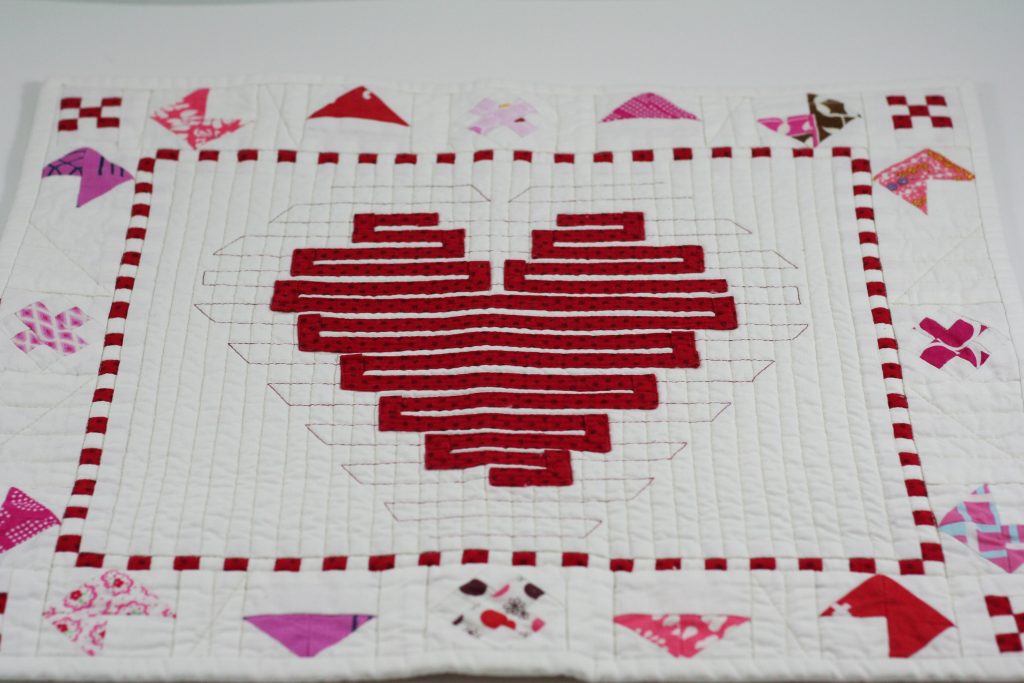 After opening the card from Gloria, I opened a package sent to me by Jayne of Twiggy and Opal.  I cannot even describe my surprise to see this gorgeous mini quilt. Jayne enclosed a note saying this was just a little gift for me. Really? For me? Just because???  I am beyond happy to have this quilt. I watched Jayne's progress on this project on her Instagram feed.  (Side note: do you follow Twiggy & Opal on IG?  If not, hop over there and follow her. She is just a constant source of inspiration. I love her feed.)  Anyway, I loved this project from the beginning.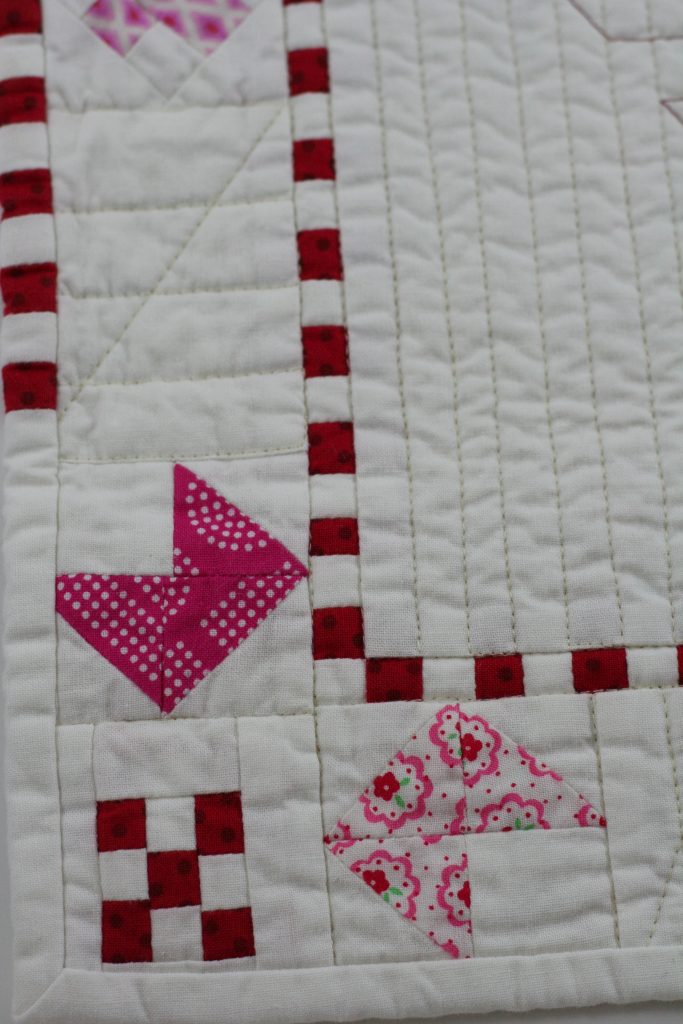 I love the quilts Jayne designs. It seems like (and I may be totally wrong) she starts with an idea and it just organically evolves while she is sewing.  From what I saw on her IG feed,  Jayne made the bias strips she used to create the heart in the center. Then she started creating little (teeny, tiny) pieces to use in the border.  The nine patch block on the left side of the photo above measures just under one inch. I have no words. It is adorable.  The little HST's to the right are also just under an inch. Yikes. My fingers are too clumsy for such miniature piecing.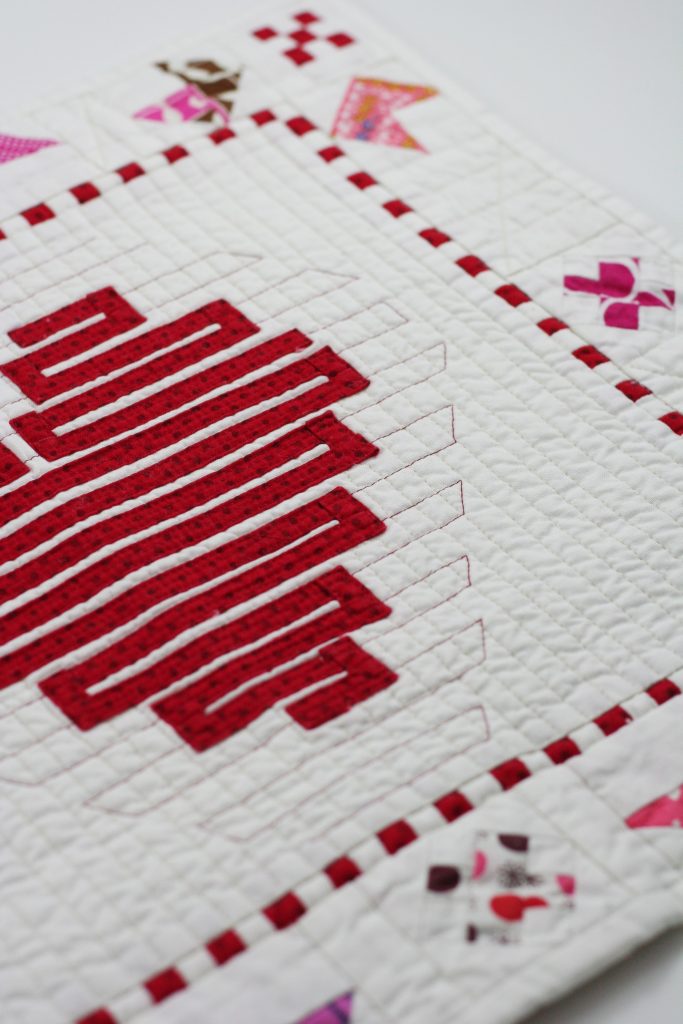 She must have done some strip piecing for the nine patch and then also used it for the checkered border.  That isn't a striped piece, it is pieced! I just love her straight line quilting and also the quilting she did over the bias strips to emphasize the heart shape.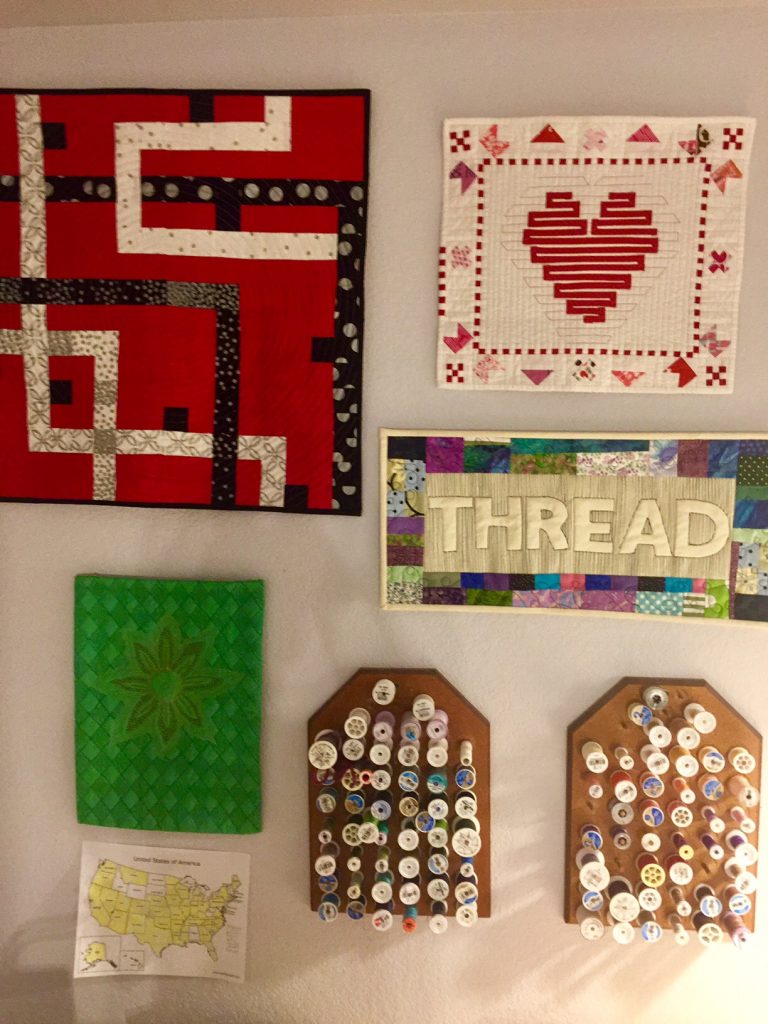 It is already hanging in my sewing room. I love having this treasure from Jayne and will think of her when I see it. It is such a special gift.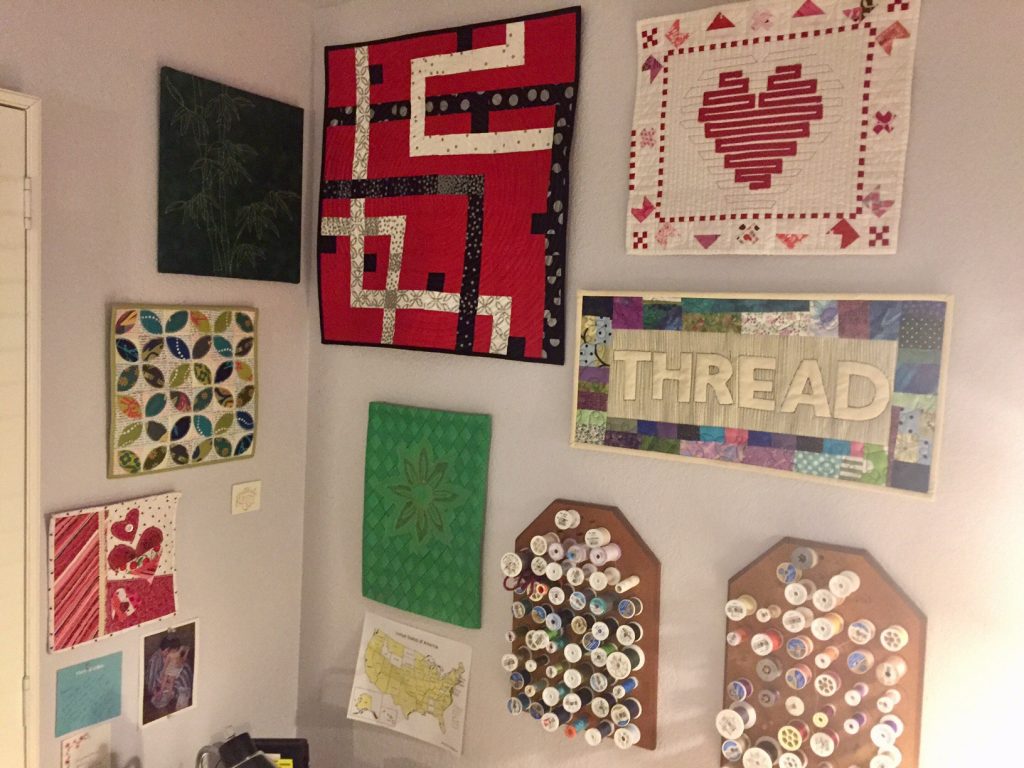 I have so many blog posts to catch up on this week. I didn't read too many while I was away last week. There is so much going on right now. The New Quilt blogger Blog Hop is on going and there are lots of new bloggers to befriend. Check out the links at Quilting Jetgirl, Cooking Up Quilts and She Can Quilt.  I will have a new Meet the Designer post up in a few days. This one will feature Kim Schaefer, a designer of cute, whimsical fabric lines for Andover. Hope you will come back Wednesday to get to know Kim. Until then, happy sewing to you!!