It has been a busy week and I am happy to see Friday roll around. I really enjoyed working with Maureen and writing the posts about her work. It was a lovely bonus to see the sale on her Garden Dreamer fabric created a good number of sales which kept me busy cutting and shipping (it will be on sale through Sunday, March 19th if you are interested.) By the way, I truly appreciate all of the readers who are supporting my shop – thank you!
Thanks also to Mari of Academic Quilter. Mari and I became friends a couple of years ago (which is hard to believe actually) via our new blogs. We have struck up a great friendship and even got to have lunch and do a little fabric shopping together last summer when I was in Maine. That was so much fun. Yesterday I found a package in the mail. Usually getting the mail is so boring unless I have recently ordered fabric. Nothing much comes in the mail anymore with the exception of a few catalogues and the occasional advertisement addressed to 'Occupant'. Sigh.
Not yesterday however! Look at this adorable lovie she made for my sweet grand baby! She even used the colors of the nursery (gray, lavender and pink). The backing is a soft gray and white flannel. Being the generous quilter Mari is, she even enclosed the leftover fabric for me to use. Thank you Mari. <3
These tiny blankets are so cool – the tags around the perimeter are made with ribbons and twill tape, and other trims which provide sensory stimulation when baby fidgets with them.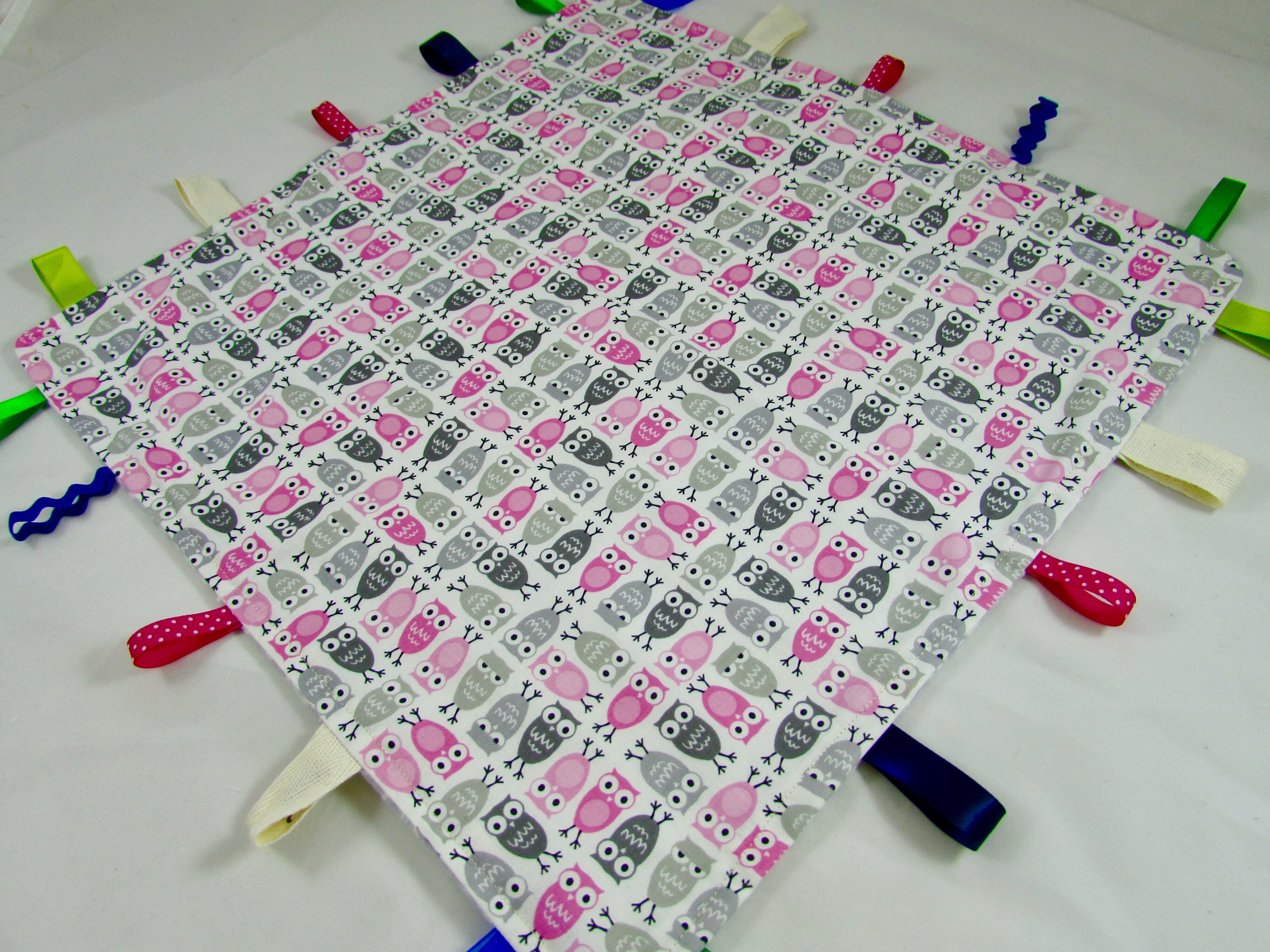 I have also seen mom's hook toys to the loops and lay baby near it to grab the toys. It can be used in the car seat with toys attached or not. It was so kind of Mari to think of me and this little girl. I will hand deliver this when I go to Vermont – which is in only THREE weeks!! I can't wait!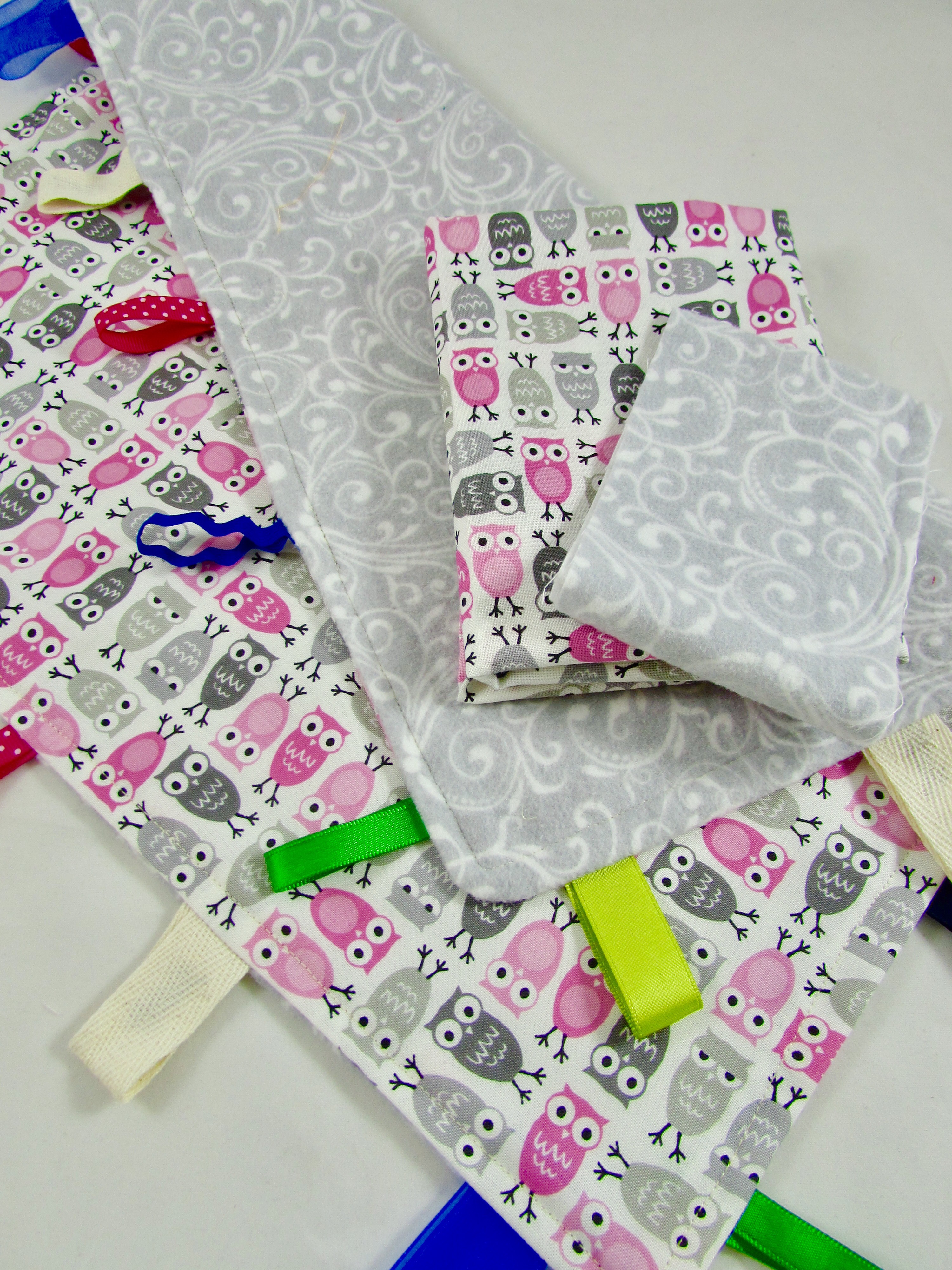 Moving on now (because I talk and think about this little girl too often and don't want to become annoying!) I did get a fair amount of sewing done last week. I made this cute t-shirt with Butterick pattern, number B5954. Remember I posted about not having enough fabric? I decided to make the sleeveless version which took every bit of the fabric.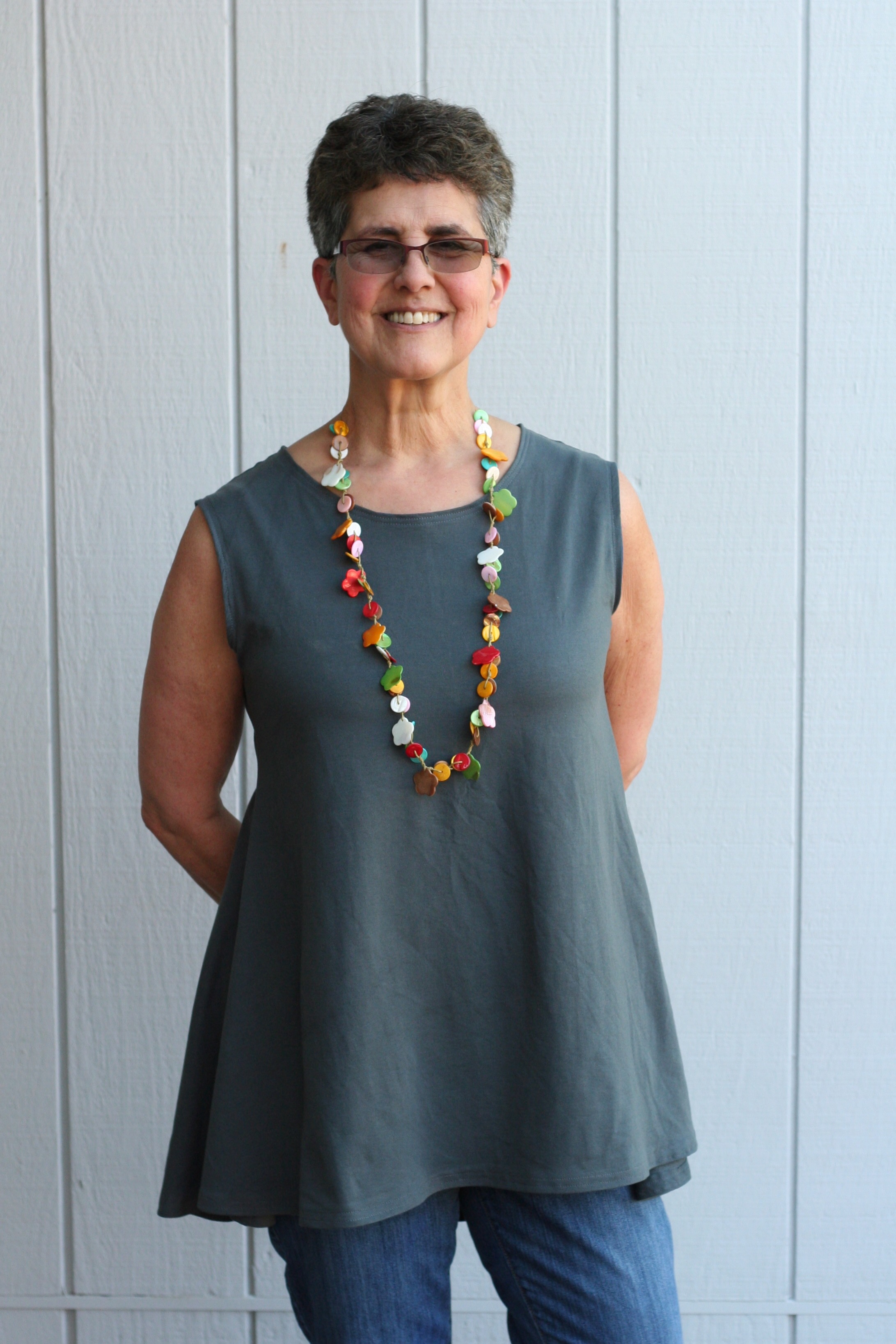 This version takes about 1/2 hour to sew because it is just the front and back pieces, sewn together at the shoulder and side seams. I finished the seams with a bright blue bias tape because I like that little surprise of color. I am only 5′ 4″ so I did have to alter the length and when I make it again, I would make it even a bit shorter. It is so comfortable and I am pleased with the result! Looking at these photos, I realize I should have pressed it before my modeling stint. Sorry about that!!
For the month of March, my challenge from Island Batik is to make something that is paper pieced. You already know how frustrated I become with paper piecing. I called my friend, Sophia, and invited her for a sew day. I knew I would need her help to get started! Sophia has a degree in Mechanical Engineering and has that logical sort of brain that I so envy. She spent the afternoon with me and it was so helpful.  Plus I got to spend the afternoon sewing with her which we don't often do. It was a very nice to spend the time together.
Before she arrived, I picked a few easy paper piecing patterns and printed the sheets. She and I looked and decided this star pattern would be a good one to learn on. (I took a class last fall to learn to paper piece but you know what happens if you don't practice….  I couldn't remember how to get started on the blocks!) This pattern is a free download on Craftsy.com. It is slated as a beginner pattern, which is mostly true.  The problem is there are no real instructions – reminding the quilter to cut strips a certain width or to trim each section, adding in that crucial 1/4″.  But never fear, I had Sophia coaching me! While my precision isn't as close as I would like, overall I think it looks nice.
I finished the top and have begun quilting it a bit. I love the colors and it will be nice to hang this mini in my sewing room. I need a new one on the wall.
OK – that is my week in a nutshell. Gifts, Etsy orders, and a fair amount of creative time in the sewing room. This girl doesn't need more than that!  Happy Weekend everyone!
Linking to my favorites. I am including the end of quarter FAL link up at She Can Quilt because I had listed garment sewing on my goals for this quarter! Please check out the tab at the top of the page titled Link Ups.