Today is a crazy day. So much to be done and my mind is just wandering from one thing to the next with little actually being accomplished.  Baby Girl is just far too content on the inside and my daughter-in-law is having labor induced today.  So far things are going just fine but I am excited for the baby's arrival and, as any mother would be, empathizing with my DIL and remembering how it was to deliver the first child. Exciting, nerve wracking, lots of unknowns. My DIL is a physician which means she has less of the "unknowns" than I did but still… until you experience it, you don't really know what it will be like.
So I am distracting myself and playing in the sewing room. It is so cold out – we got a dusting of snow which often seems to happen just when my daffodils are blooming.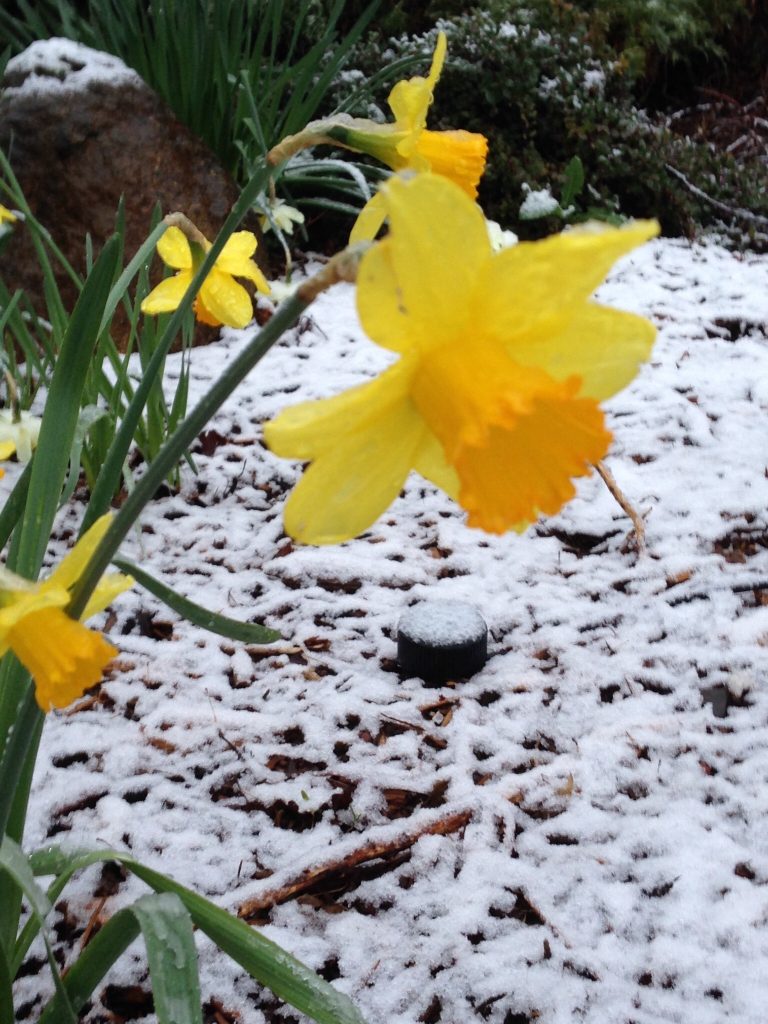 As for projects, I have a number of things stacked up in the sewing room!  My first priority is a bunting I am making for Baby Girl. I have each flag ready to go. I will applique her name on it when I find out what it is. Until then, I can't really do anymore on this.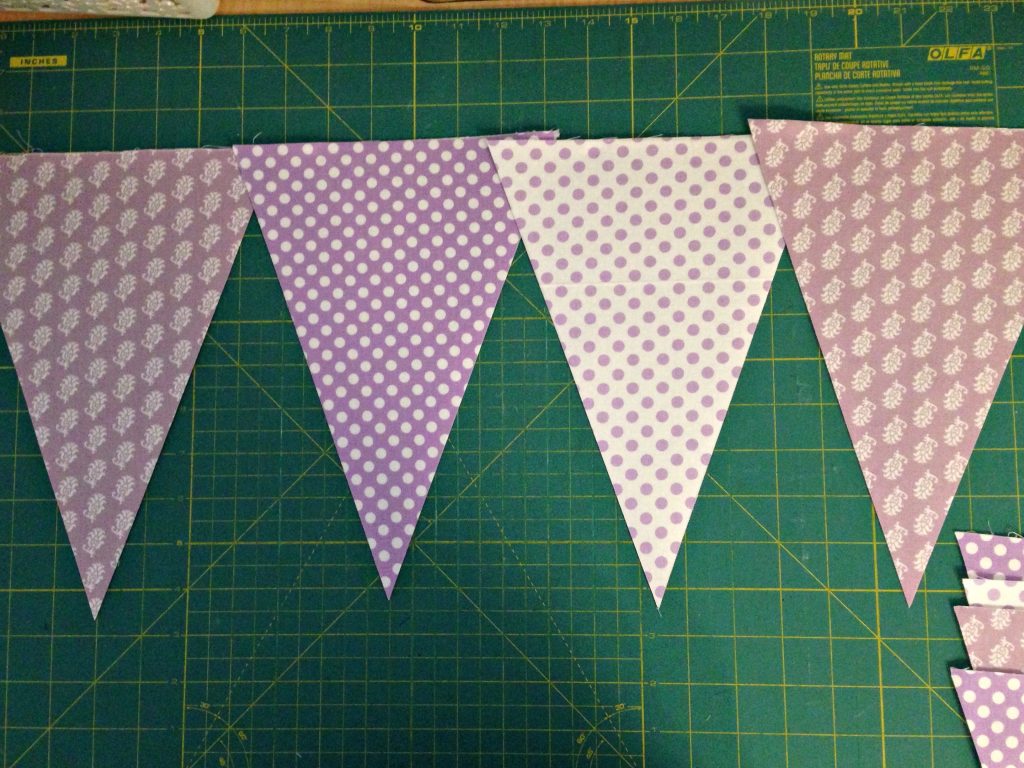 I am using gray fabric for the letters. I suspect I will be working on this tomorrow!
Over the weekend I started to cut out a shirt. I didn't have quite enough for the entire layout and figured I would run over to the store and pick up another yard of this gorgeous charcoal gray knit.  However, they are out and it isn't coming back.  🙁  So, I am changing plans and will make the sleeveless version. It is cute and will be a good way to make sure the pattern fits correctly. If I am happy with it, I want to make it with the three quarter length sleeve and a cowl neck. I love the  version with the cross over in front.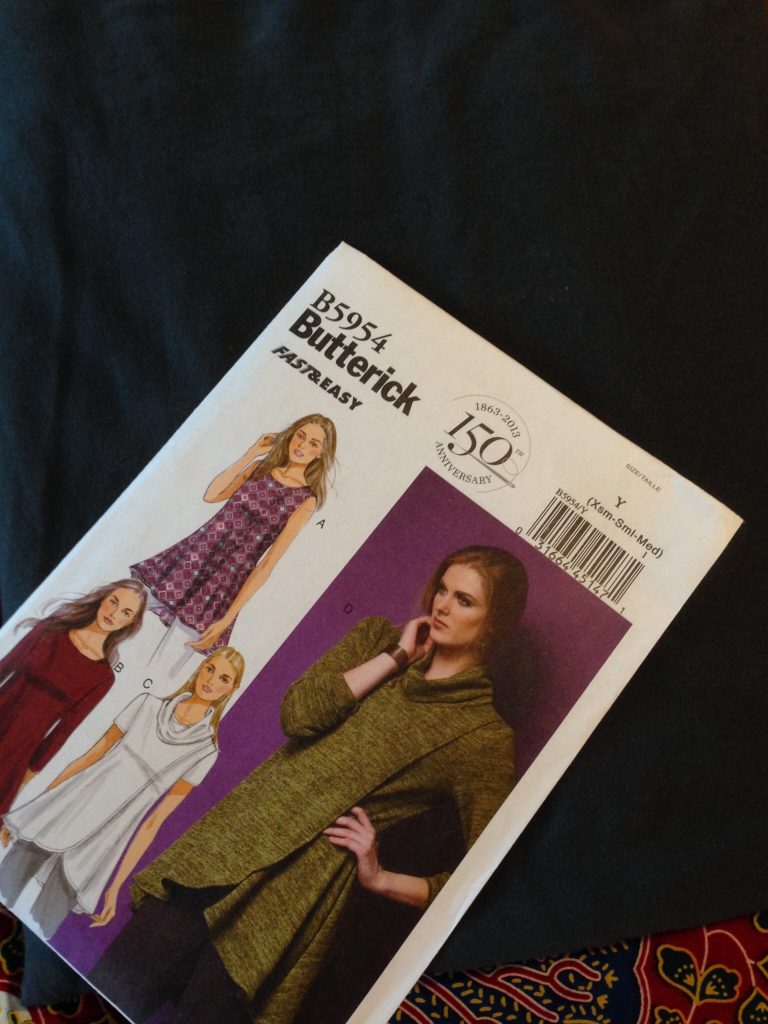 When I got the pieces cut out, I realized I didn't have the right needle for my machine. Clearly, this just wasn't in the cards for me and set it aside. I will go pick up needles later today!
Moving on from the shirt, I decided to cut pieces for a baby quilt I am making for my niece. Her third child, a girl, is due at the end of the month. I am using the pattern, When You Wish, by Kristy at Bonjour Quilts.  It is a free download when you sign up for her newsletter.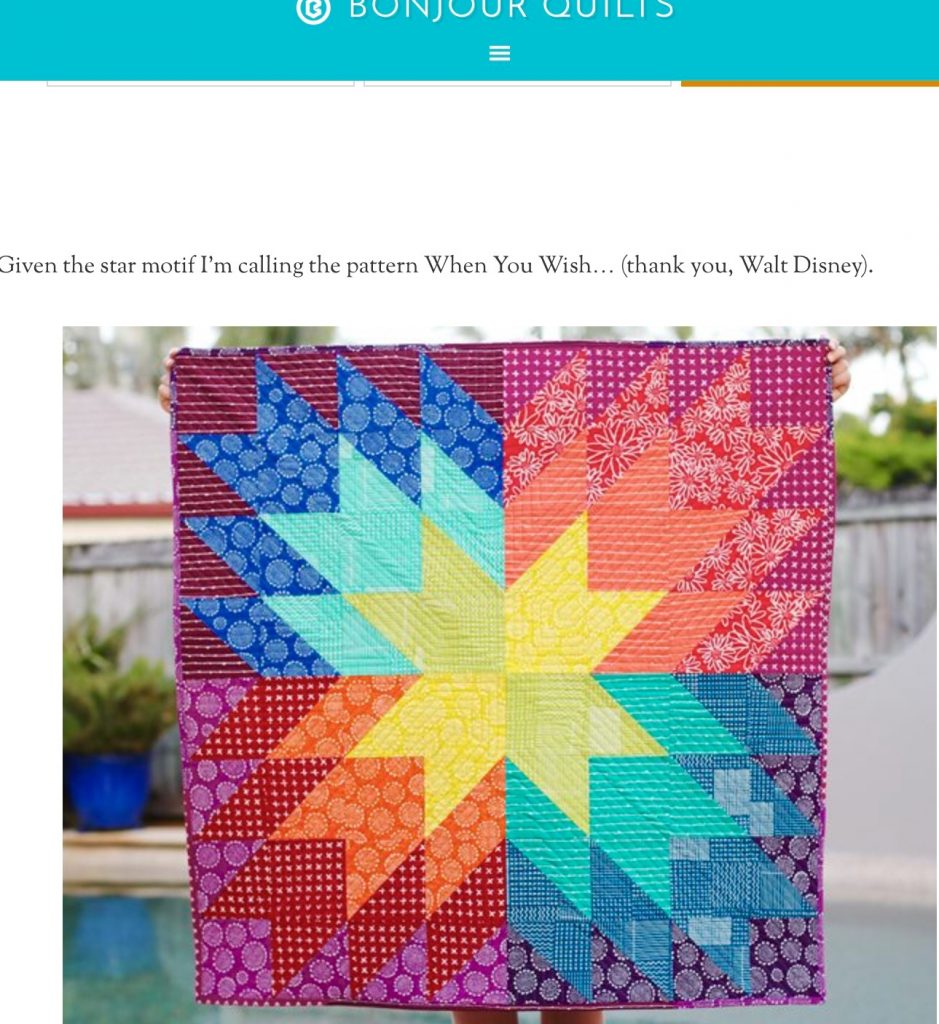 I had plenty of fabrics to choose from and they create a nice rainbow effect.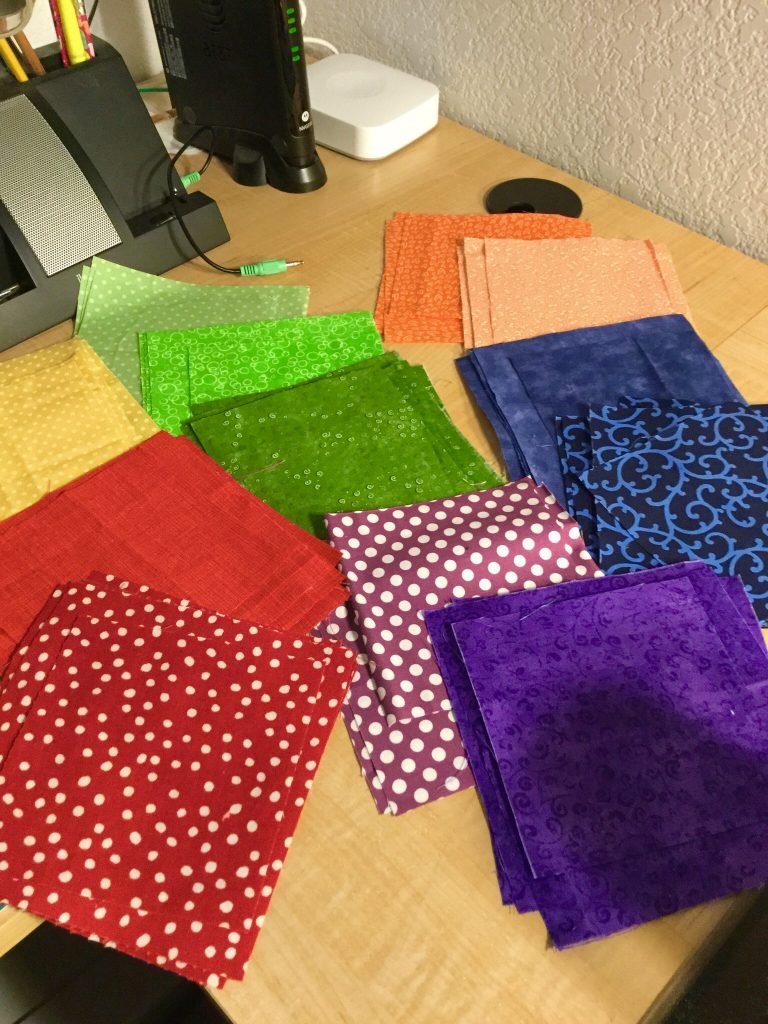 This quilt is just a very effective arrangement of HST's. I have most of the HST's completed and have begun stitching them together. I love the look.  I am saving my HST trimmings. Some time ago, I saw something on Kitty Wilkin's blog, Nightquilter.com, about leaving the trimmings out for the birds and seeing them in nests in the spring.  We are just coming into spring and we have a plethora of birds so I want to see if we get any colorful nesting going on!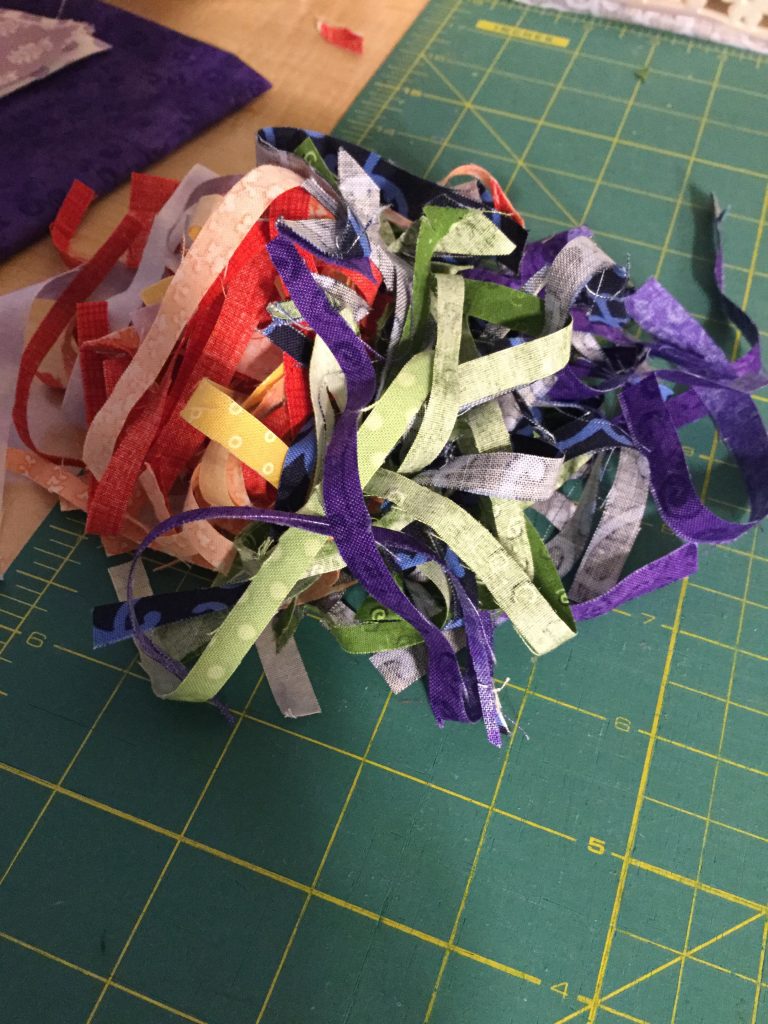 I plan to gather a few more and put them out in a suet feeder. I will let you know if I get any results.
Ok – last thing for today — I made this awesome frosting over the weekend! (Talk about jumping into a completely unrelated subject!)  Julia and I were making a treat for my husband to celebrate a (work-related) special accomplishment. But he can't have dairy products so I was looking for a new way to ice a cake. The cake was chocolate and it seemed like this Peanut Butter frosting recipe would be a fun one to try. Oh. My. Gosh! It was amazing.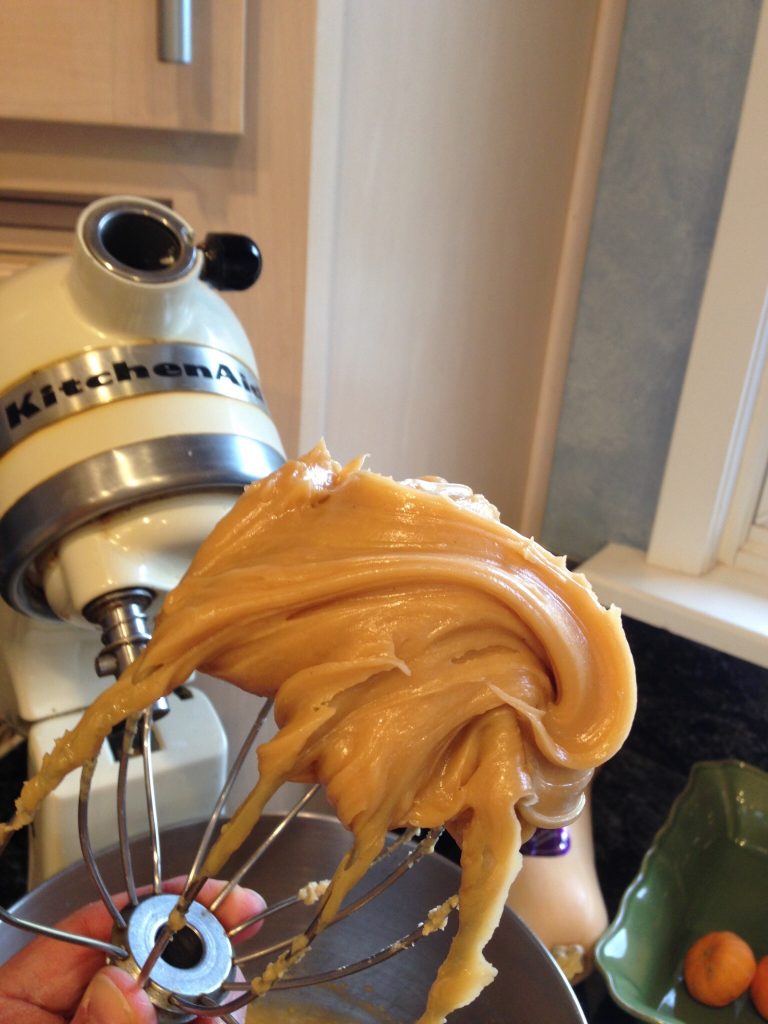 Peanut butter, coconut oil, almond milk and powdered sugar. Amazing. Not at all healthy and three zillion calories, but for a treat? So yummy.  Here is a link if you would like to give it a try.
That is the latest and greatest. I will be on pins and needles (ugh, terrible play on words) all day. Hoping for a swift delivery of Baby Girl and that her amazing mama does well throughout the process.