We are winding up our summer vacation in Maine. The boys left yesterday so they could be ready to get back to their work routines on Monday. We stayed for another couple of days and fly back tomorrow. I feel like we got a good taste of Maine while we were here. We saw a great deal of the southern coastline, spent time in Portland which was very pretty and today we walked Ocean Avenue in Kennebunkport. Luckily we took our walk nice and early before the traffic got to be an issue. While walking the coastal road in Kennebunkport we passed St. Anne's Chapel. It was just breathtaking. (We also saw the Bush compound which was pretty, but not as much as the Chapel.)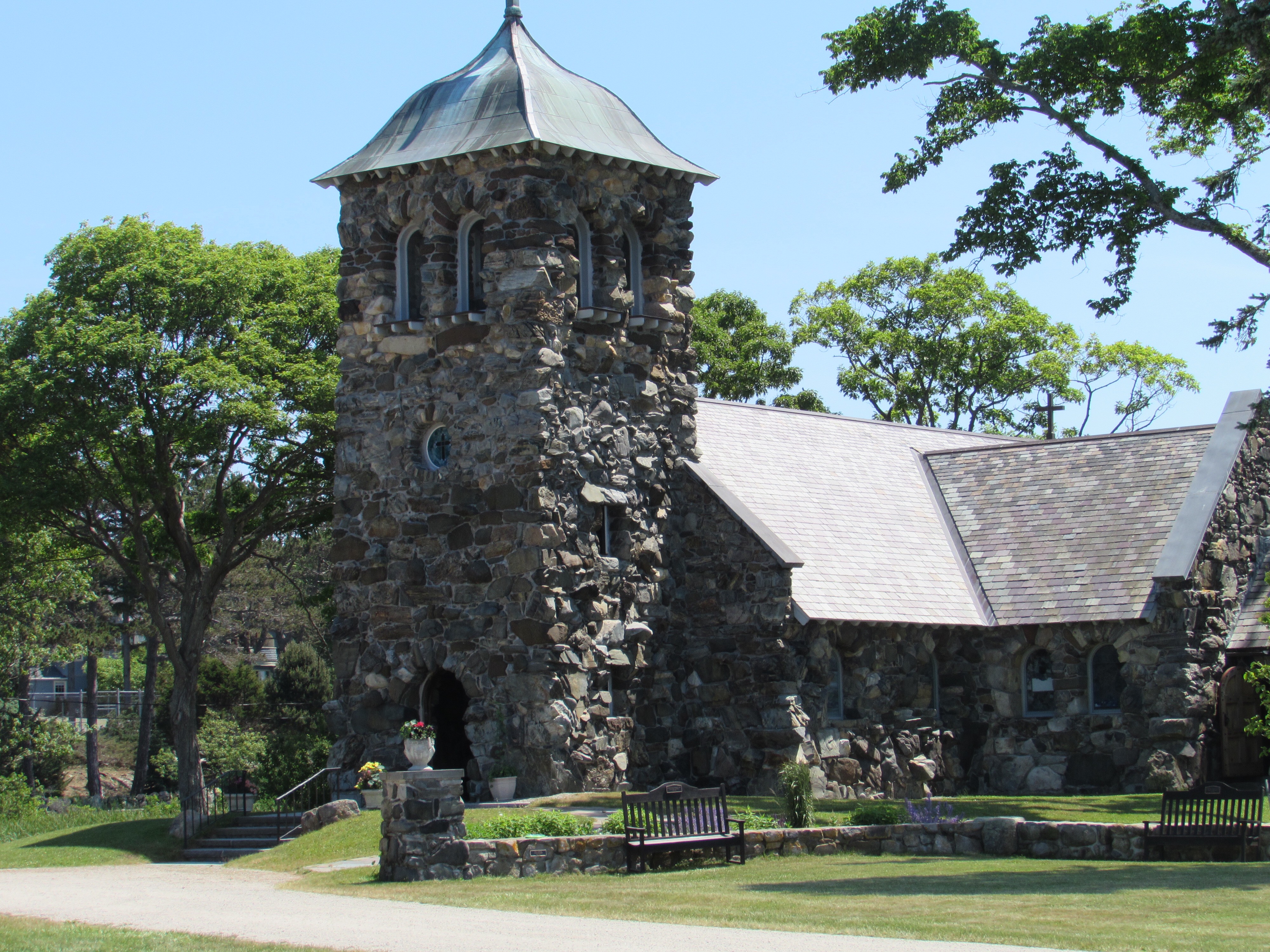 Tonight we plan to finish up the trip seeing the Finding Nemo sequel, Finding Dory. Julia and I feel this is an appropriate choice considering we are on a beach vacation.
While we made our way up and down the costal highways I noticed a couple of things that one doesn't see in California.
First of all, there are many road signs along the highway advertising what are fairly small businesses at the upcoming exits. We saw signs for little antique shops, one sign that advertised 'used bookshop, next exit', tons of signs advertising small art studios (especially pottery studios) along the way. California is huge and even when touring back roads and smaller towns, one doesn't find signs like these. It felt welcoming to me – more personal.
Several times as we drove through neighborhoods, we saw signs that said 'Deaf Person Area' and one that said 'Autism Child Area'. This was really interesting. I haven't ever seen signs like this anywhere else. It certainly makes sense to let drivers know. (Do any of you have this sort of signage in your area?)
Another difference with highway travel here, as compared to California, is that the signs on the highway showed the distance to the next exit in miles and kilometers. No need for that on the west coast as we don't really know what a kilometer equals in distance. ?
A warning sign for 'Moose Crossing' made me smile. I only saw the one and I was driving at the time so I didn't get a picture of it. I wish a moose would have peeked out from the trees though. That would have been a treat.
Driving along the highway, some speed limit signs showed both the maximum limit and a minimum. That struck me as odd. 'Speed limit of 70 mph and minimum speed of 45 mph.'
There were a few times that we drove through areas where road work was being done. In California there would be a bajillion orange cones delineating the work area, starting far from the actual work area. When one approaches the area, there would be guys managing the traffic with walkies, letting cars go through very systematically. It b comes such a production. Much the opposite here, there might be a sign saying road work ahead with a few cones nearby. It seemed so loosely managed (and maybe not quite as safe?) Where California goes overboard, the road work areas in Maine might be too far to the other extreme.
During our travels I had the good fortune to visit a couple of quilt shops. The personality of one shop was quite different from the next. I mentioned the Portsmouth Quilt shop in last week's post. After that, I went to Whipper Snappers in Hallowell, Maine with my quilty friend Mari but I still haven't taken pictures of the treasures that I picked up there so I will save that for another post. The third shop was called Attic Heirlooms, located in Damariscotta. This shop was exquisite. I thoroughly enjoyed visiting with the owner and the woman she worked with. The emphasis was wool; for quilting, needle punch, knitting, felting, and embroidery. With regard to quilting, her expertise is with appliqué. She dyes quite a bit of the wool and felts it before putting it in the shop for sale.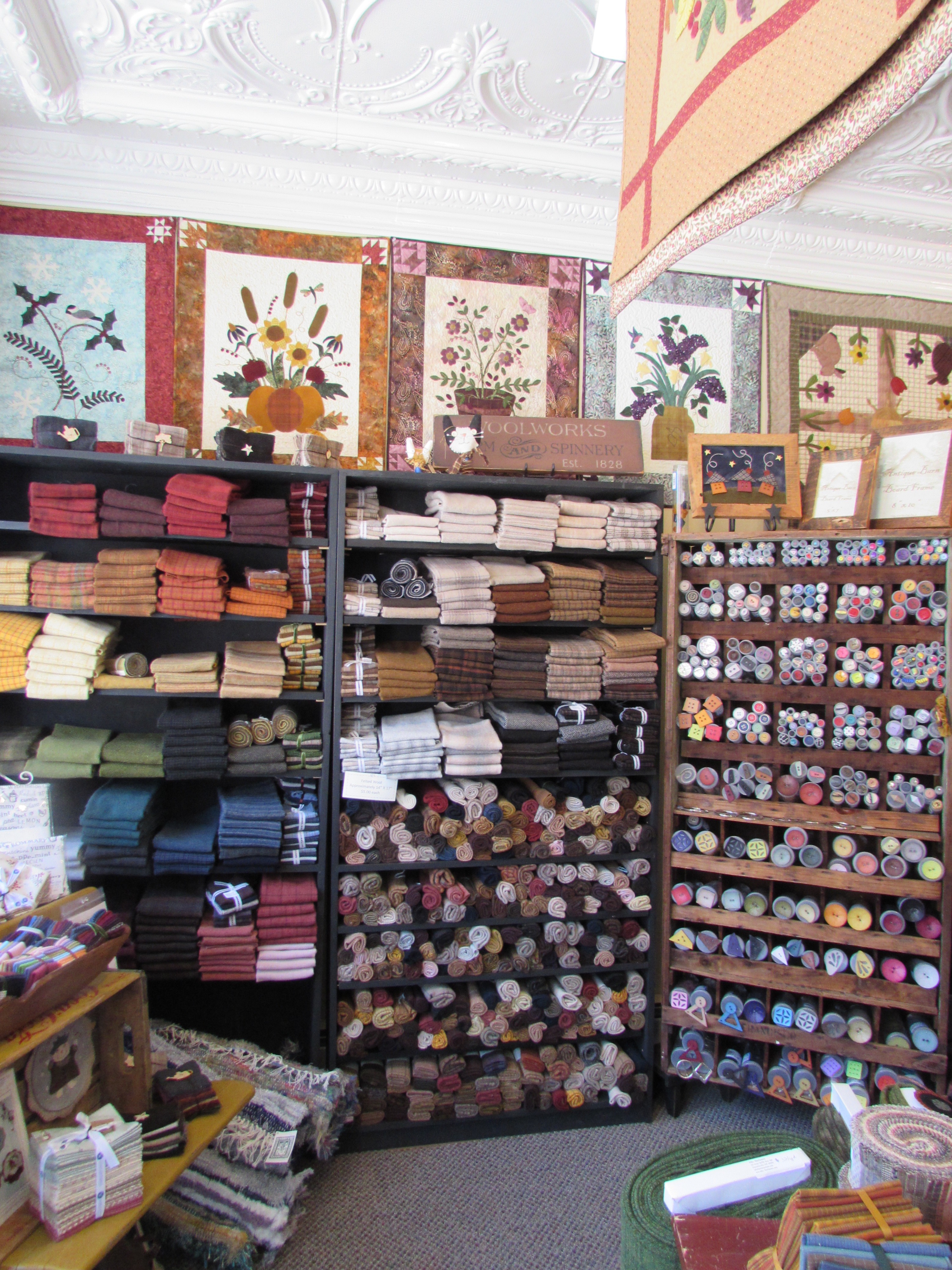 Did you notice the ceiling? It was so pretty. Also, that amazing selection of buttons. Yikes! I have not done any qulting with wool before but I felt like something with an Americana look would be a fun project to remind me of our trip to Maine. I didn't want to do a full quilt using wool appliqué but then I saw this shop's Row by Row project for this summer. (It was actually the third Row by Row project I had seen during our trip and, as with the quilt shops, each row had a very different feel to it.) I bought the pattern and kit for the Attic Heirlooms row which I will use as a runner or a small wall quilt for the winter months. (I don't think I have ever bought a kit before. It was sort of fun to have everything picked out and put together for me.)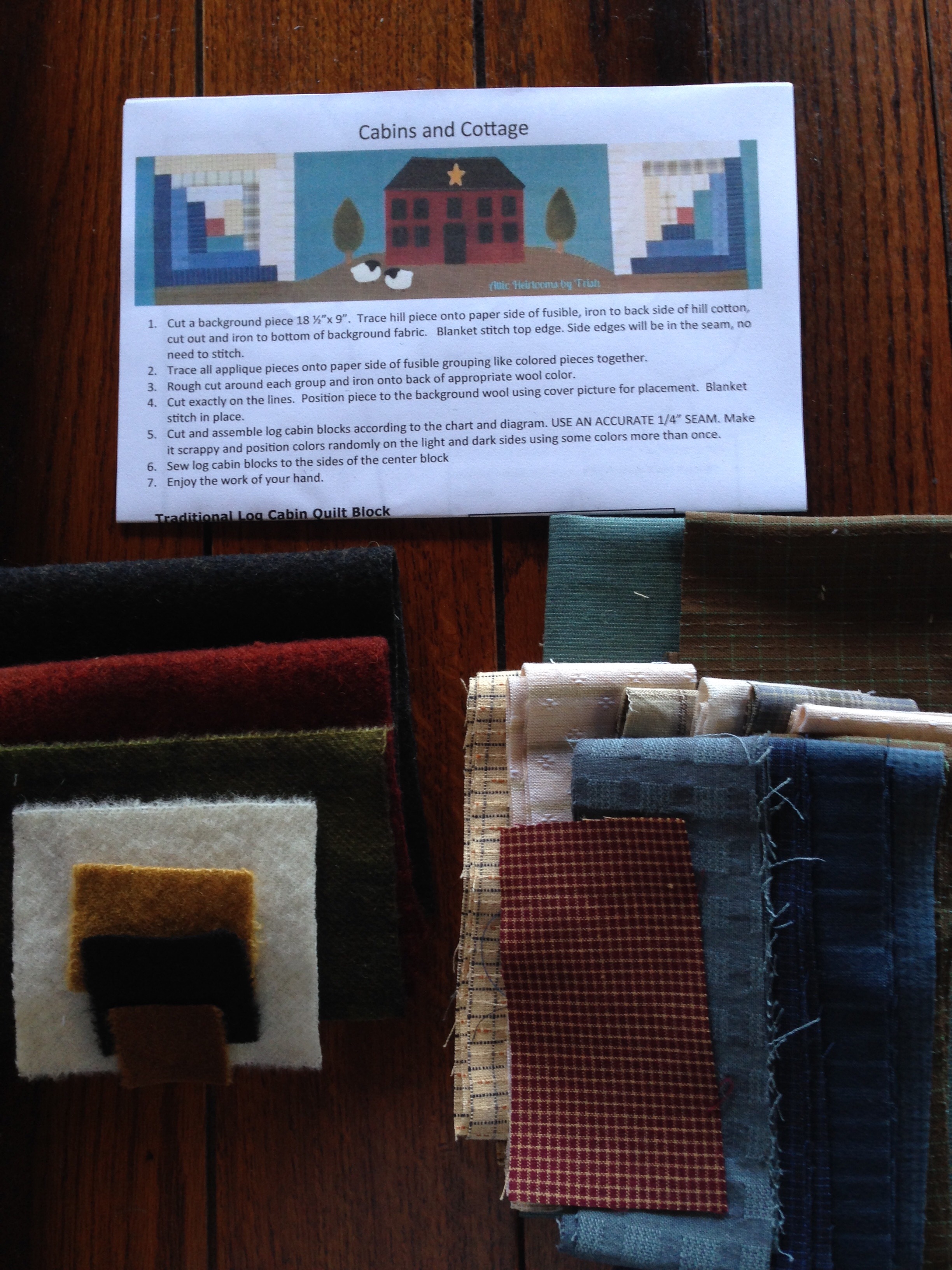 The fabrics are very traditional. I love the log cabin blocks that flank the appliqued house in the center. My very first quilt was a log cabin and I haven't made one since then. This project will be a quick one to piece but I do plan to spend a bit of time doing some hand work on it. I took advantage of an amazing selection of Perle cotton and bought a few that work with this project. Aren't these gorgeous?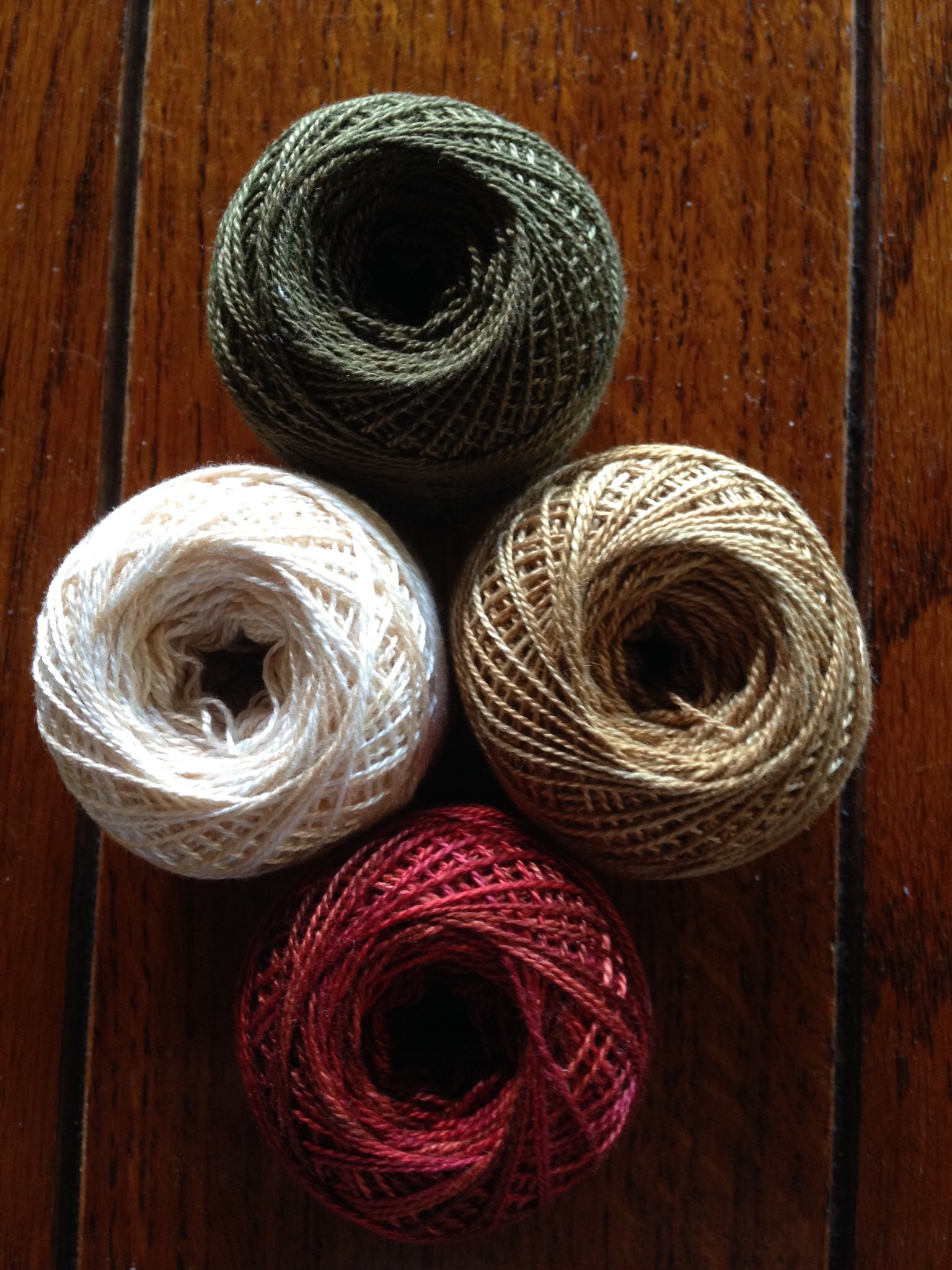 While I was there I saw a selection of Christmas ornament kits. We almost always buy an ornament for our tree when we travel. This year I will make our souvenir ornament.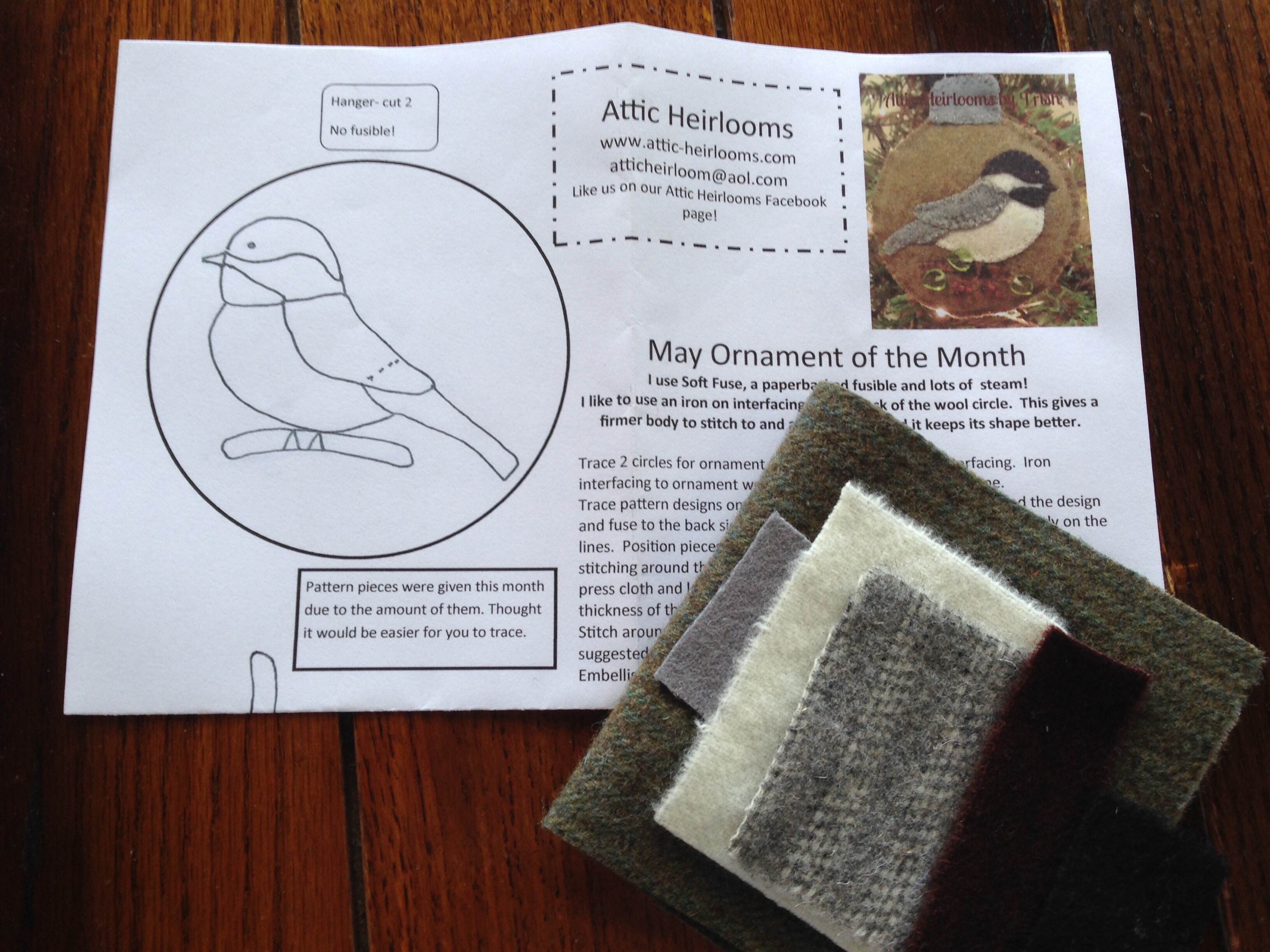 The owner of Attic Heirlooms has an ornament of the month kit that can be purchased in the shop or online. She had a handful of leftover kits from previous months in 2015 that could be purchased. This one was from May, 2015. The bird looks like a nuthatch which we see on our feeders at home quite frequently so I chose him. (I made a tiny art quilt featuring a nuthatch some time ago.) This project will have a very rustic feel to it and, luckily, the Pearle cottons I bought will work on this as well as the row by row project.
Finally, I want to share these amazing miniatures that were for sale in the shop. Made by a local woman, they are paper pieced and measure about 1.5 inches finished. My jaw dropped when I looked at them.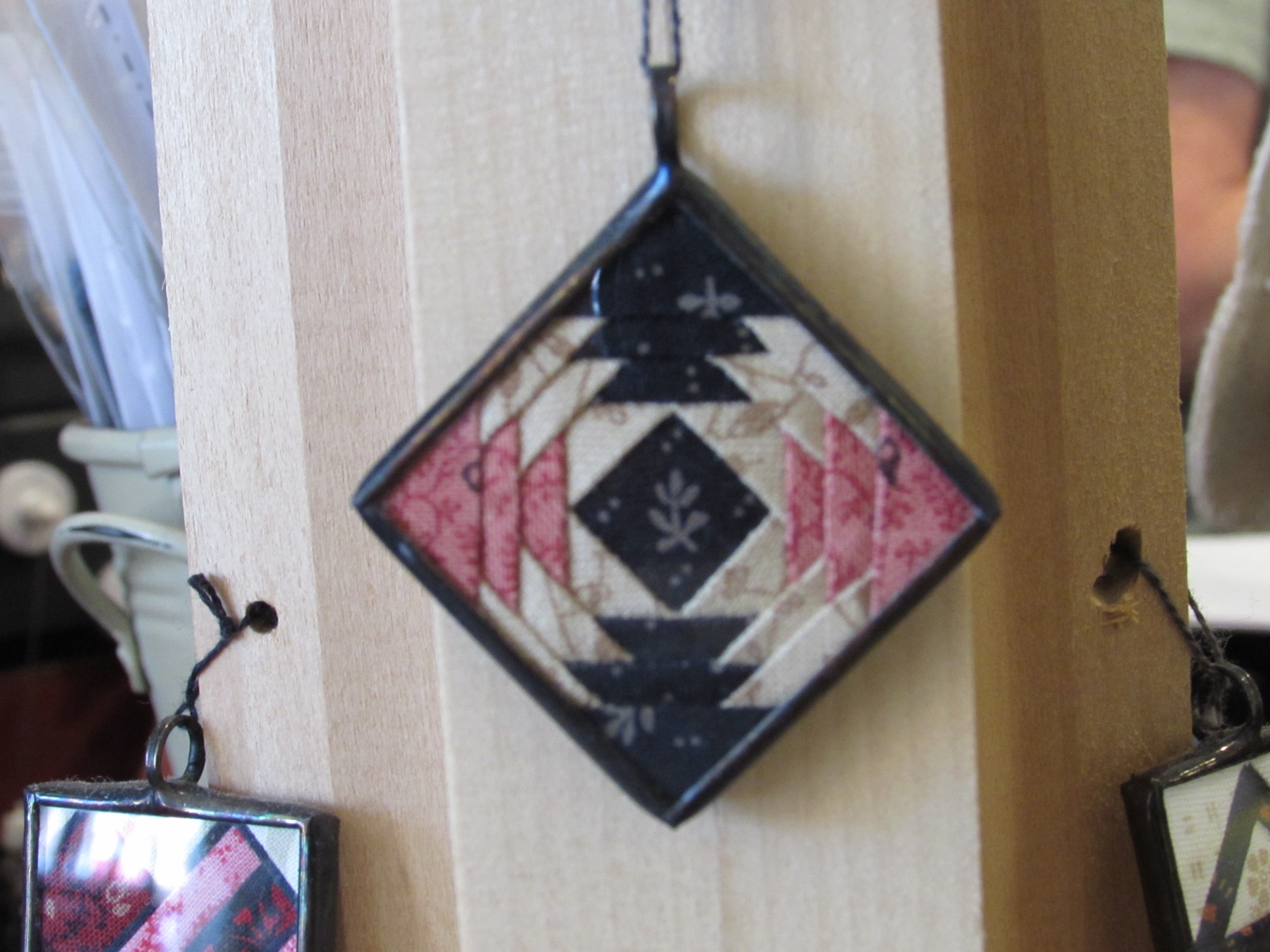 Check out the pattern on the back.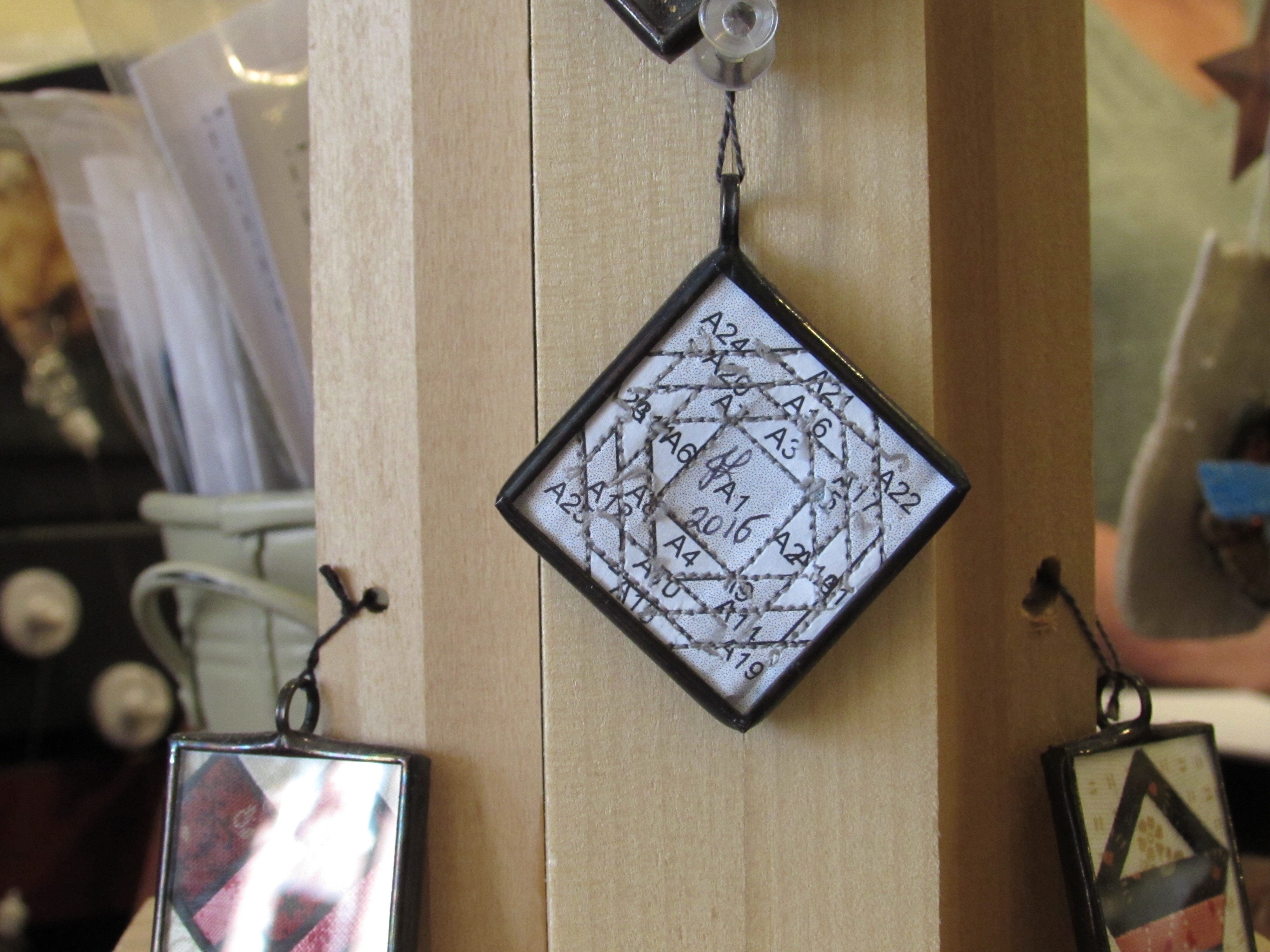 I can't even imagine. They were very, very small and ever so precise. Judging by the many on display in this shop, the artist is quite prolific.
Let's leave the talk about the other two quilt shops for another post. I don't want to overwhelm you with quilt shop excitement! ? As much as I have enjoyed our vacation, it will be good to head back to California tomorrow to our home sweet home!
Linking to a few of my usuals. Please check out some of the links found at the top of the page, under Link Ups!