One of the best things about vacation is the pleasure of reading. At home I do enjoy reading and I do read quite a bit but mostly in short periods of time, before bed or for just a few minutes in the afternoon. Being on vacation is indulgent, right? Good food, sleeping in, and for me, reading whenever the urge strikes. I have read two books during this trip to Maine. The first one I finished off during the first couple of days. The second one I am still reading though I have just a few pages left. When it ends, I will resort to the back-up books that I have on my iPad.
Here is my take on the first book. Written by one of my all time favorite authors, Anne Tyler, Vinegar Girl was just released this month. If I had to guess, I would say that I have read about 12 of the twenty-one books Anne Tyler has written. Tyler has been writing books since the 1970's and her stories tend to center on quirky, hard-working, middle class individuals. Her characters are almost always very relatable and invariably they amuse me no end. If you are not yet familiar with this author, here is a lovely interview with her (of which there really aren't very many out there.)
This story, while it isn't my favorite of her works, did not disappoint me. It is written as a retelling of Shakespeare's, Taming of the Shrew. Please don't let that put you off. I am not a fan of Shakespeare, not even a little, tiny bit. I know the basics of the story of Petrucchio and Katherine, but that's about it. Ms. Tyler has said she is not a fan of The Bard but agreed to write this book as part of the Hogarth Shakespeare program where many of Shakespeare's books are being rewritten as contemporary novels. The main character in Vinegar Girl is Kate, a grumpy twenty-nine year old woman who lives at home caring for her eccentric scientist father and her ditzy fifteen year old sister. (Her mother died some time back.) During the day, she works at a local preschool as a teaching assistant, even though she clearly does not enjoy the children or the work. Her father is a research scientist working on an autoimmune project with the help of his faithful research assistant, Pyotr. It turns out that Pyotr's visa will soon expire and he worries that without Pyotr, his research cannot continue. The father and Pyotr plot to have Kate marry Pyotr so he can remain in the country. I won't give any further detail because this book is worth a read. Suffice it to say, the characters are likable and the story is amusing. I enjoyed the sentiment behind the title, Vinegar Girl, which is what Pyotr begins to call Kate. Is the story at all realistic? Well, no, but it is charming. As the story progresses, I became quite fond of Pyotr. At first, he seems to be a puppet, controlled by his puppet master, Kate's father. As his relationship with Kate grows, he becomes stronger and much more likable. The immigration theme running throughout the story bothered me a bit. In our family, two of my nieces have married men that were in the States on visas. The amount of hassle and extensive documentation that had to happen to support their marriages was quite overwhelming. Reading about the couple of odd texts and cell phone pictures that they planned to use to document Kate's and Pyotr's relationship struck me as silly. I believe it was Tyler's intent, that this show a lack of practical knowledge on the part of the professor and Pyotr. It struck a chord with me though after watching my neices' lengthy process. The book is a very quick read and would likely be enjoyed by most. If you are looking for a deep, meaningful plot, this book might disappoint you. On the other hand, readers that enjoy a light, almost whimsical, book will be quite satisfied.
Overall, I get a sense that Tyler wrote this book in support of the project but her heart wasn't as invested in this story as it has been in prior books. Previous books of hers had a much meatier plot and the characters were far more developed. This book wasn't 'laugh out loud' funny and many of her previous books definitely made me laugh aloud. Others were deeply touching and sometimes sad.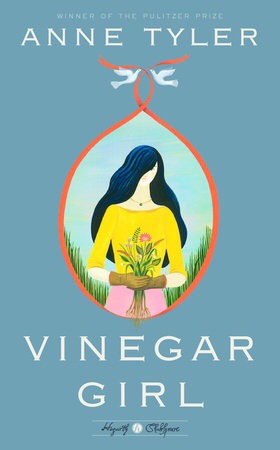 Who would like to have a chance to read Vinegar Girl and let me know what you think? There is a fun book share going on within the quilting community on Instagram. I would love to give it a try here with interested readers. The way it would work is just tell me if you are interested by leaving me a comment. I will make a list of no more than six participants (in the order the comments are received). I will mail the book to the first person on the list along with three fat quarters that are somehow related to the book (anything is more fun if fabric is involved!) I will also send along the address of the person that is scheduled to receive the book next. Each recipient has, at most, four weeks to read the book. At approximately 235 pages, it doesn't take long to read. That person sends it on to the next reader with a few fat quarters curated to the book. While you have the book, write a little note and sign it inside the front cover. That way I will have everyone's impressions when the book finally makes its way back to me and other readers along the way will also get to see your thoughts on the book. In the interest of privacy, I won't share all of the addresses with all of the participants. Rather, when a reader finishes the book, that person will email me for direction on where to send it next. Hmmm… This leads me to think about international participants. If you want to participate, leave a comment to that effect and also state whether you would be willing to ship the book and fat quarters internationally. Hopefully, I can work it out to schedule people in the correct order. That will have to be a work in progress, ok? The last reader will return the book to me. Sound like fun? Good, I hope you will join me!
As far as the book I am still reading, What Alice Forgot, by Liane Moriarty, I will share more on it once I finish it. So far I am loving it though.
Finally, as a disclaimer, was sent to me by Blogging for Books as a pre-release copy in return for my unbiased review.