I am not one for leaving projects unfinished. An exception to the rule, but I don't have a huge stack of unfinished quilts in my sewing room. Putting in the time to cut a billion pieces of fabric and then stitch them together, only to leave them languish in a pile just isn't my deal. (No offense intended. Like I said, this is the exception to the rule; many (most?) quilters have stacks of UFO's. So it's me, not you, ok?
I am chomping at the bit to cut into my stack of Pat Bravo fabrics that I received for my birthday last fall. I have a plan for a plus quilt and all the fabric is just sitting there, waiting so patiently. First though, I decided I had better finish one of two projects that are near completion. I started this quilt almost two years ago. I had attended a local quilt guild meeting and we had the opportunity to listen to Sandy Klop talk about her American Jane fabrics. She did a great trunk show. I got totally sucked into her adorable lines with their Americana feel and bought several 1/2 yard cuts.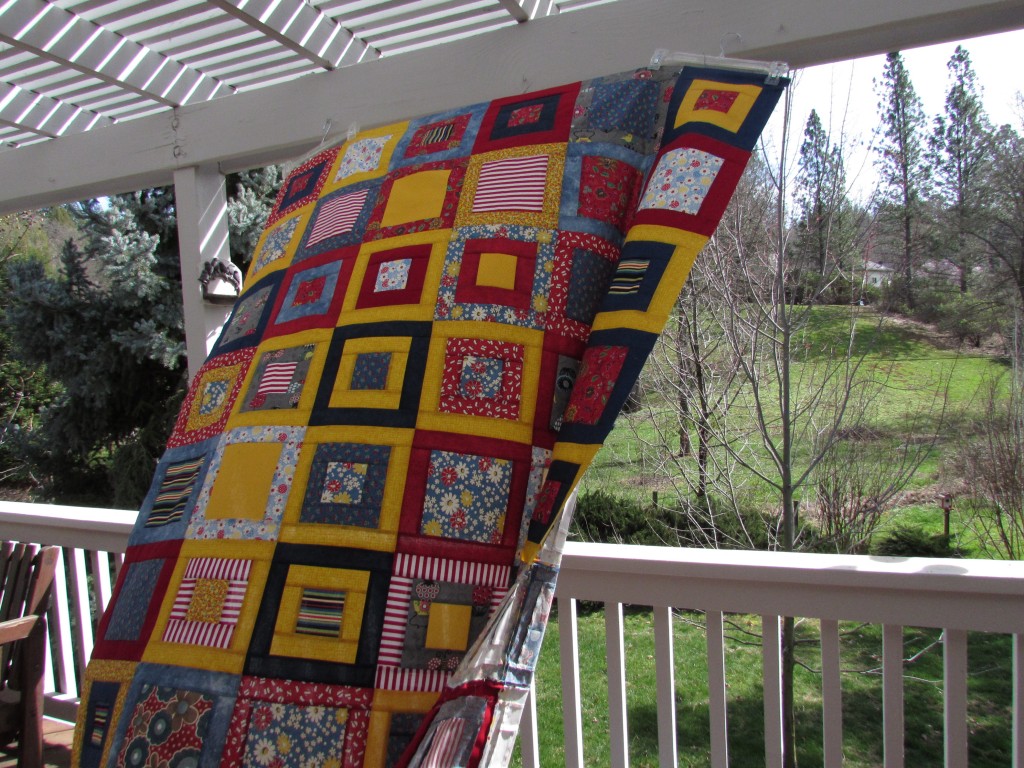 I quickly cut into them, with the intention of making a traditional quilt that I had tagged in an old copy of  QuiltWorks magazine. Designed by Debra Feece, it is called Square Dance. Basically a simple quilt using squares and strips. I worked on it for a while and somehow it was pushed aside until last week.
The pattern is so simple. One would think that my blocks would have been the precise 9 1/2″ square that they were supposed to be. Ha. Not so.  When I took the project out to finish, the blocks looked off to me. They measured anywhere from 9 1/8″ to 9 5/8″. Didn't I bother to use a ruler to cut my strips? Maybe I forgot what a 1/4″ seam looked like?  Who knows. But I was able to get them to a mostly consistent 9 1/8″ and they went together nicely.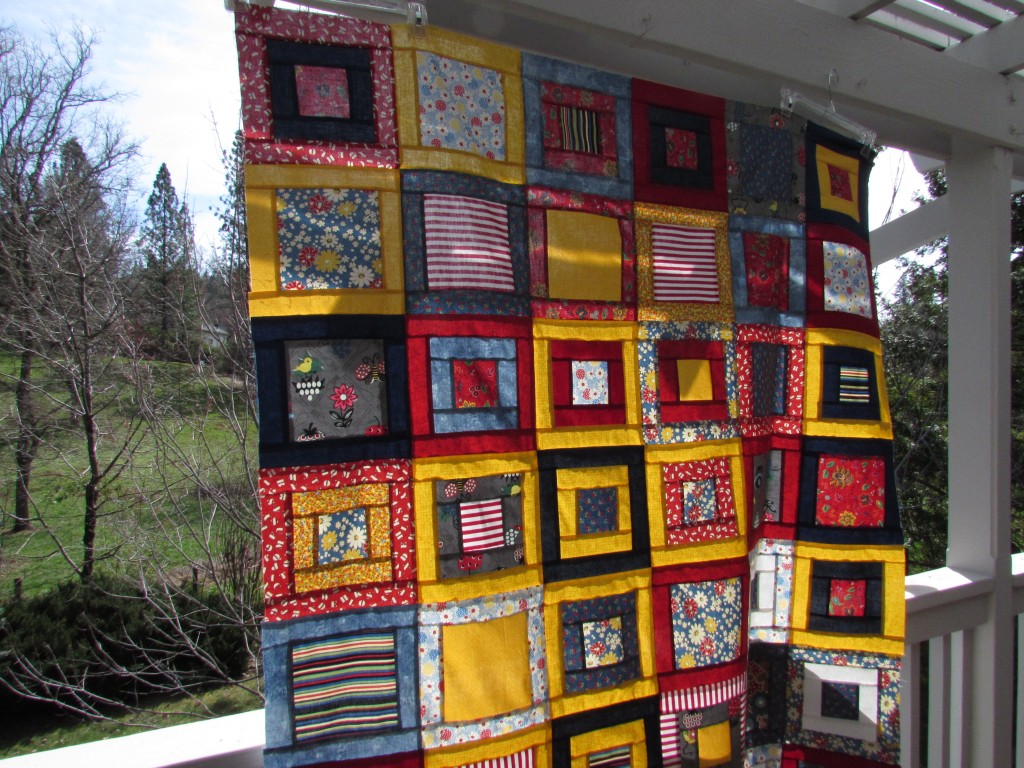 I think this quilt top is adorable. I haven't made anything with such a Folk Art feel to it.  Ray came into the sewing room the other night and said it looks patriotic. Made with (mostly) the three primary colors, it is so cheerful.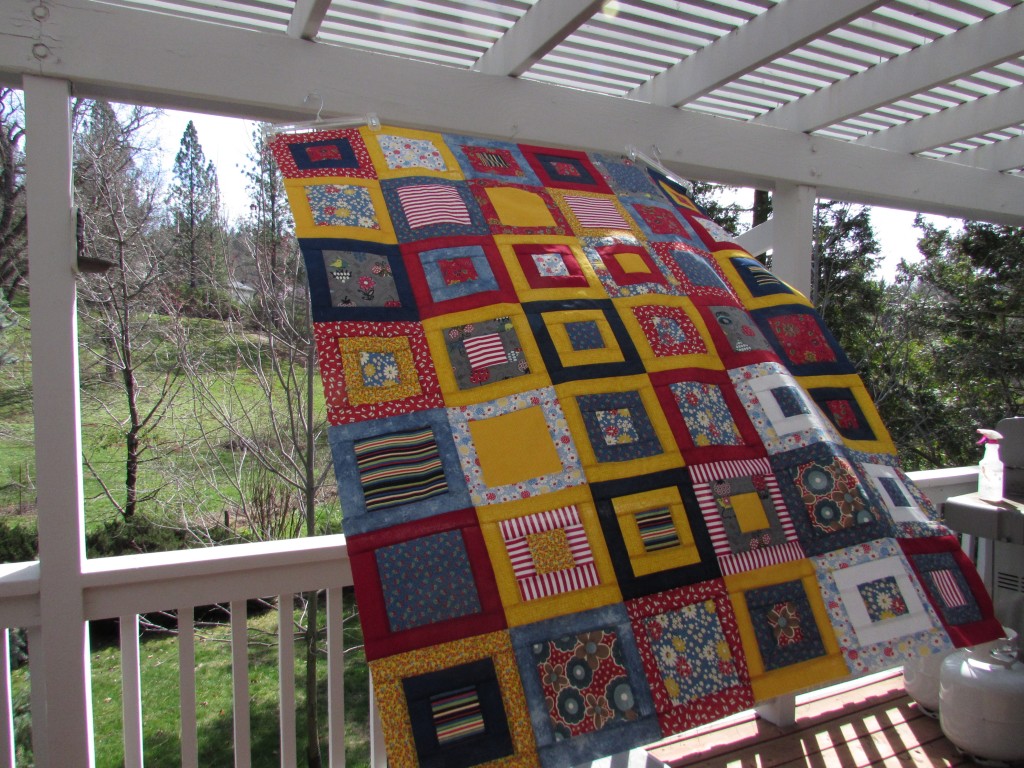 There is a lovely breeze out today (which is hopefully blowing a storm my way – we are supposed to be heading into a rainy spell) which made taking photos kind of tricky. Here is one in the house where there is significantly less breeze!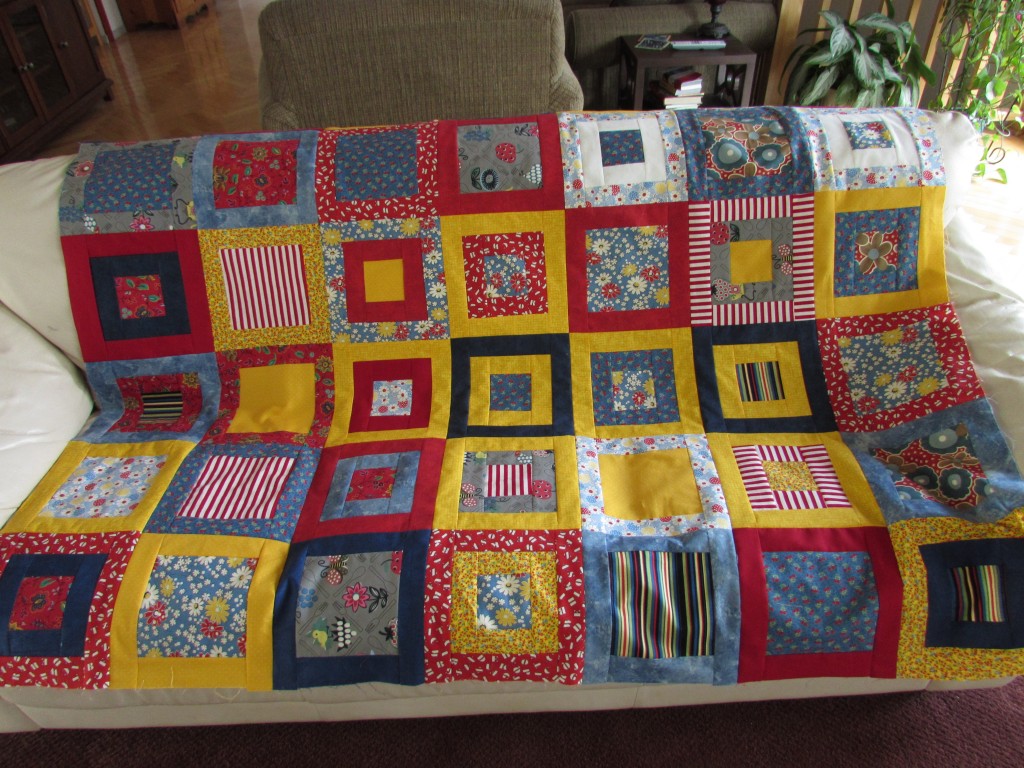 I love the red and white stripes and the red alphabet print. Traditional and so dang cute.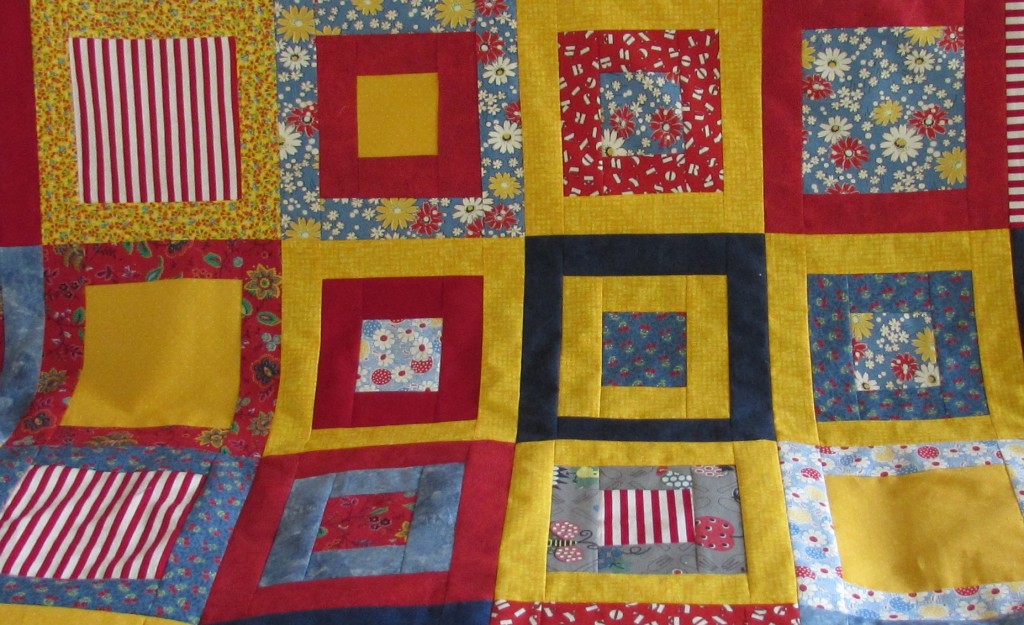 I am anxious to get this one basted and ready to quilt. I pieced a backing with my leftovers plus a couple of pieces from my stash. I just need to buy the batting. The squares will be fun to quilt over using a spiral or loopy pattern.
Hopefully I will be back soon with a full finish on this one. This weekend is going to be a no-sew weekend.  My sisters (well, 4 of the 5) will be here for the weekend. Yay!!! I can't wait to see them. Ray and Julia are on their own up in Downieville this weekend while we all stay here and hang out. Hope you are having a wonderful week with at least a bit of time spent at the sewing machine.
Linking to:  Finish it Up Friday, Can I Get a Whoop Whoop, Let's Bee Social – all of which can be found at the top of the page, under Link Ups.