You know that feeling when you have been down with a bug for a while and you finally feel better? That happy feeling of being able to have normal days, doing normal things? And it feels so good to just be back to normal?  Well that is kind of how this week feels.
It has been three weeks since Mom's heart surgery. This week she has made some really big improvements and is feeling so much better. She looks wonderful and is up and doing little things here and there. Consequently, we all feel better! I don't know if this is how all families are, but when one of us is down, we each have this sympathetic /empathetic thing that causes the rest of us to be down. And we know this about each other. When Mom was in the hospital, moving from bed to chair to walker was intense. It was so hard and it really hurt. The first couple of times the nurse came in to tell her it was time to get up and move from chair to bed, Mom would tell us to leave the room for a minute.  She would say, "If you watch, you'll hurt too.  No need for that." She knew how hard it was for us to be watching her.  But now, three weeks later, she is on the road to recovery and looking great.  Such a relief! We are endlessly, completely grateful for her good health.
Today I did normal stuff. Enjoyed cleaning my house and catching up on laundry! (Pretty exciting, right? Honestly, it was.) I also decided I had better do something with the apples that have been sitting in my basement for more than a month now.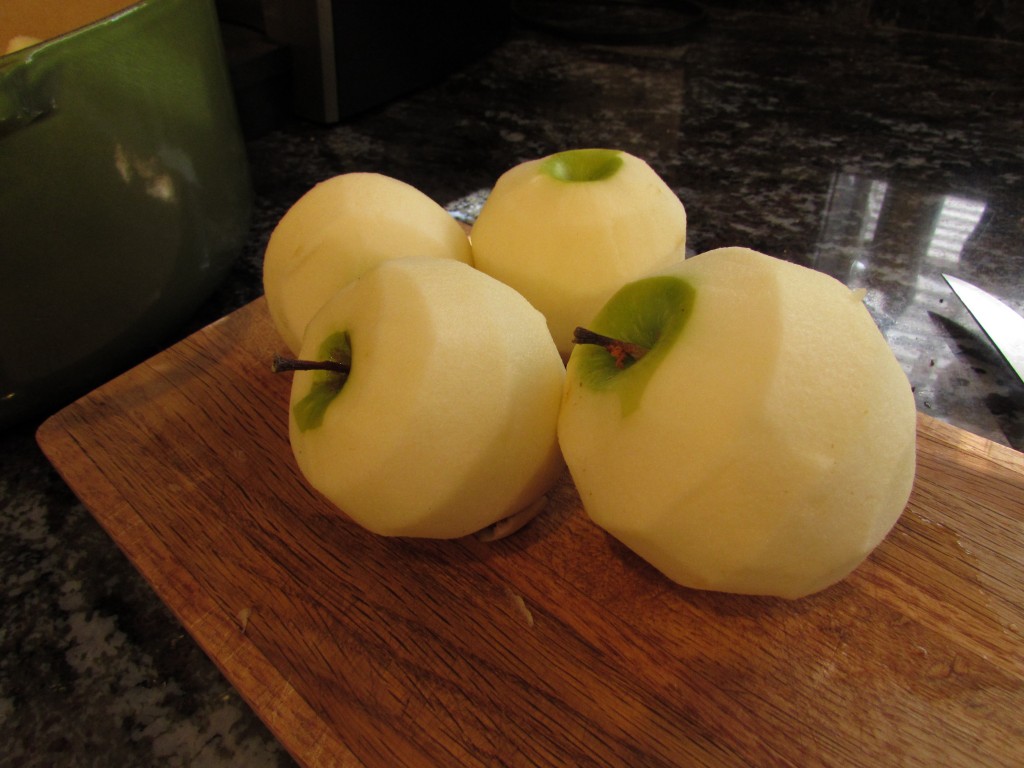 My in-laws have a small apple orchard and we went and picked apples a long while back. I made a large pot of applesauce with the last of the apples. Yum. Our family loves homemade applesauce, chunky with lots of cinnamon.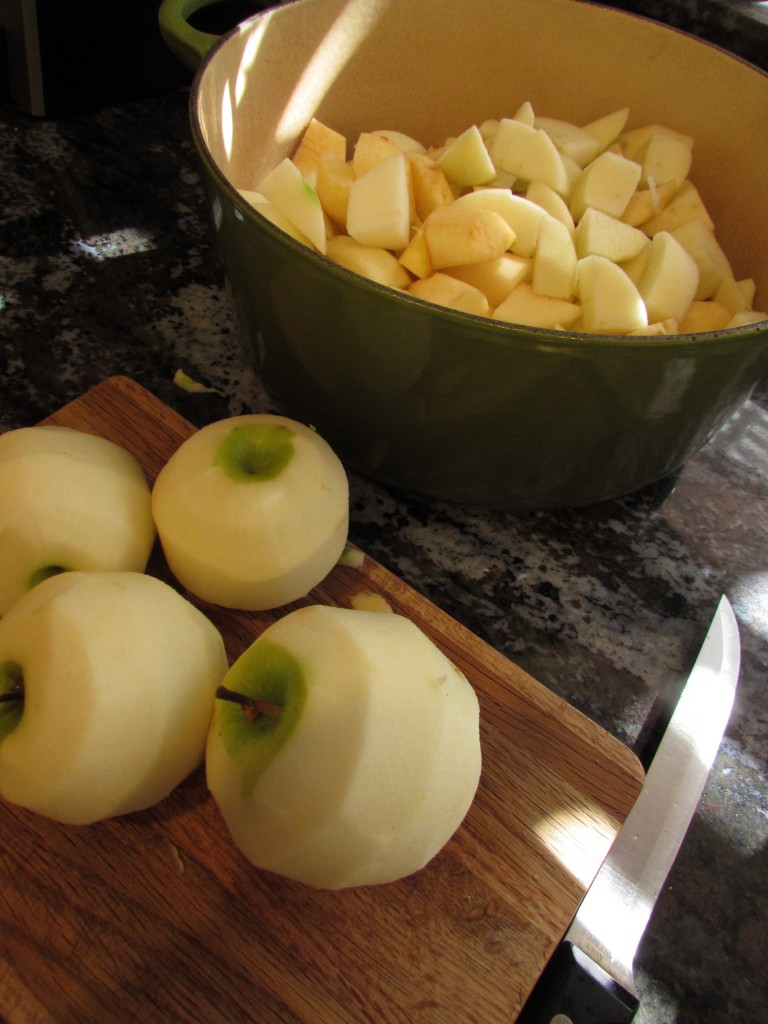 st
Even our hens were happy about this. They get all the scraps. Lucky girls.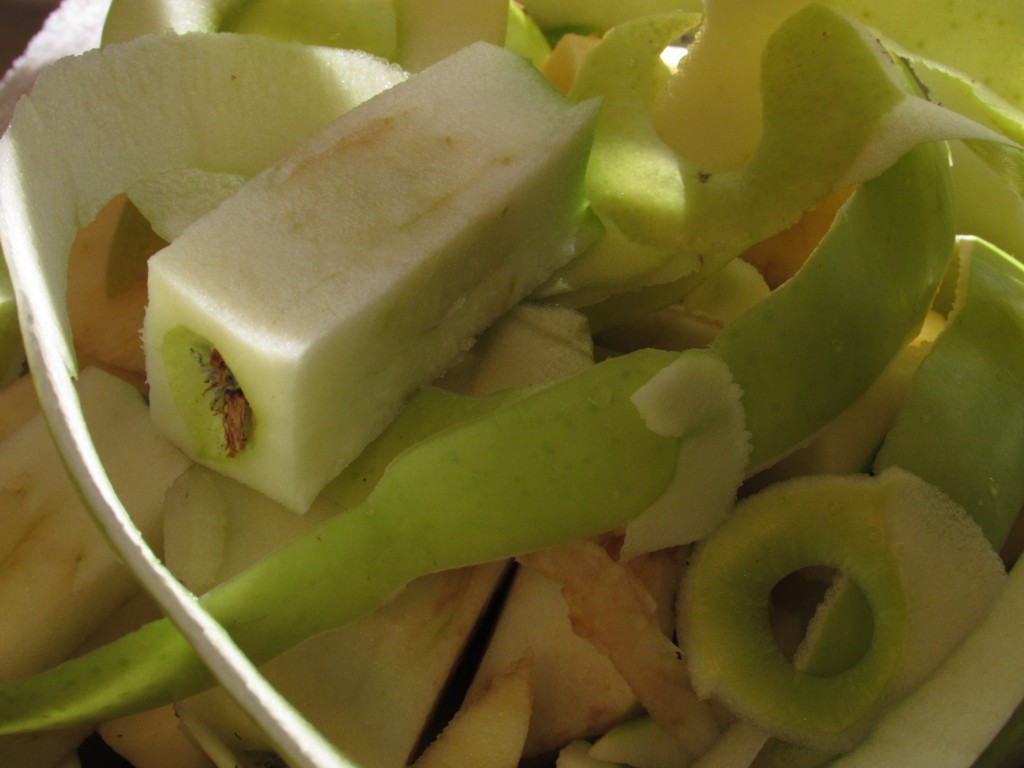 I have also been back in the sewing room. Finally! This week I have been workng on my blocks for the brown row of my Classic Stitches BOM quilt. The blocks are so cute.  I started out making 3″ blocks. This was two weeks ago. My brain couldn't deal with the small, fiddly (as Mari says) pieces. I just couldn't come up with consistent blocks. It took me forever to get two finished. So, I gave up and went back to 6″ blocks and they are great.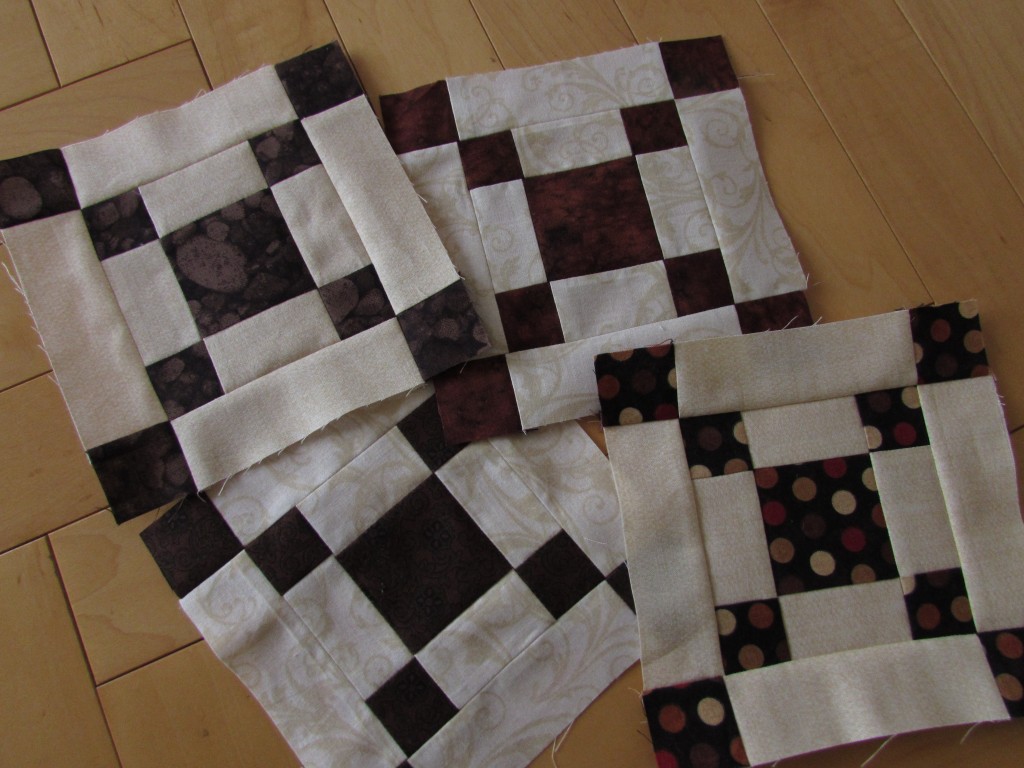 I will get these finished up in the next day or so and stitch them together. The last color of the year is bright green. This is an easy one for me – I love green and have a big tub of scraps to go through. I need to go check in with Mari and see what sort of block she has planned for us this month. It is really crazy that we are coming to the end of this project already!
Lastly, while making applesauce today I was watching the finches. We have lots of them. This little guy settled in way up at the tiptop of our spruce tree.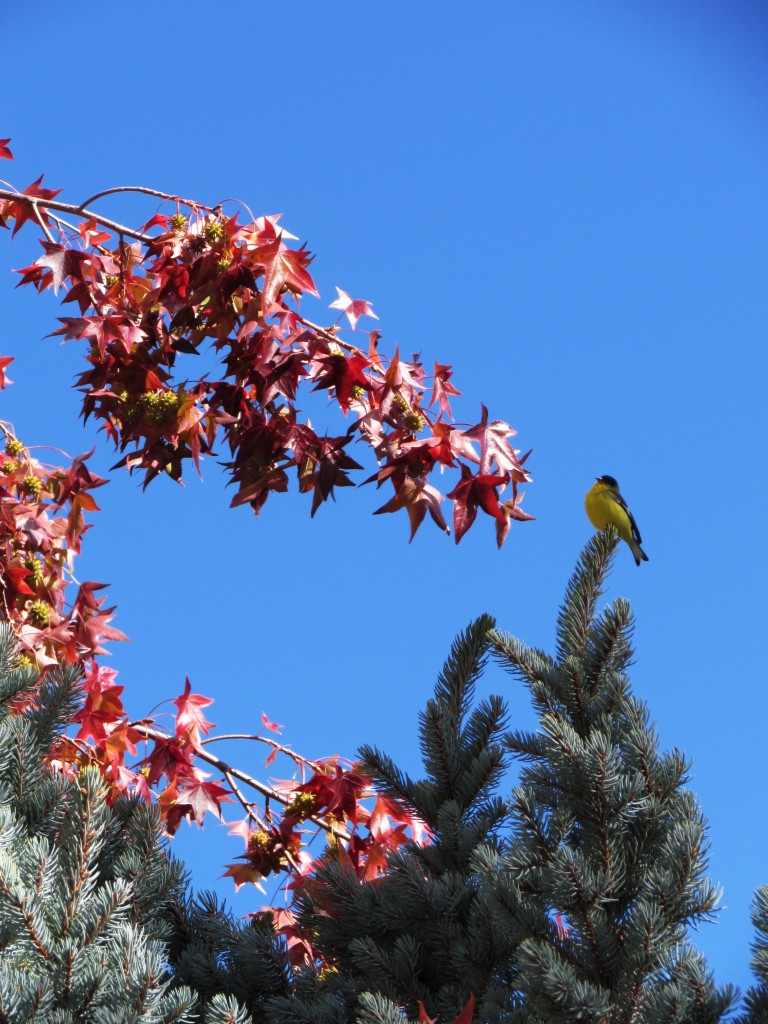 Hope you are having a wonderfully healthy week filled with the ordinary pleasures of life.
Linking to Let's Bee Social – the link is at the top of the page, under Link Ups.