This weekend I had the pleasure of working at the quilt show up in Downieville. I recently joined their quilt guild, Mountain Star Quilters, so that I could meet some of the women in town and get to know more quilters. One cannot possibly have enough quilting friends! The MSQ guild holds a quilt show every other year. On the alternate year, the guild hosts a quilt retreat in Downieville. It was at this retreat last fall that I found the little house we bought and have been renovating. (You can read about that experience here and here.)
This quilt show is such a nice event. MSQ is a small guild located in a charming small town. There are about 25 active guild members. This year's show held over 100 quilts which is impressive considering the size of the group. In addition to local quilter's showing their pieces, we also had the treat of hanging a traveling collection of challenge quilts from a 2014 Hoffman challenge. This is the second show we have had where we shared a traveling collection. I think it is really wonderful to have access to collections like this in such a rural area. It is a long ways (maybe 2 hours?) to the nearest large city so it isn't easy to attend the larger shows that might feature quilting from artists such as these.  Here are two of my favorites from this collection.
This one, titled Big Top, held my attention for such a long time. The quilting on it is spectacular.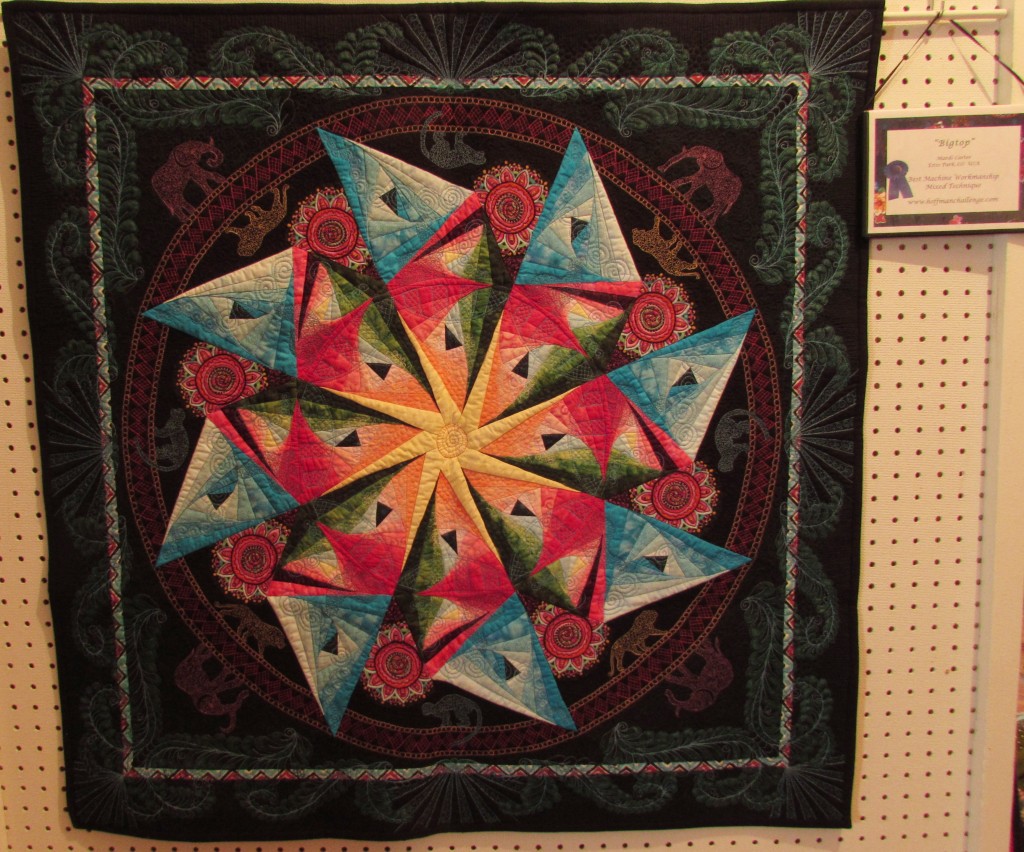 Some of it must have been done with an embroidery machine but other parts were thread sketched. The precision of her stitching is fantastic.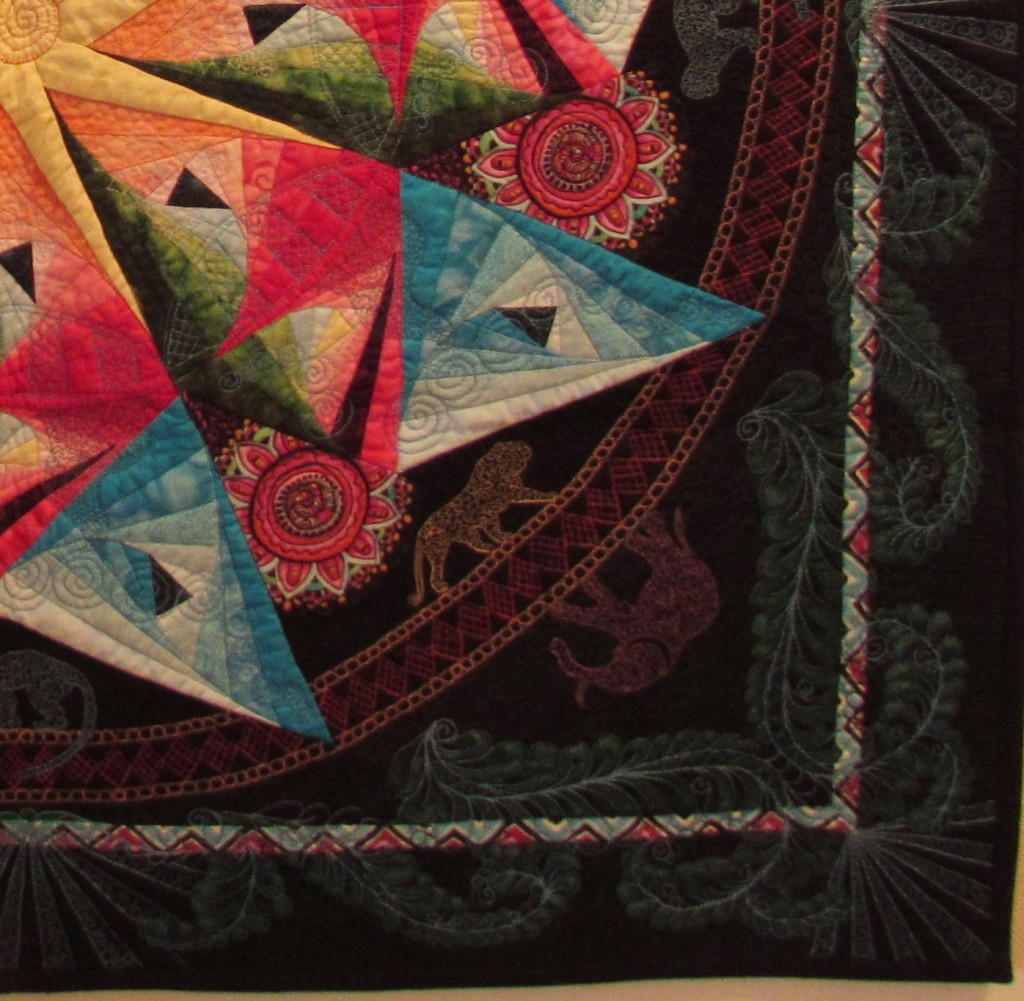 Titled, Free Floating, this piece features appliqued jellyfish that sparkle. The quilter used great thread choices and placed tulle over the top of this piece. It exudes a peaceful feeling. I especially love that the coral extends into the border.  Just lovely.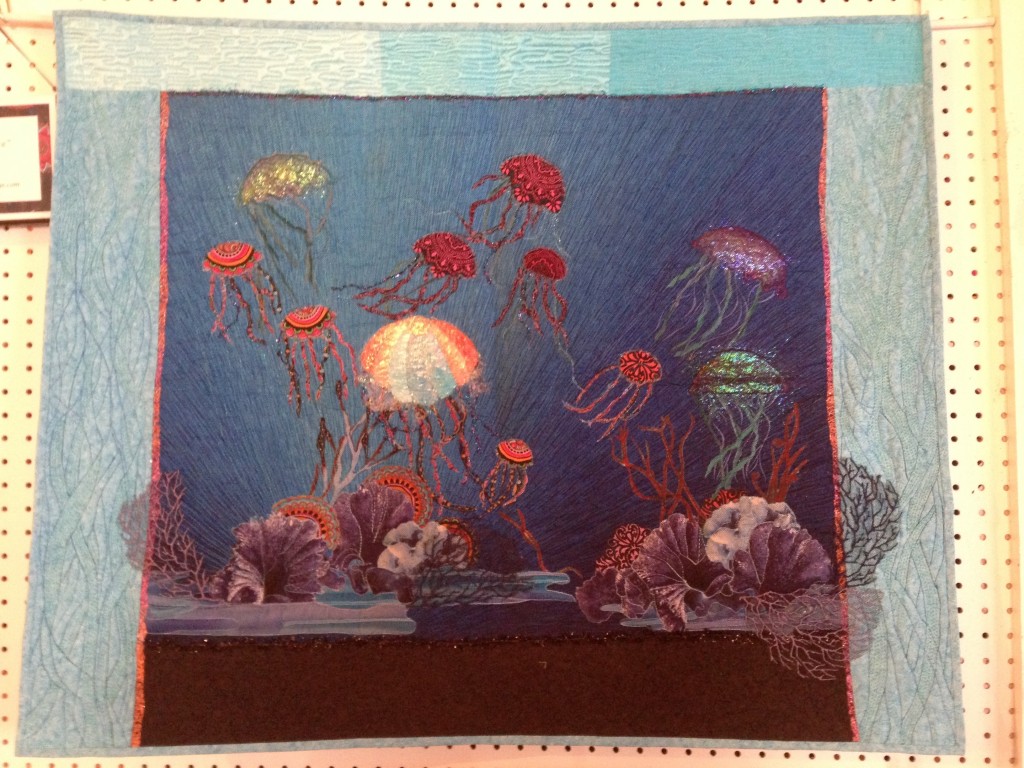 Looking at the quilts, I was surprised that my favorites were really the simplest quilts. This blue and white quilt with clean, crisp lines is gorgeous.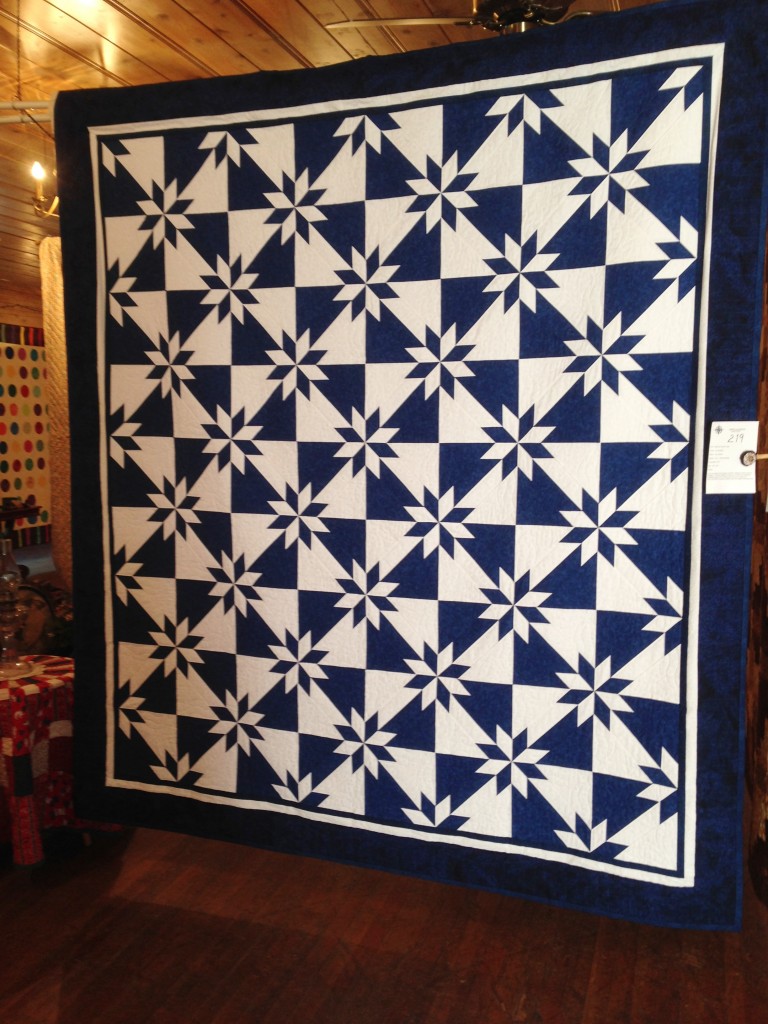 The quilt below won Best of Show in its size category (visitors voted for their favorites since this was not a juried show.)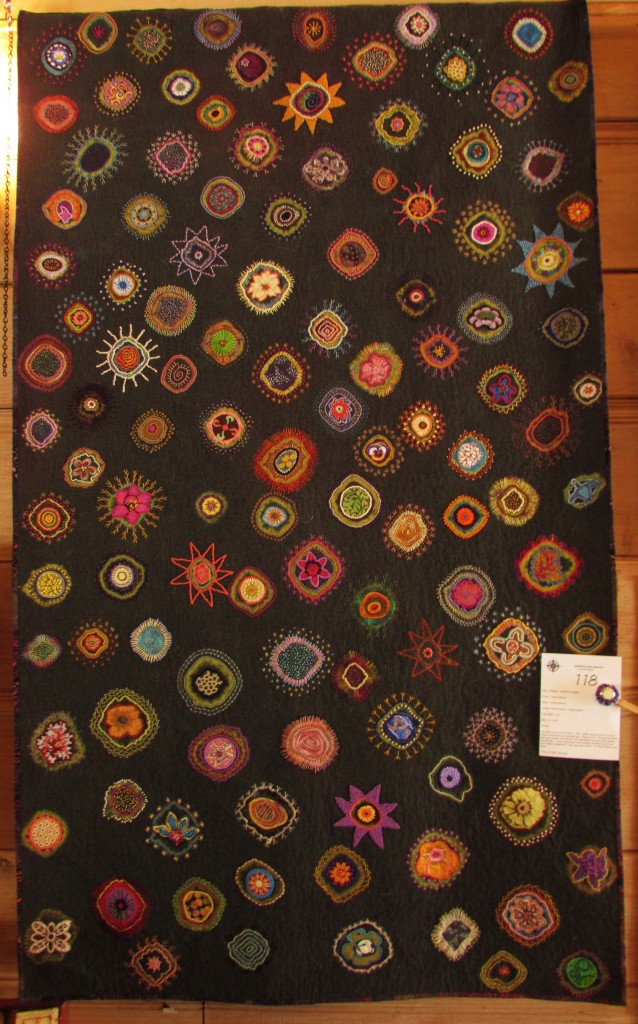 The quilter appliqued small. roughly circular pieces of floral fabric and then hand stitched embellishments and outlines to define them into flowers. The entire background is hand quilted with random stitches which provided a great texture. The background thread was lightly variegated for a fantastic effect.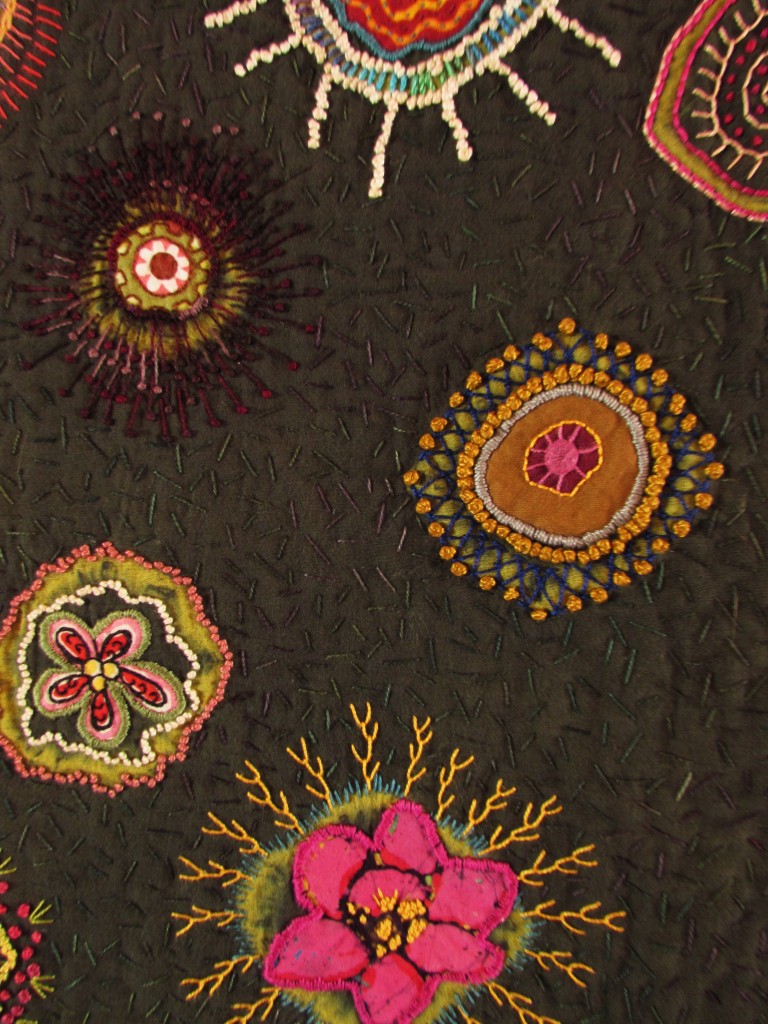 I kept coming back to this piece to look at all of the hand work. I can't really imagine doing something this intense. It was gorgeous and the viewers kept returning to it as well. There was a short story posted alongside of the quilt explaining the the quilter made this while sitting with her father who was very ill. He helped to pick out the floral fabrics and shapes with her. I am sure this quilt holds a great deal of emotion for her.
The show was a lot of fun and I met so many appreciative people, wandering the show and oohing and ahhing over all of the work put into the quilts. One thing that really impressed me was when I went back to the show at the end of the day to help tear it down. As I said, this guild is quite small. I was truly surprised to see how many people came to help at the end. There must have been at least 25 people (including many guild members' husbands) there to take everything down and sort the quilts for return to the owners. It took about 30 minutes to do. Amazing.
While we were up there, Ray and I took a hike. It was a gorgeous fall day. While walking along the river, Ray spotted this Blue Heron standing oh-so-quietly off to the side. He was gorgeous.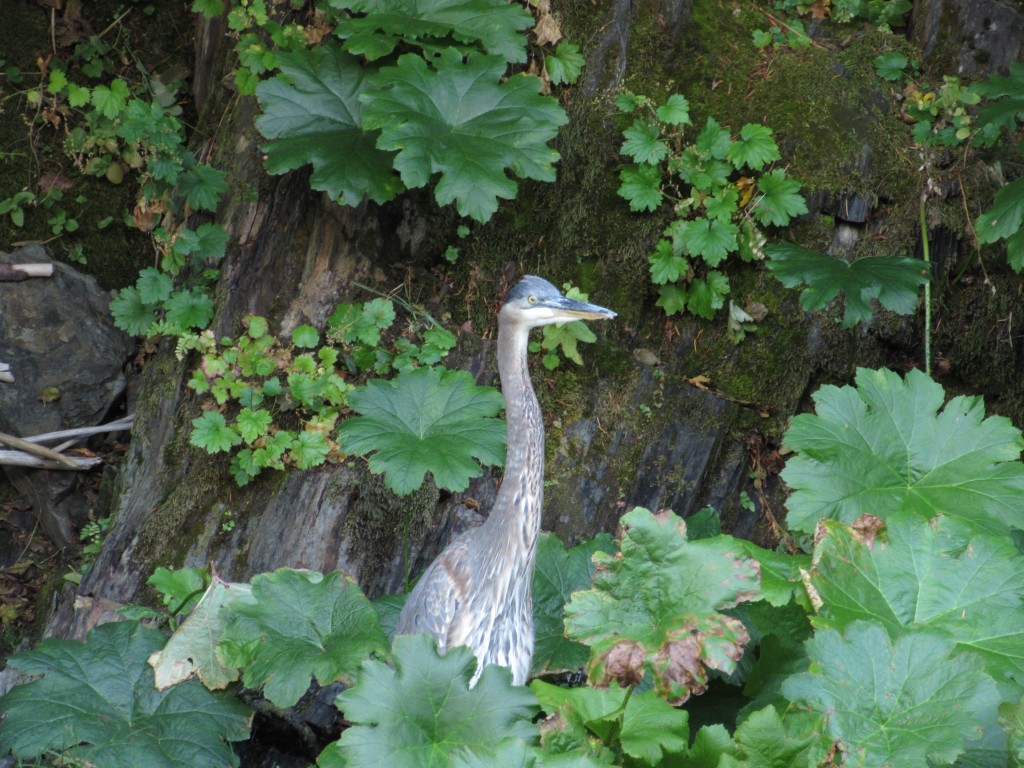 We watched him for a long while and then I asked Ray to make some noise so he would fly off. It was spectacular to see his wingspan. The picture below doesn't do him justice, but I am sharing it anyway.  🙂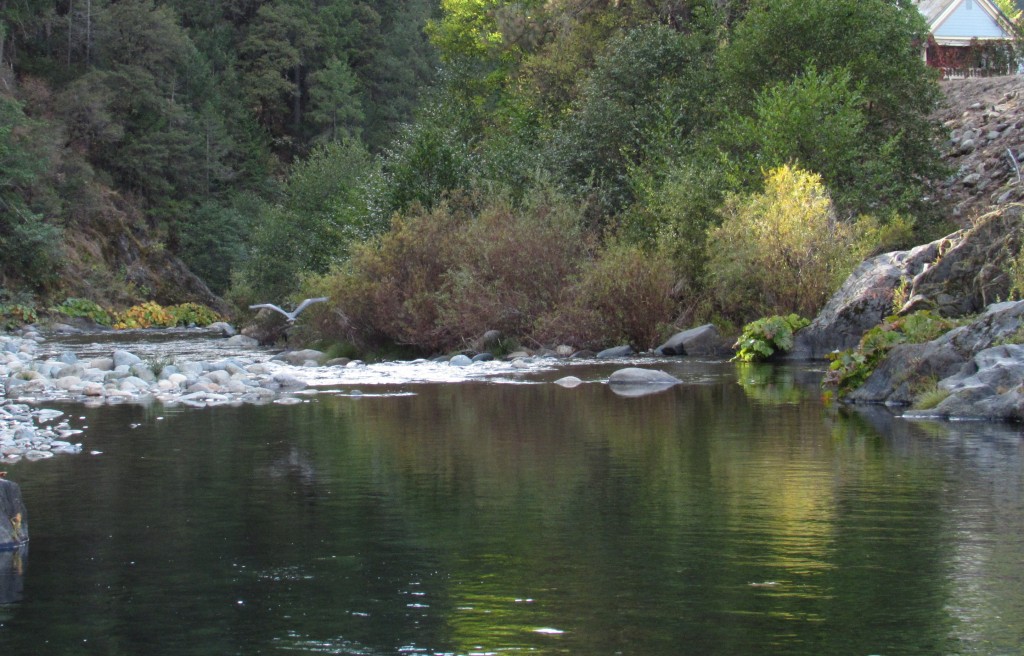 Wishing everyone a wonderful week with some creativity mixed in!
Linking to Connie at Freemotion by the River and Alyce at Blossom Heart Quilts. Both sites have links above, click on Link Ups.