The holidays are crazy sometimes. I am one that can get all wound up about how much needs to be done, making lists and running around far more than is necessary. But over the last couple of days I had a couple of sweet reminders about what the holidays are truly about. Let's just say there are loads of very kind people in this world and many of them just happen to be quilters!
Here is the first story:   Last week I participated in the Sew Mama Sew Blogger Giveaway day. I asked people to enter by commenting with three words that come to mind when they think of Christmas. I loved reading through all the comments. They were heartfelt. My daughter picked the winner, number 48, who happened to be Mara from Secretly Stitching. It so happens that Mara lives in Greece and my giveaway was not open internationally (the postage to ship a bit of fabric internationally just didn't make sense.) I emailed Mara and she explained that she was entering the US – Domestic only giveaways for a friend of hers in Texas. She thought that if she happened to win, she would ask the hostess of that giveaway to mail her prize to her friend in Texas. She said this friend could use something fun in her life right now and she hoped this would happen. And it did. I mailed off a package to Shirley in Texas on behalf of Mara, from Greece. Shirley, you have a sweet friend in Mara.  By the way, if you haven't read any of the posts on Secretly Stitching, take a hop over there. Mara has a fun giveaway posted today. I won't spoil it for you – go take a look!
Second reminder came about this morning.  I was reading some of my favorite blogs and opened the most recent post on Diary of a Quilter, blogged by Amy Smart (one of my quilty heroines.) Her topic today is three ways to give this Christmas season. Each of them is sewing/quilting related and each touched me. I supported all three. Amy describes a GoFundMe that she is running to finance a sewing machine or two for a village in Ecuador.
Amy also mentions a woman who is making quilts for chronically ill children and needs financial support. Finally she talks about a woman in New York who is teaching senior citizens to quilt and needs fabric donations. (I bet there isn't a one of us that doesn't have an extra piece to send off for the cause!)  All of these are unique ways to help someone out that is working in our arena this Christmas.  If you would like more information, check out Amy's post today.
I hope you are all enjoying the holidays without succumbing to the frenzy that it can become. I am working hard to enjoy it and not let myself get overwhelmed with it all.  My kids come home next week and for me, that is what makes the holidays. I can't wait!!  Julia and I did some crafting the other day. We have loads of pinecones around as we live in the Sierra Foothills.  With a little white glue and a bottle of glitter we came up with these.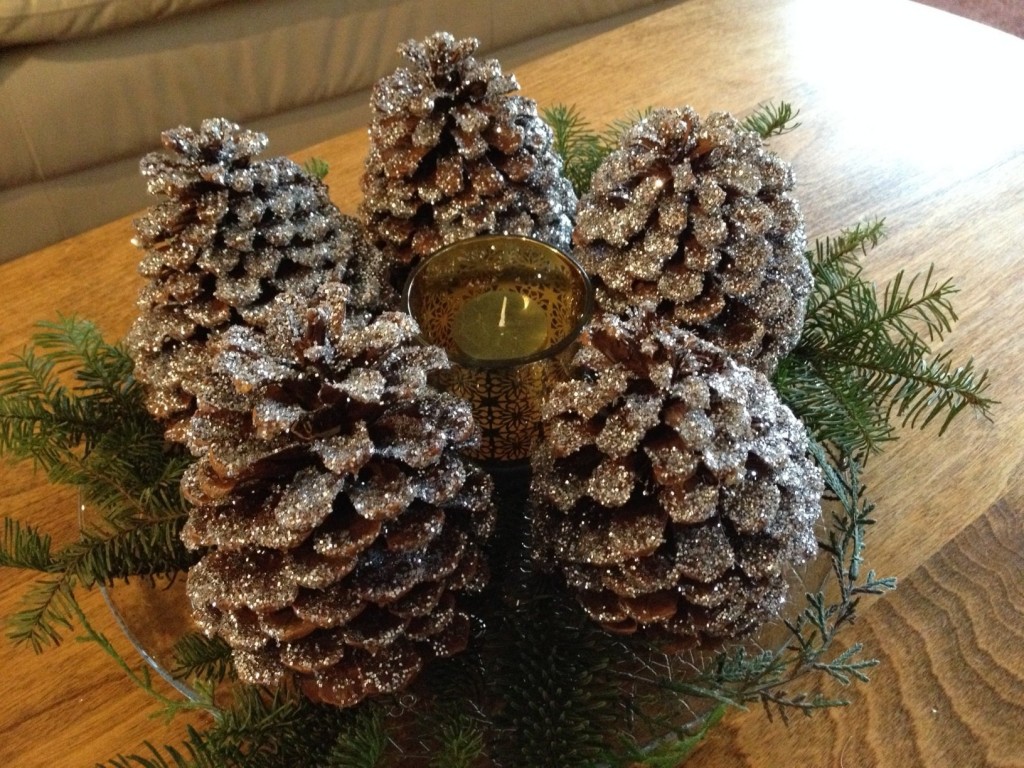 I haven't accomplished a whole lot of sewing over the past few days. I am working on a small art quilt though and have been thread sketching a bit. Here is a peek. With any luck, I will post the finish just after the holidays.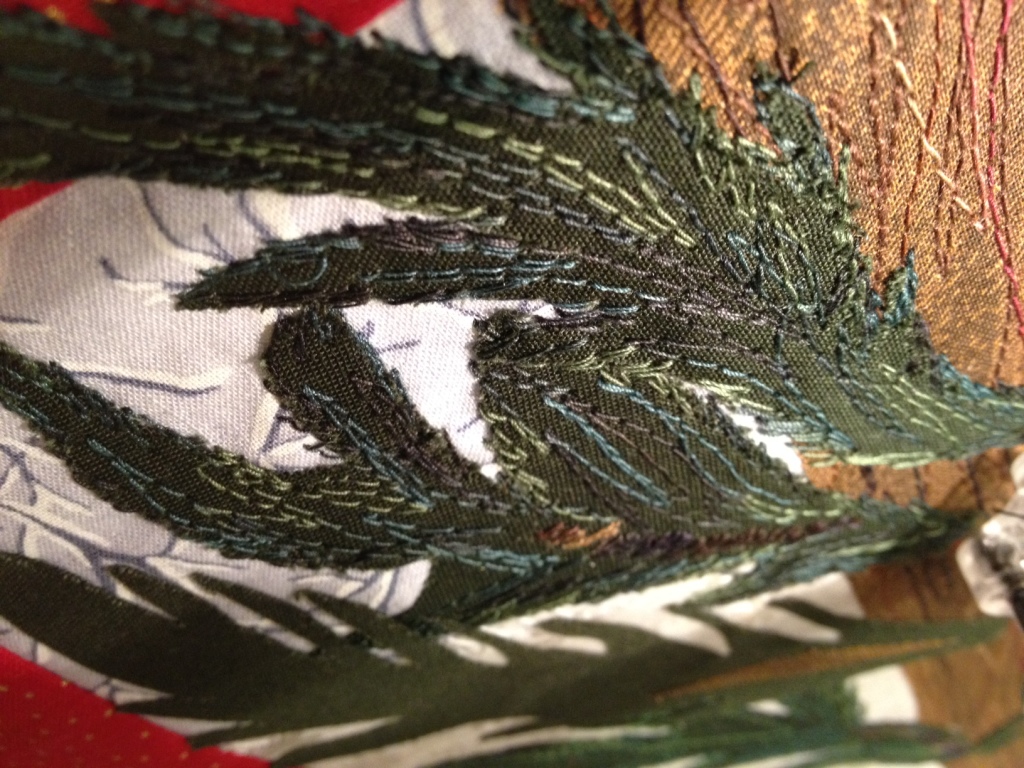 Take care all and Happy Monday!  Linking up to Anything Goes Monday.