I am so excited!  Today starts the Giveaway Day sponsored by Sew Mama Sew. I have followed the Sew Mama Sew website for quite a long while. Twice each year they host a blogger giveaway. This is an event where bloggers will link up with a treat to give to one lucky winner. It is a way for bloggers to meet new readers and readers to discover some fun, new blogs. There will be so many giveaways to enter this week. It is really a lot of fun to check out all of the blogs and you just might win something. Many of the people linking to this giveaway will either have a handmade item or will be giving some sort of supplies having to do with sewing – might be buttons, fabric or a pattern.
In keeping with the  spirit of the holidays and the kind, quilty bloggers, I wanted to join in and provide a treat to a lucky reader. I started this blog last summer and have been so fortunate to have met many on-line friends. It has been a great to get to know others that are involved in this quilting/crafting/sewing corner of the blogosphere. I have been inspired by the work of many and have learned much more than I had hoped.  In thanks, I put together a little basket of treats.
If this is your first time popping over to Needle and Foot, welcome! I am a stay at home mom with a love of sewing. I work on quilts, small and large, as well as sewing some garments and bags. I love sharing what I am working on and learning what others are doing. Take a minute and check out a few posts. Hopefully you will enjoy your time here.
On to the giveaway! First of all, there is a set of eleven 3″ x 30″ (approximately) strips in vibrant colors. I had purchased a grab bag of strips and this set was part of that bag. Perfect for an upcoming project when you want to brighten up a dreary winter afternoon.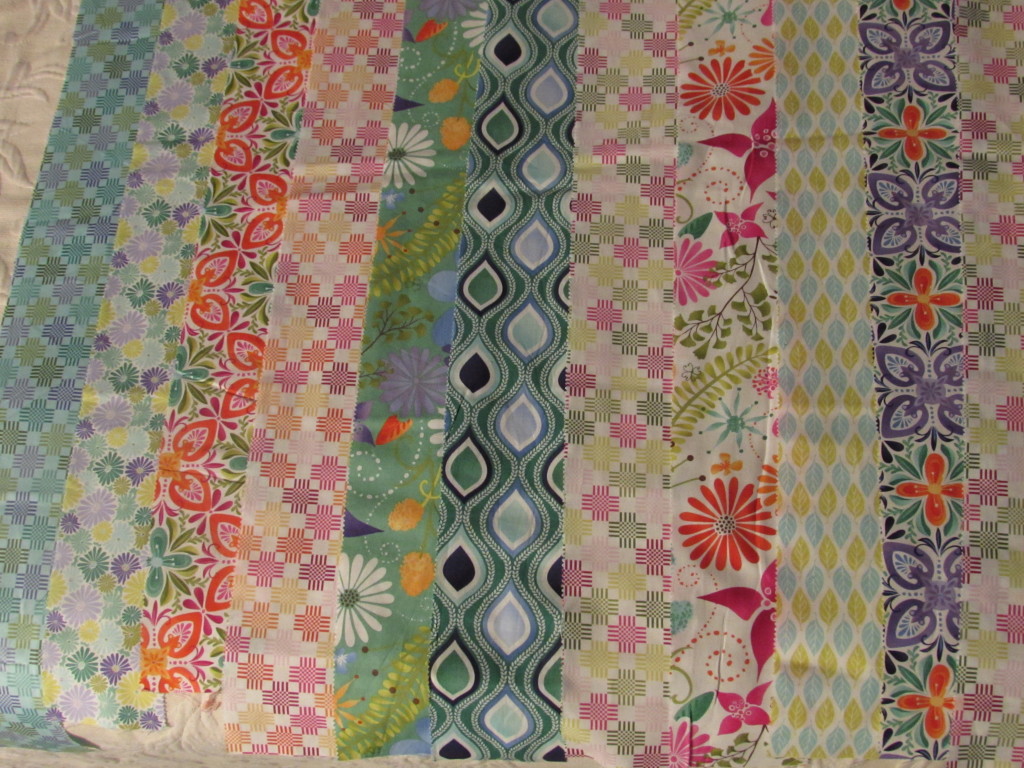 I don't know what line(s) these pieces are from as the selvedges were removed when I got these but they work together well.  POST UPDATE:  According to Barb at Mountain Quiltworks these are from Kate Spain's line called Terrain. Thank you Barb!!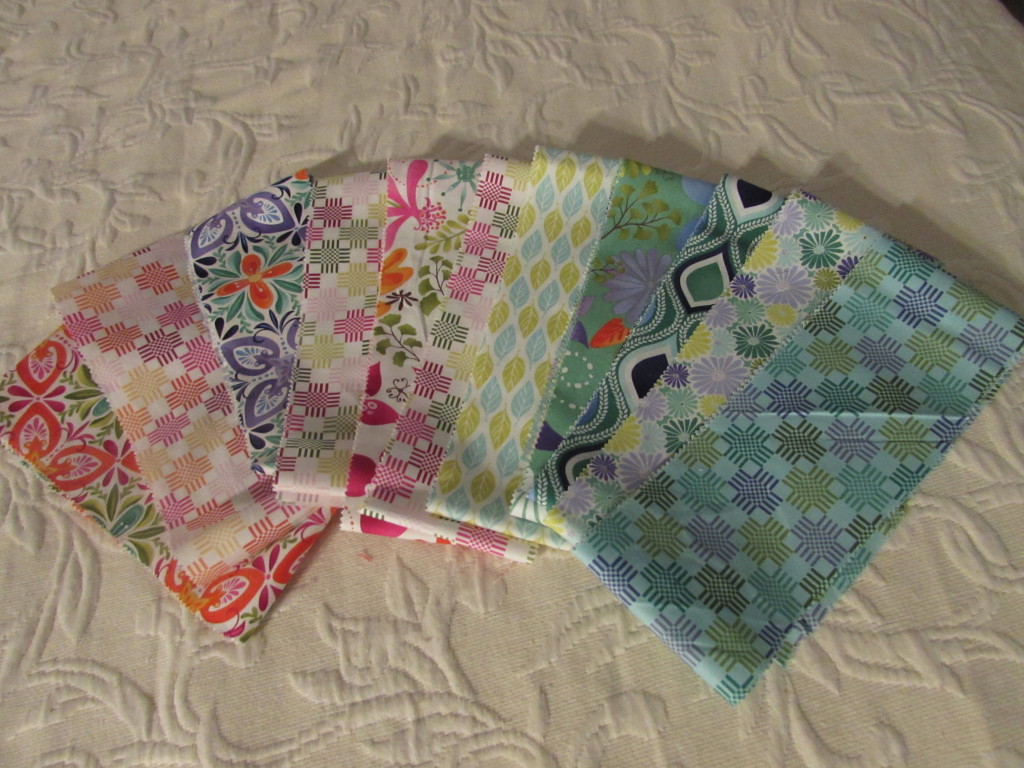 I added a few holiday prints from my stash. They are roughly fat quarter size (18″ x 22″). It might be just the thing for a last minute holiday project.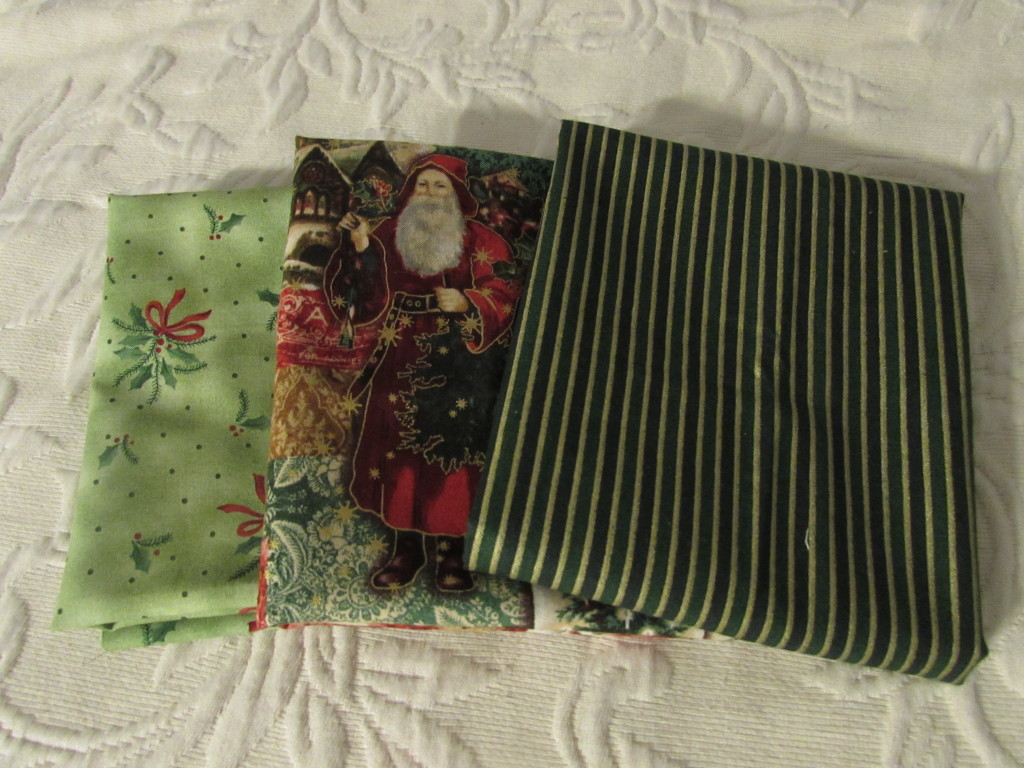 Always nice to add a bit of fabric to your stash.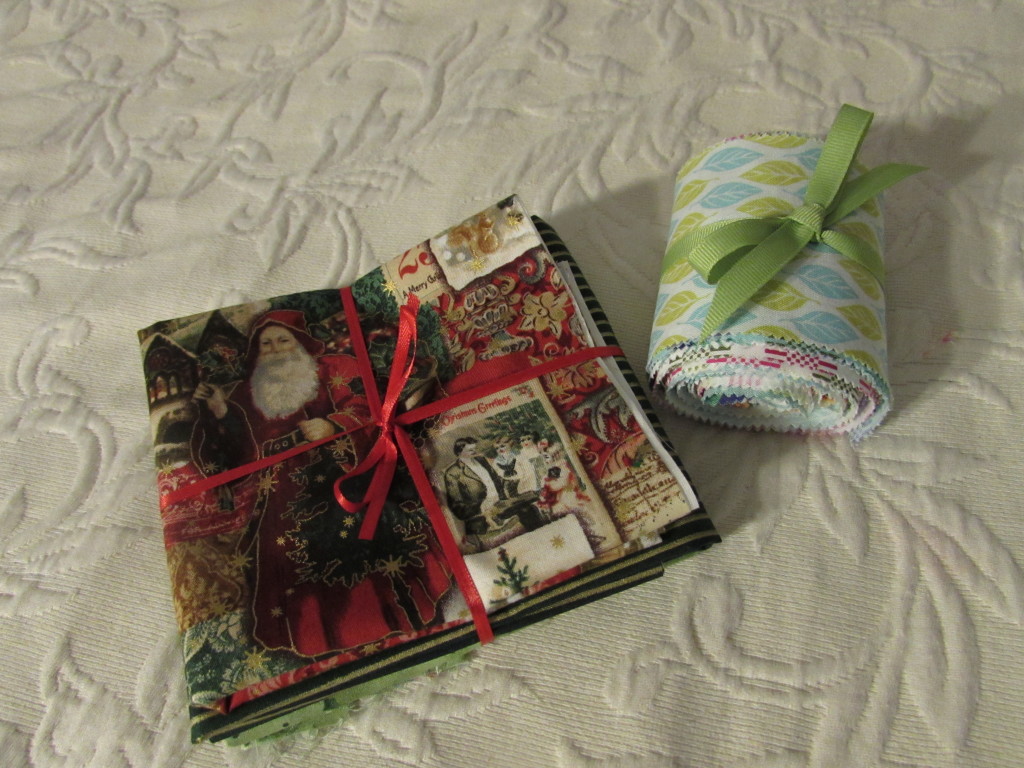 I've added a few fun treats to the basket as well.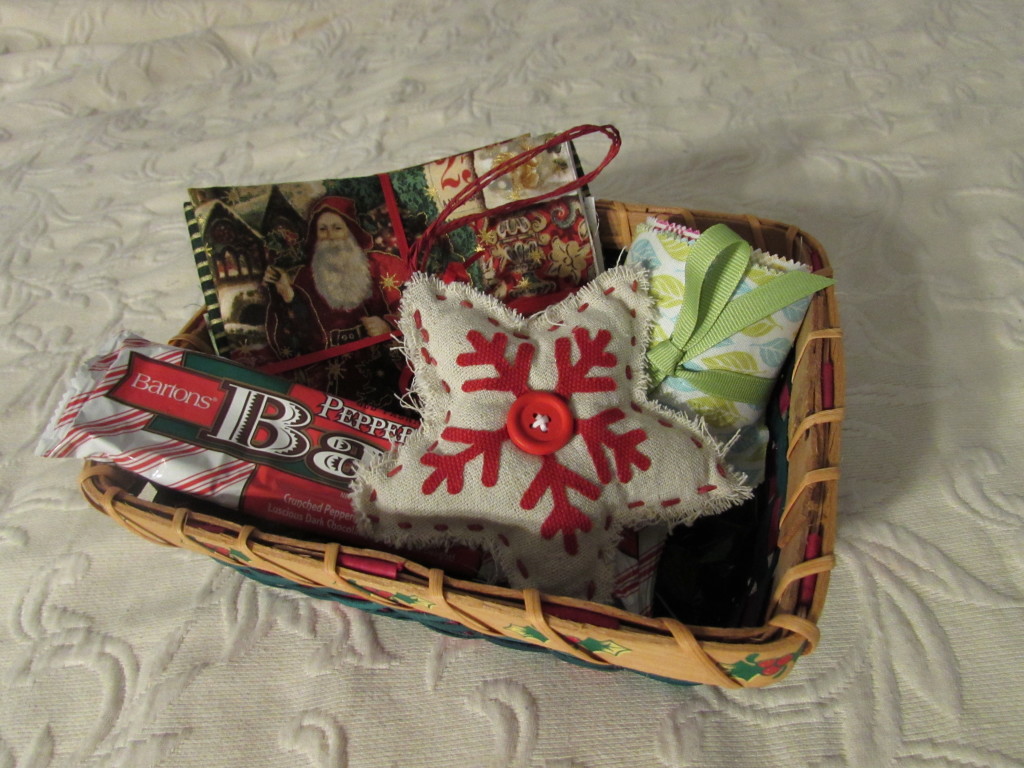 No, I didn't make the ornament. 🙂 It is so cute though and would be such a simple project.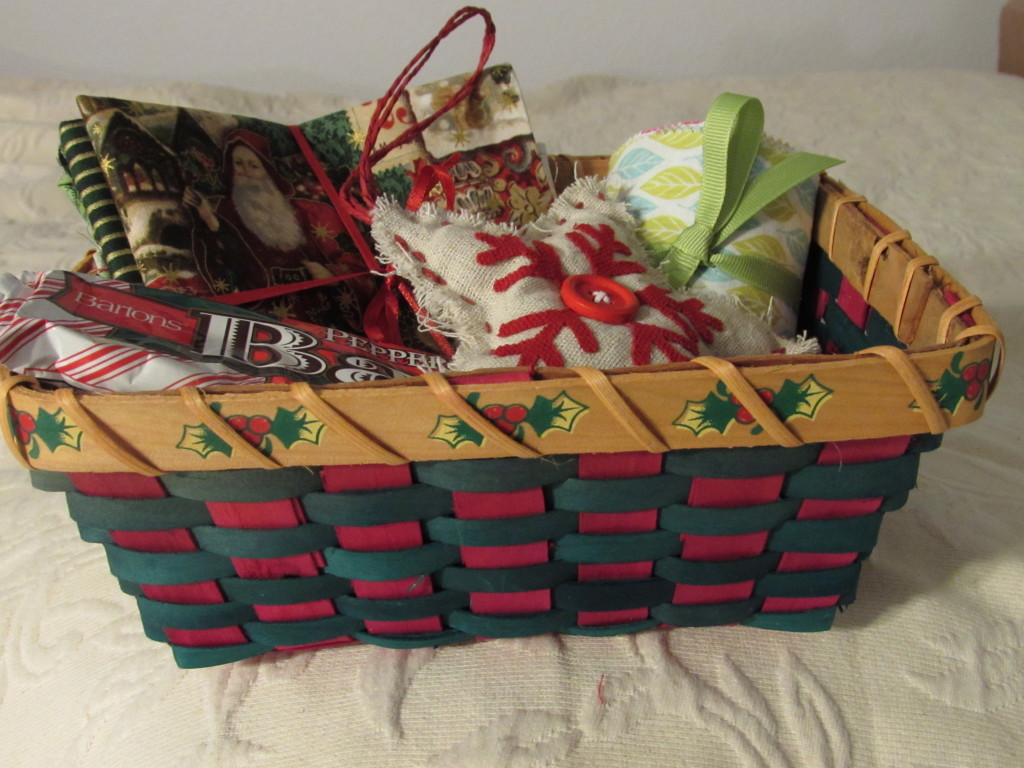 Be sure to take a look at all of the fun giveaways on the Sew Mama Sew website. Check out a few blogs and meet somebody new! All giveaways, including this one, will be open for the entire week. I will pick the winner of this basket on Saturday, December 13th. The winner will be contacted via email and also announced on a later post.
So here is the deal – to be eligible for this cute little holiday basket all you have to do is leave a comment – just three words – that tells me the following:
"Three words that come to mind first when I think of the Holidays are:"
I apologize to any international readers but my budget doesn't allow for shipping outside the US. Thanks for playing along! I am looking forward to reading your comments. Enjoy this giveaway and so many more over at Sew Mama Sew.
Linking to Sew Mama Sew Giveaway Day!
Update:  The giveaway is now closed.  At random, my daughter chose number 48 as the winner. We are very scientific here – I told her to pick a number between 1 and 137. Congrats to Mara. I emailed you and need your address please.  Happy Holidays everyone!