Over the weekend I enjoyed wandering through a quilt show hosted by the local guild, West Sound Quilters. This is the second time I have gone to their show. This show is fairly small and non-juried. The people are really warm and welcoming. Like many shows, there is the opportunity to vote for the Viewer's Choice award. As my friend Annette and I looked at quilts, we talked about which one would be our choice for this.
About half way through the quilts, one quilt caught our eye. We took a second look to figure out what exactly we were seeing. Then we started to laugh, and laugh, and laugh some more. Don't worry. We weren't being rude. This quilt was hysterical. The title was Sinbonnet Sue II. Does this give you a hint as to why we chuckled so much?
The artist, Georgia Overstrud, designed a quilt of slightly irreverent Sunbonnet Sue blocks. Just my sort of humor! I took some pictures of my favorites.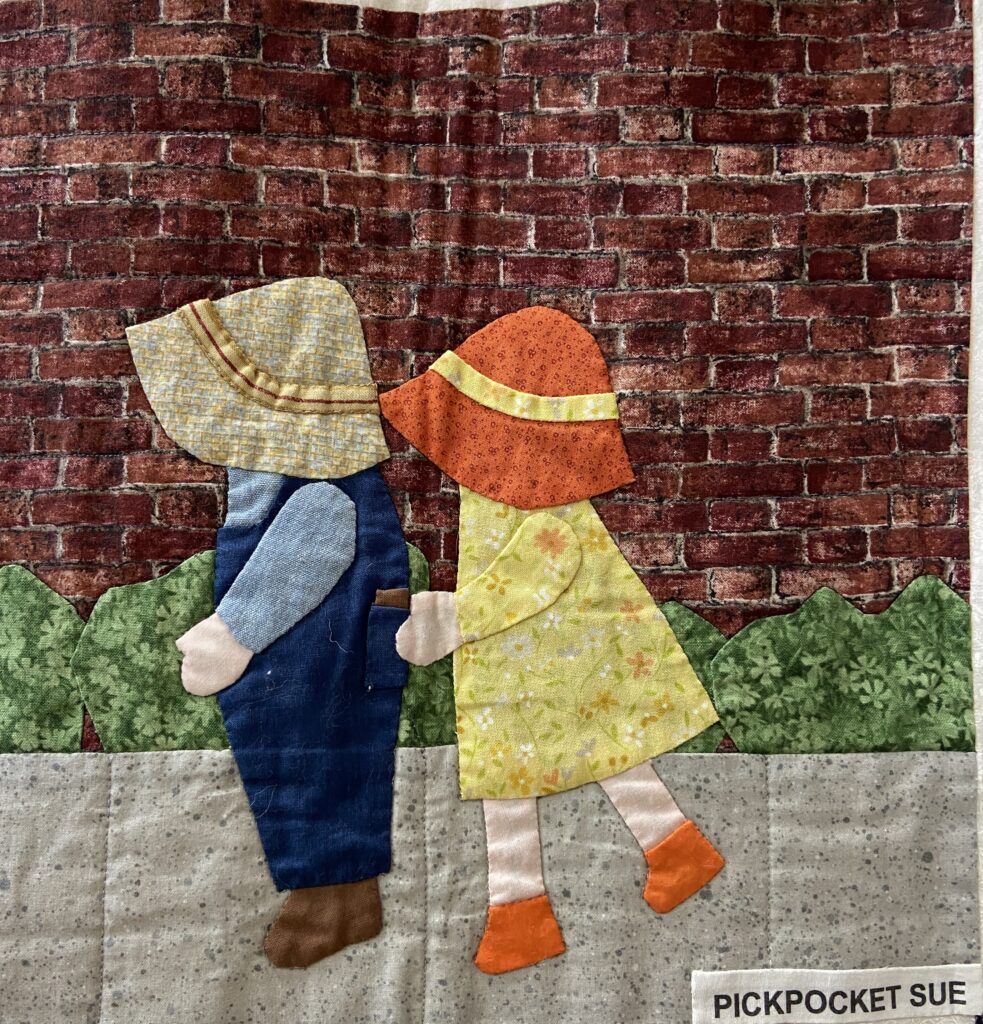 Pickpocket Sue is going for Sam's wallet here.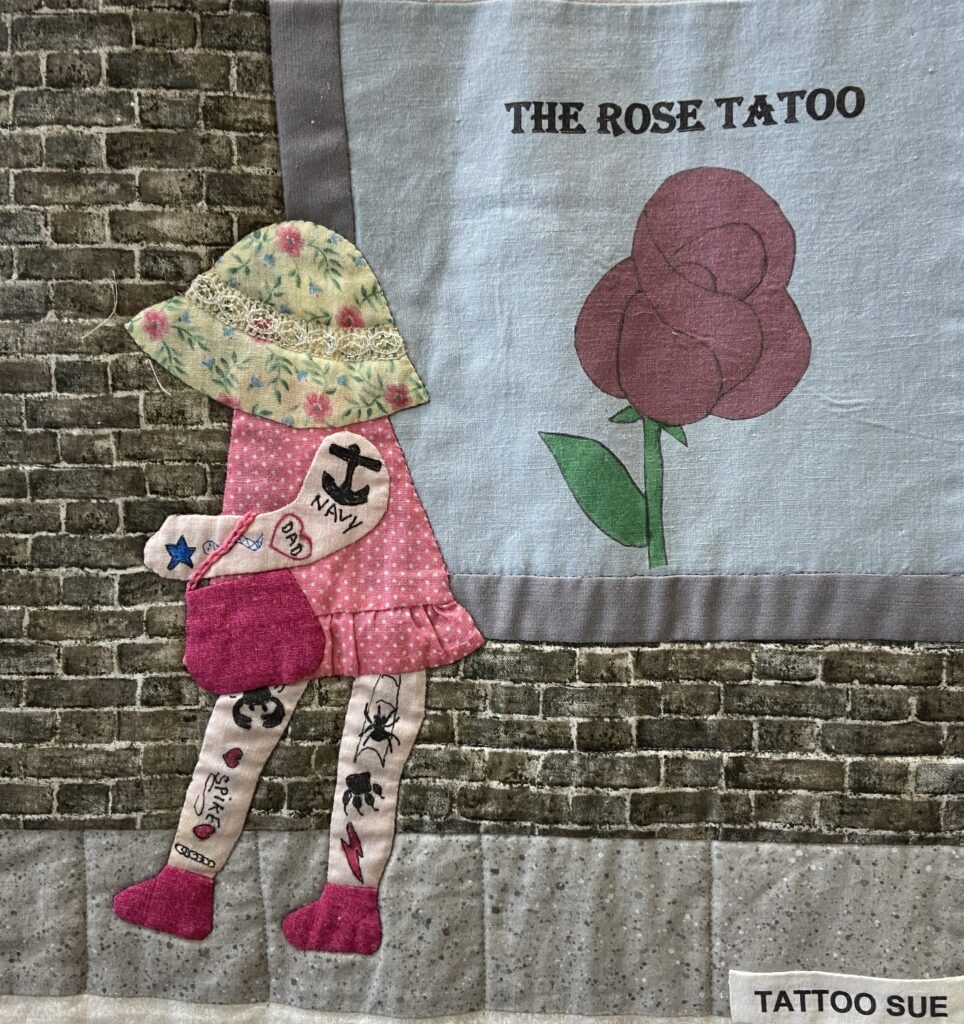 Here she is seen leaving the tattoo parlor, again!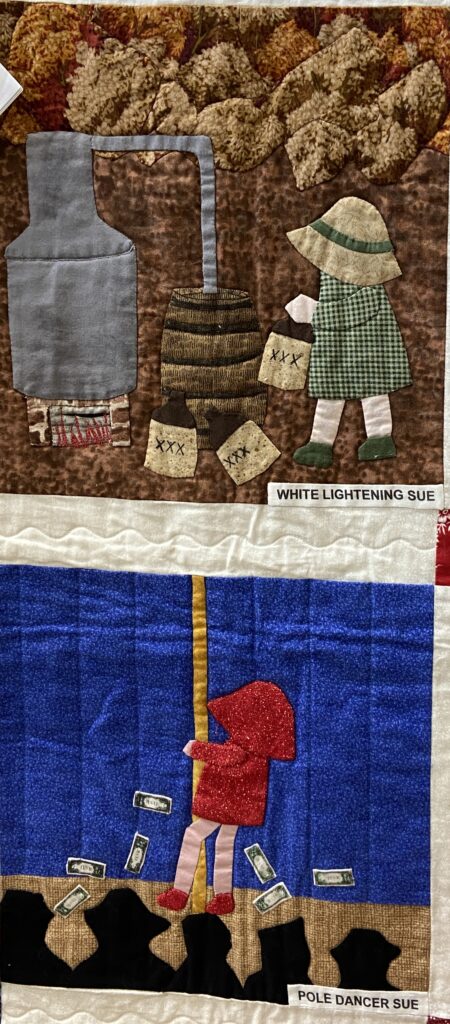 I cannot decide which of these I like better, Pole Dancer Sue or White Lightening Sue. Both of them are so much fun. I wish I had taken a closer look at how Georgia created the paper money being tossed up to Sue.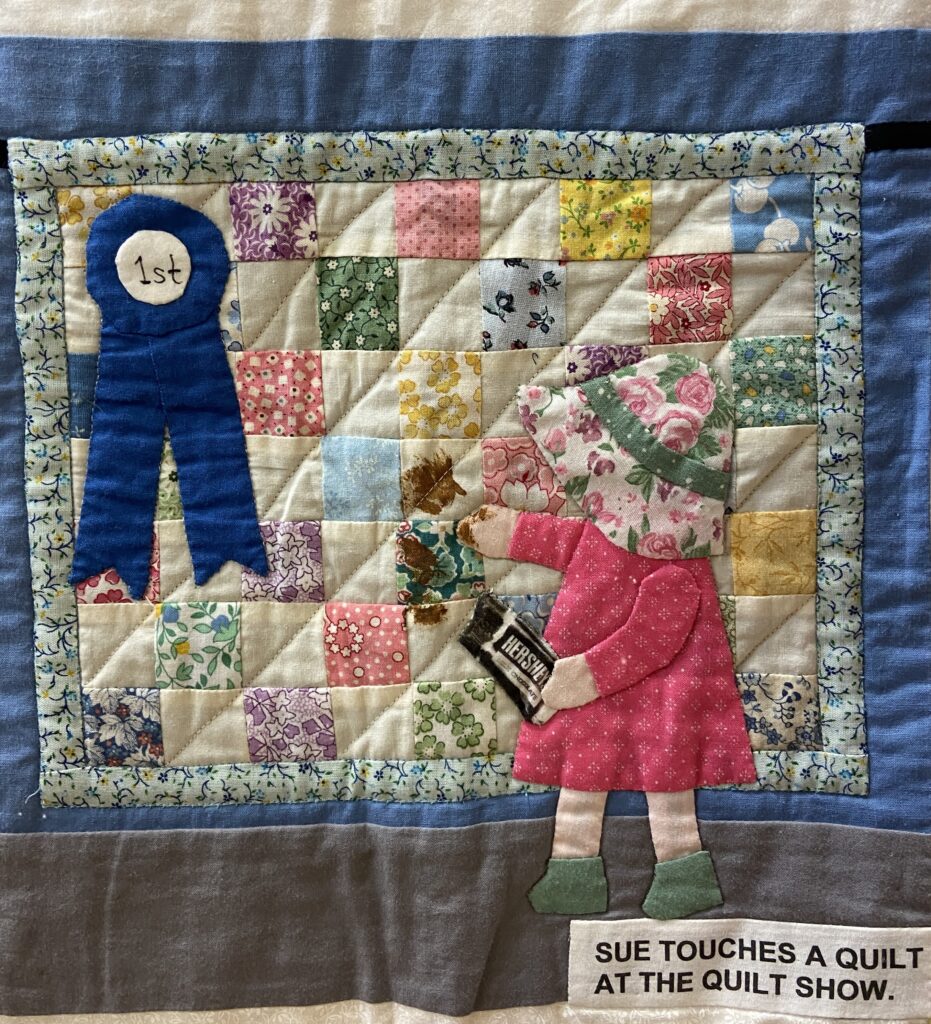 Oh Sue – Couldn't you have wiped your hands off before sneakily touching the quilt?? I love the Hershey fabric. The squares on the 1st place patchwork were so tiny and Georgia did an excellent job with the 'melted chocolate'. 🙂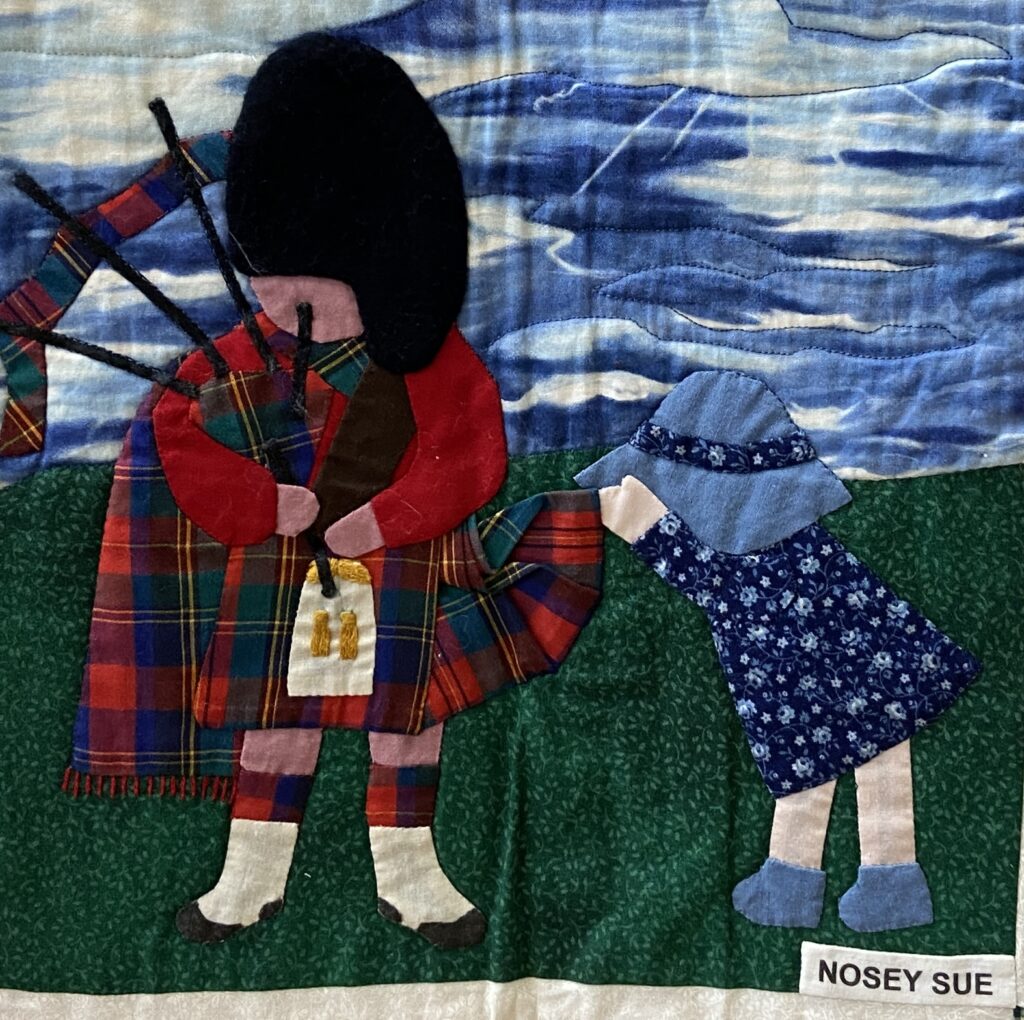 Finally, my favorite – Sue cannot help herself and peaks under the kilt of this bag piper!
This was the favorite and my friend and I both voted for it as our Viewer's Choice. It is the second Sinbonnet Sue quilt made by Ms. Overstrud. The last one took Viewer's Choice in 2006. Wonder if she will win again. The guild hasn't announced the winner yet, but judging by people's responses to the quilt, I think she has a good chance of winning.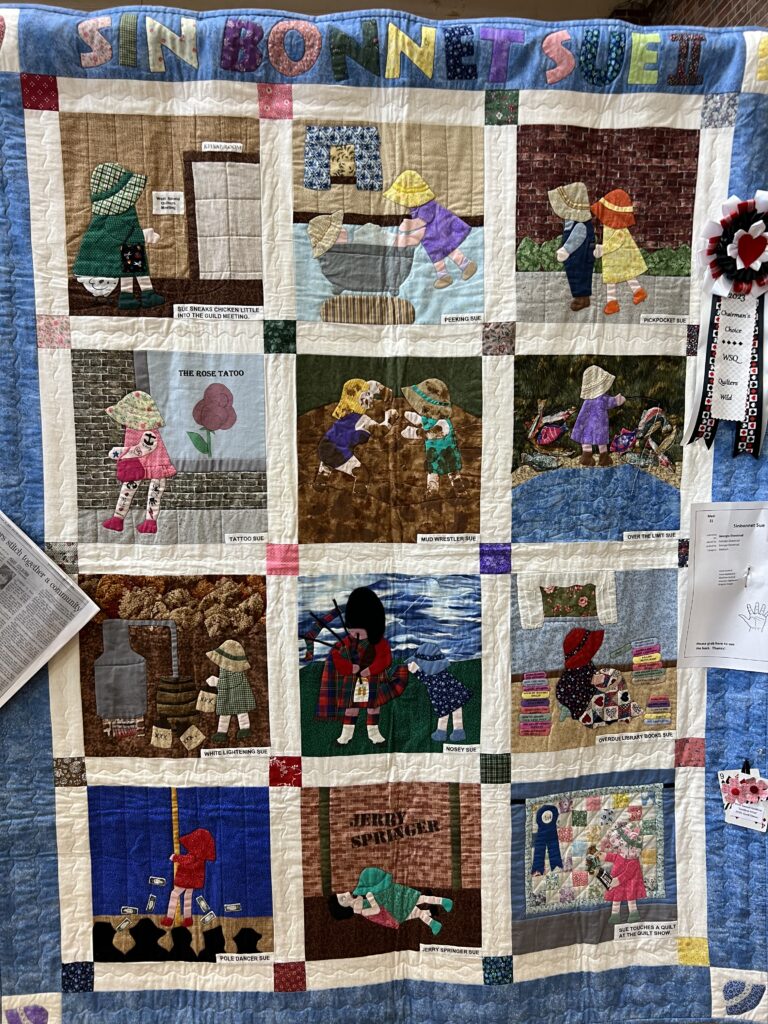 Fortunately my friend Annette thought to take a picture of the whole quilt. There are so many cute details to look at. I know you will enjoy this!
Also, this might be of interest to you if you once used Bloglovin as your blog reading tool. I always did and suddenly it was broken. It just didn't work at all and no one seemed to know why. Yesterday, after months and months of nothing, I received a Bloglovin summary email and was surprised to see when I clicked through, the site seems to work again. So, if this was your preferred method, it seems they have fixed it. So strange!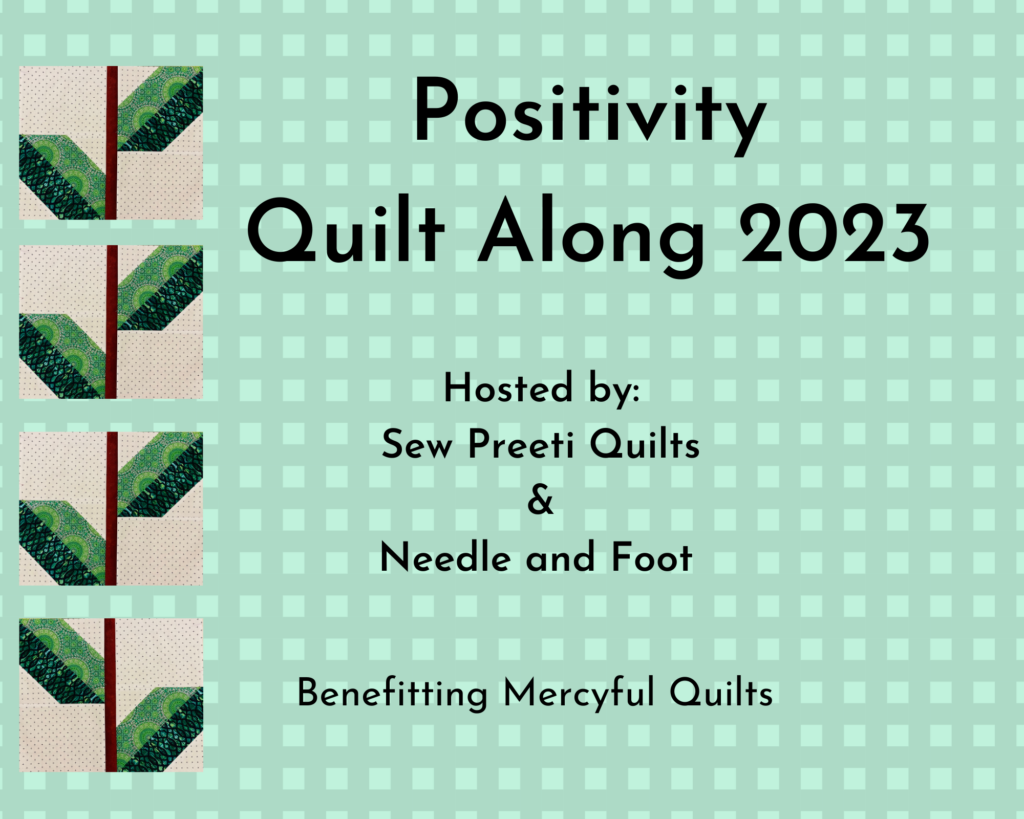 Reminder – how are the Positivity Quilts coming along? Are you quilting yours? Maybe even binding it? I am looking forward to the link up over Labor Day weekend. Hopefully yours will be done and ready to share!! Thank you so much for making a quilt and donating it to your organization or to Mercy Hospital.