I have had a lot of fun reading through the posts that are cropping up in the quilty blog world titled 10 Quilty Secrets.  It is so funny to read everyone's true confessions.  Here are my deepest, darkest quilty secrets.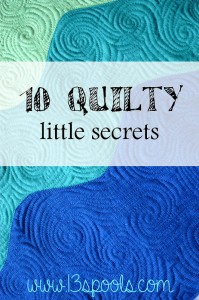 1. I have absolutely no interest in hand quilting any of my projects. Or hand piecing for that matter.
2. I am not a fan of hexagons and don't see myself using them in any quilts.
3. I am afraid of paper piecing.  My brain just doesn't really get it.  I read the directions and think, "what??" (I need to force myself to work on this because I like so many of the paper pieced projects that I see out there.)
4. Quilt math scares me. Like I wouldn't want to rely on my math to actually buy yardage for a project.  Isn't that why there are computer programs to do that though??
5. I have pinned more than a lifetime's worth of quilting projects on Pinterest and I cannot stop.  CANNOT.
6. What is the deal with Liberty Fabrics?  Am I missing something because I just don't love them like the rest of the world does.
7. My stash is predominantly shades of green. Lots and lots of green.
8. I always thought I would only work on one project at a time. (I secretly scoffed those who have 29 million WIPS in their sewing room.) I no longer scoff.
9. A year ago I had no idea what low volume and high volume fabrics were.
10. I try to like wonky piecing but honest and truly, I just don't like it.  I think I am supposed to but it isn't working for me.
11.  Bonus confession:  I am my own worst critic (that isn't unusual though.) I always find fault with my work so I never enter it in any sort of competition.  Cannot stand the idea of some judge picking it apart.  It is bad enough that I pick it apart!!
And now you know it all! I feel so relieved to have gotten this out into the open. Linking to 13 Spools as she is the start of all of this!