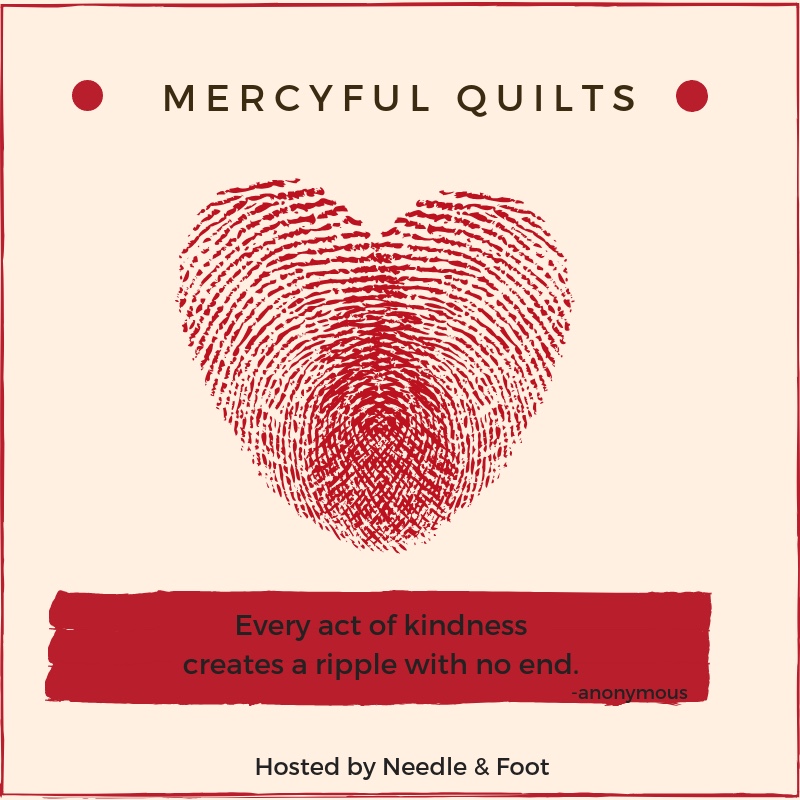 Hi all – I want to pop in and share this lovely thank you I received from a member of the Palliative Care team at Mercy Hospital. The response to the Mercyful Quilt Drive has been nothing short of AMAZING and I want to be sure you know how appreciated your beautiful quilts are. So far we have received over 90 quilts in the last 10 months. Hurray!!! Just in case you are new to my blog, you can read the details about Mercyful Quilts here and here and even here!
Dear Bernie, 

Back in November of last year, our ICU nurse Patty reached out to you about how we used to have a supply of quilts for patients at the end of life (aka "comfort care") here in our hospital and how the quilts have sadly been harder to come by in recent years. You in turn said some wonderful things about your own family's past experience at Mercy General in your blog post and then asked for those in the community to consider sending us quilts to have for this program. The response to this has been incredible and we thank you so much for this help. I am a social worker on our palliative care team here in the hospital and have had the honor of bringing these beautiful quilts to the family or loved one of a dying patient. 

The supply that you all have provided has been amazing. I, as well as others, can now provide a quilt that family feels expresses the personality or the favorite colors of their loved one and allows an openness to talk about who they are- who they were. We actually have a selection for men on comfort care now which was always so hard to come by and in addition, we've been trying hard to honor our Veterans at the end of their life here, and those who made and donated the patriotic colored ones and the American flag ones are now used to help honor them in one final way and show appreciation to their family for their service. 

Our palliative care team, as well as the dedicated bedside nurses that care for patients in their final moments, can often feel helpless in wanting to provide comfort and something meaningful to loved ones during such a dark time. These gifts have allowed us to bring something they can find some beauty in and later keep to remember the one they've loved and lost. 

I am so sorry that it has taken me almost a year to write to you but wanted to say to you, and to all those who have made and donated these quilts, that we cannot thank you all enough for the time and effort you put into these. It means a great deal and on behalf of our team here, thank you so much for your wonderful gift. 

-Emma Cook 
Palliative Social Worker  
Mercy General
This was such a wonderful note to receive. I knew they were really happy to have the quilts but this certainly validates all of the work and effort, time and creativity, not to mention expense, that goes into the gorgeous quilts so many of you have donated. Please continue to make quilts for this worthy reason. I am happy to facilitate the donations and get your quilts right over to Mercy Hospital. Continue to think about gender neutral themes and the occasional patriotic theme as they are needed.
Thank you, thank you, thank you for your kind hearts and gorgeous quilts!!!