Last weekend my sister and I worked as vendors at the quilt show for the Pioneer Quilt Guild of Rocklin, CA.  The show was held in Roseville which is about a 40 minute drive from my home.  Set up was Friday night which was slightly unusual. Since my generous sister had accumulated a zillion points with Holiday Inn, she treated us to a hotel rather than driving back and forth. It was a treat to stay in town rather than drive home after we finished setting up. Also, we were able to get there early on Saturday to put finishing touches on the booth before the show opened.
The show was great.  The guild is rather small but quite talented. You'll be surprised to find out I didn't take even one picture of the quilts on display.  So strange for me.  I think it was just too busy.  The show was not juried but I did go and vote for my favorite in each category.  I liked their system for displaying the quilts.  Each category was displayed together and there was a painted clothespin with the color of the pin denoting the category of quilts.  So if you saw a purple clothespin for example, that meant you were in the medium size, pieced quilts.
Saturday was busy until about 2pm and then it just dragged.  I think there were some Veteran's Day activities in the afternoon that pulled customers/viewers away from the show. It made me nervous because usually the first day of the show has been the busiest and the second day much quieter.  Patti and I were nervously anticipating a very quiet day on Sunday.
We were pleasantly surprised because Sunday was very busy and we had so many customers.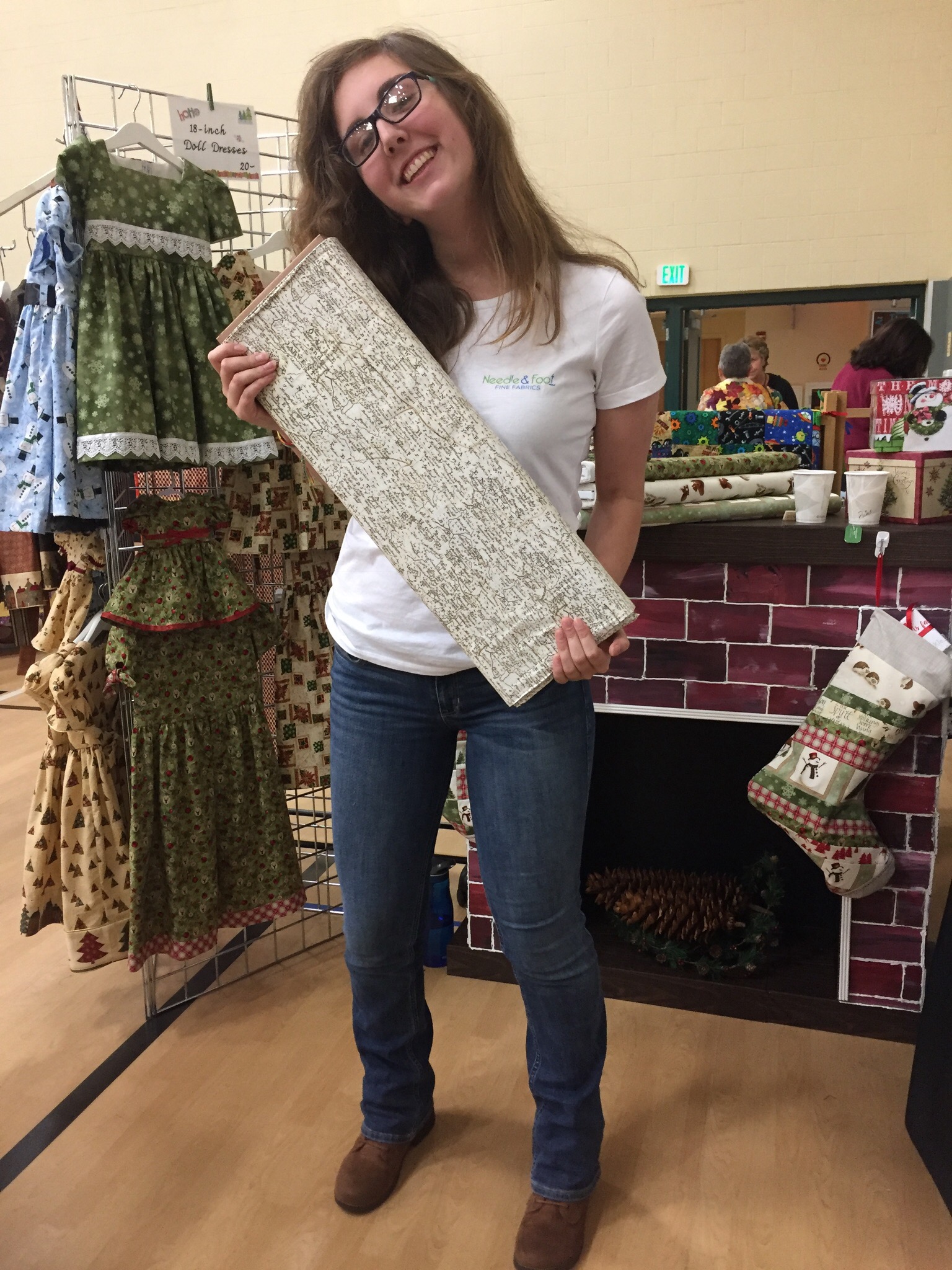 Also, Julia spent the day with us on Sunday. She had fun talking with customers and putting bolts away after I cut fabric.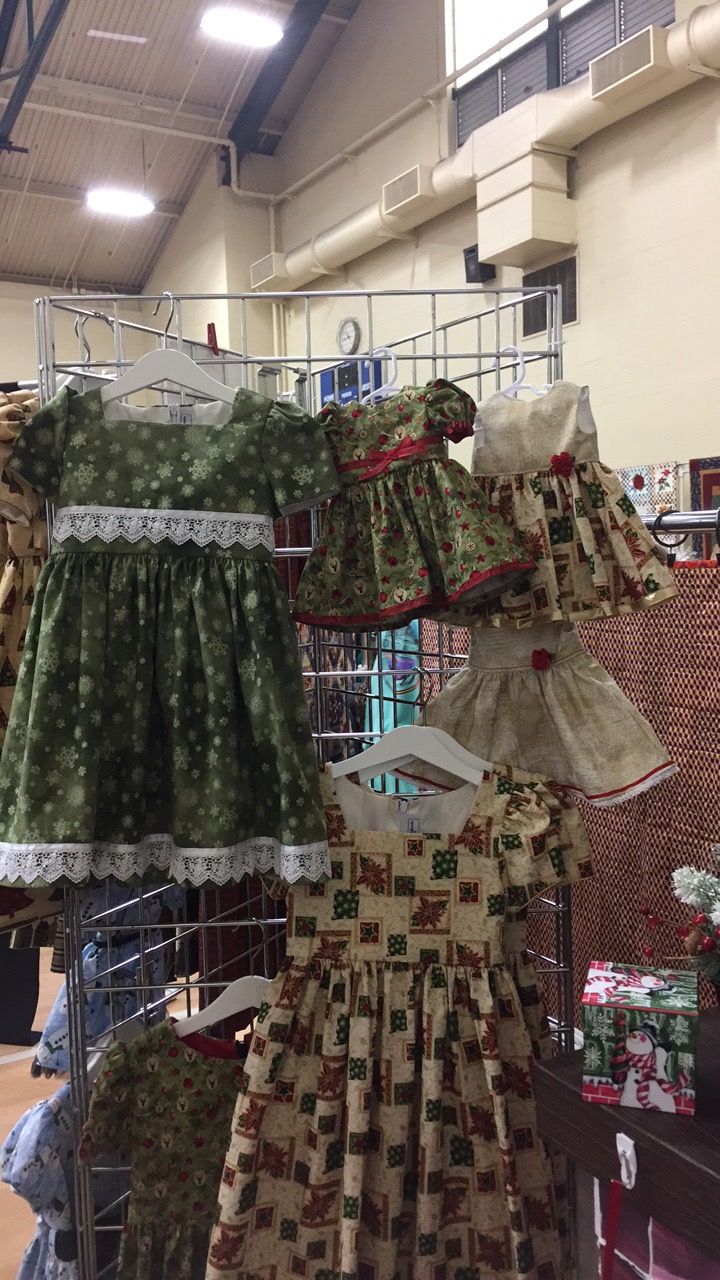 Patti, owner of Etsy shop Ferrari Handmade, had a very successful weekend. She brought only her holiday dresses and the coordinating doll dresses.  This is the perfect time of year for her shop and there were many grandmas at the show who liked and purchased the dresses for their grand daughters.  She also had a number of custom orders which she is busily sewing away on this week. The incredible technology we have these days enabled her to sell a custom dress for a grand daughter in Florida. It was really fun to watch the grandmas FaceTime with her daughter in Florida so she could show the fabric choices for the dresses.  Patti was able to get details right then by talking with the mom as she took the necessary measurements on the little girl. Gotta love technology!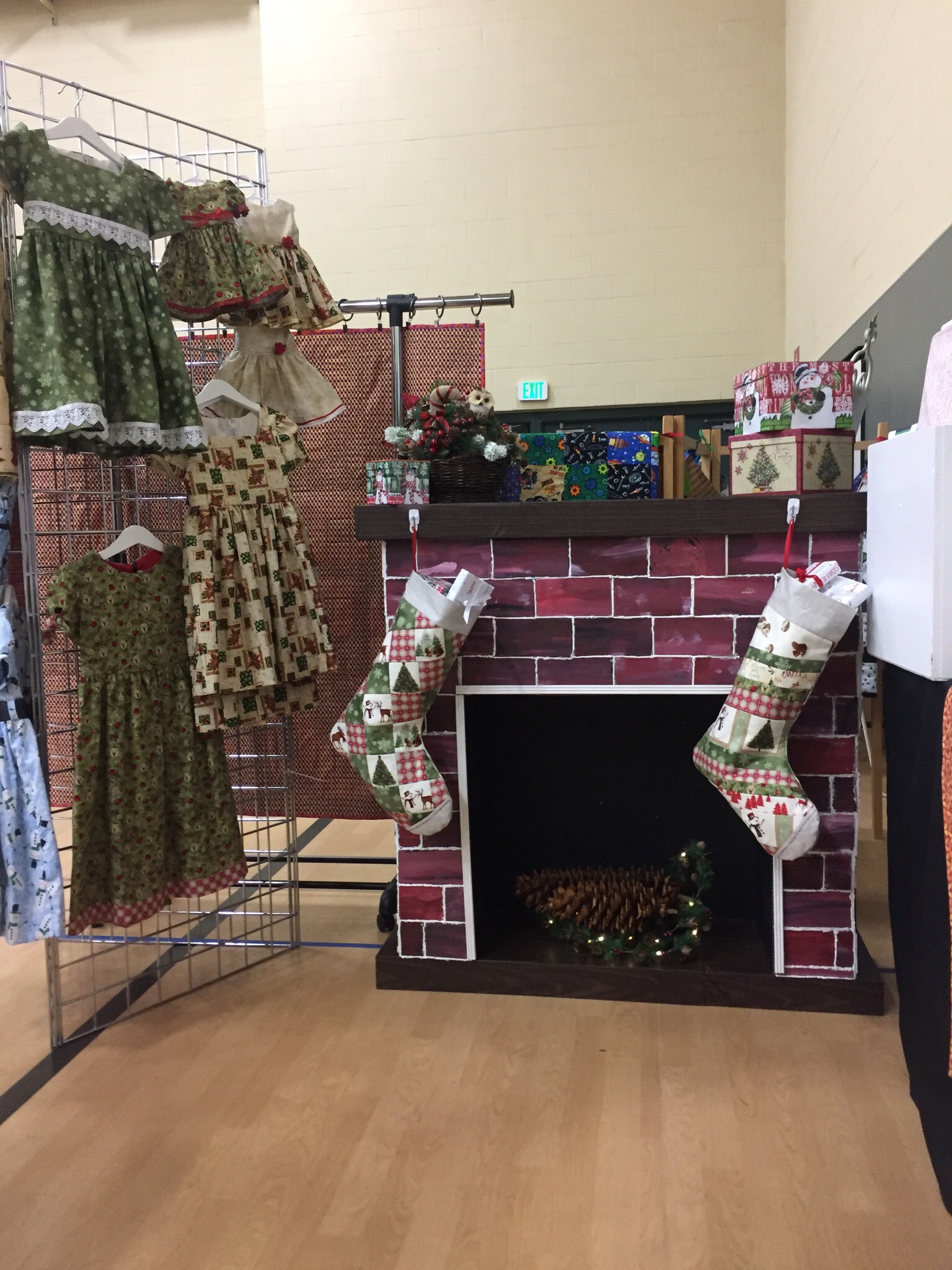 Patti constructed this super cute fireplace to decorate our booth and give it a festive feel.  Julia was so funny as she tried to emulate an excited child sitting by the fire (a string of battery operated lights.)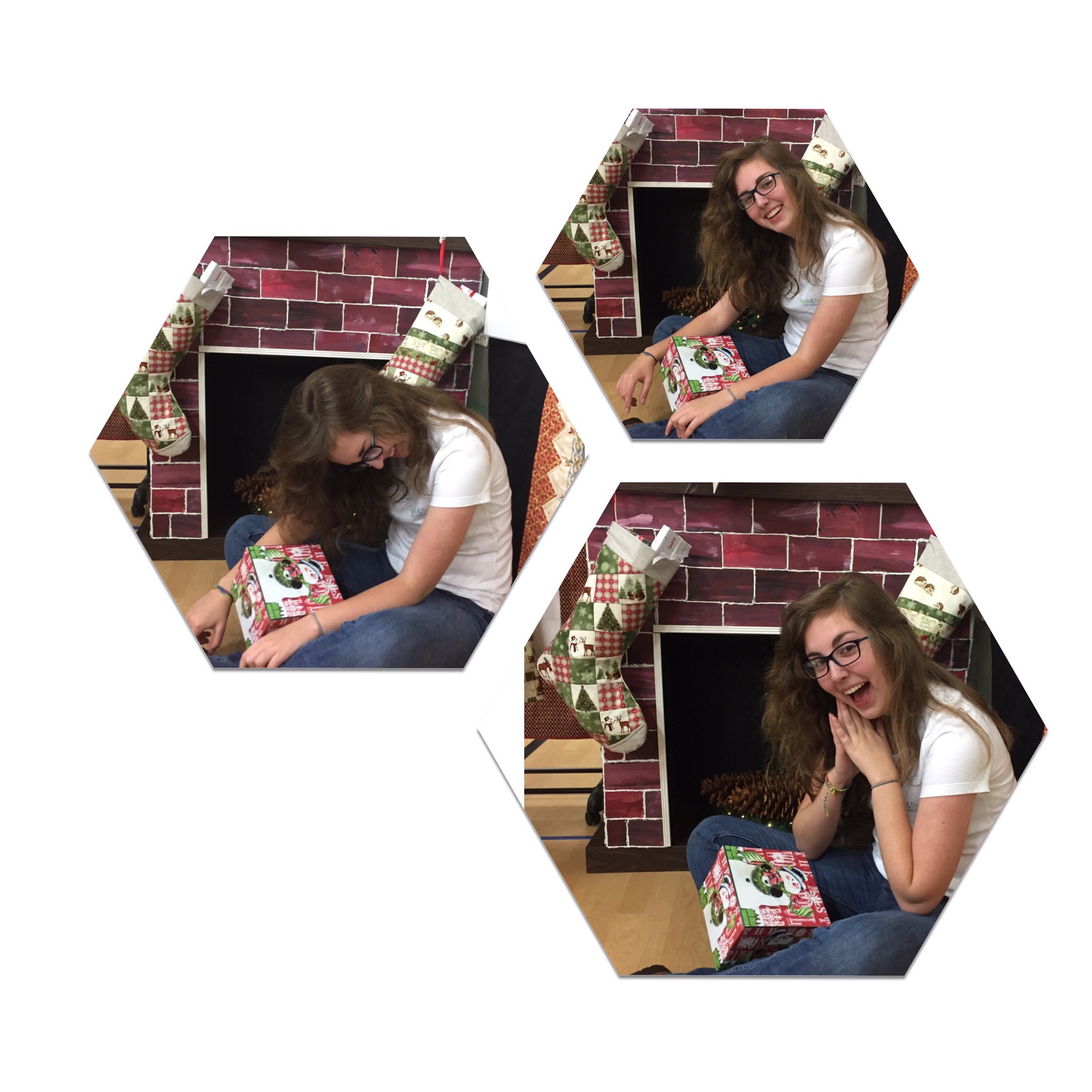 As always we learned a few things with this show.
#1 – If you put the candy jar behind yourself because the work table is too small, one goes through candy much faster!  I suppose people are more 'comfortable' taking candy when it is less visible?  How funny.  So we ran out on Saturday afternoon and had to restock for Sunday's customers!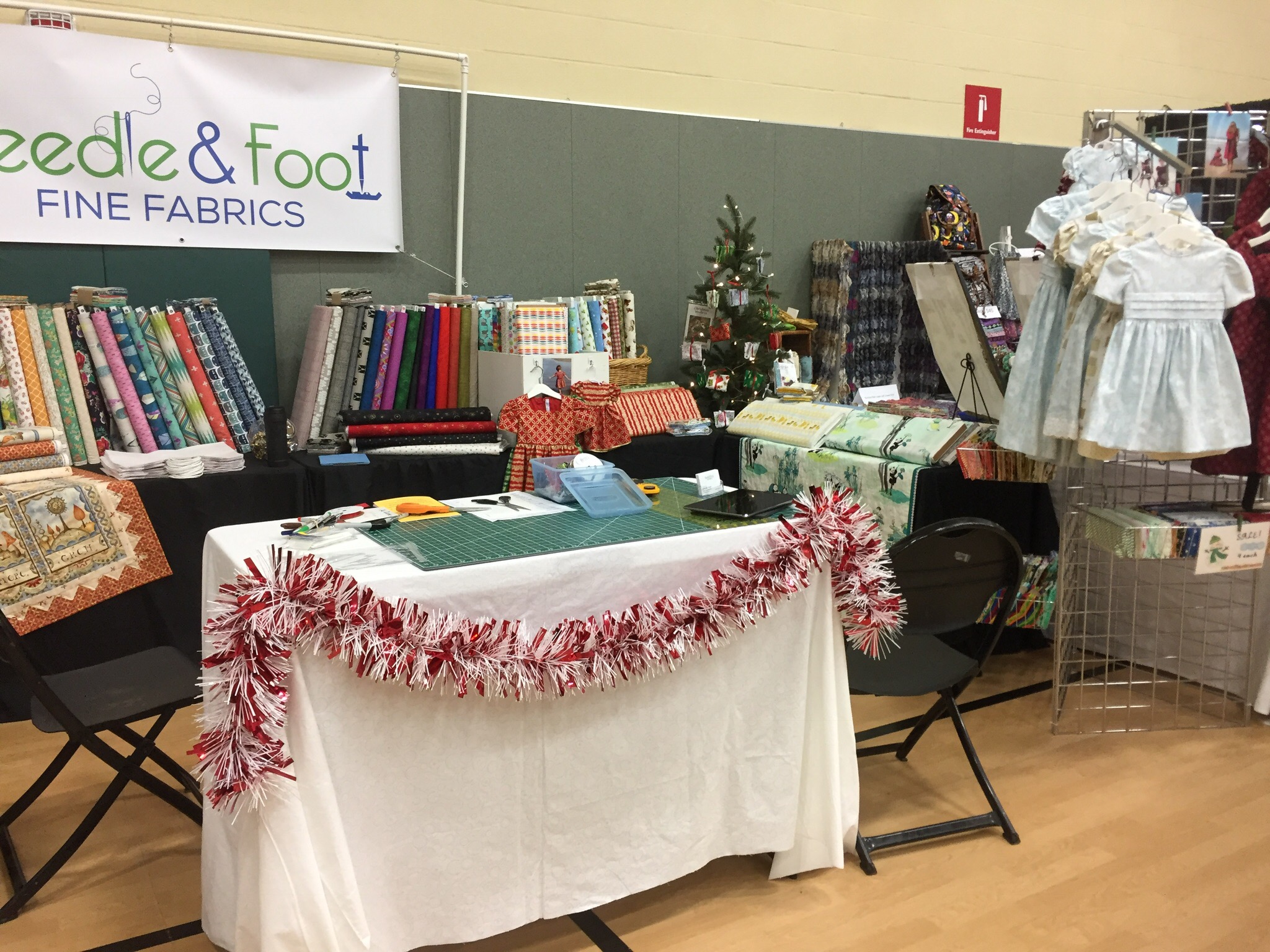 #2.  We wrapped little holiday fat quarters with ribbon and hung them from our Christmas tree like ornaments.  However we didn't post a sign with pricing and we didn't sell even one!  We sold tons of fat quarters from the basket where the sign hung but not even one from the tree.  So, while it looked cute, it wasn't an effective display.
#3.  As I had hoped, having samples made with fabric available for sale really boosts sales.  I had the small quilt made with the Shine panel as well as the Panda Garden whole cloth quilt on display.  Numerous sales resulted from this as they drew interest from the shoppers.
This is the last show I am doing for 2017.  I am looking at the shows for 2017 and deciding which to do.  My sister has a busy month booked for December.  She will be doing a weekly outdoor event up here called Victorian Christmas. Hopefully I will be able to help by working in her booth (if my head cooperates and I am not dealing with a migraine.) Whether I work in the booth or not, she will certainly be successful – especially after seeing the success of her efforts over the weekend!
The holiday season is going strong for me and i am sewing lots of cozies for both French Press coffee pots as well as Chemex pots. I have several Christmas projects I want to make/finish so I need to stay organized if I am going to get it all done.  I am sure you are feeling the same way as November marches on and the holidays begin.  Enjoy the sewing time and don't stress over it!