We are home! It was a fantastic trip and I was terribly sad when the weekend was through. It is very difficult to have two of my four children living with their wives on the opposite coast. So much distance is between us. It is strange because we have our children and never really think about the separation that often happens as they grow up and find their path in life. I am fortunate that my boys are good communicators. We have a family group text string that is used daily – multiple times each day. Sometimes about silly stuff and other times about important things. We are very much in touch with each other, which is great. But nothing beats being together, you know – in person. 🙂
Since we got home I have been mentally and emotionally processing the wedding. When I experience these big events in life, I love that feeling of thinking about it. Kind of mentally ingraining the memories so I will always have them. It is akin to the feeling when I finish a really good book. I usually wait a bit before starting another one as I am just enjoying thinking about the first one. Does that make sense?
My son's wedding was absolutely perfect. He and his wife worked very hard to plan an event which represented the two of them. They knocked it out of the park. The ceremony and reception were held in a very small restaurant on the campus of University of Toronto, where my daughter-in-law both teaches and studies (she is working on her PhD, studying the religious artifacts from early Russian history.) Gallery Grill, located in Hart House, was a gorgeous venue for the event.  There were fifty people at the celebration. The officiate was a Humanist minister and her ceremony was so beautiful. It incorporated the necessary, legal elements of a Canadian marriage ceremony as well as the philosophical elements that the bride and groom wanted. I found it interesting that the marriage documentation is signed during the wedding ceremony (as opposed to afterward, like we do in the States.) Both the bride and groom are led to a table where they sign the marriage certificate and then the two witnesses (the bride and groom's older brothers) come and sign. It was so sweet. The ceremony culminated with the groom breaking a glass, which is a Jewish custom, signifying the fragility of a marriage and how it must be cared for by both parties. (There are many actually many interpretations of this custom. You can read more about it here.)
I didn't take many pictures over the weekend. Sometimes the camera actually distracts a person from enjoying the experience. Also the wedding invitation specifically asked that guests take no pictures – the kids purchased the electronic files for the photos from the professional photographer and I know those will be far superior to anything I would have taken. When I get those, I will share a few. The one picture that is here was taken, on the sly, by my sister so she could quickly text it to the other four sisters who were unable to attend. My sister, Cathy, was our social media coordinator and she Face-Timed with several of the sisters, showing them the venue (so pretty), the food (amazing!!), the flowers (peonies in January??), and the cake (I ate a bit of all three flavors!)  My sisters were able to get a good feel for the occasion, which was wonderful.
I very much enjoyed spending time with my daughter-in-law's family. We had met them last summer, when they joined us in Maine for a few days. We enjoyed a few meals together and got to know each other a bit more. They are very sweet and it is wonderful for the kids to be living near family. (The bride grew up in Toronto.)
Oh, my thoughts on Toronto, you ask?  Of course, here you go –
Toronto is freezing. Not just cold, more like stepping out onto an iceberg wearing shorts and a t-shirt. Here, in the mountains of Northern California, we get cold. We have many days where the high temp is in the 30's and the lows can dip into the low 20's. We see snow now and then. But I kid you not, it is a whole different sort of cold up there so close to the lake. We walked and walked as Kyle toured us through the city and the University. (He is a great tour guide, walking backward and showing us the sites, providing fun anecdotes along the way.) We had reasonably warm clothing but my face would just be numb, especially my chin for some reason. The local Torontonian's kept telling us what beautiful weather we were experiencing because the high's were in the low 20's (farenheit). Yikes. I know that means it could have been much colder! Crazy kind of cold! The bride was more than a little disappointed by the lack of snow. She really wanted a dramatic, snowy day for her wedding. I tried to hide my joy in the lack of snow. 😉
We stopped by the National Hockey League hall of fame. We didn't actually go in but I loved this sculpture that was out front. I'm thinking this is as close to a hockey game as I will ever get.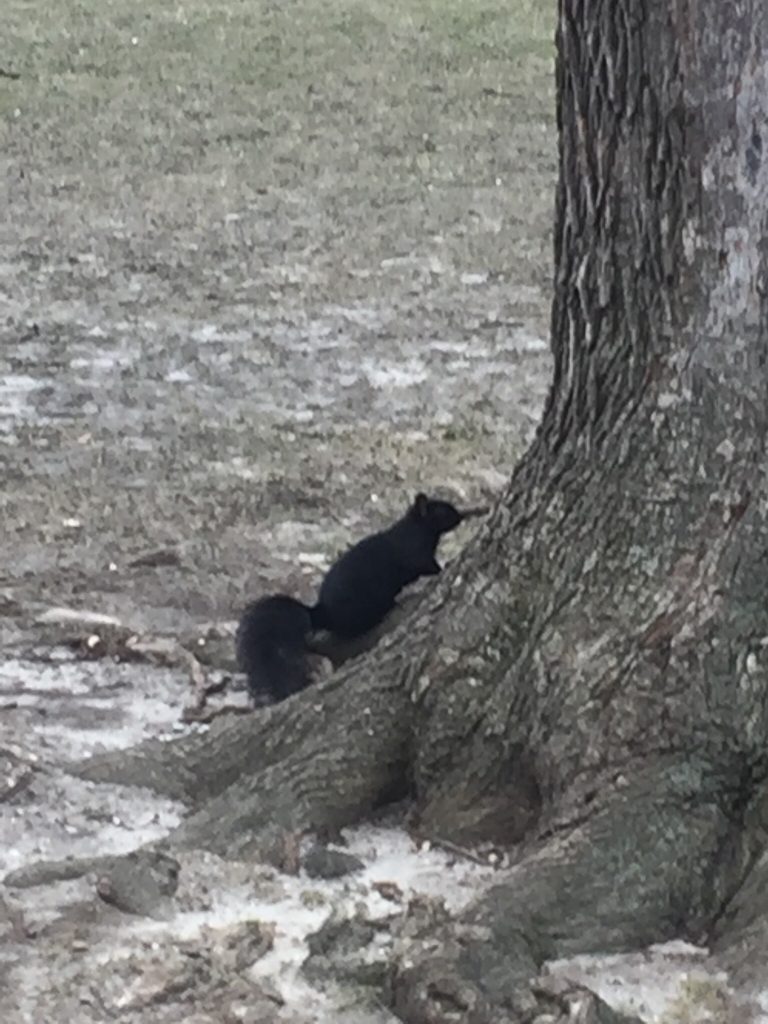 Black squirrels? I had never seen one. Apparently they are common on the East coast of the States and Canada, both. I looked it up and read that there are actually some living in the Bay Area here in California because they were introduced to the population at Stanford University. However, there are not many. (I wonder how the person got that squirrel here to California – Customs was digging through our bags both entering and leaving Canada. I am pretty sure I could not have hidden a squirrel in there anywhere! Haha.)
On the Sunday after the wedding my eldest son, his wife, Julia, and two friends took a day trip to see Niagara Falls. Ray and I didn't have the energy for much so we declined. I think is was about an 80 mile drive to get there. They had a great time and I love this picture of the three of them.
Now that we are home, it is time to get back into my routines. I have been doing laundry constantly and today I need to clean up the house.  It was so busy the week before we left, I had not cleaned or picked up around here, and now it is time to fix all that! I did get to sew a bit yesterday and will share that in another post.  I am far behind in reading everyone's blog posts. Last night I got caught up a bit but without commenting. Apologies for my rudeness. I'll be back in touch soon. Also, I had the very good fortune to meet up with another quilt blogger in Toronto and will share that soon as well.
Glad to be home, sad to be separated from the kids. Such is life – always striving for a happy medium.
By the way, the picture of the map at the top of the page is a print I had made for the kids. It was done by a graphic artist who has a very unique Etsy shop, Ink of Me.  Check it out.