The third annual Stay At Home Round Robin (SAHRR) is starting this week and I am joining in. I have never done any sort of round robin but I am looking forward to playing along with Gail (Quilting Gail) and the other bloggers that are presenting during this event. Several years ago, Gail decided to do a riff on the traditional round robin (where a quilter makes a center block, it is passed along to the next quilter who adds a border of their choice and passes it to the next quilter who does the same). Instead, Gail has lined up five other quilters who have each designed a border for us to use as we see fit. It is very flexible in that a person might choose to use part of the border, to change it a bit or skip it altogether if it doesn't work for them.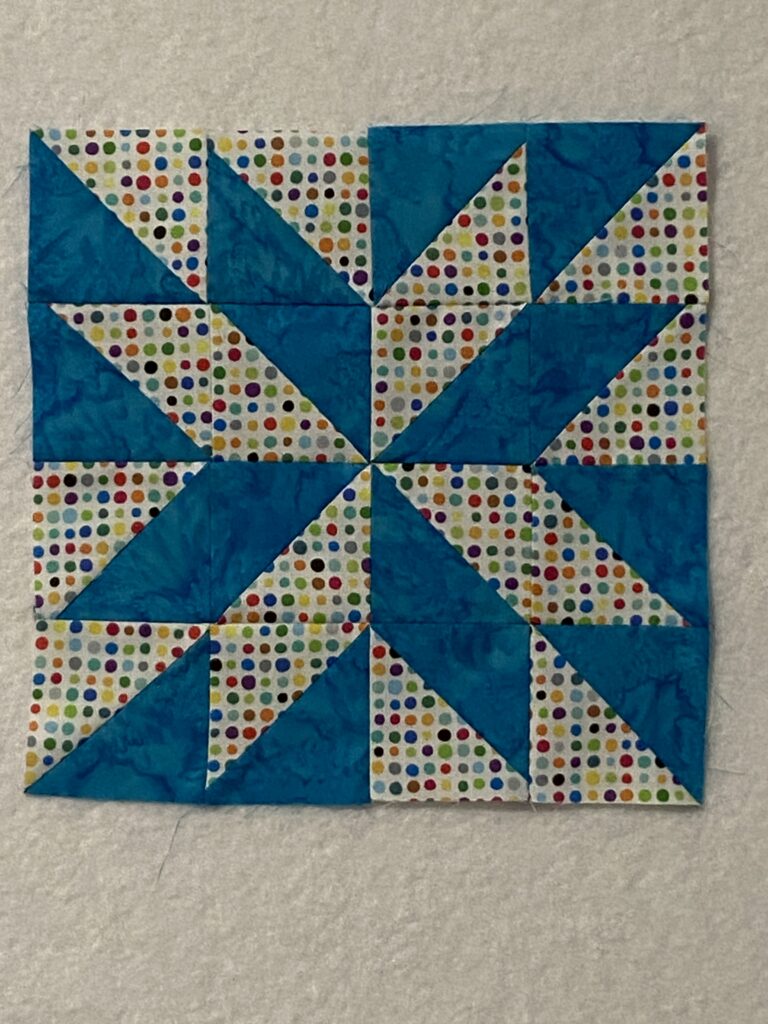 This is my center block. I had a stack of these HST's and made this star block with them. They were from a quilt I started a couple of years ago and decided I didn't like where it was headed. In the project bag, I have loads of cut pieces. Several colors of the batik (red, orange, blue, green and purple) and tons of the polka dot fabric cut into various size rectangles and strips. I am hoping to repurpose many of the pieces in this project. If I need to tame it down a bit I may add some solids to the mix. The star block measures eight inches square.
This feels like a mystery quilt since I don't know what is coming next week. Because I don't know the plans for the five rounds we will be offered, I have no plan for the size of this project. Wall hanging? Baby quilt? Lap quilt? Who knows! Not being one who is known for spontaneity, this is a reach for me. But this is a way to use lots of pieces that have been sitting patiently waiting to be put into a quilt!
If you want to join in, below is the list of bloggers who will be posting for one round each. If you click through, you'll be able to see their starting block. For more information on the event itself, click here.
For those who are participating, there is a link up to share your center block. Click here to find that link. I am excited for the next set of instructions which will be provided in a week by Roseanne and Sue. Join in and sew with this group. It is going to be a lot of fun!