It has been quite a while since I have done a book review. When I saw an email from C&T Pubs in my in-box a couple of months ago, I was delighted.  I really enjoy working with them as they publish so many high quality books.  This set of books is a bit different though.
When I read that these books, the Quilting Cozy series, were described by the author, Carol Dean Jones, as a Cozy series of books, I didn't know what that referred to.  Of course Wikipedia answered all my questions. Per Wikipedia, 'Cozy mysteries, also referred to as "cozies", are a subgenre of crime fiction in which sex and violence are downplayed or treated humorously, and the crime and detection take place in a small, socially intimate community.' This is new to me. (I don't generally read mysteries).  C&T Pubs provided me with a copy of a book in the series. Titled Tie Died, it is the first book in the series. About a woman who has recently moved into a senior living village,  she takes up quilting (among other hobbies) to meet other people.  The story is sweet and short and of course there is both a love interest and a murder mystery to be solved. I will say the twist at the end took me by surprise.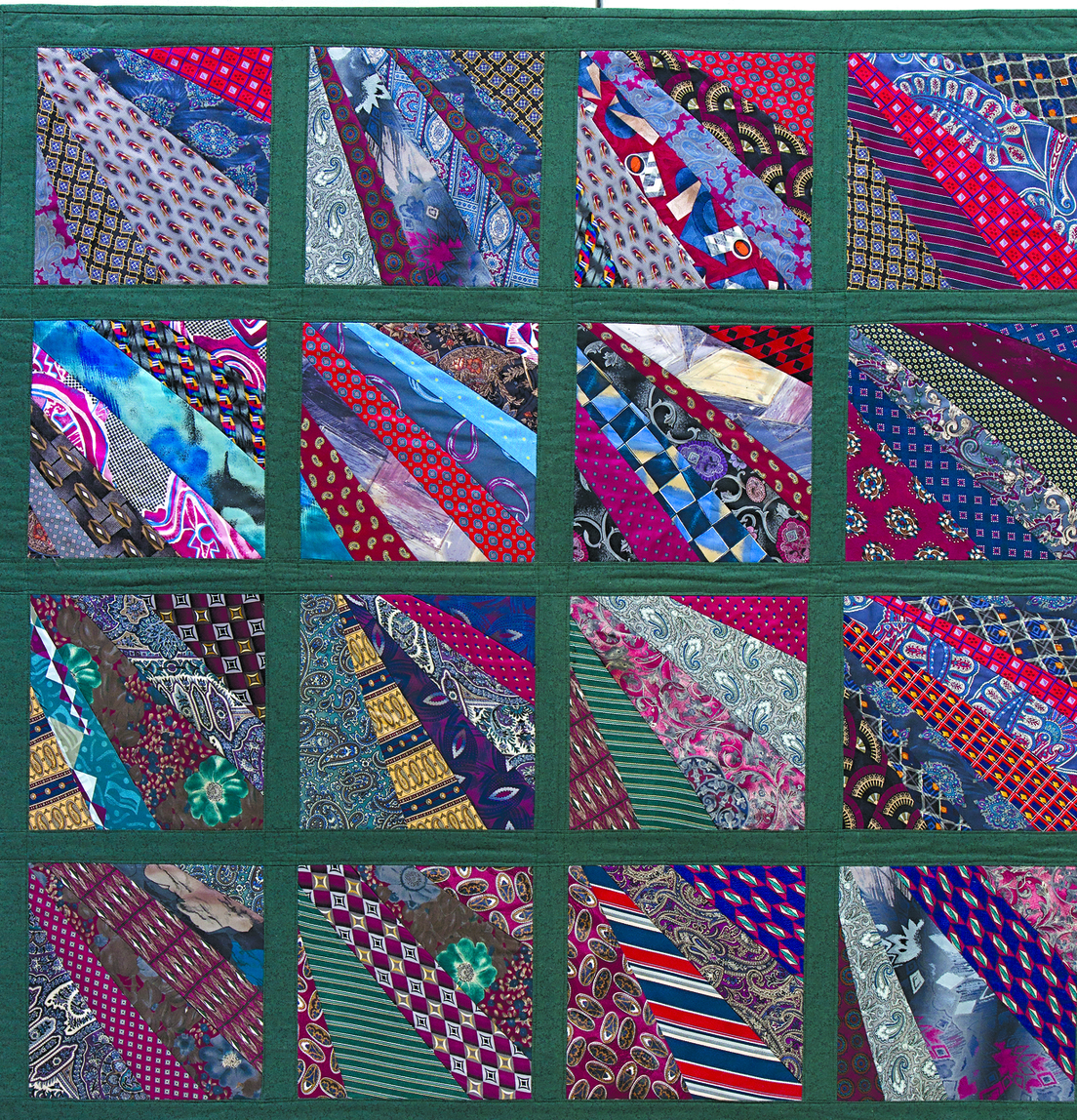 Each book includes the full pattern for the quilt shown on the cover.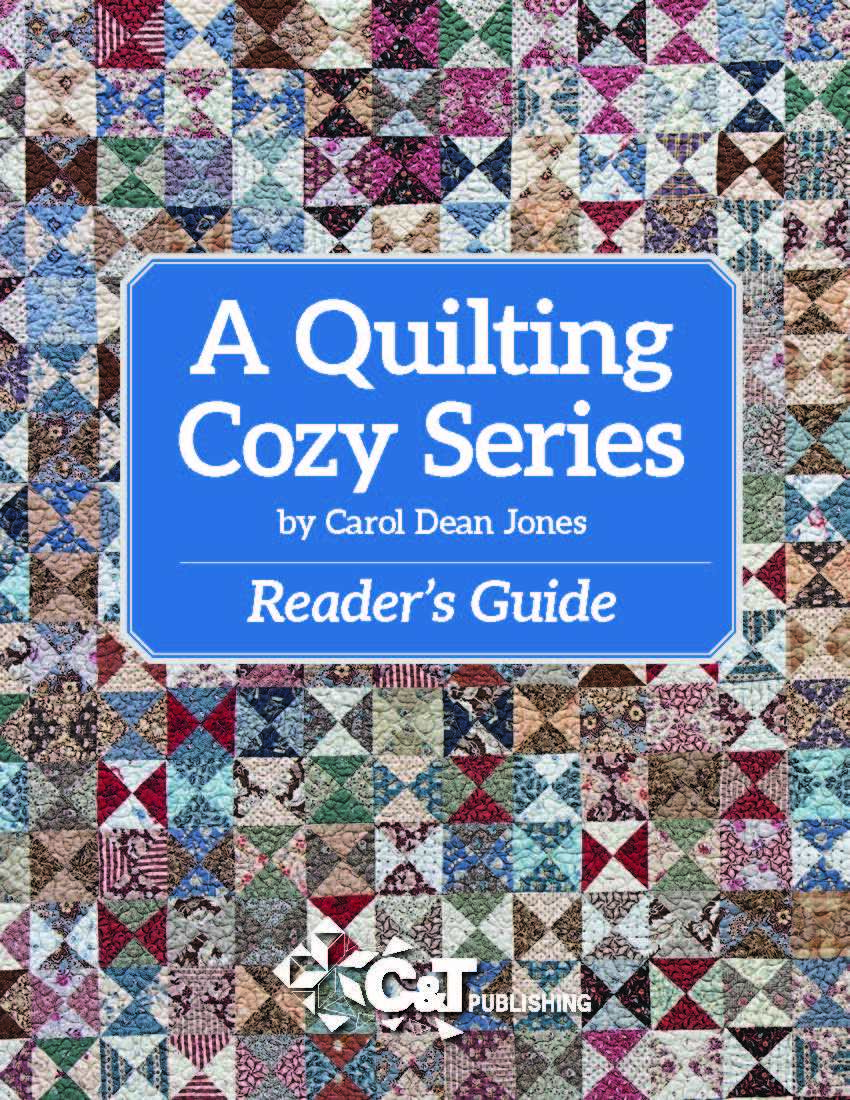 There is a reader's guide available too. Ms. Jones put together a collection of discussion points and questions that go with the books.  Some of the questions do contain spoilers so you may want to read the book before looking through the reader's guide.
I found it interesting to learn that the author, Carol Dean Jones, wrote her first book at the age of 73. She was a geriatric social worker prior to retiring.  This gives her a realistic perspective on the issues with aging and all that comes with this stage of life. This insight adds a very genuine touch to her books. Carol is also an experienced quilter which adds greatly to the stories.  Having the stories built around the lives of several women in this retirement village, Carol brings up thought-provoking questions about friendship, crime, responsibility, aging, and marriage. The books would be fun to read and chat about at your next small group quilt club meeting. You can read more about this author on her website.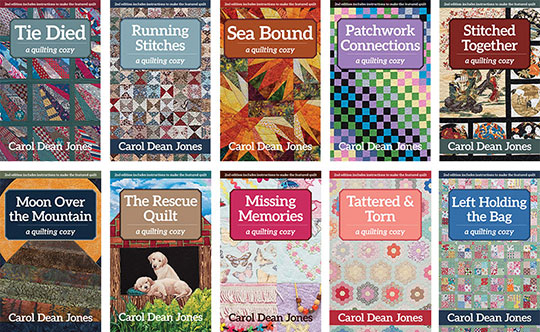 These books were actually self published at first.  C&T Pubs is releasing the second edition now.  They are available as both hard copy and e-books.  The first six books in the series (Tie Died, Running Stitches, Sea Bound, Patchwork Connections, Stitched Together, and Moon Over the Mountain) are already out; the next four books (The Rescue Quilt, Missing Memories, Tattered & Torn, and Left Holding the Bag) are coming out in December and January.
The release of the Quilting Cozy series is being celebrated this week with a blog hop.  There is a very generous giveaway on each blog in the hop. C&T Pubs has given each of us one full e-book set to give to a lucky reader.
Check out these posts for more on this set of books as well as more chances to win.
Monday 12/3: C&T Publishing
Tuesday 12/4: Bonnie K. Hunter at Quiltville
Wednesday 12/5: Barbara Chojnacki at Six Gables Designs
Thursday 12/6: You are here!!  Bernie Kringel at Needle & Foot
Friday 12/7: Carol Dean Jones
GIVEAWAY NOW CLOSED.
To enter the giveaway for the series of Quilting cozy e-books, leave me a comment.  Tell me if you are a reader and what genres do you enjoy?  Do you like mysteries? Did you know what a cozy was??  Have you read any of the books in this series?  I love to read and would love to chat with you about what you enjoy! Good luck everyone!  Giveaway is open until Sunday.  I will announce the winner Monday.