That's the truth, right? If the colors don't work, the quilt doesn't work. This has happened to me more than I like to think about. Color doesn't just happen. So, this month's Might Lucky Quilting Club challenge resonated with me. Taught by Amanda Jean Nyberg of Crazy Mom Quilts (which I know you already knew!) the lesson is all about color, scale and value. At the risk of repeating myself, I have great admiration for Amanda's sense of color, her use of every.single.scrap of fabric  and her down to earth style of communicating. Her blog is one of the first that sucked me into this awesome on-line community.
I joined the Might Lucky club in January and I will be honest with you. I am not thrilled with it. I was hoping the monthly lessons would speak to me – some did, but most? Not so much, until this month. This month Amanda explains selecting colors, working with value and scale, and making the quilt more interesting. It made sense to me. I am only beginning to play with her ideas.
I have a huge collection of charm squares. Some I have purchased, some were cut from my scraps, and some have been won in giveaways. One collection that I have been holding on to is the Michael Miller Gem Tones pack. I received this one for free from Alyssa at Pile O' Fabric. Last year, over Thanksgiving weekend, Alyssa had a huge Black Friday sale. I ordered a number of basics from her. Somehow her inventory was off and there were a number of items I ordered that she couldn't ship to me. (She was also hugely pregnant at the time and having a tough pregnancy – just to further explain.) She kindly refunded my money on the items that were not available and then threw in this charm pack – which was above and beyond, right? I liked the colors in it, mostly deep jewel tones with the addition of some orange and brown. It was quite bold. But there were thirty charms total and I had only one pack.
Reading Amanda's lesson, I decided to start pulling from my other charm squares and build out the collection.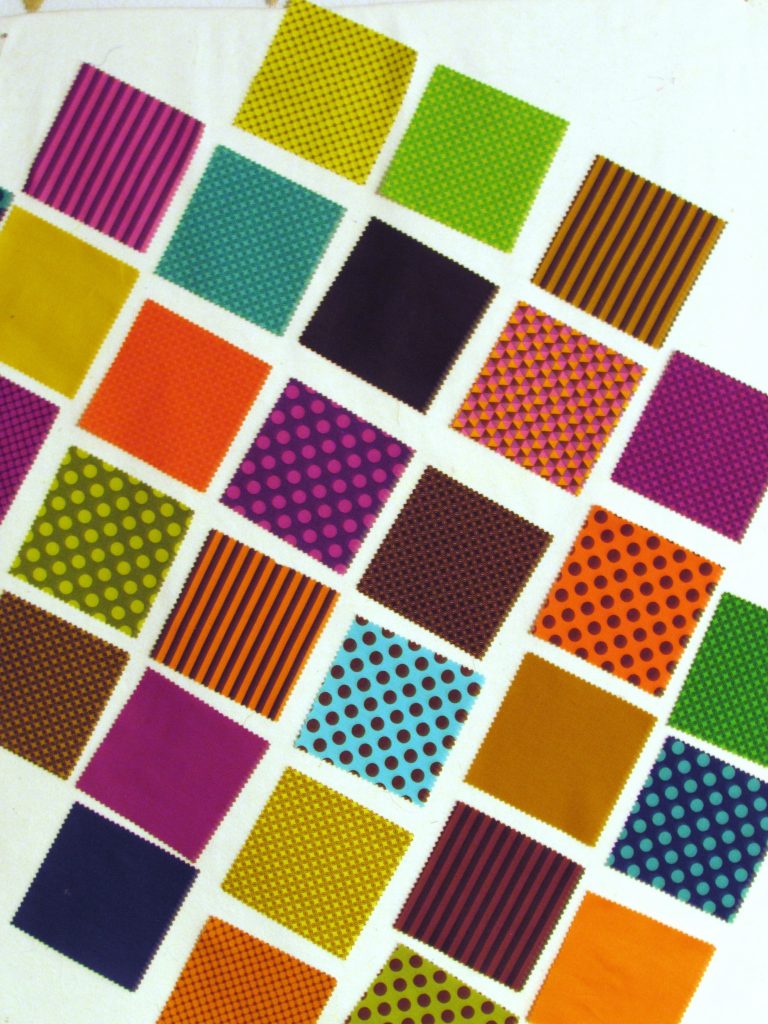 Above is the original set of charms. I apologize – this photo is blurred and I didn't see that until it was too late. Whoops. It is a nice set – good colors, but all seem similar in value (light vs medium vs dark) I pulled all sorts of other charms to see what else I could add in.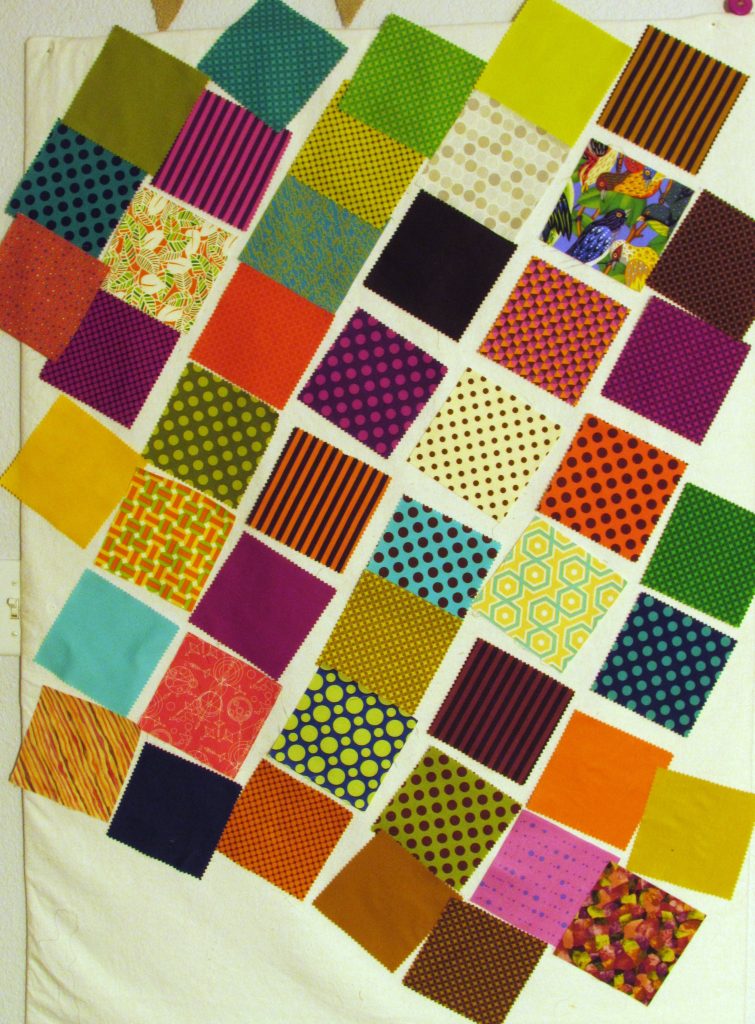 Some of these worked and some (most) did not. But when I added the two lighter dotted fabrics (center and upper right) I saw that it would help to add a lighter set of charms to brighten the darker Gem Tones kit. I took out most of the squares I had tried, leaving some of the solids and just a few prints. Then I cut a pile of charms from a Kona cream color that I had leftover from my Harmony quilt top.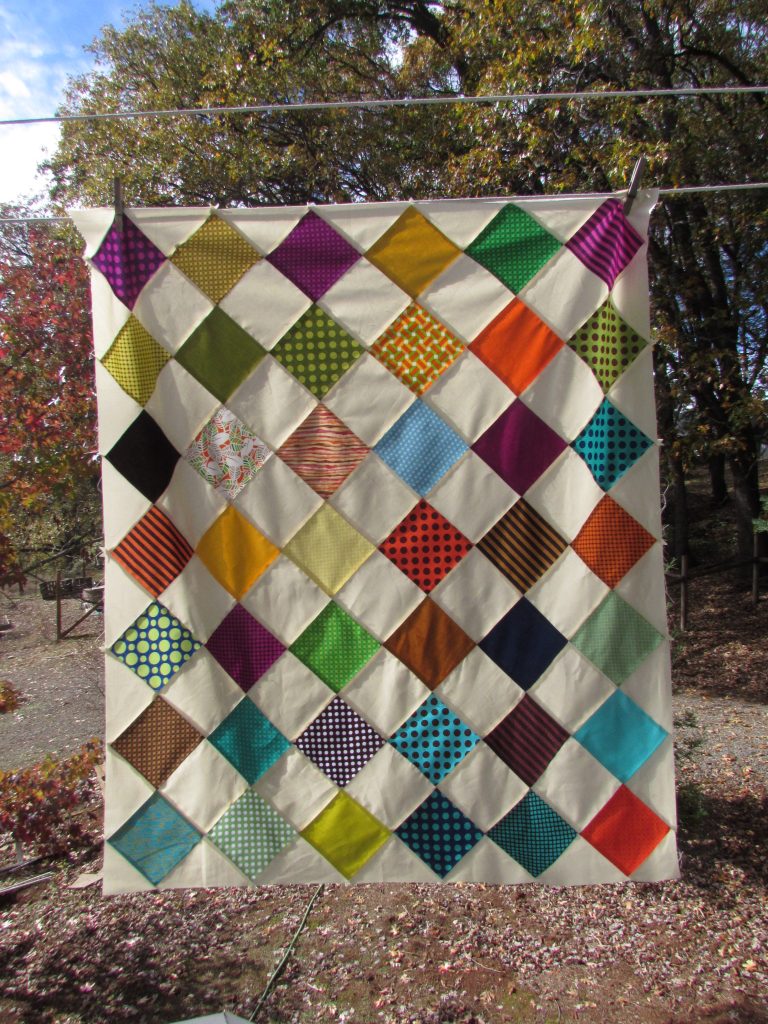 This worked well. It makes each of the charms stand on their own and the colors seem to become more vibrant when not adjacent to each other. I love the simplicity of patchwork but thought it made things a bit more interesting to put the blocks on point.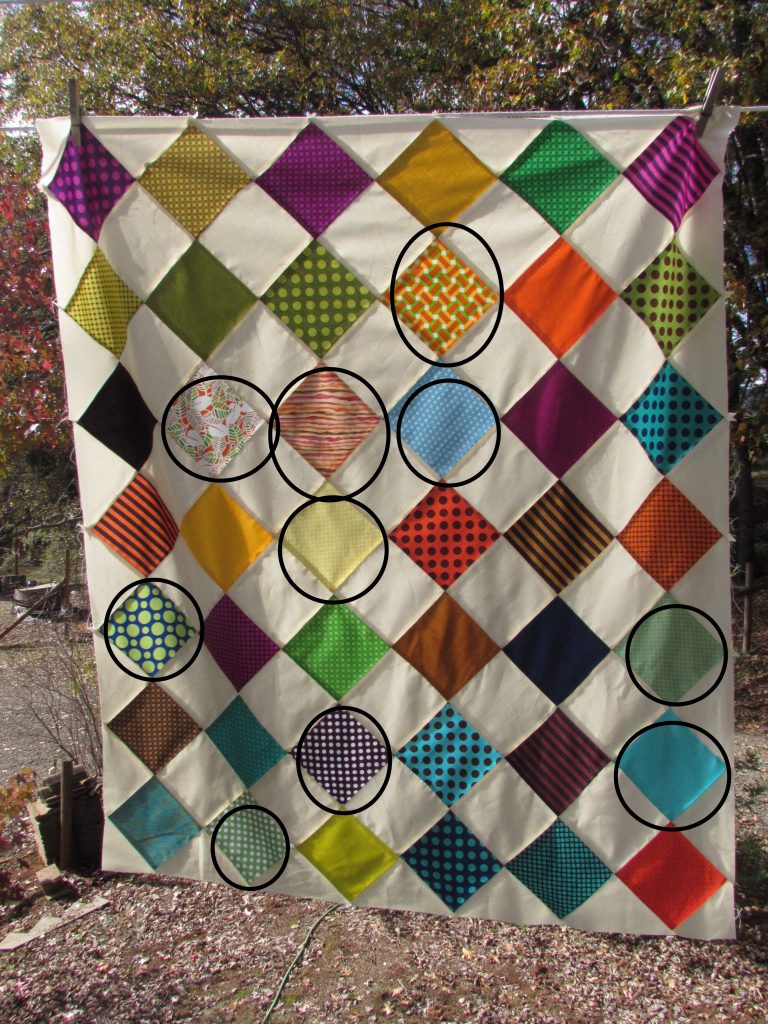 I circled some of the blocks that were added from my charms (that were not part of the original set. I think I succeeded in adding some lighter values and a few prints that changed the scale a bit. I love the look that resulted from playing with these charms. The quilt will be a gift for my niece who is expecting her third child in January. I want to get it finished up as I will see her over the Thanksgiving holiday.
This was a good exercise for me. Amanda's lesson includes a few more ideas for curating fabric pulls. I would like to make some time to do those exercises (not necessarily even to create a quilt with – more for practice). It is a great way to learn and goodness knows, there is plenty of fabric in my sewing room to pull from. 🙂
To the same end, I have been reading this book that I picked up for a dollar at the thrift store a couple of weeks ago. It is really an interesting explanation of right and left brain processing and how to encourage your artistic abilities.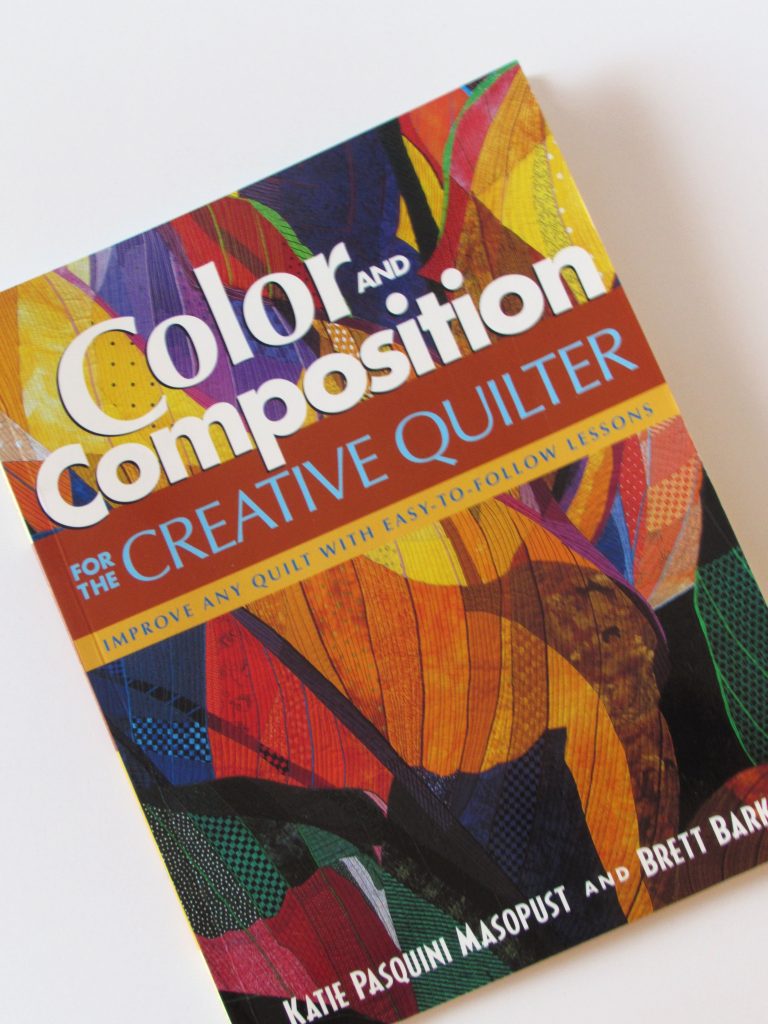 Written in 2005, by Katie Pasquini Masopust and Brett Barker, this book has a series of lessons to help the reader understand color, perspective and value. The language they use is relatable (which so often isn't the case for me). I think the right/left brain information is so interesting. They talk about the left brain being so controlling and the difficulty in turning off the negative self-talk that we constantly play in our minds as we quickly dismiss our abilities.  This is something we should all work on, right?
Color– it's all about color for now. There is so much to learn and, thankfully, so many fun ways to put the learning into practice.
I am sharing this post by linking up with lots of fun places. Find them at the top of the page, under Link Ups.