Last weekend was the best. I mentioned in a post last week that five of my (six) sisters were coming for the weekend. No spouses or grandkids were on the guest list so Ray and Julia took off for Downieville for a couple of nights.
A few of my sisters and I, plus my parents, were in cahoots, planning a surprise birthday party for two of my sisters. Tina turns 60 this year and Alicia, the youngest, turns 50. When I look at that sentence, it doesn't seem at all possible that the youngest in our family is 50. In my head we are all still 30-something. The passage of time is crazy hard to wrap my head around. We have always celebrated the 50th in a big way and we needed to do this for Alicia too.  We told Tina about the surprise for Alicia but we also (secretly)  planned a party for her. The surprise party was perfect – neither suspected a thing.
Trying to figure out a theme for Alicia's 50th party, I came up with a "50 Shades of Gray" party. Not having ever read the book, I was going for the number 50 and the kind of raunchy theme that the the title implies. We agreed that the five of us would each bring ten gifts, some silly and some not, that were either gray in color or wrapped in gray/silver paper. That way she would have 50 gifts to open. It was so much fun to pick things out. Everyone went crazy with it. Lots of silly things and some pretty gifts too.
Being fabric obessesed, I headed for the sewing room and, digging through my gray scraps, made a few items.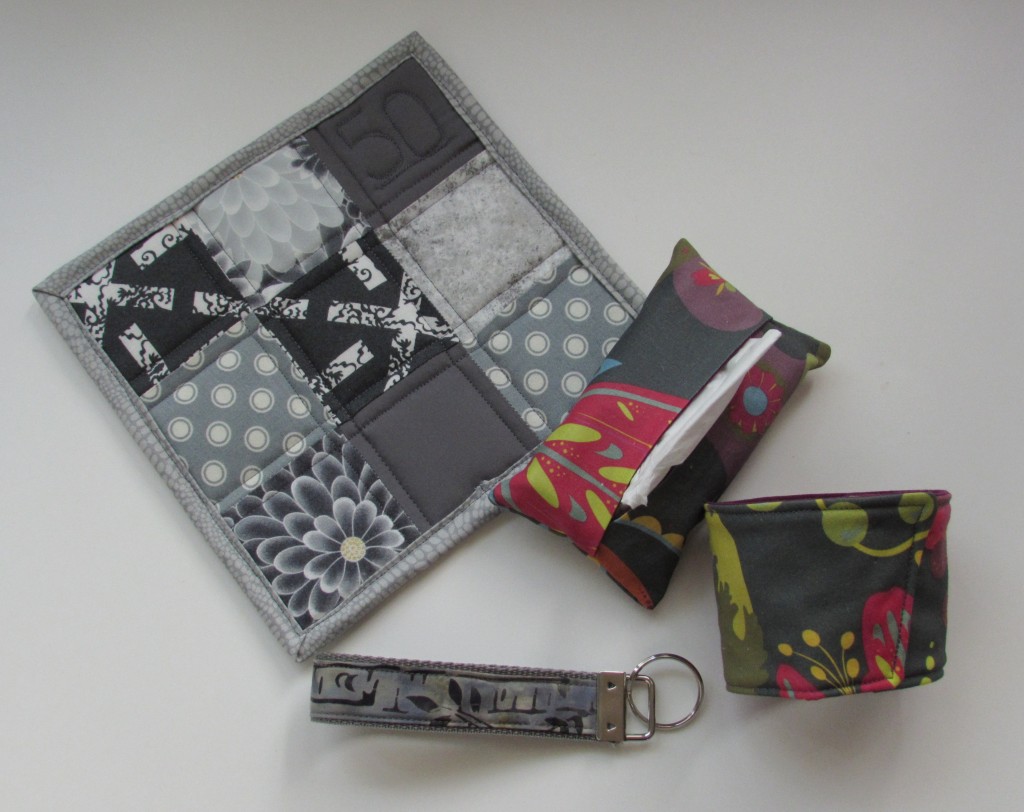 The potholder has a "50" FMQ'd into the upper right corner.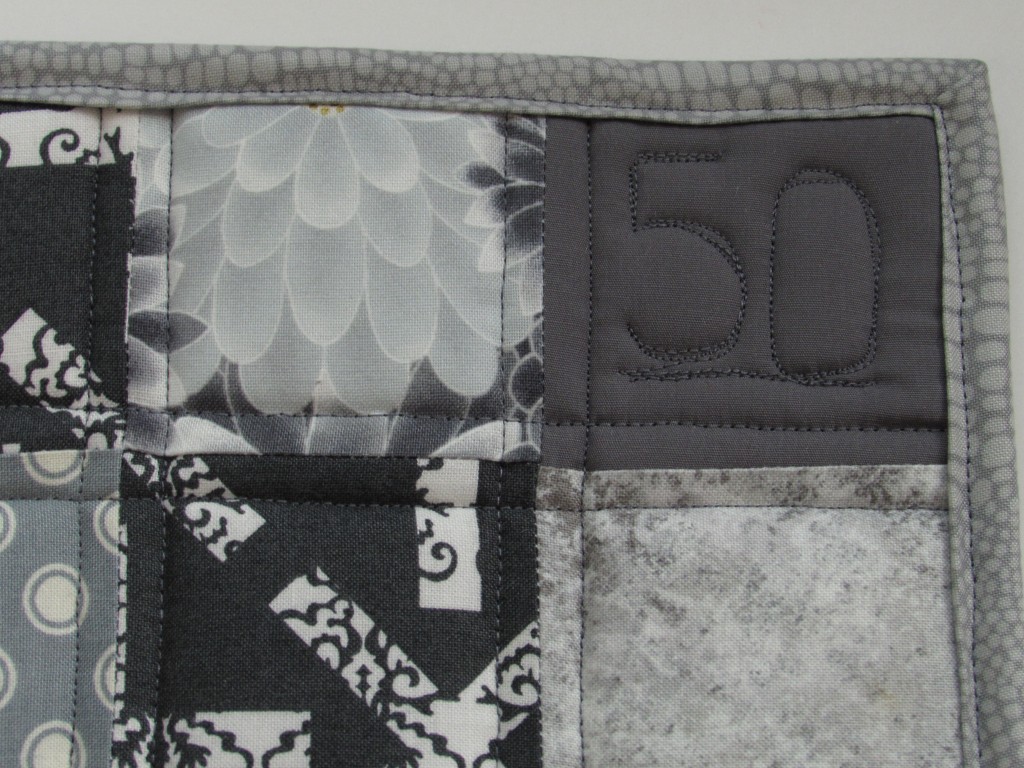 The key fob was fun to make. A few months ago I bought a bag of the hardware pieces and hadn't done much with it until now. Also made a cozy for her coffee when she is out getting coffee, as well as a tissue holder for her purse.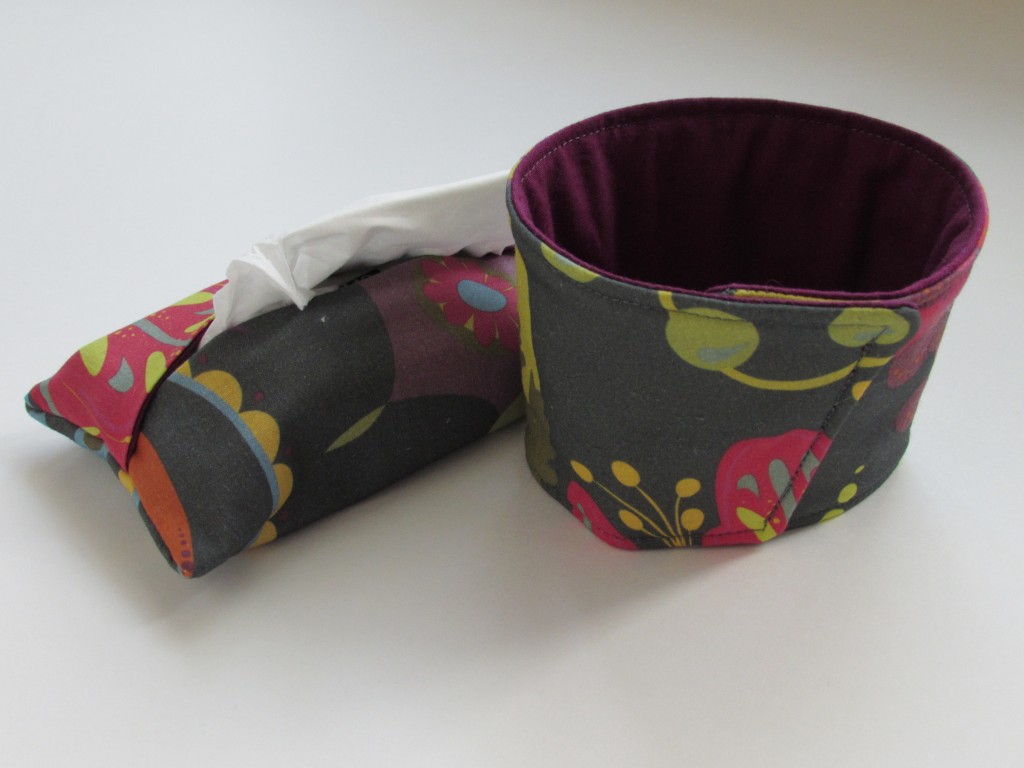 I did have to part with some of my Allison Glass scraps but Alicia is worth it. 🙂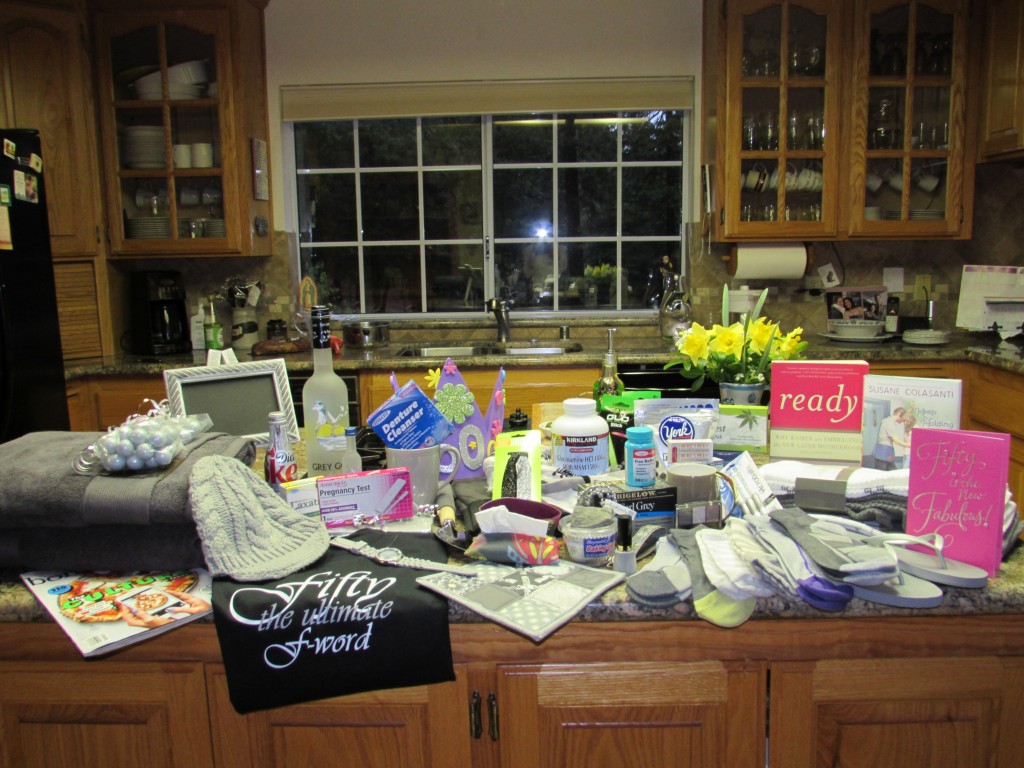 Here are the 50 items all together. Some of the highlights were: socks – lots of gray socks, Grey Goose vodka, two pretty gray mugs, bracelets, a knit beanie, flip flops, Earl Grey tea, denture cleaner, silly magnifier glasses, a book on becoming a mother later in life and a pregnancy test kit (apparently my mom is still hoping for more grandchildren??? Pretty sure that isn't going to happen!), pretty gray towels, a picture frame and loads more. One of my favorite gifts was a plain, gray rock from my sister's yard, all wrapped up. It cracked me up – look for it in the center on top of some cupcake liners (which were silver of course.) I also loved the tshirt in the front on the left. Awesome. It was so much fun.
For my sister, Tina, we honored her 60th with more traditional gifts. I had been planning for quite a while to give her the Classic Stitches row quilt. She had commented several times that it was her favorite of the quilts I had made. When I quilted it, I even wrote a little note to her in one corner. (I didn't ever post about that for obvious reasons.)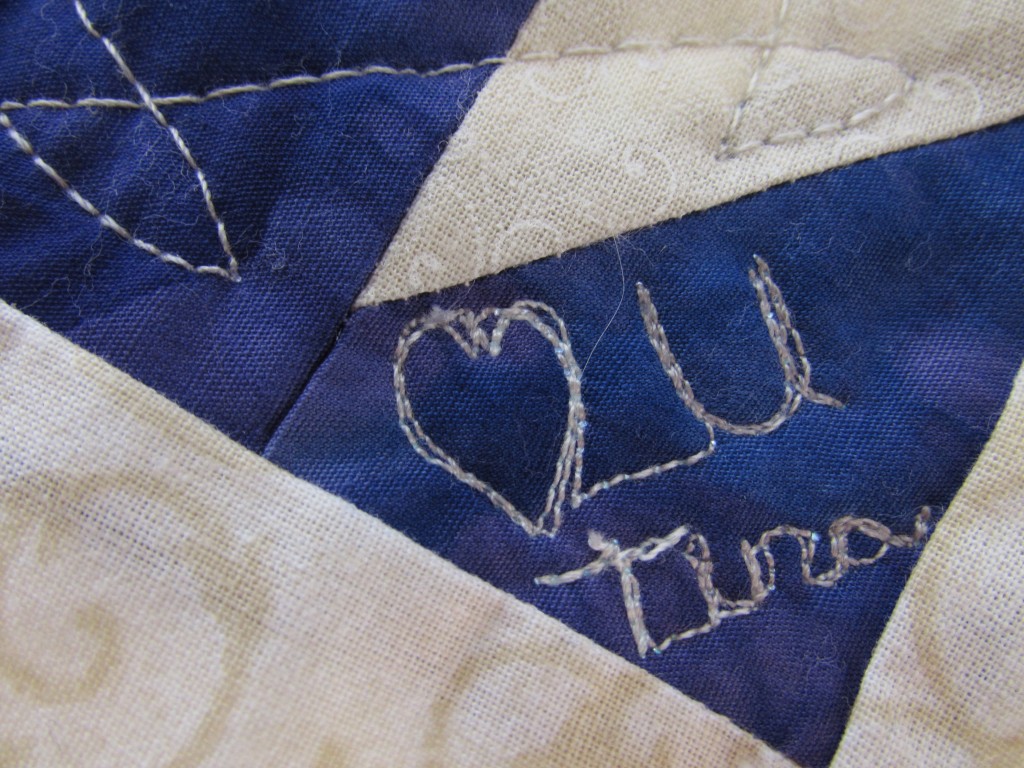 Receiving the quilt was a huge surprise for her and it made me so happy to see that she loved it.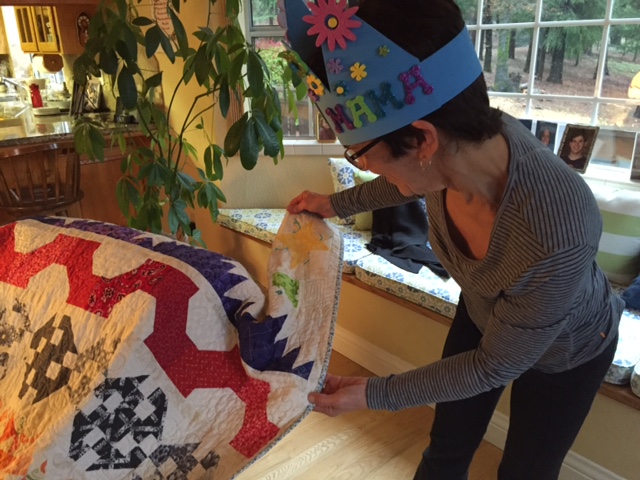 Note the gorgeous birthday crown she is wearing. My sisters and I got a little crazy with some glue and stickers and made these gorgeous birthday crowns for the girls.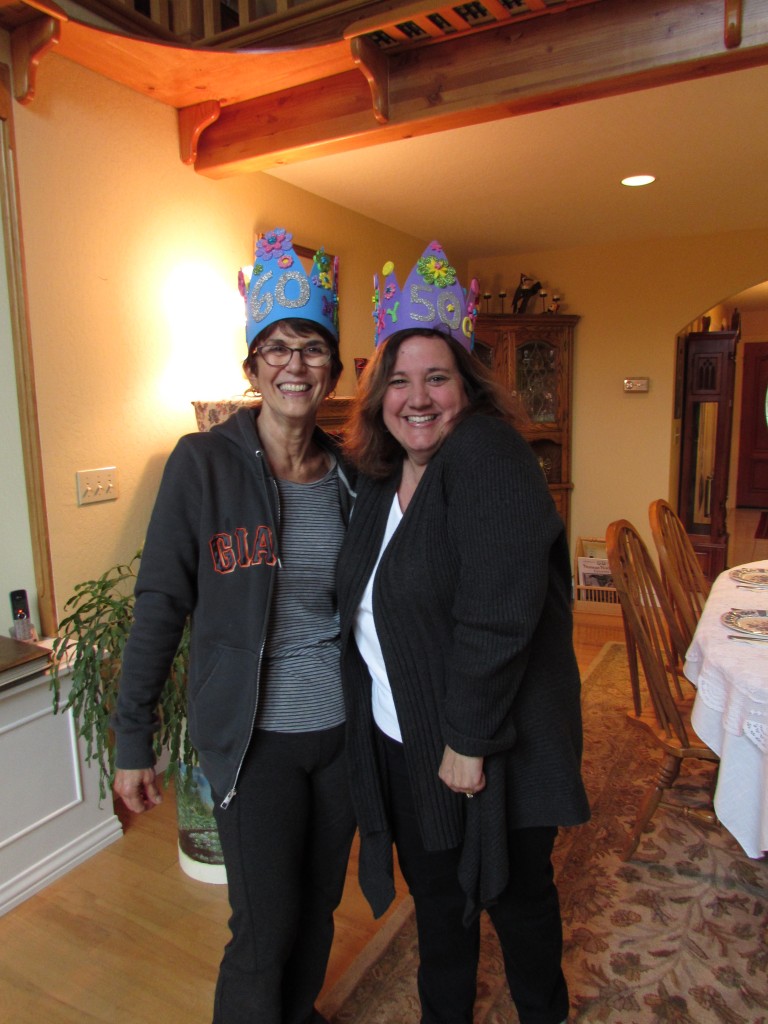 Mom and Dad did a great job setting up the party at their house with delicious food and festive decorations. Mom pulled out their baby pictures and I got a quick picture of each sister with her baby photo.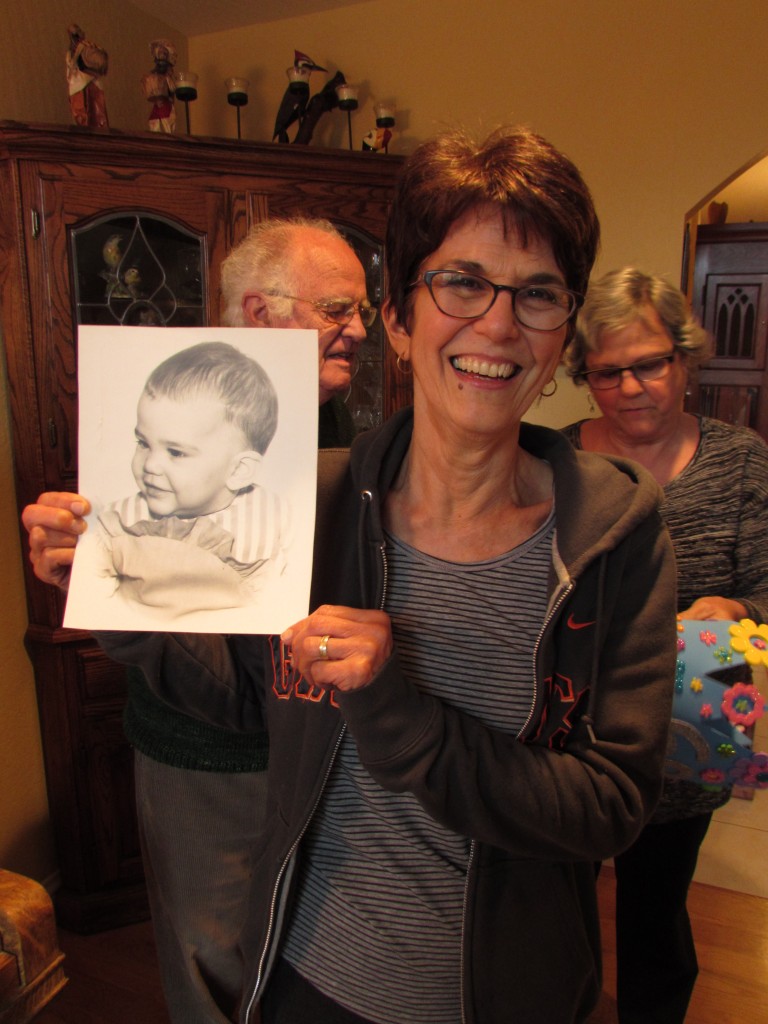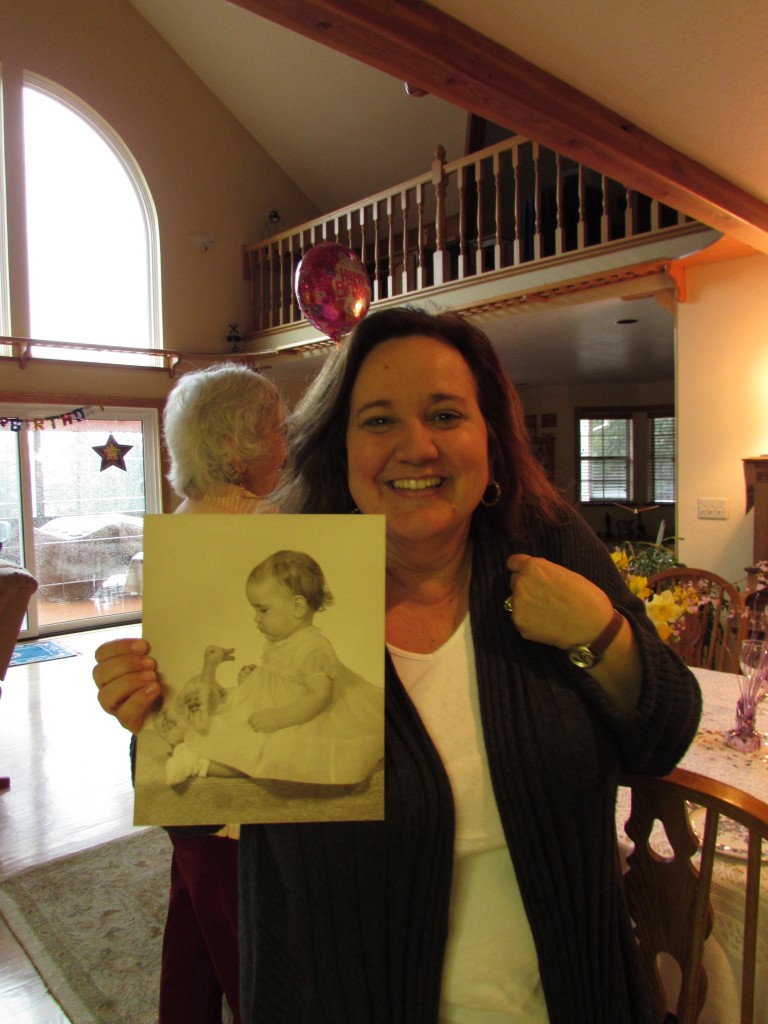 It was a perfect party that could only have been improved if the sixth sister were able to make it. We missed her. It is so hard to get everyone here at the same time.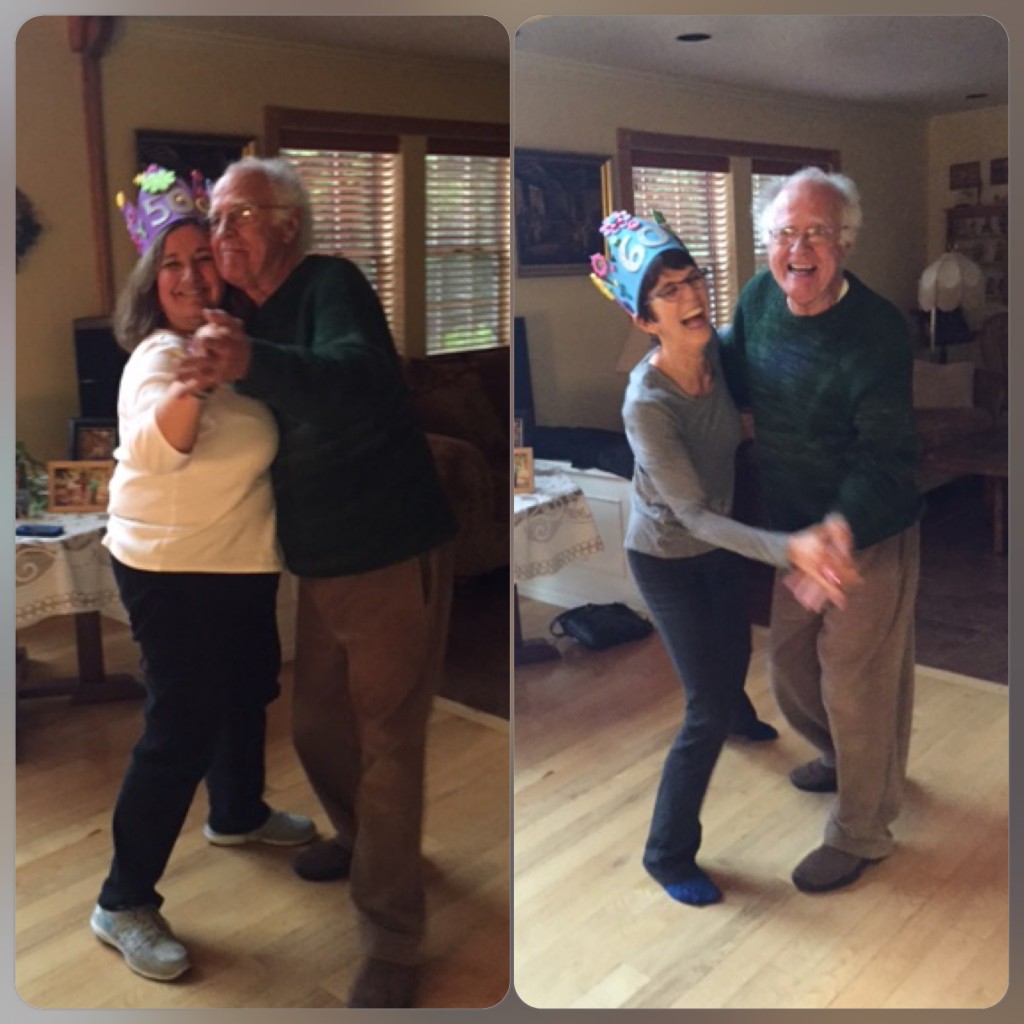 We also made a playlist of fun songs from our childhood in the 1960's. Dad danced with each of the birthday girls.
We went back to my house on a stormy night and promptly lost power for the next 11 hours. Kind of a pain when you live in the country and rely on a well for water. At least it was later in the evening and we slept during most of the outage. The next family get together is one where I will be the missing cog on the wheel. There is a bridal shower for two grandchildren that are getting married. My family will be on vacation at the time though. Like I said, it's always hard to find a time when the eight of us can be at the same place, at the same time. So it is important to revel in those times when we are (mostly) together.
Linking up with the usual suspects whose links are listed at the top of the page, under Link Ups.